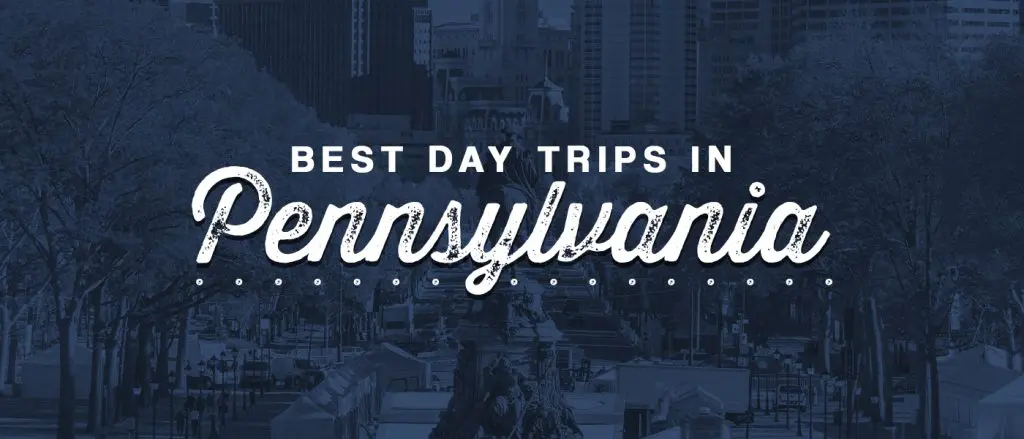 There are so many fun things to do in Pennsylvania. If you live in the Harrisburg area, you already know you're not too far from major cities like Philadelphia and New York City. But you don't have to drive a couple of hours to have a great time, either.
There are plenty of unique day trips in Central Pennsylvania. With several cities in the area, like York and Lancaster, and numerous quaint towns scattered throughout the region, plenty of indoor and outdoor activities are available. Best of all, many of them are free or affordable. Here's a list of the best day trips in Central Pennsylvania, all of which can easily turn into memorable day trips.
1. Gettysburg National Military Park
Gettysburg is the site of the bloodiest battle of the Civil War. The Battle of Gettysburg took place from July 1 to July 3, 1863, and thousands of soldiers lost their lives. An estimated 51,000 soldiers were killed, wounded or missing by the end of the battle. All this history is only 47 minutes away from Harrisburg.
You can easily make a day out of a trip to Gettysburg. Tour the 6,000-acre Civil War military park on your own, in your car or with a guided tour by Segway, carriage, bus or horse. Make sure to visit the eerie rock structures of Devil's Den and peer out of the castle-shaped observation deck at Little Round Top on your tour.
There are also plenty of museums to tour in Gettysburg. Visit the Jennie Wade House, where Wade was killed by a Confederate bullet while she stood in her kitchen, or tour President Dwight D. Eisenhower's farm and home just a short distance outside of town.
Dine at the 1776 Dobbin House Tavern for a meal in a historical setting and take their free tour, or sip on a craft cocktail at the Mason Dixon Distillery and Restaurant.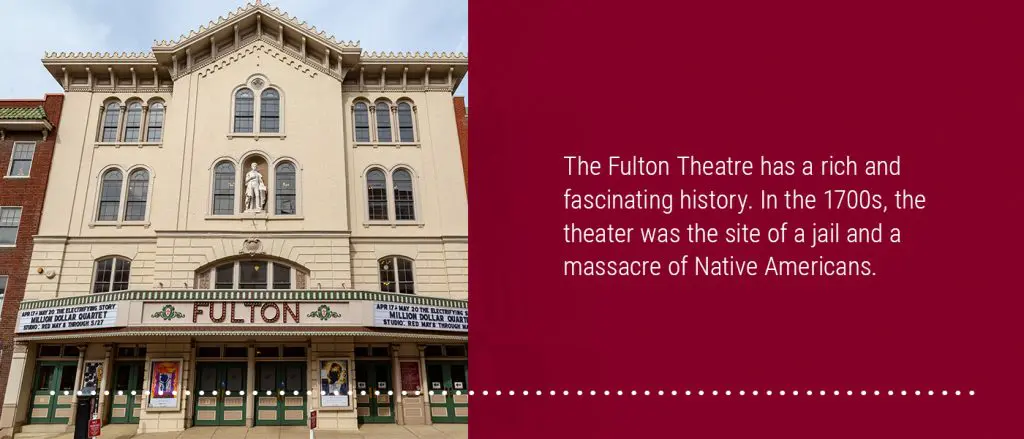 2. Fulton Opera House
About an hour's drive southeast of Harrisburg, you'll find the historic city of Lancaster. There are tons of ways to spend a day in Lancaster, and one of our top choices revolves around a visit to the Fulton Opera House, also known as the Fulton Theatre.
The Fulton Theatre has a rich and fascinating history. In the 1700s, the theater was the site of a jail and a massacre of Native Americans. The back wall of the theater is the remains of the original jail. In 1873, the center became the Fulton Opera House after a performance for orphans and widows of the Civil War.
Now, the Fulton Opera House offers contemporary performances and is one of only eight theaters in the United States that is also a national historic landmark. See a show in this beautiful historic building or tour the theater and learn more about its history.
After the show, head down a few blocks to Spring House Brewing Company for arcade games and brews, or take a two-minute walk from the theater to visit their taproom on King Street.
3. Railroad Museum of Pennsylvania
A little over an hour from Harrisburg in Strasburg, Pennsylvania, is the Railroad Museum of Pennsylvania. Railroads helped build this nation, and Pennsylvania was a major player in the railroad industry. The Railroad Museum features one of the best collections of railroad artifacts in the entire world.
Discover and explore more than 100 locomotive and railroad cars, photographs, artifacts and art — all part of Pennsylvania's railroading past. If you're still craving trains after the museum, make a stop at nearby Choo Choo Barn Traintown, USA, where you can observe a 1,700-square-foot miniature animated train display.
4. Pine Creek Gorge
Drive two hours north of Harrisburg to take in the breathtaking views at Pine Creek Gorge, also called the "Grand Canyon of Pennsylvania." You can view this 1,000-foot-deep gorge from either Leonard Harrison State Park on the east side or Colton Point on the west.
On a drive along the west rim, you might catch a glimpse of woodpeckers, wild turkeys or other migratory birds. Leonard Harrison State Park is where you can enjoy scenic views of the canyon and explore 585 acres of trails, waterfalls and wildlife. You can also opt to have a picnic and enjoy 4 miles of trails at Colton Point State Park instead.
5. Penn's Cave and Wildlife Park
Did you ever think it'd be possible to tour a cave by boat? It's a possibility at Penn's Cave and Wildlife Park. Located about an hour and a half northwest of Harrisburg in Centre Hall, it's the only cave in Pennsylvania on the National Register of Historic Places, and it's one of the most exciting day trips in Pennsylvania.
You can enjoy a 50-minute boat tour of the cave and its glittering rock formations. You can also take the Farm-Nature-Wildlife Tour, which takes you through 1,660 acres to view animals like bears, elk and wolves.
6. Lancaster Central Market
We are going to take you back to Lancaster for another way to spend the day. This time, it's at Lancaster Central Market. Lancaster Central Market boasts of being the oldest continuously operating farmers' market in the country.
The market is open year-round on Tuesdays, Fridays and Saturdays, and it offers everything from regional classics like scrapple and chow-chow to specialty groceries and ethnic dishes. It's easy to spend hours browsing the many stands and tasting all kinds of yummy food. You'll be excited to fill your fridge and cupboards with locally grown produce, farm-fresh dairy products and tasty home-baked desserts.
7. Clyde Peeling's Reptiland
There's no need to fly to South Florida to catch a glimpse of a croc if you're in Central Pennsylvania. All you have to do is hop in your car and head about an hour and a half north from Harrisburg to Clyde Peeling's Reptiland.
At Clyde Peeling's Reptiland, you can view 40 species of reptiles, from a Komodo dragon to an estuarine crocodile, located throughout the 6,500-square-foot indoor exhibit. You can even become a "zoo parent" and adopt your favorite animal. As a zoo parent, you'll get a certificate of adoption and a few other bonuses, plus the knowledge that you're supporting your animal's daily care.
The average self-guided tour takes about one and a half to two and a half hours, so you'll have some time left for a hearty meal before heading back to Harrisburg.
Dine with locals at the Mansion House Bar and Grill in Watsontown and enjoy a cold beer and a "belly buster," or head 17 minutes north to the Bullfrog Brewery in Williamsport. At the Bullfrog Brewery, you can fill up on brewpub eats or taste craft beer, and you might catch a live band.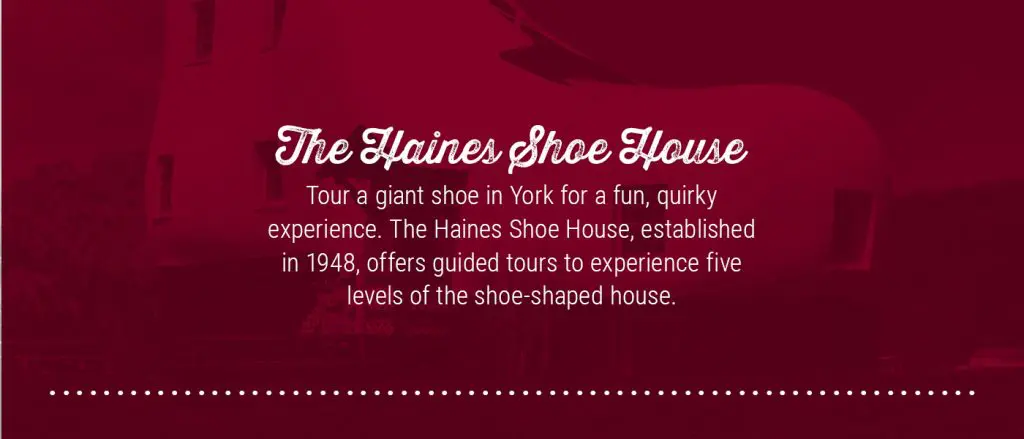 8. The Haines Shoe House
Tour a giant shoe in York for a fun, quirky experience. The Haines Shoe House, established in 1948, offers guided tours to experience five levels of the shoe-shaped house. After the tour, you'll have the option to enjoy locally made ice cream or fresh-baked goods on-site.
While you're in York, you can spend the rest of the day experiencing one of the many entertainment options available. Catch a first-run flick at the Small Star Art House or play retro favorites at the Timeline Arcade. If you're a craft beer lover, you can test your future-seeing abilities at the Crystal Ball Brewing Company.
9. Mister Ed's Elephant Museum and Candy Emporium
Only 18 minutes west of Gettysburg, you'll find yet another quirky Pennsylvanian attraction and an excellent excuse to buy yourself some old-time candy. Mister Ed's in Orrtanna offers over 700 varieties of candy, homemade fudge and freshly roasted peanuts. In addition to loading up on sugary treats, you can view the 12,000 elephant statues, toys and other elephant-related objects on display for free.
After visiting Mister Ed, you can head to Caledonia State Park, located only 13 minutes away from the emporium. Explore 10 miles of forested trails, including a journey through the ruins of the Caledonia Iron Works via the Thaddeus Stevens Historic Trail.
10. Pine Grove Furnace State Park
Pine Grove Furnace State Park is a wonderful place to hike, bike or get lost in history. Located in the Blue Ridge Mountains, Pine Grove offers 696 acres, two lakes, hiking on the Appalachian Trail and the remains of an iron furnace community. You can visit the Appalachian Trail Museum inside a grist mill to view a collection of more than 12,000 photos of Appalachian Trail hikers.
11. Meadowbrooke Gourds
Located about 20 minutes west of downtown Carlisle, Meadowbrooke Gourds is the place to buy one-of-a-kind handcrafted gourd decor. On Tuesdays, visitors can take a free public tour to witness the gourd-crafting process.
Tours last approximately 45 minutes, and you'll get a chance to watch crafters turn gourds into works of art. You'll also have time to ask questions if you're interested in becoming a gourd artist yourself or just curious about the process. Before or after the tour, you can browse the Meadowbrooke store and pick up a gourd masterpiece, like a lovely gourd basket, to decorate your home with and remember your experience by.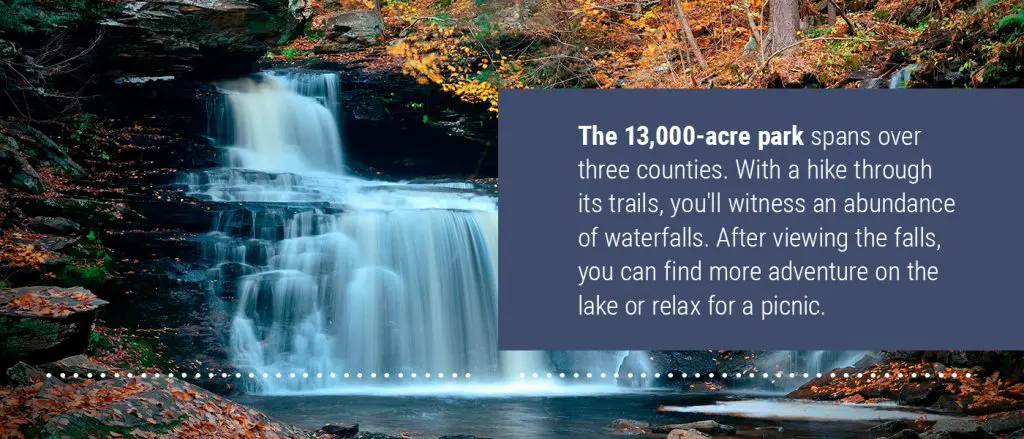 12. Ricketts Glen State Park
About two hours north of Harrisburg, you'll find a slice of nature that's one of the top day trips to take in Central Pennsylvania. At Ricketts Glen State Park, you can enjoy the following activities:
Hiking
Horseback riding
Boating
Picnicking
Fishing
The 13,000-acre park spans over three counties. With a hike through its trails, you'll witness an abundance of waterfalls. After viewing the falls, you can find more adventure on the lake or relax for a picnic. Extend your day trip in Pennsylvania by camping in Ricketts Glen State Park and refuel for more excitement throughout the region.
13. Knoebels Amusement Resort
You'll find fun for everyone at Knoebels Amusement Resort. With thrill rides and kids' rides galore, there's no shortage of fun at this amusement park, which makes for one of the top day trips to take in Pennsylvania.
If you want to extend your day trip into a longer getaway, Knoebels offers campsites, cottages and even a bed and breakfast. A longer stay is perfect if you don't think you can hit all the attractions in one day. But with a one-and-a-half-hour drive between Harrisburg and the park, you could easily visit again throughout its season.
When you visit in the summer, you can cool down in the pool or on the popular water rides the Skloosh and the Giant Flume. If you prefer cooler weather, check out Knoebels in the fall for spooky festivities leading up to Halloween. No matter when you plan your trip, you'll find a variety of entertainment and activities perfect for all ages.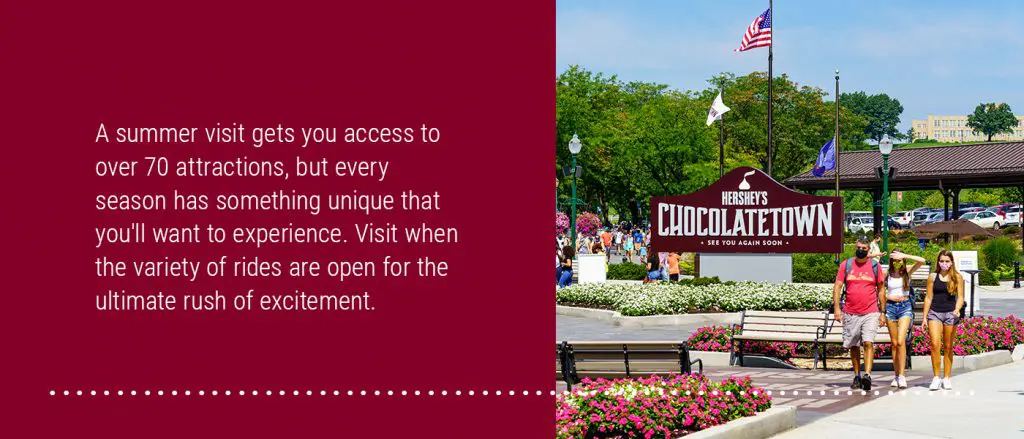 14. Hersheypark
Visit one of the sweetest places in Central Pennsylvania. Hersheypark is often at the top of the list of best day trips to take in Pennsylvania, and for good reason. The amusement park sits half an hour from Harrisburg and is open year-round. That's right — you can enjoy famous sweets at the birthplace of Hershey chocolate any time of year! You'll want to go every season to enjoy:
A look at the upcoming summer fun during the spring with over 50 rides
Everything the park has to offer in the summer with 14 coasters and a water park
Spooky rides in the dark during fall to get in the Halloween spirit
Santa, all his reindeer and over 4 million twinkling lights in winter
A summer visit gets you access to over 70 attractions, but every season has something unique that you'll want to experience. Visit when the variety of rides are open for the ultimate rush of excitement. Take a ride around the carousel, splash down a water slide or get thrills on one of the park's adrenaline-pumping roller coasters. No matter what you do when you visit, you'll find that Hersheypark is one of the best day trip ideas from Harrisburg.
15. Old Jail Museum
Located in Jim Thorpe, about an hour and a half away from Harrisburg, the Old Jail Museum is a must-see historical site. If you love a good spooky story, the Old Jail Museum is the place for you.
Take a tour through the jail and peek into Cell 17, a room with a mysterious handprint on its wall that, despite many attempts to remove it, has never gone away. Hear stories of the ghosts who roam the site and maybe experience the presence of one for yourself!
If you're skeptical about the spectral side of history, you can appreciate the Old Jail Museum for its interesting architecture and stone structure. Jim Thorpe also features other historical sites, such as the following:
The Asa Packer Mansion
Mauch Chunk Museum
No. 9 Coal and Mine Museum
Eckley Miners' Village
16. Lehigh Gorge State Park
The Lehigh Gorge State Park is a wonderful escape to nature. The southern end of the park near Jim Thorpe starts about an hour and a half away from Harrisburg.
At the park, enjoy popular activities like whitewater rafting down the Lehigh River or biking on the scenic trails. You can also go hiking or fishing, so this park truly has something for everyone! Lehigh Gorge State Park isn't only for summer day trips in Pennsylvania. Visit during the winter to go cross-country skiing or snowmobiling.
If you want to pack more outdoor excitement into your Central Pennsylvania day trip, check out the neighboring Hickory Run State Park. Traverse Boulder Field, go for a swim or extend your trip to an overnight stay with camping.
17. Mercer Museum and Fonthill Castle
While these sites are two hours from Harrisburg, you can fill a day with all there is to do in Doylestown. Archaeologist Henry Mercer built both the Mercer Museum and Fonthill Castle within a five-minute drive of each other in Doylestown. Mercer completed the structures in the early 20th century, and they now stand as museums.
The impressive Fonthill castle features 44 rooms, more than 200 windows and 18 fireplaces. It's a display of handcrafted ceramic tiles, early uses of reinforced concrete and the Arts and Crafts movement. Next, head to the equally impressive Mercer Museum, which hosts over 50,000 pre-industrial tools from about 60 different trades. Explore Bucks County's history in the documents and materials in the museum's research library.
18. Frank Lloyd Wright's Fallingwater
Witness a unique home and architectural masterpiece while learning the rich history of Frank Lloyd Wright's Fallingwater. Businessman Edgar Kaufmann commissioned the home as a weekend house from Frank Lloyd Wright in 1935. The house was completed two years later, and the result became Wright's most acclaimed work known as Fallingwater.
Wright's goal in designing the home was to bring man closer to nature. With impressive surroundings, including a flowing stream, varied plant life and waterfalls, Wright had plenty of inspiration. He found the site for Kaufmann's home right above a waterfall — hence the name Fallingwater. Fallingwater opened to the public in 1964 and has since been declared a UNESCO World Heritage Site.
19. Laurel Caverns
Explore Laurel Caverns to experience Pennsylvania's largest cave. With over 3 miles of passages to explore, the cavern is so expansive that it offers a variety of tours. As you journey through the passages, you'll see impressive ceilings between 10- and 20-feet high, with some reaching 50 feet. The passages average a 12-foot width, contributing to its status as the largest cave in Pennsylvania.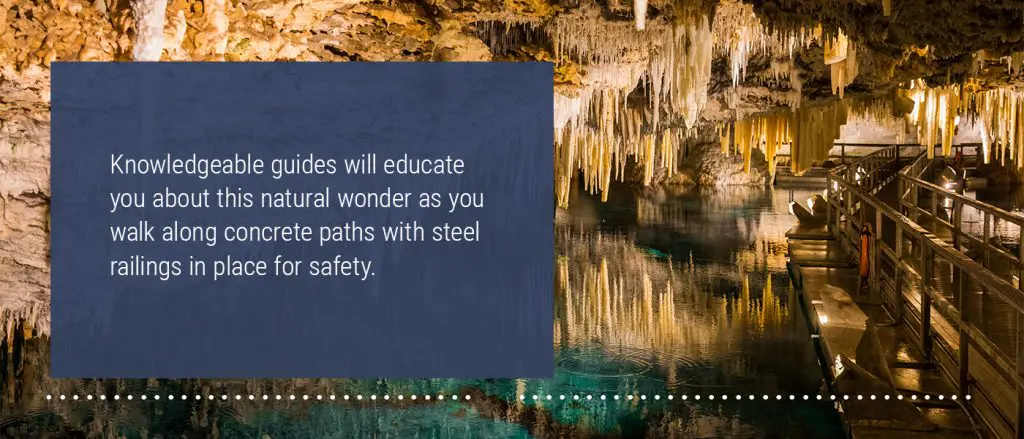 20. Crystal Cave
If you enjoy Laurel Caverns, you can visit Crystal Cave in Kutztown for a similar underground adventure. Learn about Pennsylvania's natural history while exploring the cave 125 feet underground. Knowledgeable guides will educate you about this natural wonder as you walk along concrete paths with steel railings in place for safety. On your tour, you'll see fascinating cave formations, such as:
Speleothems
Dripstone
Flowstone
Rimstone natural pools
Calcite crystals
Aragonite crystals
Crystal Cave is located a little over an hour from Harrisburg. Along with guided tours, you can also enjoy fun activities such as miniature golf and gemstone panning.
21. Ohiopyle State Park
Located just a short drive from Frank Lloyd Wright's Fallingwater house, Ohiopyle State Park is a great place to enjoy Pennsylvania's outdoors. Explore Ohiopyle to experience adventures such as hiking and whitewater boating. You can hike to gorgeous lookout points and walk past stunning waterfalls.
The Youghiogheny River Gorge attracts whitewater boaters of all experience levels, and you can enjoy backpacking or light hiking on the Laurel Highlands Hiking Trail. Visitors can also enjoy picnicking and camping in this beautiful state park.
22. Sight & Sound Theatre in Lancaster
Drive approximately an hour from Harrisburg for a unique theatre experience in Lancaster, Pennsylvania. Lancaster's Sight & Sound Theatre offers live performances based on Biblical stories. When you sit in the audience of a Sight & Sound production, the 300-foot stage surrounds you on three sides to make you feel fully immersed in the show.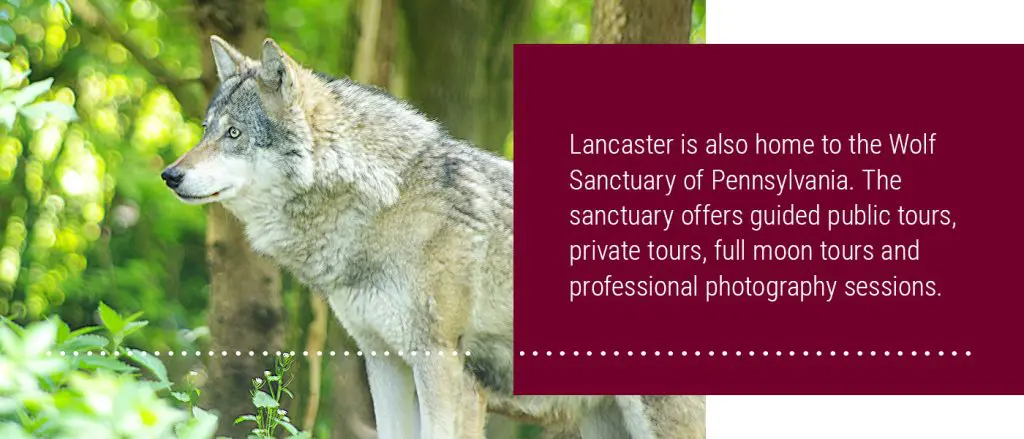 23. Wolf Sanctuary in Lancaster
Lancaster is also home to the Wolf Sanctuary of Pennsylvania. The sanctuary offers guided public tours, private tours, full moon tours and professional photography sessions. The nonprofit organization provides refuge and care for gray wolves and wolf dogs, and they educate the public about wolves and wolf conservation.
24. Pittsburgh Zoo
Another fun Pennsylvania day trip is the Pittsburgh Zoo and PPG Aquarium. The zoo offers both in-season and off-season hours, and it features a wide variety of native and exotic wildlife. Stroll through the zoo to view and learn about animals, or visit on certain dates to enjoy events such as craft beer and food festivals, musical entertainment, parades and health and fitness events.
See animals up-close with a wild encounter experience. Enjoy a private, 30-minute session with a guide who will let you see select animals up close. You can book wild encounter experiences to see animals such as red pandas, marine life and over 30 different ambassador species from the zoo's educational programs.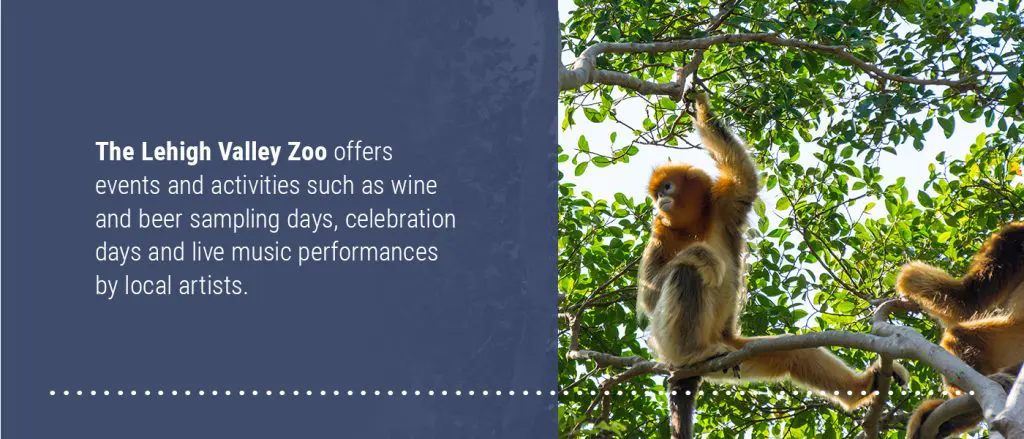 25. Lehigh Valley Zoo
If you enjoy animals, you can also travel to Schnecksville, Pennsylvania, to visit the Lehigh Valley Zoo. You can see and learn about animals worldwide, including amphibians, reptiles, mammals, invertebrates, and birds. The Lehigh Valley Zoo also offers events and activities such as wine and beer sampling days, celebration days and live music performances by local artists.
When you visit the Lehigh Valley Zoo, you can also enjoy delicious food from Geakers at the Zoo, a family-owned business that offers snacks, sandwiches and milkshakes to make your day even more enjoyable. Remember to stop by The Nature Store, the zoo's gift shop, before you leave to pick up some fun souvenirs.
26. Longwood Gardens
Spend a fun, relaxing day at Longwood Gardens in Kennett Square, Pennsylvania. Longwood Gardens features 400 acres of open meadows and formal gardens full of gorgeous plant life. Stroll along winding paths and admire the gardens' natural beauty, including over 200 different plant families and over 10,000 plant species.
You can visit Longwood Gardens during their five unique seasons to experience the continuous splendor, growth and renewal of plants and seasonal cycles. Longwood Gardens also features various exhibitions, classes, workshops, tours, events and performances. Enjoy a play or experience live music such as jazz, symphony orchestras, carillon chimes and other music artists.
If you enjoy gardening or want to learn more about it, you can join one of Longwood Garden's terrarium workshops. Enjoy a relaxing hands-on experience as you learn design techniques and create your own terrarium to take home with you.
Visit the gardens on certain dates to witness unique displays and exhibitions, including artistic light displays, holiday displays, special flower festivals and the festival of fountains. Witness the garden's beautiful fountains set to music or enjoy live music in the Beer Garden, where you can purchase beer and delicious pub food.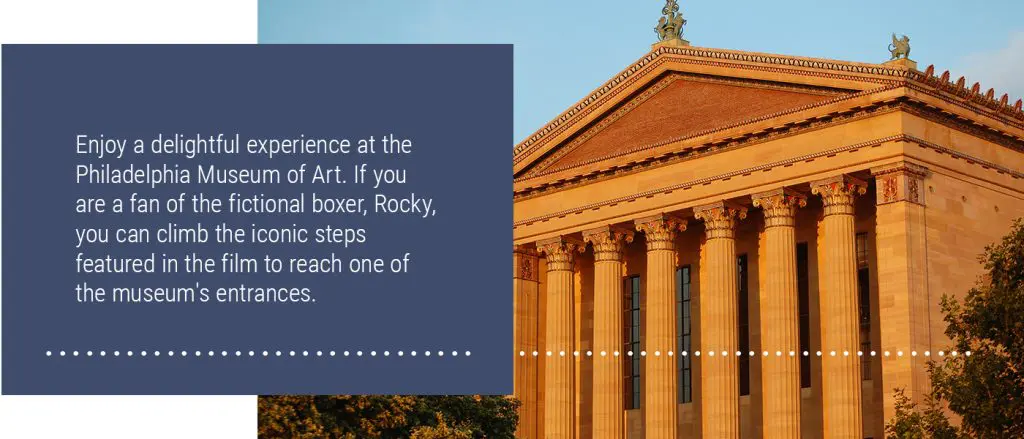 27. Philadelphia Museum of Art
Enjoy a delightful experience at the Philadelphia Museum of Art. If you are a fan of the fictional boxer, Rocky, you can climb the iconic steps featured in the film to reach one of the museum's entrances. Once inside the museum, you can spend the day admiring art collections from various artists, including Mary Cassatt, Claude Monet, Pablo Picasso, Rembrandt, Diego Rivera and Pierre-Auguste Renoir.
28. Shofuso Japanese House and Garden Philadelphia
Experience Japan in the middle of Philadelphia at the Shofuso Japanese House and Garden. Architect Junzo Yoshimura designed the Shofuso House in 1953, and it was built in Japan using traditional materials and techniques. It was eventually moved to New York City, where the Museum of Modern Art displayed it in their courtyard before it moved to Philadephia in 1958. When you explore the house and garden, you can enjoy the following features:
Pond garden
Tiered waterfall
Island
Koi fish
Tea garden
Traditional tea house
Courtyard garden
The Japan America Society of Greater Philadelphia is a nonprofit organization that operates the Shofuso Japanese House and Garden. It provides Japanese cultural experiences for people of all backgrounds and ages in Philadelphia. Each spring, they host a Cherry Blossom Festival celebrating Japanese culture. You can visit this festival to enjoy gorgeous cherry blossoms in bloom, live music, food and drinks.
29. Philadelphia's Magic Gardens
Philadelphia is also home to a unique garden experience featuring art instead of plant life. Explore outdoor sculptures and walk along walls of glittering mosaics as you experience an art environment that reflects folk art traditions at Philadelphia's Magic Gardens.
You can also see rotating exhibitions when you visit at different times of the year, and you can attend the Twilight in the Garden series on special dates from May through October. These special evenings include mini-tours of the art in the garden, a picnic in the mosaicked labyrinth, an art workshop and live music. Philadelphia's Magic Gardens provide a spectacular experience for visitors of all ages.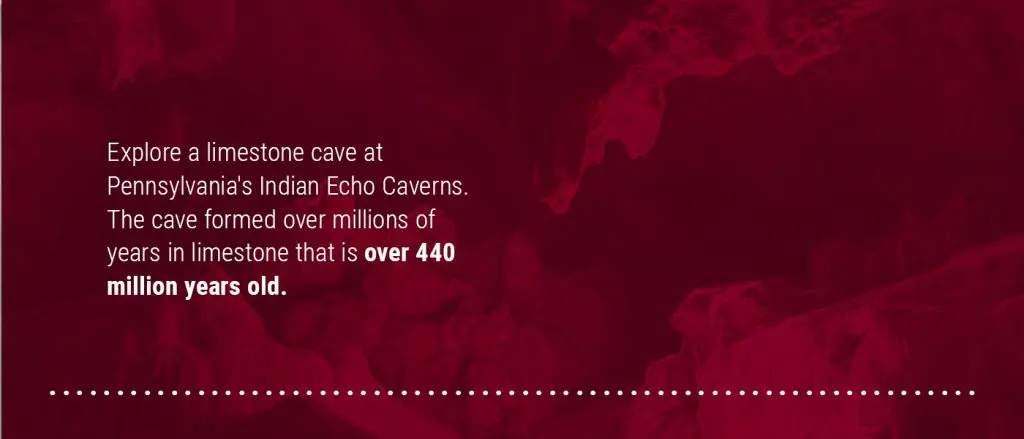 30. Indian Echo Caverns
Explore a limestone cave at Pennsylvania's Indian Echo Caverns. The cave formed over millions of years in limestone that is over 440 million years old. Explore this underground ecosystem on a guided tour to learn about the cave's history, formations, and geology. The tour permits cameras, so you can capture some unique photographs and videos on your adventure.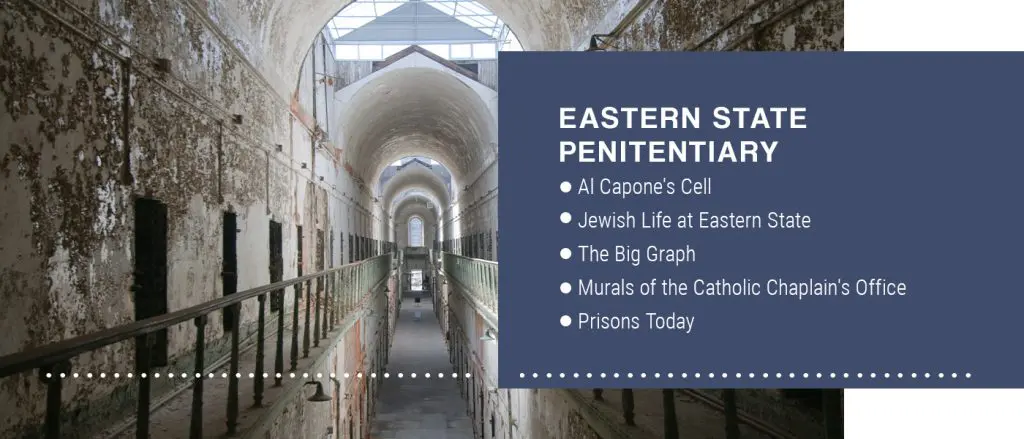 31. Eastern State Penitentiary
The Eastern State Penitentiary in Philadelphia is an excellent spot to visit if you are interested in history and the criminal justice system. You can take a daytime or nighttime prison tour to learn about the facility's history while exploring cellblocks on an audio tour or a guide-led tour. The penitentiary also features the following exhibits:
Al Capone's Cell: View Al Capone's cell, where he spent seven months. Newspapers reported that his cell included fancy rugs, fine furniture, paintings and a radio, so you can view a replica of what his cell looked like at the time.
Jewish Life at Eastern State: The penitentiary's synagogue was the first one to be built in a prison. You can see the synagogue and learn about Jewish life at the penitentiary when you visit the William Portner Memorial Exhibit at Eastern State.
The Big Graph: The Big Graph is a steel sculpture that displays the growth of incarceration rates since 1900. It stands 16 feet tall, and it is available to view during the penitentiary's public hours.
Murals of the Catholic Chaplain's Office: The penitentiary's original warden's offices were built in the 1880s and later converted to the religious staff's offices. In 1955, an inmate converted to Catholicism and painted 23 murals on the office walls while incarcerated. When you visit the penitentiary, you can view the murals, which were conserved in 2014.
Prisons Today: The Prisons Today: Questions in the Age of Mass Incarceration exhibit examines the current U.S. criminal justice system and recent historic changes to the system. You can visit this exhibit to learn, reflect and engage in dialogue about how to shape the justice system's evolution for the future.
Visit the penitentiary during special Halloween Nights to experience fun attractions. During these special events, you can walk through four different haunted houses, enjoy an immersive psychedelic experience, watch live performances, explore cellblocks and enjoy food and drinks at themed lounges and bars.
Whether you spend an evening enjoying Halloween scares or take an educational tour, a day spent at the Eastern State Penitentiary is sure to be an exciting time.
32. Kinzua Bridge State Park
Kinzua Bridge State Park is located where the tallest and longest railroad structure once stood in McKean County. In 2003, a tornado partially destroyed the railroad, and it was eventually transformed into a skywalk visitors can walk on.
The structure stands 301 feet tall and 600 feet long, so pedestrians can see incredible views of the Kinzua Gorge. The end of the skywalk includes a partial glass platform that allows you to look straight down at the gorge beneath your feet. The state park covers 339 acres where visitors can enjoy activities such as hiking, bicycling and fishing.
33. Eckley Miners' Village
Eckley Miners' Village in Weatherly, Pennsylvania, is a 19th-century mining town that serves as an immersive museum experience. Stroll along authentic mining town streets and learn about America's working-class families that lived during the Industrial Revolution.
The village includes over 100 historic structures, including churches, owners' homes, miners' homes, barns, sheds, a company store and a doctor's office. Take a guided walking tour of the village to learn about the structures and the town's history.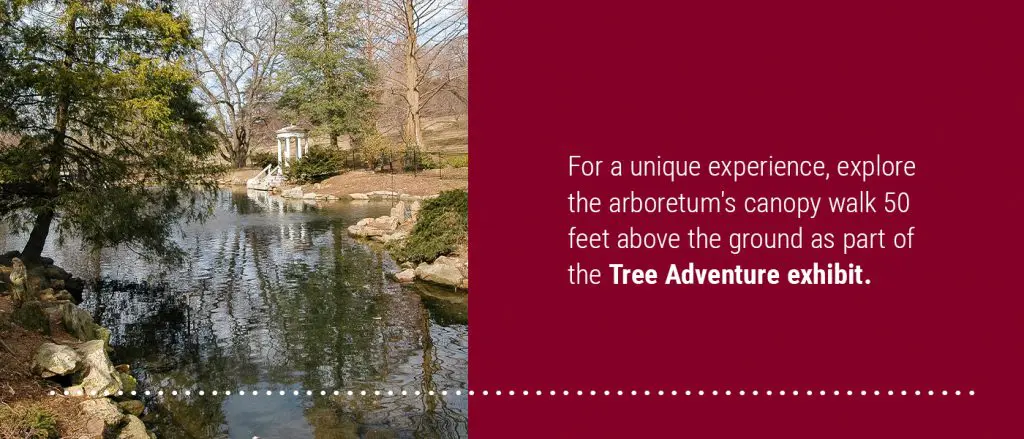 34. Morris Arboretum
The University of Pennsylvania's Morris Arboretum features various plants that change throughout the seasons. Marvel at the beautiful trees, flowers and shrubbery on your own, or join a tour to learn more about the arboretum's plant life.
For a unique experience, explore the arboretum's canopy walk 50 feet above the ground as part of the Tree Adventure exhibit. At the top, you'll find incredible views and a fun hammock-like net that allows you to view the ground and plants below. You can also visit the arboretum's Garden Railway, which is a collection of new and vintage model trains that glide along outdoor tracks, bridges and tunnels.
The arboretum is also a great place to witness birds and other wildlife in natural habitats. It consists of natural areas such as meadows, wetlands and woodlands, so it's likely that you will spot a wide variety of animals as you explore the beautiful grounds.
35. Wharton Esherick Museum
You can visit American artist Wharton Esherick's studio and home at the Wharton Esherick Museum in Chester County, Pennsylvania. Wharton Esherick started building his studio by hand in 1926, and construction lasted for 40 years. The unique structure incorporates organic and expressionist designs, and it now stands as the museum's centerpiece.
The Wharton Esherick Museum also consists of other structures such as Esherick's expressionist garage, his 1956 workshop and the Diamond Rock Schoolhouse. The museum campus covers 12 wooded acres and exhibits Esherick's magnificent artistic creations. Book an Experiencing Esherick tour to learn about his legacy in architecture, art and design.
Stay in Central Pennsylvania With Triple Crown Corporation
No matter which direction you travel from Harrisburg, you never have to go far to find unusual, historical or fun things to do in Pennsylvania this weekend. Central Pennsylvania's rich, industrious past and enduring creative spirit are available for all to explore and enjoy. Many entertainment and recreational options are affordable or free and can easily become daylong experiences.
So why just visit? Make Central Pennsylvania the place you call home and have access to endless food, nightlife and recreational possibilities every day. Contact Triple Crown Corporation today and find your perfect rental.