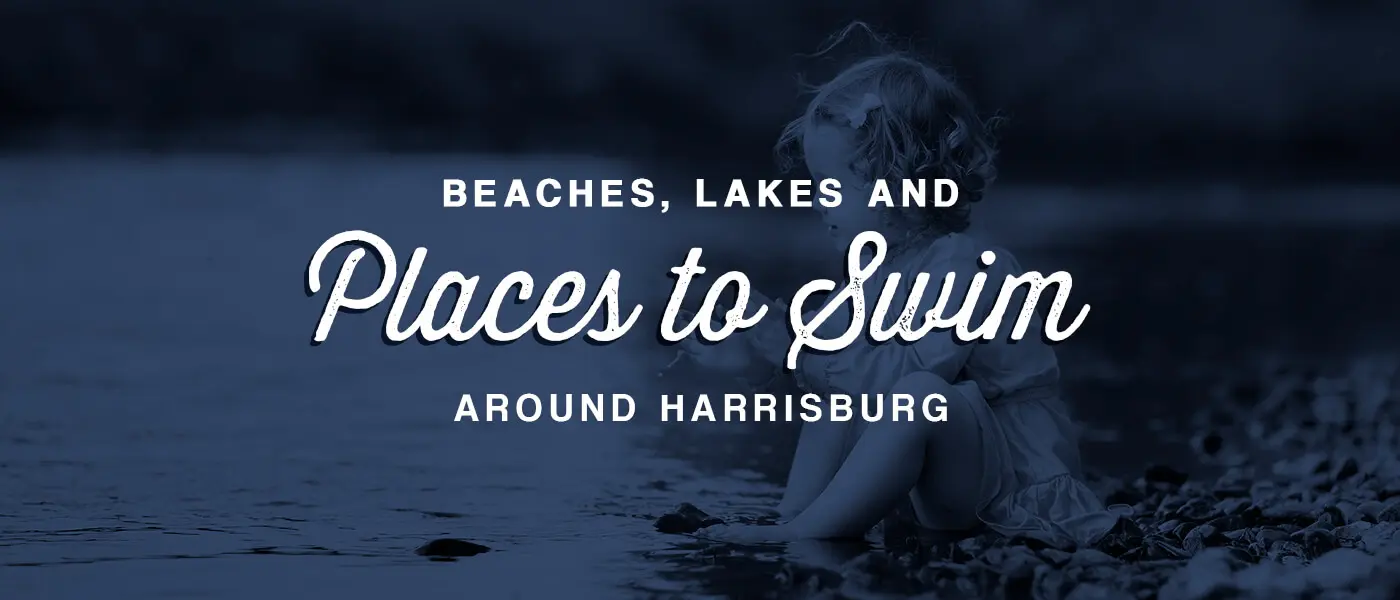 As Pennsylvania's capital, the city of Harrisburg boasts stunning architecture, unique restaurants and plenty of activities for residents to enjoy. When you live in Harrisburg, you'll discover bustling nightlife and countless daytime opportunities, all nestled within Pennsylvania's natural scenery.
With warmer weather, you may be looking for a place to swim. Although the nearest ocean is a several-hour drive away, Harrisburg, Pennsylvania, beaches are great places to enjoy the water, lay on the sand and take in the beautiful, green landscape. The swimming lakes in Pennsylvania are sure to give you the natural, refreshing experience you're craving. Discover five of the best lakes, swimming areas and beaches in Pennsylvania below.
Beaches and Lakes Near Harrisburg, PA
1. Mt. Gretna Lake and Beach
In the heart of South Central Pennsylvania is Mt. Gretna Lake and Beach, containing an eight-acre sandy beach for you to enjoy while soaking up the sun. Fresh mountain streams feed into Lake Conewago, encouraging you to take a dip in the sparkling water. Located just over 40 minutes from Harrisburg, Mt. Gretna is perfect for a fun-filled day trip. There's an admission fee, but it's well worth it — you'll have plenty to do throughout your stay.
Hop onto the "Big Chair" for the perfect photo or break into a sweat over a game of sand volleyball with your friends. Take a jump off the diving board or high dive if you're looking for a thrill. Float on the water with an inner tube rental, or go on a kayaking adventure over the waters of Lake Conewago. And when you get hungry, grab a bite to eat from the snack bar or light up a grill in the shaded picnic area.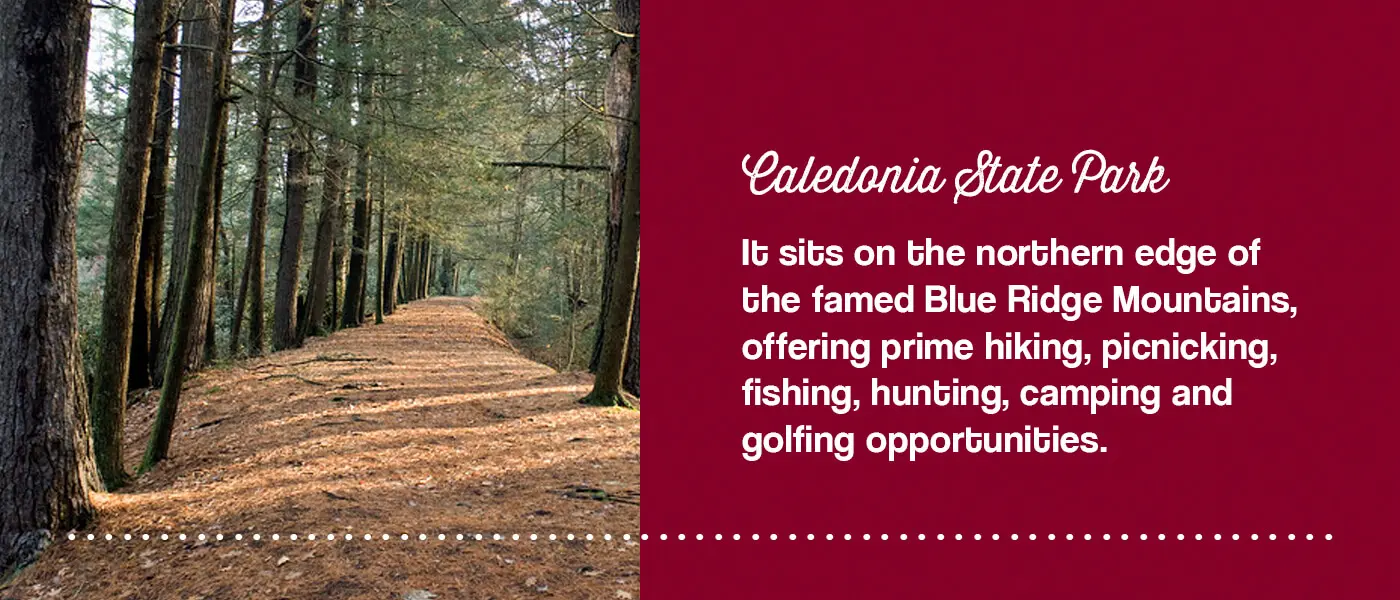 2. Caledonia State Park
Located an hour's drive southwest from Harrisburg, Caledonia State Park offers 1,125 acres of land waiting for you to explore. It sits on the northern edge of the famed Blue Ridge Mountains, offering prime hiking, picnicking, fishing, hunting, camping and golfing opportunities. And when you're ready to cool off in the pool, you can do that, too.
The large swimming pool at Caledonia State Park is welcoming to everyone, as it is accessible to people with disabilities thanks to its Americans with Disabilities Act (ADA) certification. And when you're ready to fuel up for more fun, enjoy some refreshments at the nearby snack bar. You can also try the waterslide for some extra excitement during your time cooling off. There's so much to do at Caledonia State Park, you may want to stay the night to get the most out of your trip.
3. Colonel Denning State Park
At Colonel Denning State Park, you'll find a 3.5-acre lake as well as a 273-acre forest to explore. The state park serves as the gateway to Tuscarora State Forest, a 96,000 acre mass of land surrounding the area. The park is open every day of the year, making it a great place to enjoy each of Pennsylvania's four brilliant seasons. And it only takes about a 50-minute drive to get there, so it's a solid option for a day trip or a weekend getaway.
Since Colonel Denning State Park is open year-round, you'll be able to enjoy the lake in unique ways depending on the season. During the warm months, you can enjoy swimming in the water and resting on the sand beach from 8 a.m. to sunset. When the days get cold, you can still use the lake for ice skating, but make sure to follow proper ice skating safety practices.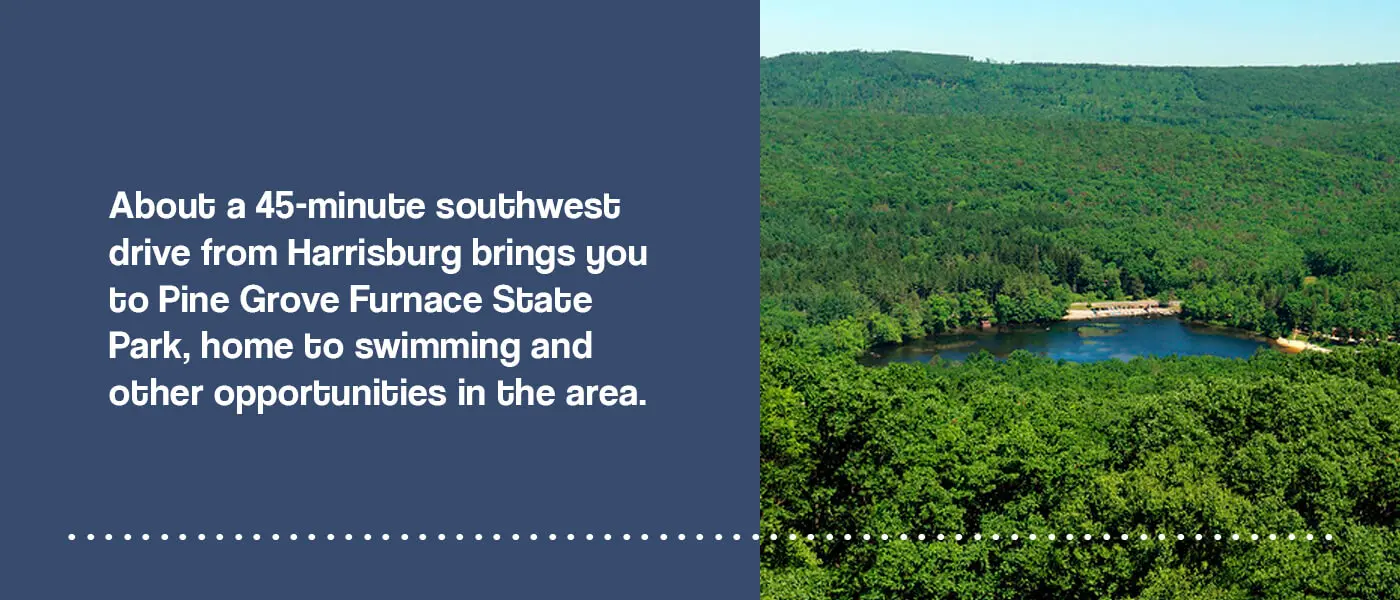 4. Pine Grove Furnace State Park
About a 45-minute southwest drive from Harrisburg brings you to Pine Grove Furnace State Park, home to swimming and other opportunities in the area. This park offers 696 acres of land, blending recreation with history to give you a unique outdoor experience. Here are some of the fun and exciting activities you can enjoy when visiting this park resting on the northern tip of the Blue Ridge Mountains:
Cool off in either of the two mountain lakes that include sandy beaches and nearby picnic areas.
Experience part of the famous Appalachian Trail, as Pine Grove Furnace State Park serves as its halfway point.
Check out the Historical Walking Tour, which showcases historical buildings from when the park was an iron furnace community.
Visit the Appalachian Trail Museum, the United States' first hiking museum.
Take in the breathtaking view of the eastern section of the park from Pole Steeple Vista.
Enjoy seasonal festivals and activities that celebrate Pennsylvania's heritage and the park's rich history.
Make even more use of the two beautiful lakes with plenty of boating and fishing opportunities to enjoy.
With two of the best lakes to swim at in Pennsylvania, Pine Grove Furnace State Park is sure to offer a fantastic time cooling off and soaking up the sun during your visit.
5. Gifford Pinchot State Park
Of the parks included in this list, Gifford Pinchot State Park is the closest to the city of Harrisburg, with a drive of about 25 minutes between the two destinations. This proximity makes it an easy place to visit at any time of day. Ready to take a break from the lively bustle of Harrisburg and enjoy the great outdoors? Take a quick ride over to Gifford Pinchot State Park and experience all it has to offer, including swimming.
Pinchot Lake draws people from all over the surrounding areas for beach and water fun. Kayaking, paddleboarding and canoeing offer hours of fun as you skim across 340 acres of the lake's flat, shimmering surface. Spend time cooling off in the lake or relaxing in the sun's rays on the beach. Enjoy a bite to eat from the snack bar or spread out in the picnic area for a leisurely afternoon lunch.
Find a Community in the Harrisburg Area With Triple Crown Corporation Rental Properties
Harrisburg is a lively city with plenty of amenities. Beautiful beaches and lakes are only a short drive away. If you're considering renting an apartment in the Harrisburg, Pennsylvania, area, trust Triple Crown Corporation to help you find the property that's right for you. Our mission is to provide excellent real estate service with top-quality, modern rental communities throughout Central Pennsylvania.
Search our rental communities online or contact us today for more information on how we can help you find your next home in Harrisburg.