Moving into a new rental home can be exciting and sometimes a bit bittersweet as you say goodbye to the place you've called home for a while. On top of these emotions, moving can often be a stressful experience. The idea of moving tends to conjure up visions of boxes upon boxes of belongings filling a moving van or trailer.
While packing boxes is, of course, a big part of moving, there are other logistical concerns you need to take care of when you move. For example, there's the matter of changing your address and getting new renters insurance. When you start to think of all the things you need to take care of when a move is on the horizon, you can easily become overwhelmed.
There's no need for that, though, because we've put together a moving guide that covers three basic areas of the moving process — planning and preparing for the move, boxing up belongings and changing your address. Follow this checklist, and you'll be well on your way to making your move go as smoothly as possible!
Planning and Preparing for the Move
A couple of months before time to move, you want to start planning. Here are eight tasks to take care of in advance to make moving a breeze:

1. Notify Your Landlord
First on the moving checklist for apartment or house renters is to notify your landlord that you plan to move. Check your lease to see how much notice you are required to give your landlord before moving out. This period could be 30, 45 or 60 days. Though there's nothing wrong with a phone call, you also typically want to notify your landlord in writing where you provide all the essential information about your moving plans and inquire about your security deposit.
2. Declutter
Decluttering is an important step to make packing and unpacking an easier experience. Most people currently have things in their home that they wouldn't miss if they were sold or donated. Go through the items you have hidden away in closets and drawers and ask yourself questions such as, "When was the last time I used or wore this?" and, "Does this bring me joy?" Work on decluttering your apartment and downsizing your belongings before you start packing.
3. Create a Budget
Moving can be expensive, but moving on a budget is certainly possible. One major decision you'll want to make early on is whether you're going to tackle the move on your own, with the help of family or friends, or whether you're going to hire a moving service. If you're working with a tight budget, that first DIY option may be the best. As you pack up and move, take note of any tax-deductible expenses you incur.
4. Research Moving Vans or Moving Services
Once you know what budgetary restrictions you have, you'll want to research any services you'd like to line up. In some cases, that may be a moving service, while in others, it may just be a rental trailer or van. If you're interested in hiring a moving service, try to get quotes from a few different companies that have high reviews so you can compare. Make sure they specify whether the quote is a non-binding estimate, binding estimate or binding not-to-exceed estimate.
5. Reserve Vans/Trailers or Movers
About six weeks before moving day, you'll want to officially schedule the moving company or reserve your moving vehicle. Keep in mind that weekdays are typically cheaper than weekends, so you may want to plan to move mid-week if you're on a tight budget. If you've decided to do a self-move where you assemble friends and a few vans or pickup trucks to help you move, make sure to notify your friends or family now so they can plan to be there on moving day.
6. Collect Packing Materials
You also want to start collecting packing materials, such as boxes and newspaper, so you can begin to pack soon. Sometimes, you can find these materials for free. Ask a store where you shop if they have extra boxes in their warehouse they don't need. You can purchase materials like bubble wrap, packing peanuts, packing tape and labels from an office supply store or a shipping store. You can also purchase boxes from these stores if you need to.
7. Return Borrowed Items to Friends
This may seem like a minor thing, but you don't want to have to keep track of any items that don't belong to you when you're moving. If there are any books, DVDs or other items you've borrowed from friends or family, now is the time to get those items back to their owners. This will be one less thing for you to worry about when moving day rolls around.
8. Finish off Food
As moving day starts to get closer, try to eat the food you have in your freezer and pantry so you won't have to pack it or throw it away. It's best if you can refrain from purchasing groceries and focus only on eating the food you already have. Now is the time to pull out those boxes of fish sticks and waffles from your freezer and any leftovers you have in the fridge. If you run out of food just before time to move, you can buy only the groceries you need to get by or eat out until after you've moved.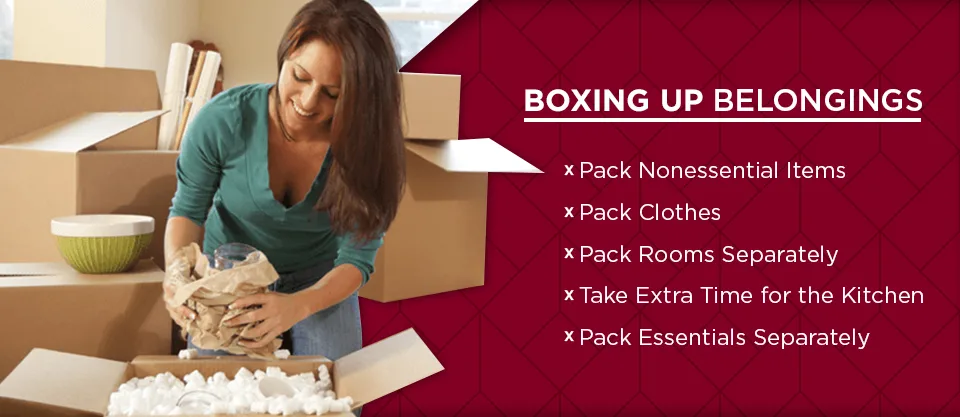 Boxing up Belongings
Now, let's talk about the main moving event — packing. Some people think of packing as an art, others a science, but most people think of it as a pain in the neck. It doesn't have to be, though. Let's look at some steps you can take to make boxing up your belongings a simpler, more efficient process:
1. Pack Nonessential Items
Items you don't need every day can be packed up in advance. For example, most of the books on your bookshelf can be packed up now instead of just before time to move. Since books are heavy, keep them in small boxes that are more manageable to carry. Trinkets and decorative items can also be packed up in advance. Be sure to use plenty of paper or bubble wrap to protect breakables, and mark the box to indicate that it contains fragile items.
2. Pack Clothes
You can also start packing clothes fairly early, as long as you leave out enough to get you through the remainder of the time before the move. Using wardrobe boxes simplifies packing clothes in your closet since you can keep items on their hangers. Any folded clothes on shelves or in drawers can be packed in suitcases. After all, you'll need to bring your suitcases along anyway, so you may as well put them to use.
3. Pack Rooms Separately
As you begin the bulk of your packing, keep things simple by packing each room individually and keeping like items together. For example, in your bathroom, one box may contain all of your towels and washcloths, another box may contain the items from your medicine cabinet and so on. Make sure these boxes are labeled with the room where they should be sent in the new house and some of the key items inside. If you want to go high-tech, try using a digital program complete with printable barcodes or QR codes so you can keep track of everything.
4. Take Extra Time for the Kitchen
You should reserve some extra time for packing your kitchen since many of the items in your kitchen cabinets are breakable. Take extra care in wrapping each plate, mug, glass and bowl in paper and stacking them in boxes. Note that newspaper is not a good choice for wrapping china since it may leave an ink print on the china. Consider using your kitchen towels to help protect breakable items in your kitchen boxes.
5. Pack Essentials Separately
Be sure to keep items out that you may need your first night or two in your new home and then pack them separately in a bag or box. Mentally walk through the items you use when you go to bed and when you get ready in the morning. Here are a few things to get you started:
Bed linens
Pajamas
Clothes
Toilet paper
Soap and hair products
Cosmetics
Daily medications
Also consider keeping a toolbox and first aid kit accessible in case you need any of these items.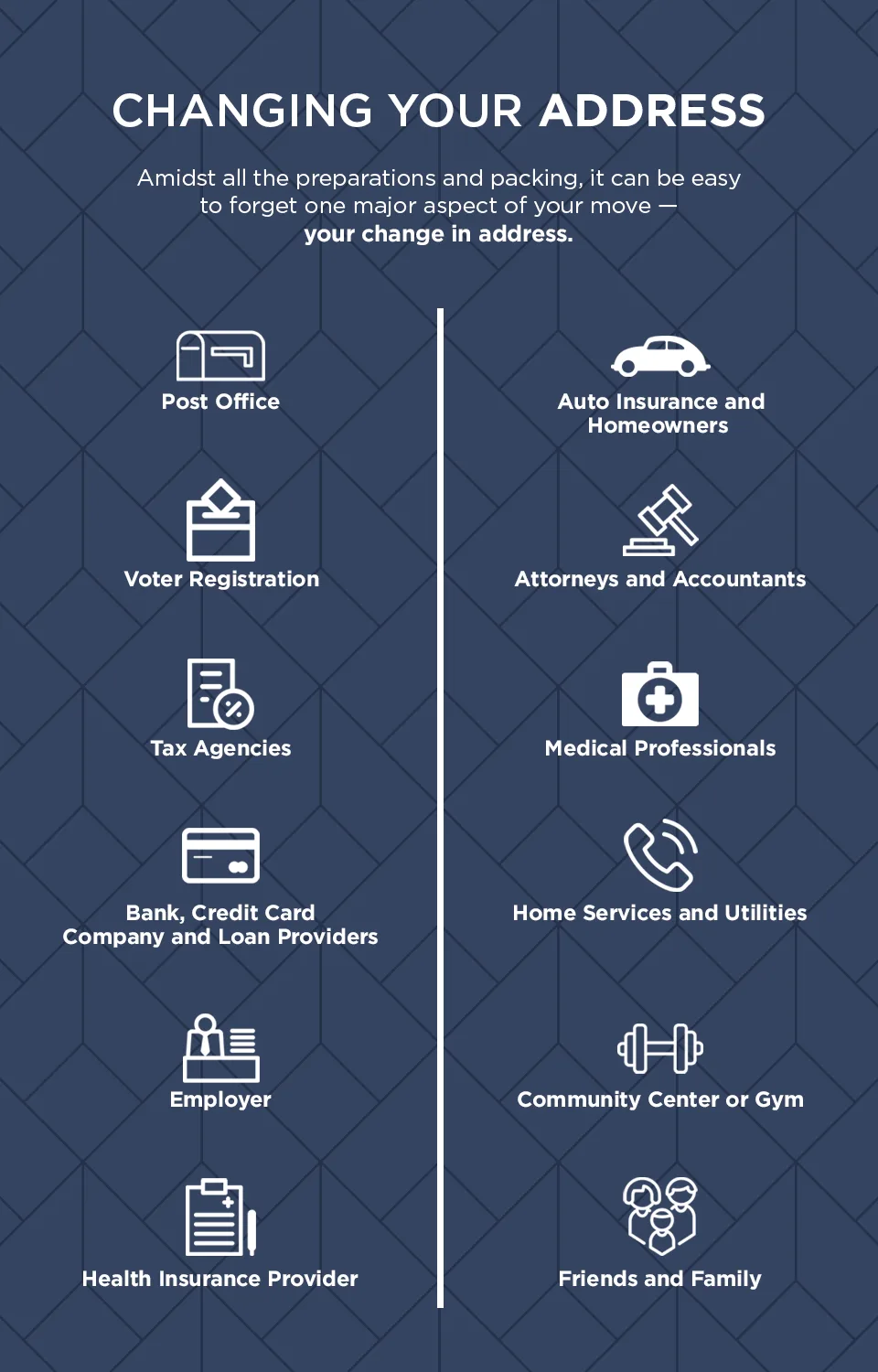 Changing Your Address
Amidst all the preparations and packing, it can be easy to forget one major aspect of your move — your change in address. As you plan and pack, take the time to contact anyone who will need to know you're getting ready to move. Start with these 12 groups:
1. Post Office
You can change your address with the post office either by paying a $1 fee and completing an online form or by going to your local post office and requesting a paper form. Either way, make sure you notify the post office of your address change so they can forward your mail from your old address. When you change your address with the post office, you'll receive some great coupons from local businesses intended specifically for new residents.
2. Voter Registration
Any time you move, you'll need to change your voter registration to reflect your new address. Depending on where you live, you may need to re-register, or you may just need to update your voter registration information online. When your registration is updated with your new location, your new election office will contact your old election office to make sure your registration with their office is canceled. This ensures that you can only vote at your new location. On the national Can I Vote page, you can check your registration, find your polling location and more.
3. Tax Agencies
Make sure you notify both the IRS and your state of your move. For the IRS, use their online form to update your address. For your state tax agency, look on your state's government website to see how you should go about notifying them. In most cases, you can find a way to do this online.
4. Bank, Credit Card Company and Loan Providers
Let your bank know, either online, in-person or over the phone, that your address is about to change. You'll need to order new personal checks with your updated address. If you have any credit cards that are not through your bank, notify these companies, as well. Finally, any loan providers should also be notified. For example, if you have student loans, you'll need to let the providers of those loans know about your new address.
5. Employer
Many people prefer to go paperless and have pay stubs, tax forms and other documents sent to them only in digital form. Even if this is the case, it's a good idea to let your employer know about your change of address in case they need to update your personal information. It's especially crucial to do this, however, if you have documents sent to your home address.
6. Health Insurance Provider
Depending on your health insurance policy and how far you're moving, your move may be fairly inconsequential or could significantly impact your insurance coverage. Talk to your health insurance provider to find out whether you need to purchase a new plan with a network that includes doctors and other health services in your new location.
7. Auto Insurance and Homeowners or Renters Insurance Providers
If you have a national provider for your auto and homeowners or renters insurance, then your move likely won't affect your coverage. However, if you use a more locally-based provider, you may need to seek other insurance options in your new location. Even if you can keep your same renters or homeowners insurance, be sure to let your insurance agency know where to transfer your policy. In the case of renters insurance, you may need to show proof to your new landlord that you have coverage in your new home, so don't put this task off.
8. Attorneys and Accountants
If you have a personal attorney or accountant, don't forget to notify these professionals of your move, as well. Depending on how far you're moving, you may need to discontinue their services and find a new attorney and accountant in your new town. If you continue to work with the same people, they'll still need your new mailing address in case they need to send any documents.
9. Medical Professionals
Doctors, dentists and other medical professionals you see will want to update your chart with your new address. If you're moving far away and will need to find medical services near your new home, request a referral from your local general practitioner, dentist and any specialists you see for in-network doctors they would recommend in your new town.
10. Home Services and Utilities
No moving checklist would be complete without mentioning utilities. This category encompasses a lot for many people. It includes basics like gas, electric and water as well as services like telephone, internet and cable. Notify each provider before you move and let them know which day to shut off services in your current location. Also let them know exactly when you want utilities to be turned on in your new home. You don't want you and your movers to be stuck working in the dark.
11. Community Center or Gym
If you are a member of a local community center or a gym, you'll want to cancel your membership or transfer it to a new location. With some larger chains of wellness centers and gyms, you may be able to keep your membership and just start going to a different location, assuming you have one near your new home.
12. Friends and Family
Last, but certainly not least, you'll want to notify friends and family of your new address. You'll likely find yourself mentioning your move to people in conversation, but you'll need a way to share your new address. You could do this through email, text or social media, but some friends and relatives may not use these forms of communication. You may also want to consider having some postcards printed with your new address and sending them out to anyone you think would want a copy to update their address book.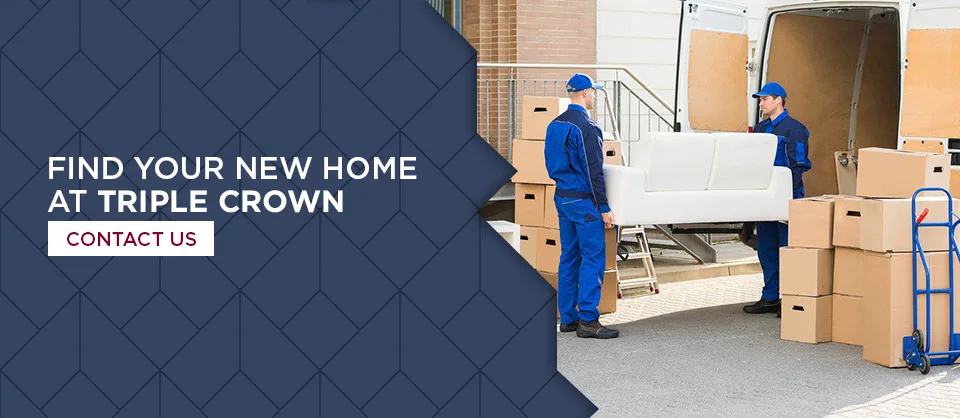 Find Your New Home at Triple Crown
If you're looking to move to the central Pennsylvania region, Triple Crown Corporation has rental properties to fit a variety of budgets and needs. Why not schedule a visit to one of our rental communities today? Our luxury townhouses and apartments will make the moving process well worth it and will make you feel right at home.