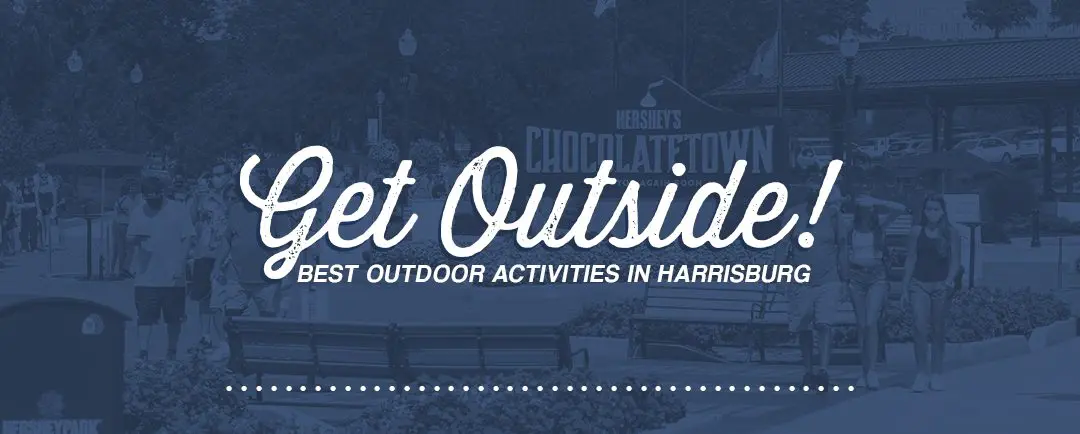 Summer weather is bright and beautiful, and you really should be out basking in it. Harrisburg offers various outdoor activities, so it's easy to find something everyone will enjoy. Use your vacation days or plan for a weekend with these fun outdoor attractions in Harrisburg.

City Island
City Island is located right across from the city of Harrisburg, and it's full of fun activities to enjoy. The island is a great place to walk and socialize your furry friends, and you can also hit the batting cages, go paddleboarding or try the most popular activity — play a round of water golf.
After that, take the family to see a Harrisburg City Islanders soccer game. The local team's home field is located conveniently on the island. Pretty much everyone can have a good time on City Island, and the short walk from the city can be an activity in itself.
Harrisburg Senators Game
While you're on City Island, take in a Harrisburg Senators baseball game. Besides a minor league baseball viewing experience for sports fans, there are in-stadium games for the kids, food and adult beverages for the parents and fireworks at the end of some of the games. Even if you aren't a sports fan, it's a great place to spend quality family time and enjoy the summer weather.
The HBG Flea
A recent addition to the Harrisburg area, this flea market has proven to be a popular weekend event for Harrisburg vendors and shoppers alike. With vendors selling vintage items, handmade jewelry and many other treasures, the market is sure to satisfy your shopping craving. Everything here is by locals, and the Flea's mission is to help Harrisburg as a whole.
Located at the Midtown Cinema, the Flea takes place every other Saturday in the city, but organizers also plan to hold more community events, so keep an eye out.
Greenbelt Biking Trail
Are you looking to torch some calories from your Friday night on the town? Harrisburg is home to one of the best biking trails around — the Greenbelt. Starting along Front Street and following the Susquehanna River, this trail will take you around the city of Harrisburg, with views ranging from city streets to wildlife parks and lakes. The 20-mile loop is nothing to scoff at, though. This adventure will make you feel the burn.
Yellow Breeches Creek
If you're looking to sit back, relax and enjoy the natural beauty of Central PA, a leisurely float down Yellow Breeches Creek may be just what you need. This tributary flows into the Susquehanna River and is only a short drive away from Harrisburg.
If you're looking to get a bit more active on your creek adventure, Yellow Breeches Creek is a hot spot for fly-fishing. It's also a popular place for bird-watching, so bring your binoculars along as you paddle down the creek!
Wildwood Nature Center
Located in Wildwood Park, the nature center is a great way to learn about all the species native to the Susquehanna Valley. It encourages hands-on learning, so the kids will have fun while also enjoying bird-watching opportunities.
The park also has a lake with trails surrounding it if you're looking to go on a nature walk. It's the perfect place for a photography buff, with gorgeous scenery, wildflowers and various birds and animals. If you want a picture to remember, head to the lake around sunset to capture the beautiful colors reflecting in the water.
The Millworks
Harrisburg is home to some of the best restaurants in Central PA. The Millworks is known for its fresh, farm-to-table selection and beautiful building, complete with outdoor seating and a rooftop Biergarten. It's got a great atmosphere, and all of its beer and spirits are locally sourced. As a bonus, it houses various local artists in the same building, so you can get a good dose of culture after you've finished your meal.
Hersheypark
For the thrill-seekers out there, Harrisburg is located a mere 14 miles from Hersheypark. This world-renown theme park includes a ton of wild rides for every age group. If you're looking to cool off on a scorching day, it also has a water park with water slides, a wave pool and one of the tallest splash-down rides in the world.
After your fun in the sun, head on over to Chocolate World. Hershey's Chocolate Tour is a lovely, calm ride to soothe your stomach after being in Hersheypark. Chocolate World also features activities like a chocolate tasting, a 4D show and the opportunity to make a candy bar. Make sure to load up on treats in the shop before you head home.
Boyd Big Tree Preserve
While Harrisburg is primarily a city, head a few miles out, and you'll find some great hiking trails. One of the most popular groups of courses is on Boyd Big Tree Preserve. The preserve offers various environmental education opportunities and interpretive programs as well as guided walks. With 12 miles of trails, it provides an option to hike the whole thing or do small segments ranging from half a mile to around 3 miles.
Another hot spot for bird-watching, this preserve is filled with deep forest birds. The old field on the grounds becomes filled with wildflowers in the summer and attracts many birds and butterflies. This scenery provides another great photo opportunity for budding photographers.
Third In The Burg
To experience some of the best food, art and shopping the area has to offer, make sure you're in Harrisburg on the third Friday of every month. During these days, Harrisburg venues host special events ranging from music and theater to comedy, lectures and art exhibits. Stroll down any of the Harrisburg streets and find outdoor vendors, musicians and tons of food.
This event is probably the best way to experience the culture of Harrisburg. Gather up your friends and head out for an incredible Friday evening, or make it a planned date night.
Appalachian Trail
Pennsylvania is known as the halfway point for all Appalachian Trail through-hikers. If you aren't a hardcore hiker planning on hiking the entire thing, check out the sections of it surrounding Harrisburg. It's great exercise and a fun way to enjoy the outdoors, observe nature and burn some calories.
Pride of the Susquehanna
If you're ready to get on the water on a nice day, plan a ride on the Pride of the Susquehanna. This boat is one of the last six remaining paddlewheel riverboats in the country. The Pride uses only the paddle wheels for both propulsion and steering.
This boat also gives you a beautiful view of the city as you set sail on the Susquehanna River. You can board it on City Island and take the whole family on a leisurely ride to make the most of a summer day outdoors.
Strites Orchard
Regardless of the season, it's always awesome to visit an orchard. Depending on what's in season, you can take the liberty of picking fruits, like strawberries and apples. Strites Orchard also provides community-supported agriculture, a bakery, locally sourced dairy, grass-fed beef and so much more. You could spend an entire day here exploring everything it has to offer.
Swatara Creek
Add a little splash to your day while exploring Harrisburg by setting out on a kayaking adventure. The Swatara Creek, located five minutes from downtown Hershey, PA, provides an adventurous path for kayakers of all ages to enjoy. Whether you're bringing your family for a ride or enjoying a cozy date night, the waterway has a gentle float between shaded banks. On your way around the water, you'll pass several historical sites, places to fish, small islands and outcrops of limestone.
Lake Tobias Wildlife Park
If you enjoy exotic animals like watusi, bison and elk, check out Lake Tobias Wildlife Park. With over 150 acres to explore, you can take your family on a wild safari drive or see the giraffes on a walking trail. Depending on your family's interests and energy levels, you can choose your adventure and go where you want. At the Petting Zoo, you can play with goats and other domesticated farm animals. Besides the zoo, you can also take part in catch-and-release fishing on the property.
Harrisburg has so much going on, especially outdoors. Please take advantage of the great summer weather and take the time to explore the city and its surroundings.