As you approach college graduation or decide to switch careers, a location change may also be in your future. Don't dive into somewhere and something new without knowing the best cities in Pennsylvania for jobs. A bit of research can go a long way to starting your career on the right path, especially if you need to decide where to live in Pennsylvania.
In this guide, we'll discuss some of the jobs that are in high demand, the fastest-growing cities in Pennsylvania, the best cities for young professionals and more stats that can guide your decisions.
What Jobs Are in High Demand in Pennsylvania?

If you're looking for a field that may be easier to find a position in, look for a job that has a large number of openings per year. Some of the most in-demand jobs in Pennsylvania based on annual openings include:
Registered nurses — almost 5,000 annual openings.
Nursing assistants — almost 3,000 annual openings.
Tractor-trailer truck drivers — over 2,000 annual openings.
Accountants and auditors — over 2,000 annual openings.
General maintenance and repair workers — about 2,000 annual openings.
However, annual openings aren't the only number to consider. You should also look into the jobs that have the highest predicted increase between 2014 and 2024 in Pennsylvania, like:
Occupational therapy assistants — over 33 percent increase.
Nurse practitioners — 28 percent increase.
Physical therapist aides — 28 percent increase.
Personal finance advisers — over 27 percent increase.
Home health aides — over 26 percent increase.
Biomedical engineers — 24 percent increase.
Web developers — over 23 percent increase.
Industrial machinery mechanics — over 21 percent increase.
Computer systems analysts — over 20 percent increase.
Electrical power-line installers and repairers — over 20 percent increase.
If the stats above don't reflect your current career or one you aspire to enter, don't despair. There are plenty more fields the stats may not represent that are still growing.
Fastest-Growing Cities in Pennsylvania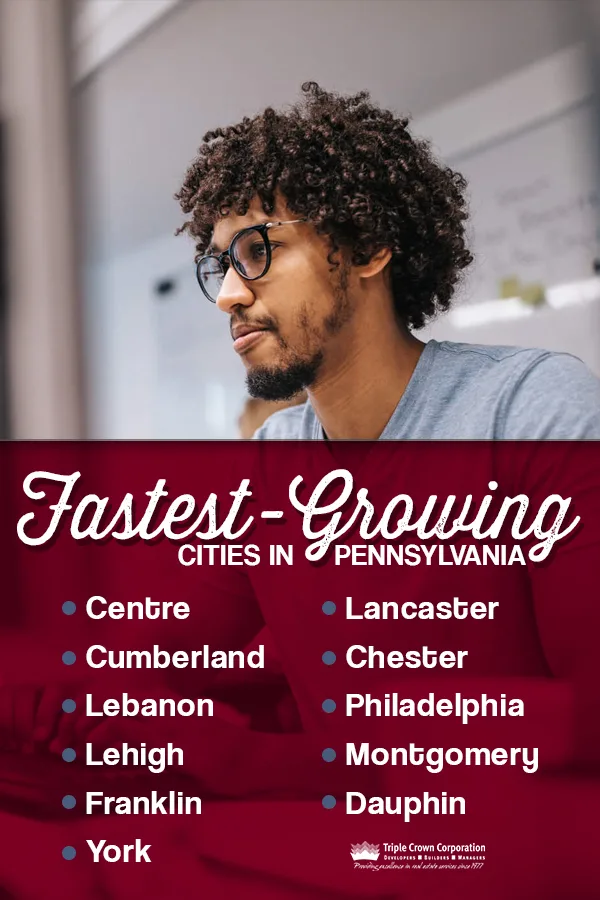 Generally, when the population of a city rises, the job market increases with it. So, if you're looking to determine where the greatest job market growth will take place, look for areas that have experienced recent population growth.
One of the best ways to examine population growth is by county — It will show you the general area more people choose to live, which should lead to finding the fastest-growing job markets in Pennsylvania. Using 2018 numbers, one study determined that these counties had the highest population growth:
Centre
Cumberland
Lebanon
Lehigh
Franklin
York
Lancaster
Chester
Philadelphia
Montgomery
Dauphin
These counties grew anywhere from 2.6 percent to over five percent. You'll also notice these counties are around Southeast and South Central Pennsylvania.
Population growth is also common for metro areas, but if you aren't too keen on city life, you can always check out boroughs or suburbs of Pennsylvania's cities. You get the peace of living in a smaller area and the convenience of living close to the city. You can then take your job search to the metro areas for even more opportunities as long as you don't mind a bit of a commute.
Cities in Pennsylvania With the Fastest-Growing Job Markets
While population growth is a helpful indicator of the job market, there are more direct stats that can help you find the best city in Pennsylvania for career opportunities. Consider the job growth statistic, which describes how many jobs an area added over time — That shows you a city is growing and will have more job opportunities for new residents.
It also helps to compare the numbers to the national standard to see if the area is better or worse than the average in the country. In 2017, the national average for job growth was 0.7 percent. These areas in Pennsylvania have job growth rates much higher than the national average:
Lancaster — 1.23 percent.
The Harrisburg-Carlisle metro area — 1.82 percent.
A high job growth rate demonstrates increased job opportunities in an area, and it can be an indication that the area is on the rise for occupations, population and growth overall. These stats show that you shouldn't only focus on Philadelphia and Pittsburgh as the best cities in Pennsylvania since there are just as many — if not more — opportunities in Central Pennsylvania.
Best Pennsylvania Cities

Whether you want the cities in Pennsylvania with the fastest-growing job markets or the best place to live in the state overall, consider some of the top-ranking areas from recent years. When ranking the best cities in the state, researchers consider stats like:
Job opportunities
Crime rates
Cost of living
Public schools
These and other factors are all important considerations when you plan to move somewhere new, especially if you want to settle in, begin your career there and stay for a while. Some of the best places in Pennsylvania are:
Carlisle
This borough in Cumberland County has a lot to offer its 19,000 residents, almost half of which are employed. Along with a good employment rate, the area has:
A median household income over $50,000 in 2017.
A 30-minute drive to Harrisburg.
Beautiful places to live.
Plenty of colleges in the area.
Families and young professionals will enjoy this area for what it can offer for the present and future.
Camp Hill
Located in Cumberland County, this area is great for families and retirees alike. Camp Hill had a median income of over $78,000 in 2017. The area's population is around 7,900, with over 4,000 employed. Living in Camp Hill gives you quick access to Harrisburg and other surrounding areas, giving you even more work and play opportunities.
Chesterbrook
Chesterbrook often ranks as one of the best places to live in the country and the number one place to live in Pennsylvania. The area puts you close to Philadelphia but is still among the best places to raise a family. With a 45-minute ride to Center City, you can enjoy the peace of the suburbs but still experience city life every now and then. The area has a median income of over $115,000, which is yet another advantage of living near the city.
New Cumberland
With a median household income of over $58,000, New Cumberland is a great location for young professionals and retirees alike. As is the case with Camp Hill, living in New Cumberland gives you close access to Harrisburg for job and entertainment opportunities. The borough in Cumberland County had a population of around 7,300 and 3,900 employed residents in 2017. The area is great for jobs and is also a safe place to live.
For those more concerned about enjoying where they live and finding the right career once they get there, selecting from the best Pennsylvania cities may be the way to go. If you're more career-oriented and looking for the best Pennsylvania cities for young professionals, you'll want to focus on cities with the fastest-growing job opportunities.
Best Pennsylvania Locations for High-Earning Jobs
If your career goals are earning-oriented, you may want to base where you live on where you can find a high-paying job. In 2018, the median household income in Pennsylvania was around $60,000, and plenty of areas beat that statewide standard. The median annual income is highest in these three counties:
Chester — over $99,000
Montgomery — about $90,000
Bucks — about $88,000
To make more money, you may have to compromise by living in or near a city, as that's where higher-paying jobs often are. But with so many earning, living and entertainment opportunities, being near a metro area has its advantages.
Best Pennsylvania Cities for Young Professionals
If you're looking for the top cities in Pennsylvania for college grads, you'll need to find where the work opportunities are. You'll want a city that will grow with you and your career. To find the best Pennsylvania cities for young professionals, consider what young residents make, the unemployment rates and the overall population of young people in the area. Below you'll find three cities that have excellent stats for all of those aspects and more:
Pittsburgh
It's no surprise that one of the larger metro areas in Pennsylvania is a draw for young people. Over 23 percent of Pittsburgh's population is between 20 and 29-years-old, so if you're a recent graduate, you won't have any trouble meeting people who are the same age as you. With almost a quarter of the residents being younger professionals, you can live in the area with confidence knowing career opportunities and entertainment draw in young residents.
Plus, the unemployment rate for residents with a bachelor's degree is only 2.4 percent. The city is full of professionals and opportunities, putting it on everyone's list of top cities in Pennsylvania for college grads.
Lancaster
Lancaster has had an impressive growth rate for job opportunities, but the benefits don't stop there. Lancaster is also among the best cities to earn a lot in your career, particularly for young professionals.
The unemployment rate for the city is only 2.3 percent for those with a bachelor's degree, meaning a majority of college grads who live in Lancaster find work. With job opportunities on the rise higher than the national average, it's not surprising that so many young professionals and college grads find success in Lancaster. Even if you choose to live here and work somewhere else, you can commute to:
York with a 40-minute drive.
Hershey with a 40-minute drive.
Reading with a 45-minute drive.
Harrisburg with almost an hour-long drive or a 35-minute public transportation commute.
Philadelphia with an hour-long public transportation commute.
The entire South Central region of Pennsylvania offers plenty of living, commuting and working opportunities, especially for young professionals, so be sure to keep the other cities in the area as potential options.
Harrisburg
College grads and young professionals will find Harrisburg appealing for a wide variety of reasons, one being that almost 50 percent of young people make over $35,000 a year in Harrisburg. While the earnings depend on where you work and your field, Harrisburg has plenty more to offer, and the rankings don't lie. Harrisburg is a great place to live for:
Recent grads: Want the best city to live, work and play in? Harrisburg has low unemployment rates, affordable housing and an array of fun activities. Whether you enjoy art, culture or history, you'll find plenty to do on your days off in Harrisburg.
Millennials: Harrisburg also has short commute times, close proximity to cities like Philadelphia and New York and an abundance of craft beer and food options.
STEM professionals: Harrisburg is sure to intrigue those in science, technology, engineering and mathematics fields, as well. From job openings to wage growth and demand, professionals in STEM fields will likely see success in Harrisburg.
However, the accolades don't stop there. Young professionals and others looking to expand their careers flock to Harrisburg because it is also ranked:
Among the top 10 places to work as a nurse in the country.
Ninth in the country for having the highest paying jobs.
Sixth in the country as the best city for young adults to get rich in.
In the top 10 cities for first-time homebuyers.
We think out of all the wonderful locations throughout Pennsylvania, Harrisburg is the best place to live, whether you're looking for job opportunities or a change in scenery. There's a lot to see and do, along with plenty of employment opportunities for professionals of any age.
Check Out Our Rental Communities

Getting ready to relocate or move into a new apartment can be daunting. But if you know you're moving to a great location with amazing job opportunities, it takes some of the stress away. We hope this guide helped you narrow down your choices, but if you still can't decide, we recommend Harrisburg as one of the best Pennsylvania cities, especially for jobs. If you've selected the capital of Pennsylvania as your new home, be sure to consider the rental communities at Triple Crown Corporation to complete your move.
At Triple Crown Corporation, we want you to feel at home in your new city. It's one thing to live in one of the best cities in Pennsylvania for jobs, but it's another to feel comfortable and welcomed. Our rental communities will do just that, and with our convenient Harrisburg locations, you won't be far from work or play.
Browse our rental communities today. Imagine your future home nestled in a location that's sure to spur your future, then contact us to make that dream a reality. We at Triple Crown Corporation can't wait to help you settle into your new home.