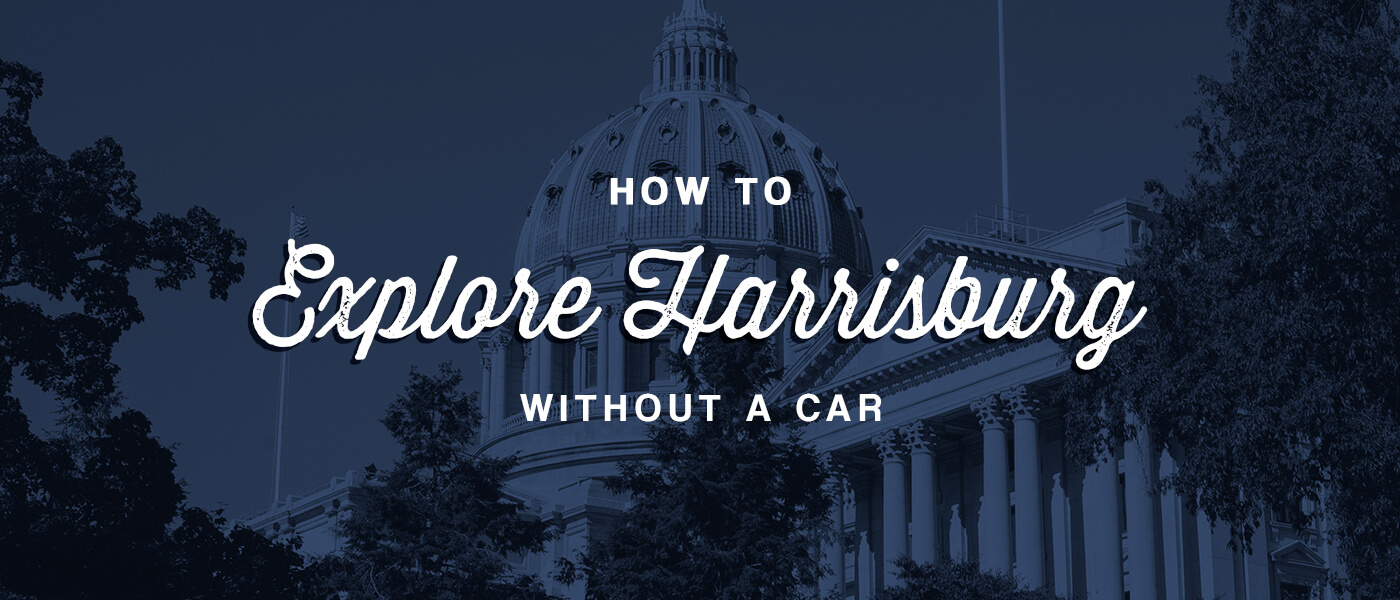 Harrisburg, Pennsylvania, is an easy city to explore without a vehicle. Whether you want to save money on gas, lower your environmental impact or simply avoid navigating through traffic, traveling without a car is a great choice.
Harrisburg is a vibrant city full of fun attractions, offices, restaurants and shops, perfect for young professionals, families and individuals of all ages. Many Harrisburg neighborhoods are full of fun things to do and see within walking distance of each other, so you can easily travel from one destination. We'll take you through how to get around Harrisburg without a car and some of the attractions you can see along the way!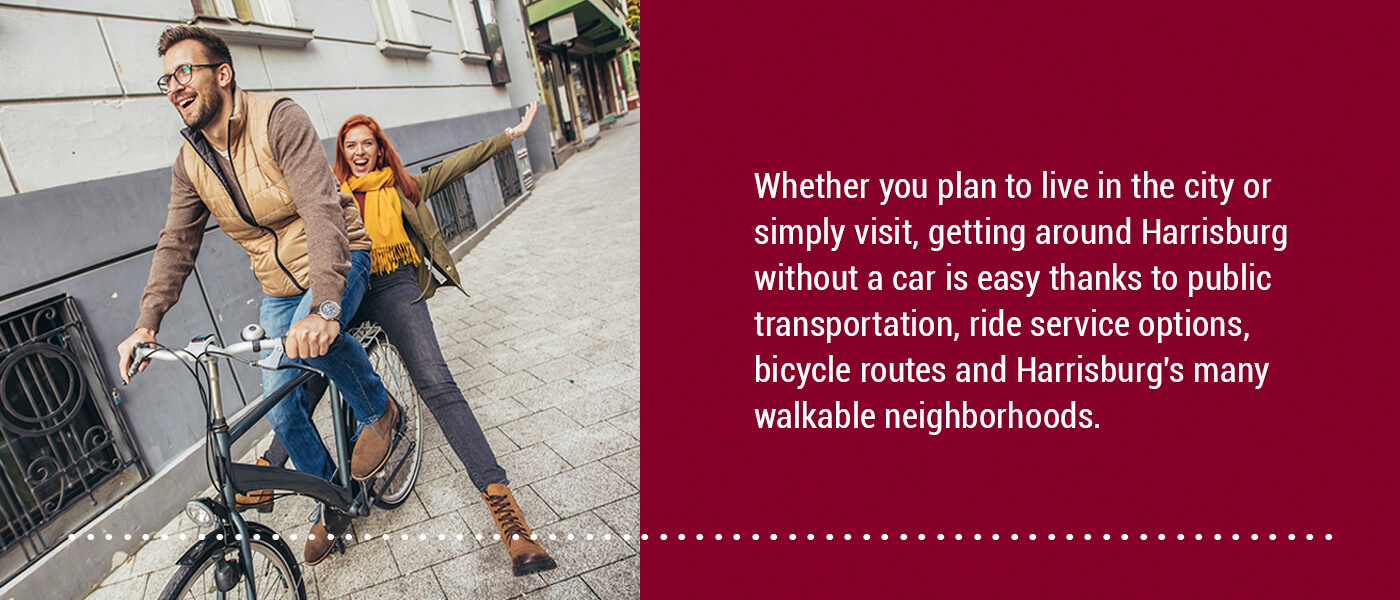 Do I Need a Car in Harrisburg, Pennsylvania?
Whether you plan to live in the city or simply visit, getting around Harrisburg without a car is easy thanks to public transportation, ride service options, bicycle routes and Harrisburg's many walkable neighborhoods. You can still enjoy all that Harrisburg has to offer and you may even save money while you're at it.
Thanks to rising gas prices and climate change, more and more people are looking for ways to save money and lower their environmental impact. Traveling without a car is an excellent way to save money on fuel and reduce your carbon footprint. Explore Harrisburg to experience how easy it is to get around the city without a car.
Does Harrisburg Have Good Public Transportation?
Harrisburg's public bus service, Capital Area Transit (CAT), is an excellent answer to the question of how to explore Harrisburg. CAT's main transit routes include:
Market Street Route: On weekdays and Saturdays, CAT's Market Street route offers transportation between Kline Village, Market Street and Downtown Harrisburg.
ROC/Capitol Complex Shuttle Route: The ROC/Capitol Complex Shuttle route takes passengers between Penndot's Riverfront Office Center, Downtown Harrisburg and the Capitol Complex. This route is available on weekdays.
Third Street Route: Travel on CAT's Third Street Route to reach Third Street, Downtown Harrisburg, Uptown Plaza, Division Street and 2nd and Linglestown Road. People can ride this route on weekdays.
CAT also offers various daytime and nighttime routes that travel to areas throughout the city, including:
Sixth Street
Uptown Plaza
Harrisburg Mall
Rutherford Square
Grayson Road Walmart
Fresh Express Warehouse
Farm Show Complex
Harrisburg Area Community College's main campus
Colonial Park Mall
Giant Foods at the Harrisburg East Center
Gateway Center
Linglestown Square
Paxton Towne Center
Union Deposit Road
Point Mall
Harrisburg International Airport
How Do You Get Around in Harrisburg, Pennsylvania?
In addition to public transportation, Harrisburg also features many private transportation options.
If you need to reach a destination fast or travel across the city, ride service options allow you to book rides quickly and easily with just a few clicks. If you want to explore or commute while getting physical exercise, Harrisburg is also a great place to walk and bicycle.
No matter where you need to go or how fast you need to get there, Harrisburg has transportation options to help you.
Taxi Services
The following businesses offer taxi services in the Harrisburg area:
Class1 Cab
Keystone Cab
Good Cab
Fast Cab
Ride and Delivery With Xavier LLC
Joe Taxi
JTL Reliable Cab Service
Fast Taxi Cab
Suburban Taxi Service
Fast Liberty Cabs
Uber
With Uber, you can request a ride when you need it or reserve a ride in advance for any time and day of the year. Uber offers different options based on your needs:
UberX: The most affordable option, UberX provides customers with everyday rides to where they need to be.
Comfort: This option lets riders request a ride in a new car with extra legroom
UberXL: With an XL, customers can book affordable rides for up to five passengers.
Uber Pet: Requesting this option lets customers share a ride with their four-legged companions.
Whether you need a ride to the Capital City Mall, want to explore Downtown Harrisburg with a group or plan to take your dog to the park, Uber can get you there quickly and easily.
Lyft
Like Uber, Lyft allows people to request a ride in minutes and enjoy easy transportation to nearby areas, restaurants, bars, stores, parks, offices and attractions. With a few taps, riders can match with local drivers and get to where they need to go.
You can request a regular Lyft to travel solo or with up to three friends or choose the Lyft XL option to travel with up to five friends. Lyft makes it easy to explore Harrisburg no matter where you need to go or what time you need to be there.
Bicycles
Exploring Harrisburg on two wheels instead of four is a healthy and affordable option. Harrisburg's Vision Zero traffic improvement strategy includes plans to add bicycle lanes to more streets within the city, which will make it easier for bicyclists to travel around Harrisburg safely.
Bicycling is an excellent form of exercise and a great way to benefit the environment by reducing your carbon footprint. Whether you ride your bike to work each day, bicycle to the store or explore Harrisburg's parks and trails, bicycling is a fun, healthy and climate-friendly way to explore Harrisburg without a car.
Walking
Walking is another healthy and climate-friendly way to explore Harrisburg. Walk around Harrisburg to enjoy city sights, fresh air, sunshine and exercise. Many of Harrisburg's main attractions, restaurants, bars, stores and offices are within easy walking distance of each other. Stroll through Downtown Harrisburg on a night out with friends or walk along the Susquehanna River for a beautiful view.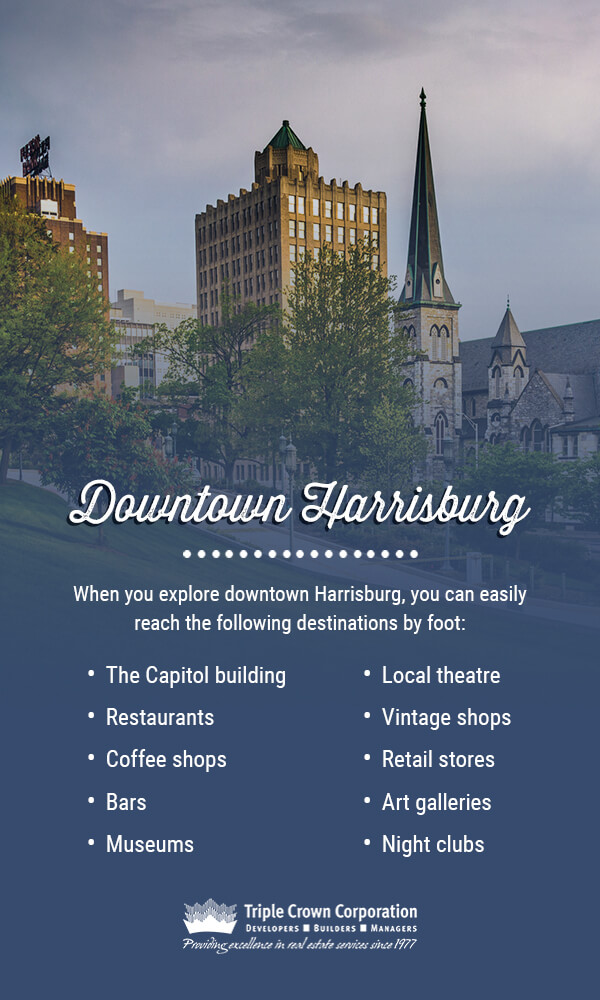 Harrisburg's Walkable Neighborhoods
Harrisburg has many neighborhoods and areas that are perfect for walking. Whether you have a destination to reach or simply want to enjoy Harrisburg's beautiful sights, there are many places you can enjoy a walk.
City Island
City Island is a walkable area full of fun activities. Trek across the Walnut Street Walking Bridge to explore a self-contained paradise full of fun opportunities:
Walk to the First National Bank (FNB) Stadium to catch a Harrisburg Senators game.
Explore the Susquehanna River on a fun paddlewheel riverboat or play a game of mini-golf.
Enjoy lunch at an open-air cafe and enjoy views of the river while you eat.
Midtown Harrisburg
Walk around Midtown Harrisburg to experience culture and a buzzing atmosphere. You can walk from farm-fresh food stands to craft breweries, enjoying artful murals along the way. Grab dinner, then walk to a music venue for some live entertainment. Midtown Harrisburg is a great place to walk and explore.
Downtown Harrisburg
Downtown Harrisburg is an excellent area to explore on foot. Whether you're looking for arts and history or food and cocktails, walking through Downtown Harrisburg is sure to delight you. When you explore downtown Harrisburg, you can easily reach the following destinations by foot:
The Capitol building
Restaurants
Coffee shops
Bars
Museums
Local theatre
Vintage shops
Retail stores
Art galleries
Night clubs
Explore Harrisburg's Best Attractions
You don't need to drive to reach some of the best things to do and see in Harrisburg! Whether you reserve an Uber ride Downtown or walk along the Susquehanna River to explore Midtown, there's plenty to experience.
Pennsylvania State Capitol Complex
The Pennsylvania State Capitol Building is a stunning highlight of Harrisburg's skyline. Visit the State Capitol Complex to marvel at the Capitol building's Renaissance-style dome and walk through its stunning interior. Visitors can book free guided tours and learn about the building's architecture and history.
The Capitol Complex is within walking distance of various cafes and restaurants, so you can grab a bite to eat or enjoy a coffee after your tour. You can also walk to Riverfront Park and enjoy a pleasant stroll along the Susquehanna River.
Strawberry Square
A short walk from the Capitol Complex will take you to Strawberry Square, a unique mix of entertainment, food, shops and educational features. Strawberry Square includes a wide variety of restaurants, from fast food to gourmet salads.
Sit down for a meal at one of Strawberry Square's many restaurants or grab a bite to take with you as you keep exploring. Strawberry Square also features various shops — you can browse jewelry, unique fashion and more, all within a single block.
Whitaker Center for Science and the Arts
A quick walk across the street will bring you to the Whitaker Center for Science and the Arts, a museum featuring fun exhibits, an IMAX theater, a performance theater and a science center. Catch a 3D movie at the IMAX theater or watch a live performance at the Sunoco Performance Theater. Learn about science and other STEM topics through interactive exhibits at the Harsco Science Center and be sure to visit the museum gift shop before you leave.
Open Stage Theater
A short way from the Whitaker Center and Strawberry Square, you'll find Open Stage. Open Stage is a theater company in Harrisburg featuring contemporary musicals and plays. The theater features new productions each season, so you can catch a new show each time you visit. With many restaurants and bakeries within walking distance, you can grab dinner with friends after a show and call for an Uber or Lyft ride home.
Broad Street Market
Visit Midtown Harrisburg to find organic and locally-grown products at Broad Street Market. Broad Street Market features over 40 vendors selling meats, produce, baked goods and freshly prepared meals. Grab a soup and sandwich for lunch and treat yourself to some delicious ice cream for dessert. Purchase some organic snacks to take home with you or enjoy while you explore the rest of Midtown Harrisburg.
Susquehanna Art Museum
Walk just a couple of minutes down the street from the Broad Street Market to visit the Susquehanna Art Museum. Tour the museum, view art exhibits and marvel at incredible works of art. The Susquehanna Art Museum features different exhibits throughout the year, so you can continuously return and see something new each season.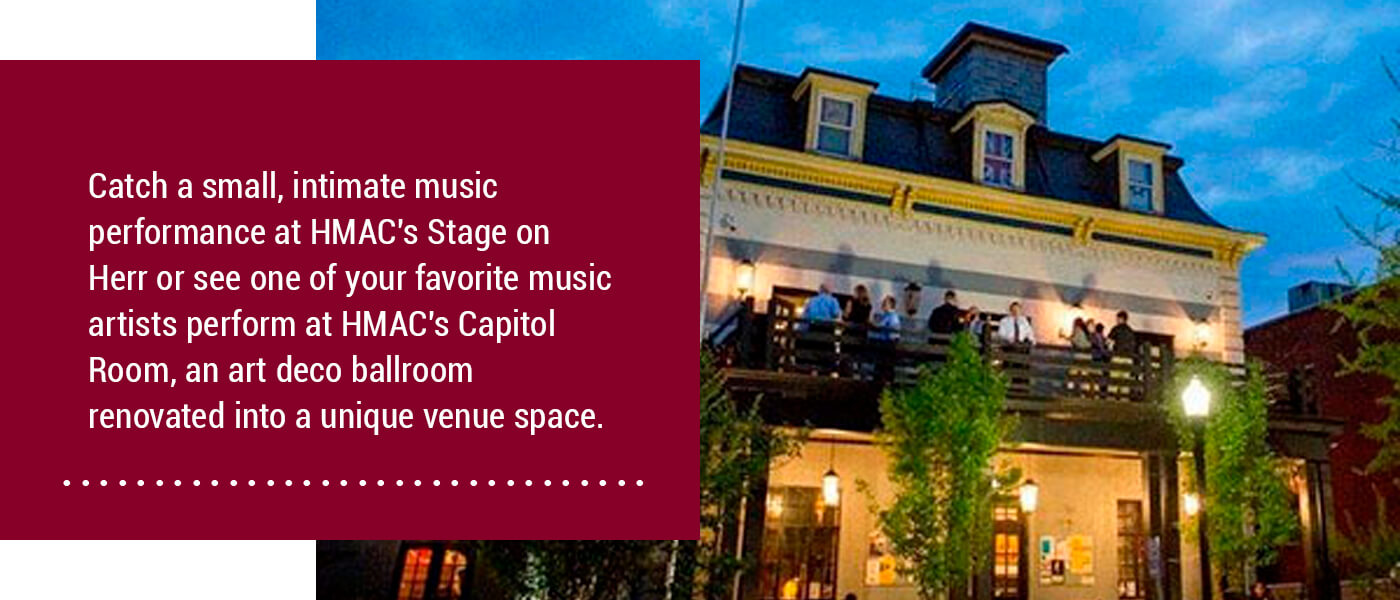 Harrisburg Midtown Arts Center
Just down the street from the Susquehanna Art Museum and the Broad Street Market, you can catch a live show or grab a meal at the Harrisburg Midtown Arts Center (HMAC). HMAC features two different venue rooms for live shows and a restaurant that serves delicious food.
Catch a small, intimate music performance at HMAC's Stage on Herr or see one of your favorite music artists perform at HMAC's Capitol Room, an art deco ballroom renovated into a unique venue space. HMAC is a great place to end a day exploring Midtown Harrisburg and you can make it home quickly and easily with a taxi or other ride service.
How to Travel to and From Harrisburg Without a Car
Harrisburg also offers various ways to travel in and out of the city. Whether you want to explore a nearby town or travel to visit family in another state, Harrisburg provides easy transportation to help you reach your destination.
Bus
CAT offers commuter service routes that operate Monday through Friday in the morning and evening. Commuters can use CAT's commuter services to travel between Harrisburg and Shippensburg, Carlisle and Upper Dauphin County. CAT's Central Pennsylvania bus routes also let individuals travel between Harrisburg and:
Middletown
Hershey
Hummelstown
New Cumberland
Mechanicsburg
Carlisle
Camp Hill
Enola
Amtrak Train Station
Harrisburg's Amtrak Train Station on Fourth and Chestnut Streets provides transportation to and from Harrisburg. On Amtrak, travelers can reach locations such as Middletown, Philadelphia, New York City and Washington, D.C. Amtrak offers one-way and round-trip tickets from Harrisburg and various areas through the northeast.
Harrisburg International Airport
Harrisburg International Airport (HIA), Pennsylvania's third-largest airport, offers non-stop flights to thirteen cities in the U.S. and one-stop flights to various international destinations. HIA provides travelers with an easier transportation option, so they don't have to travel to other major airports to reach their destinations.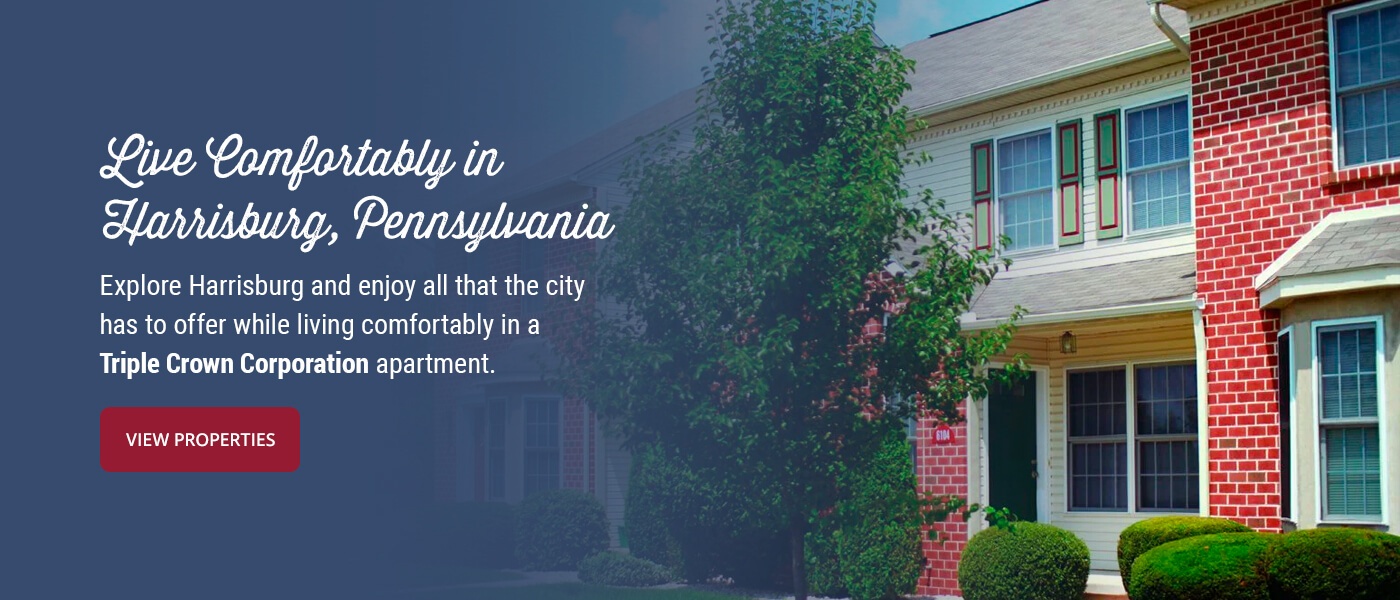 Live Comfortably in Harrisburg, Pennsylvania
Explore Harrisburg and enjoy all that the city has to offer while living comfortably in a Triple Crown Corporation apartment. Our rental communities in Harrisburg, Pennsylvania, offer modern designs and spacious rooms. You can enjoy a beautiful living space just a short commute to nearby attractions, offices, schools, restaurants and bars.
Triple Crown Corporation's rental communities all feature unique amenities so that you can choose a location based on your personal needs. From generous storage space to fireplaces and luxurious kitchen features, our rental communities are sure to have what you're looking for. Enjoy any of the following amenities in different communities:
Full appliance packages
Abundant closet space
Spacious rooms
Eat-in kitchens
Full basements
Fireplaces
Sports courts
Garages
Our spacious townhouses and apartments are also pet-friendly with certain size and breed restrictions. We offer various options such as studio apartments, one to three-bedroom apartments and two to three-bedroom townhouses. Whether you want to live in Harrisburg for the fun and vibrant city culture or the many career opportunities the city offers, you can reside comfortably in one of our Harrisburg rental communities.
Call Harrisburg your home in any of Triple Crown Corporation's rental communities. Enjoy living in Pennsylvania's state capital and explore the city with its many transportation options. Request information to learn more about Triple Crown Corporation's Harrisburg rental communities.