Looking for some beer-hopping hotspots in the heart of central Pennsylvania? You're in luck, because the Hershey-Harrisburg region is home to a diversity of craft breweries for every type of beer lover. Just like you, each of our local beers and breweries has a unique personality and an authentic flavor. Whether you savor a strong IPA or a signature stout, Harrisburg has a taste to suit your palate and whet your whistle.
Breweries on the Rise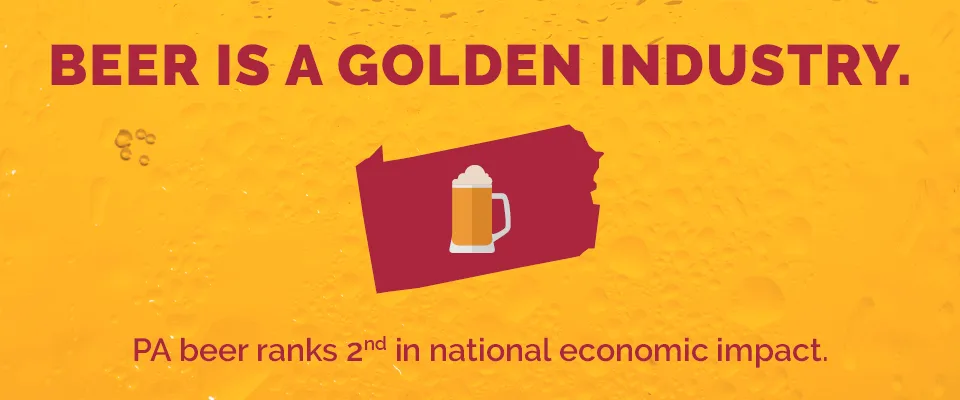 Did you know regional microbreweries make up about 20 percent of the annual beer production volume in the United States, and craft breweries make up more than 70 percent? Beer is a golden industry, and brewery growth has a significant financial impact regionally and nationally. Since 2004, the number of microbreweries has increased from 700,000 to more than five million nationwide. That's a lot of beer! And with Pennsylvania beer ranking second in national economic impact, you can bet our breweries pack a punch, especially in the capital region.
Before Your Visit
If it's been a while since your last expedition, brush up on your beer knowledge to enhance your experience. Here's what to order when visiting a brewery:
Pints: Also described as a "full pour," an American pint is a 16-fluid-ounce glass of select beer, so be sure you're a fan of the brew.
Flights: A beer flight, much like a wine tasting, is built specifically for sampling. With four to eight small pours in each set, flights are perfect for treating your taste buds to a test of the best signature brews.
Growlers: If you're especially fond of a certain beer, consider bringing or buying a growler, a refillable half-gallon jug that makes it easy to bring home a well-preserved brew.
And if you need a refresher on the best beer to buy, these basic brew types will keep you up to speed on selection:
Lagers: Smooth, crisp and well-aged, lagers are famous for their signature preparation method of storage at very low temperatures. With flavors that range from sweet to bitter, lagers have a high level of carbonation and are typically pale to medium in color.
Ales: Robust, full-bodied beers with hints of aromatic fruit and spice, ales are brewed with top fermenting yeast. Boasting a bitter, fruity flavor, brews include Pale Ales, Bitters and Milds, to name a few.
Malts: Ranging from light to full-bodied, malt brews are dark, sweet and flavored with nuances of nuts and caramel.
Stouts and Porters: Both dark, dry roasts brewed with top fermentation, stouts and porters differ only slightly. While porter is sweeter because of its aromatic malt, stout is brewed with unmalted barley to produce a coffee-like taste.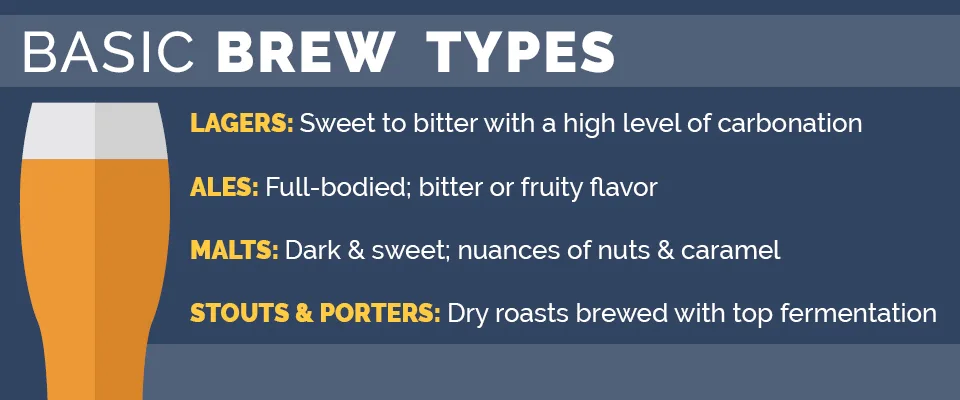 Ready to explore hopping craft breweries in the Harrisburg area? These locations won't disappoint!
Zeroday Brewing Company
Located in the Midtown District of Harrisburg amongst eclectic shops, bookstores, restaurants, markets and HACC's Midtown Campus, Zeroday Brewing Company and its clean brews came to fruition in 2014. Now, making its home in a revitalized space behind the Midtown Cinema, the brewery boasts a 60-seat tasting room, a 20-tap capacity and a personal involvement with the local arts community. Hosting live music and showcasing select local art, Zeroday is a unique spot to relax and unwind.
Special features: Snack menu, bring-your-own-food (BYOF) option and live entertainment.
Signature brews: Mango Habanero, Dulce Vita Chocolate Hazelnut Sweet Stout, Blueberry Shandy
The Millworks
Located in Midtown Harrisburg, the Millworks is a sustainable restaurant, bar and brewery with a distinct bohemian vibe. Featuring preserved, restored tinder and brick from the former Stokes Millwork building it inhabits, the Millworks is slotted for inclusion in the National Park Service Registry of Historic Places. The brewery endorses the Broad Street Market, boasts a dinner menu of fresh, local foods, features live entertainment and shares its space with 23 artist studios. With an outdoor biergarten and original events every month, there's always something new to discover at the Millworks.
Special features: Art galleries and studios, live music and an outdoor biergarten.
Signature brews: Apple Spiced Saison, Oktoberfest, Nitro Mocha Porter
Tröegs Independent Brewing
Founded in 1996 by two brothers with a dream of brewing, Tröegs Independent Brewing is located in the heart of Hershey. Supporting local vendors, producers and charities, Tröegs is dedicated to building and supporting the central PA community. Stop by to tour the facilities, taste hand-crafted ales, experience the brewing process and observe production up close.
Special features: Self-guided and guided production tours, Art of Tröegs fan gallery and tasting room and snack bar.
Signature brews: Hop Knife Harvest Ale, JavaHead Stout, DreamWeaver Wheat
The Brewery at Hershey
Located in Middletown and founded on a friends-and-family philosophy, the Vineyard and Brewery at Hershey offers quality handcrafted brews in a picturesque, privately run setting. Expand your palate with artisan flavors that are bold and refreshing as you enjoy views of the site's 40-acre farm and natural springs pond, bringing you home to the country where the authentic brewing happens.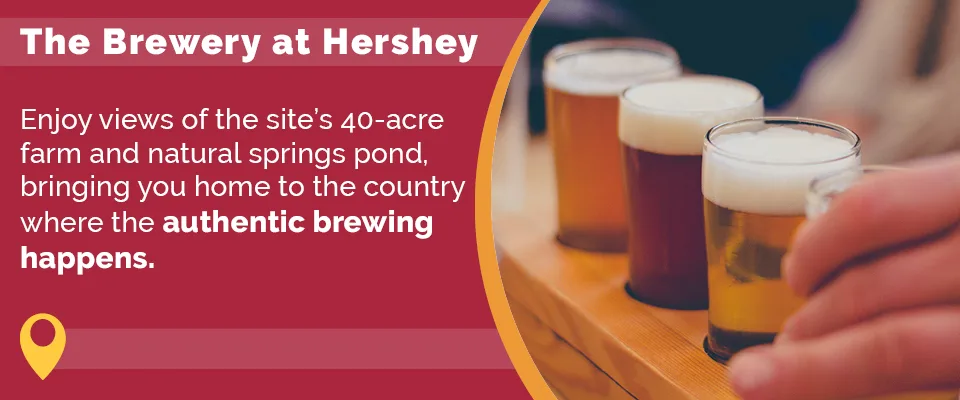 Special features: Tasting room, specialty events and a VIP Touring Experience.
Signature brews: Flash Merloaded Barrel-Aged Pumpkin Ale, Pom Beach Blueberry Pomegranate Wheat, Sap Sucker Maple Porter
Tattered Flag Brewery and Still Works
Veteran-owned and operated out of Middletown, Tattered Flag Brewery and Still Works is dedicated to contributing to the community and providing customers with an authentic experience. You'll have the opportunity to participate in beer tastings, check out the on-site distillery, enjoy food and live music at the Brew Pub and even try your hand at brewing with the customizable Brew Your Own experience.
Special features: Brew Your Own beer, seasonal events and tasting sessions.
Signature brews: Chocolate Bock, Aleways RemAmber, Blue Raider Lager
Boneshire Brew Works
Conveniently located halfway between Hershey and Harrisburg, Boneshire Brew Works specializes in fine ales and features a homey, open-view tasting room that looks into the brew house. Boneshire also offers daily Nomad BBQ and flatbread cuisine, growler fills of beer and original brews on tap. Drop by for a cozy, down-home experience with a personal touch.
Special features: Taproom, specialty beer fests and inside view of brew house.
Signature brews: Plum LegenDAIRY, Green Machine, Derry St. Wheat
Appalachian Brewing Company
Founded in 1997 in downtown Harrisburg, Appalachian Brewing Company (ABC) is one of the largest brewpubs in America. With the original brewery and brewpub located in a 100-year-old renovated building site in Harrisburg, ABC also runs six restaurants throughout Pennsylvania with their own craft beer breweries. Featuring brewery tours, natural ingredients, quality dining and an always-expanding rotation of seasonal and flagship craft beers, ABC promises a classic flavor and an authentic experience.
Special features: Brewery tours, Appalachian Craft Soda Manufacturing Facility and live music and shows at the Abbey Bar.
Signature brews: Celtic Knot Irish Red Ale, Rutty Buck Pumpkin Ale, Batch No. 666 Halloween Beer
Market Cross Pub and Brewery
Located in Carlisle, Market Cross Pub was inspired by the tumultuous political history of Carlisle, England, and it derives its name from the iconic Market Cross Monument. Continuing the brewing tradition and communal atmosphere of English-style pubs, it boasts a 1933 10-barrel open-fermentation system from England, which produces 10-12 styles of beer annually. Come have a taste! With live music, a full dining menu of homecooked classic food and a full lineup of craft drafts, Market Cross Pub has something for everyone.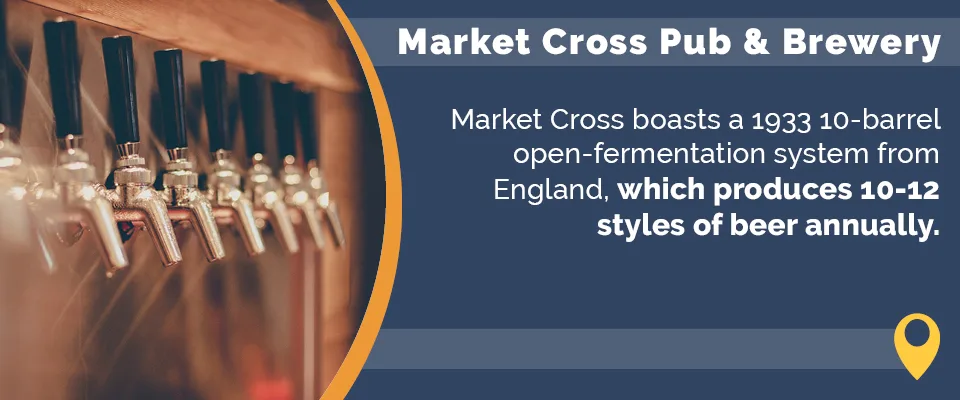 Special features: Daily "pubtivities," live entertainment and 10-barrel brewery system.
Signature brews: English Red Ale, Classic Cream Ale, Molly Cross
Lancaster Brewing Company
Located near the Harrisburg Mall, Lancaster Brewing Company (LBC) is a business that embraces local values, quality standards and the country lifestyle. Inspired by the rich, rural history of the Lancaster County breweries during Prohibition-era America, LBC began operating in 1995 in the Edward McGovern Tobacco Warehouse, where it continues to thrive today. Come tour the brewery, contribute to LBC's support of local charities and sample LBC's intense, smooth beers for an authentic country experience.
Special features: Brewery tours, special events and historic setting.
Signature brews: Double Chocolate Milk Stout, Strawberry Wheat, Hop Hog IPA
Pizza Boy Brewing Company
Founded on the philosophy of classic, quality beer in a food-and-family-friendly atmosphere, Pizza Boy Brewing Company is located in Al's of Hampden Restaurant in Enola. Featuring more than 100 craft beers on tap and a 10,000-square-foot location, Pizza Boy prides itself on its clean brewing production and welcoming setting. Come try a signature brew for yourself.
Special features: Automated Braukon Brewhouse and full-service restaurant.
Signature brews: Bubblicious, Citrus Flip, Coconut Cream Ale
Ever Grain Brewing Company
Located in Camp Hill, Ever Grain Brewing Company offers local hand-crafted brews in a vibrant, modern setting. Ever Grain opened its doors in 2016, and it features a long bar, an open-floor setting with plenty of space, a hearty dinner menu and a flavorful variety of brews on tap. Craving a local pilsner complete with German Noble hops? Try the Camp Pils. And if pine and citrus blends sound appealing to you, make the Joose Juicy IPA your personal brew. Beginning with 10 signature brews at last year's opening, brewmaster Bruce Tanner has plenty more creative juices churning. With one-of-a-kind original lagers, hefeweizens, stouts and ales, Ever Grain will help you find your bliss.
Special features: Renovated brewery facilities, beer-hall seating and restaurant.
Signature brews: Dark Necessity, The Udder One, Save the Galaxy Black IPA
Molly Pitcher Brewing Company
Located in Carlisle, Molly Pitcher Brewing Company is the successful project of three beer-lovers with a passion for brewing. Innovation is the name of the game at Molly Pitcher, which means it offers a rotation of new brews – mixed in with some classic styles – to keep the flavors as interesting as their titles. Common Sense Citra IPA, American Blonde and Peanut Butter Porter are just a few of the original ales and stouts you can sample at this brewery. If you love one, take home a growler or stay to savor your draft in the taproom, which features ample seating, 10 rotating taps and lunch fare. Stop by Molly Pitcher to give your taste buds an adventure.
Special features: Taproom and artisan BBQ.
Signature brews: The Minutemen, Barrel Aged Imperial Espresso, Cannonball Kolsch
Snitz Creek Brewery
The first brewery to be located in the heart of Downtown Lebanon in 50 years, Snitz Creek Brewery represents much more than just beer. Built upon a belief in emphasizing the serenity and exhilaration of the great outdoors, the brewery fashions and names a selection of its beers after an outdoor theme or pursuit, like Linebreaker, Explorer and Opening Day. Practicing what its owners call "Brewing with a Purpose," Snitz Creek donates 10 cents to specific charities linked with six select brews. Downing an Apple-Weisse will benefit the Humane Society of Lebanon County, while sampling an Explorer Ale contributes to the PA Breast Cancer Coalition. Also supporting the Quittapahilla Watershed, the Autism Society of Greater Harrisburg Area, Rails to Trails and Trout Unlimited, Doc Fritchey Chapter, Snitz Creek believes in supporting its local community with beer, burgers and the spirit of charity. Its kitchen also boasts hearty signature dishes like Seltzer's Smokehaus Chili, Snitz Salad with Tuna and best-selling burgers. Join in the fun!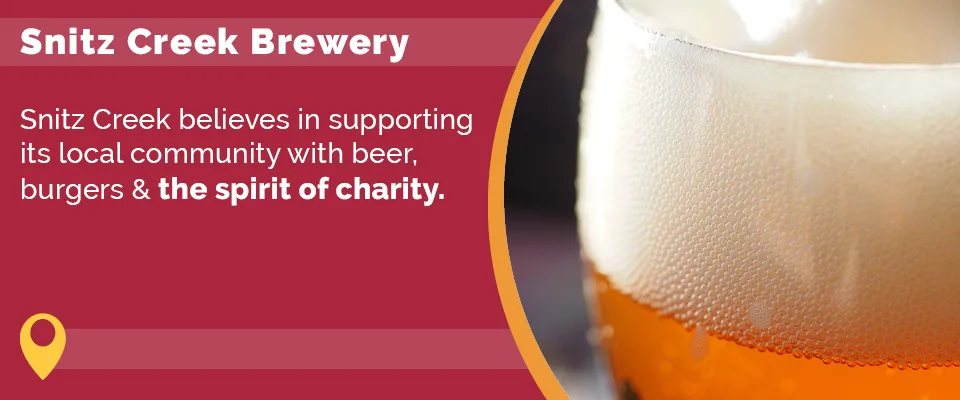 Special features: "Brewing with a Purpose" and full-service restaurant.
Signature brews: Woolly Bugger, Lemon Lime Gose, Honey Ginger Green Tea Pale Ale
Bube's Brewery
Located in Mount Joy, Bube's Brewery is proud of its German roots and its rich history linked to the "lager era" in 1800s PA. Today, the brewery strives to remember its origins by featuring a museum and historical performance aspect. Tour the old lagering cellars, observe the working microbrewery, experience murder mystery dinners and feasts, explore the catacombs and bask in the rich history of the German lager era. Bube's handcrafted drafts rotate frequently, and varieties are available on-site. Also offering restaurant locations, ghost tours and seasonal events, Bube's Brewery is an experience for beer-lovers, history buffs and fun-lovers.
Special features: Historical tours, performances and special events.
Signature brews: Available on-site.
Come Home to Triple Crown
Whether you're exploring breweries near Harrisburg, Hershey or Carlisle, enjoying a pale ale, sampling a smooth lager or filling your growler with your favorite handcrafted malt, we're confident you'll be delighted with everything the Harrisburg area has to offer. Ready to make the move? Reach out to Triple Crown Corporation for your rental needs. Our comfortable, welcoming rental communities of high-quality townhomes and apartments in and around Harrisburg are the perfect respite after a day of exploring. We offer reliability, convenience of location, modern communities and affordable rates. With amenities like fitness centers, free basic cable, finished basements, free pool memberships, full-sized washers and dryers and pet allowances, Triple Crown provides privacy, peace of mind, comfort and convenience for your residential life. Enjoy a beer at home! We'd love to have you.