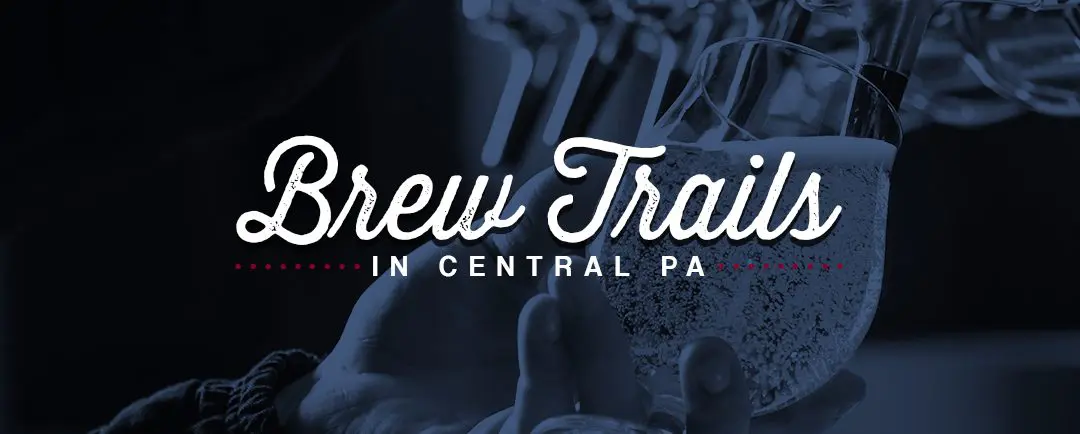 Whether you're an experienced craft beverage taster or new to the brew scene, spending the weekend hopping from brewery to brewery is always fun. And with more than 400 craft breweries across the state, Pennsylvania is the perfect place to plan a brew trail. Central Pennsylvania, in particular, is full of unique, independent breweries with completely original beverages created with locally sourced ingredients.
This guide to brew trails in Central Pennsylvania will give you the ultimate list of best brew trails, the can't-miss brewery stops on each and the prizes you can earn along the way. Check this list out if you're looking for an unforgettable craft brew trail in Harrisburg or any of the surrounding areas. Then, secure a designated driver and get going!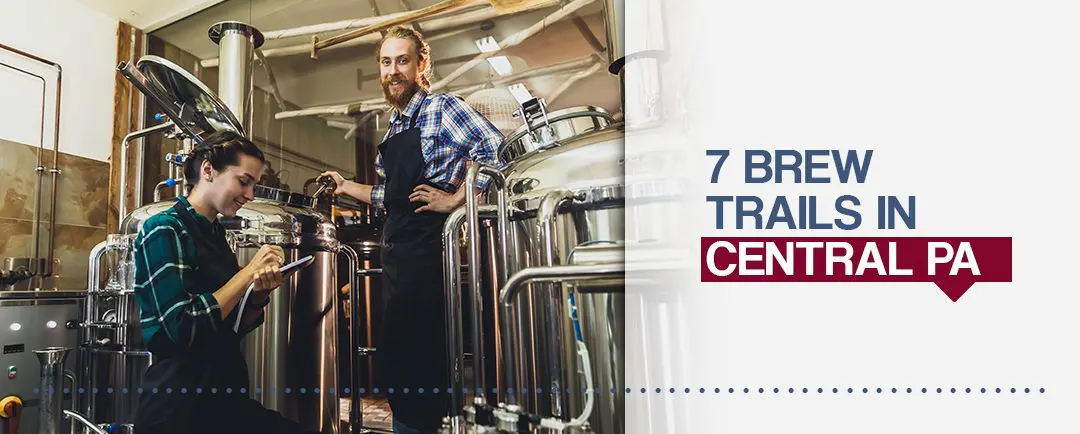 7 Brew Trails in Central PA
If a brew trail sounds like the perfect weekend activity for you and your friends, Central Pennsylvania is the place for you. As a rising craft beer destination, Pennsylvania has numerous breweries, brewpubs and distillery locations to explore. And by following a brew trail, you have the opportunity to get exclusive tours, deals and rewards for enjoying a frosty mug of craft beer.
To get started on finding your new favorite brew, check out these seven excellent brew trails in Central Pennsylvania.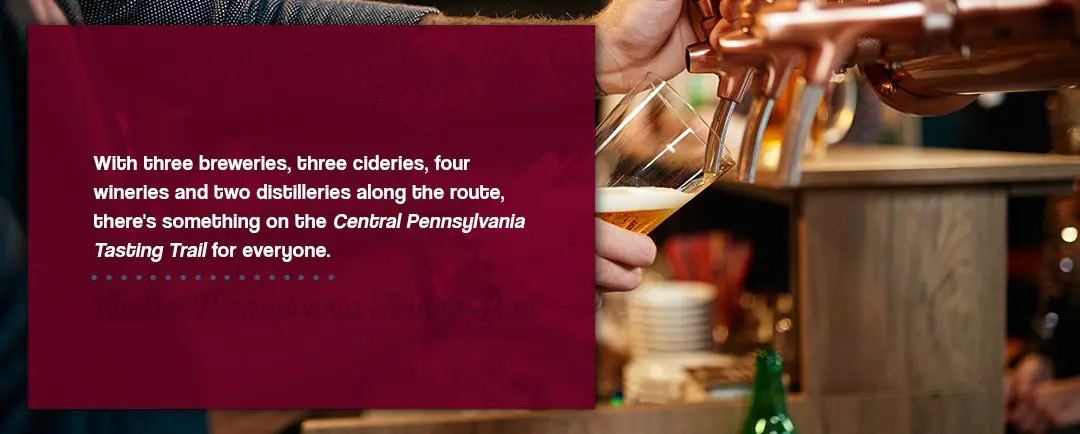 1. Central Pennsylvania Tasting Trail
The Central Pennsylvania Tasting Trail delivers tastes of the best libations this region has to offer. No matter what your favorite type of drink is, you'll find something that delights your taste buds on this trail. With three breweries, three cideries, four wineries and two distilleries along the route, there's something on the Central Pennsylvania Tasting Trail for everyone.
As a bonus, you can earn cool swag for visiting all the stops along the trail. To start checking the trail's locations off your list, get a passport for the Central Pennsylvania Tasting Trail and be sure to receive a stamp in it from each place you visit — you may even get a little souvenir from some locations.
Once you've completed your passport, you can turn it in for an exclusive, limited-edition Central Pennsylvania Tasting Trail sweatshirt that isn't available for purchase. Here are some of the top spots you'll get to visit if you complete your passport.
Big Spring Spirits: In the Big Spring Spirits tasting room, you can sample any of 40 craft cocktail options and enjoy a small bite from a locally sourced menu.
Mount Nittany Vineyard and Winery: Located on a beautiful Central Pennsylvania mountainside, Mount Nittany Vineyard and Winery offers visitors exceptional local wines and stunning views.
Good Intent Cidery: A family-owned and -operated business, Good Intent Cidery is in the heart of Pennsylvania apple country to deliver its guests the most flavorful ciders possible.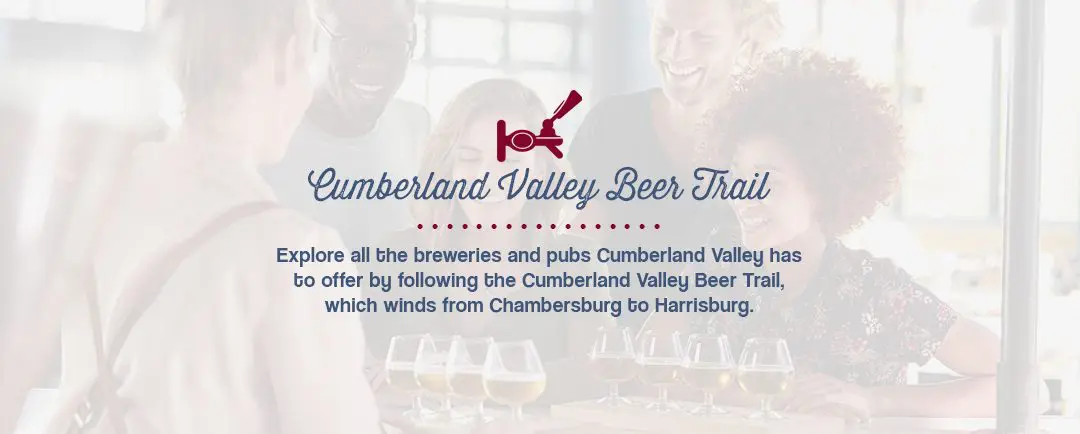 2. Cumberland Valley Beer Trail
Explore all the breweries and pubs Cumberland Valley has to offer by following the Cumberland Valley Beer Trail, which winds from Chambersburg to Harrisburg. Cumberland Valley is full of emerging brewery and restaurant locations that are perfect for a relaxing drink and bite to eat after a long week at work.
To get started on your Cumberland Valley Beer Trail journey, pick up a passport at the Cumberland Valley Visitors Center or download this virtual version and remember to ask for a sticker whenever you visit one of the passport locations. By filling out your passport, you'll both get to experience a fantastic variety of brews and win prizes.
Here's a breakdown of the Cumberland Valley Beer Trail passport sticker system.
Level one: After you've collected five stickers on your passport, you'll get a free bottle opener for when you want to enjoy a brew at home.
Level two: You'll reach level two after you've received 15 stickers, at which point you'll get a T-shirt along with your new bottle opener.
Level three: Once you've gathered 20 stickers, you've officially reached level three and will receive a bottle opener, T-shirt and cooler.
To make navigating your passport stops easier, there are three regions of the Cumberland Valley Beer Trail: West Shore and Harrisburg, Mechanicsburg and Shippensburg to Carlisle.
You can sample original flavors of craft brews from Cumberland Valley's emerging brewpubs and breweries within each region. While all the stops featured along the trail are worth visiting, make sure you don't miss these highlights.
Molly Pitcher Brewing Company: Located in the Shippensburg to Carlisle region, Molly Pitcher Brewing Company offers a one-of-a-kind Revolutionary War-themed brewery experience that is sure to delight any history buff.
Larsen Meadworks: For those exploring the Mechanicsburg area, stop by Larsen Meadworks to satisfy your sweet tooth. Known for its creative and unusual approaches to dessert wines and dry bruts, this winery won't disappoint the curious dessert lover.
Al's of Hampden: A hidden gem in the West Shore and Harrisburg region, Al's of Hampden offers its guests more than 100 options to taste. If you're looking for a new favorite brew, Al's might have precisely what you're searching for.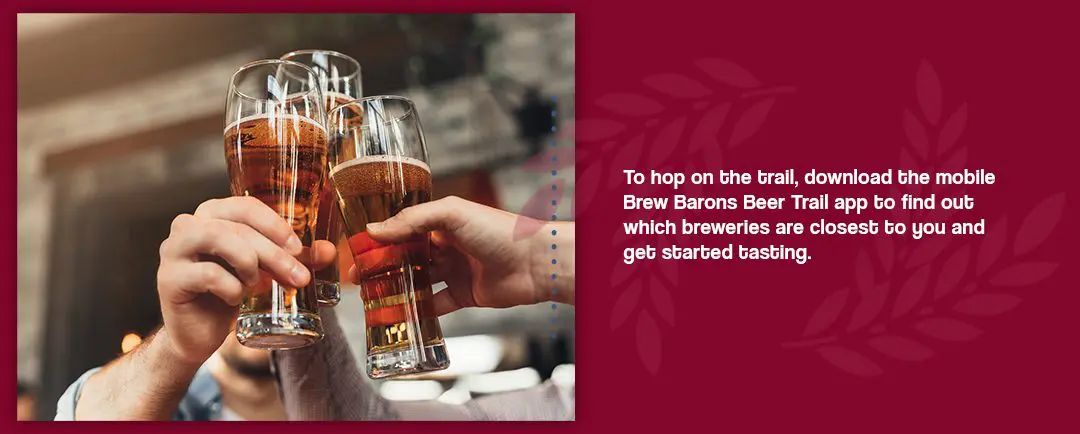 3. Brew Barons Beer Trail
The recently launched Brew Barons Beer Trail is an interactive, mobile way to experience a brew trail. Designed to draw more visitors to the many craft breweries and tasting locations within the Hershey Harrisburg Region, the Brew Barons Beer Trail includes more than 20 participating locations.
The trail is a natural meeting point between Philadelphia and Pittsburgh and a legacy of the history of influential "Brew Barons" who enjoyed exchanging ideas and tall tales over a few pints of great beer. Because the trail has such a unique brand and backstory, each participating brewery meets specific standards created by owners' and staff members' personalities.
To hop on the trail, download the mobile Brew Barons Beer Trail app to find out which breweries are closest to you and get started tasting. The mobile app also allows users to mark their favorite locations and search for upcoming events like special releases or live music nights.
The mobile app also allows brewery guests to earn Brew Baron rewards as they begin to rack up more and more location check-ins. These are some of the fun prizes Brew Barons can collect at each level.
Entrepreneur: Six check-ins will get trail members a deck of Brew Barons Beer Trail-themed playing cards and reach the "entrepreneur" level.
Visionary: After 12 check-ins, guests get dubbed "visionaries" and receive an ale-can glass.
Brew Baron: With 17 check-ins, you'll earn the title of "Brew Baron" and receive a stainless steel growler.
While on your journey to Brew Baron status, make a point of stopping by these sites for a pint.
Rotunda Brew Pub: Conveniently located in the heart of downtown Hershey, Rotunda Brew Pub is all about locally sourced ingredients. For a uniquely complex taste, ask to try one of their rotating craft beer selections on draft.
Liquid Noise Brewing Co.: With vibes as cool as its name, Liquid Noise Brewing Co. has flavors with flair. From bold stouts and pale ales to unique cocktails and wines, this local brewery has something for everybody.
The Vegetable Hunter Brewery: For any vegan, the Vegetable Hunter Brewery will be a dream come true. This 100% vegan boutique brewery uses high-quality ingredients to craft small batches of creative brews.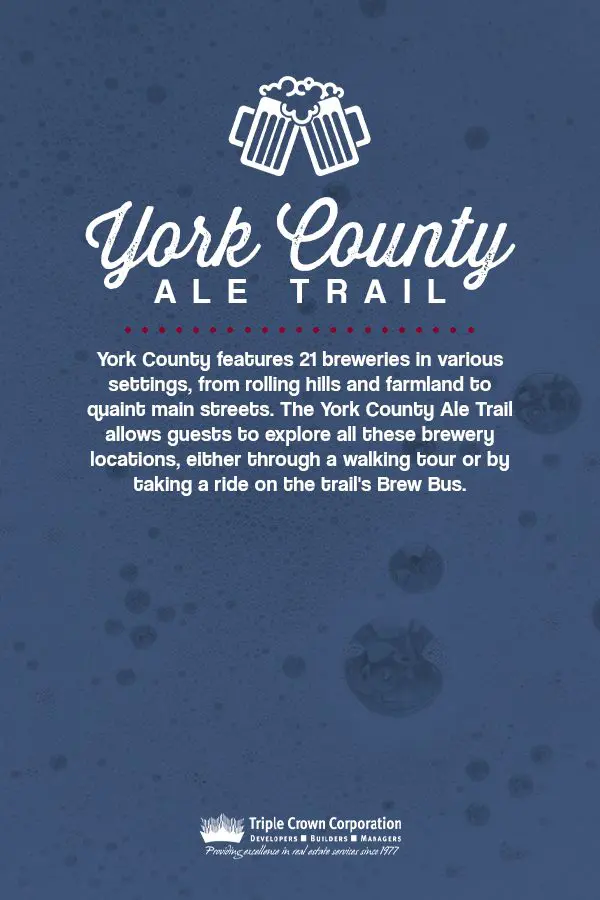 4. York County Ale Trail
Pennsylvania is the country's No. 1 state in craft beer production, and York County is at the forefront of the industry. With a rich history of brewing local craft beer that dates back to the nation's founding, York County has been a craft beer epicenter for centuries. And in today's booming craft beer industry, York County has once again taken center stage.
York County features 21 breweries in various settings, from rolling hills and farmland to quaint main streets. The York County Ale Trail allows guests to explore all these brewery locations, either through a walking tour or by taking a ride on the trail's Brew Bus.
Tickets for a York County Ale Trail tour take guests to three breweries, where they'll receive an exclusive facility tour, sampling and local historical insight from an experienced brewery guide who will lead each group. You can also book group and charter tours for special occasions, such as a bachelor or bachelorette party, employee appreciation and team-building events or birthday and anniversary celebrations.
The York County Ale Trail aims to give visitors and locals alike a unique and exclusive education experience celebrating York County's craft beer. According to the trail's founder, Glenn Smith, the York County Ale Trail is the perfect brewery tour for both novice and seasoned craft beer sippers because it has so much to offer.
After more than a decade of visiting small, independent breweries across the United States, Smith decided to form the York County Ale Trail in 2017 to showcase York County's blossoming craft beer scene to the rest of the world. Now, visitors from all over can see for themselves what makes York County the up-and-coming craft beer capital of the Mid-Atlantic and a truly can't-miss destination for any craft beer aficionado.
Here are a few of the stops that especially make York County stand out among the competition.
Old Forge Brewing Company: Located in downtown York, Old Forge Brewing Company prides itself on using ingredients from local artisans to make their handcrafted beer. Old Forge Brewing Company makes all its beers in small batches at their Danville location, and always pours at peak freshness.
Gift Horse Brewing Company: Since earning a few awards at various beer festivals and other events, Gift Horse Brewing Company has made a name for itself within the York community. Through years of experimenting, drinking beer and sharing it with friends, the Gift Horse team members have become brewmasters.
Wyndridge Farm: To enjoy the natural beauty of Pennsylvania's windswept hills along with your brew, visit Wyndridge Farm for a carefully crafted local beverage. Elegant and full of soul, this historic farm captures everything it means to be a vintage Pennsylvania farm, and makes a memorable venue for special events.
5. Susquehanna Ale Trail®
The Susquehanna Ale Trail® is another great way for craft beer enthusiasts to explore the numerous brewpubs and breweries scattered throughout the York region. All the breweries, brewpubs and homebrew stops featured on the Susquehanna Ale Trail® have committed to the art of making fantastic, local beer with bold hops and rich flavor.
Following the Susquehanna Ale Trail® will give you and your friends and family a glimpse into local independent brewery culture. In addition to tasting great craft beer, guests often get to meet the brewmaster at their trail location stops to learn more about the brewing process. Visitors might even get tips they can use to create craft beer at home.
As a self-guided craft beer tasting adventure, the Susquehanna Ale Trail® is available year-round for you to explore at your pace. To make planning your tour more convenient, use specific sample itineraries that arrange participating breweries by region. That way, you can fit more stops in one day.
The Susquehanna Ale Trail® is also a member of the Good Libations Trails®, so make sure you bring your Good Libations Trails® map and passport to collect stamps and earn prizes along the way. You can easily download a digital version or request a hard copy. The other members of the Good Libations Trails® include the Mason-Dixon Wine Trail® and the Keystone Craft Spirits Trail®.
The Susquehanna Ale Trail®, in particular, features more than a dozen locations throughout York, Hershey, Harrisburg, Lancaster and Gettysburg. Here are some of the most notable stops along the trail.
Big Bottom Brewery: Big Bottom Brewery, an old pizza shop turned hometown brewery, pairs top-quality brews with delicious pizza and great stories. And what could be more fun than sitting at a bar made from an old bowling alley?
Newfangled Brew Works and Koda Restaurant: If you need a go-to Taco Tuesday spot, look no further than Newfangled Brew Works and Koda Restaurant. This brewery-restaurant combo serves guests fantastic brews with food truck-style tacos to make for the perfect evening.
Swashbuckler Brewing Company: When you visit Swashbuckler Brewing Company, make sure you order Swashbuckler's Gold — the brewery's signature German-style Kolsch Ale. While you're at it, go ahead and try a few of Swashbuckler's seasonal creations.
6. The Lancaster Ale Trail
The Lancaster Ale Trail stretches from Bird-In-Hand to Hershey, highlighting 22 breweries and distilleries in between. Taking trail followers on a tour from downtown Lancaster City to more rural brewing sites, the Lancaster Ale Trail perfectly captures the Lancaster County craft beer experience. Along the way, you'll get to learn about the different brews and techniques, and you might even find a new favorite flavor.
When embarking on the Lancaster Ale Trail, make sure you pick up a copy of the trail map from the Discover Lancaster Visitors Center or use this downloadable version to guide you on your way. Following the trail map will direct you through the 22 participating locations, so you can relax and focus on sampling as many locally crafted potables as you can.
Do your best to make it to these can't-miss trail stops.
Rumspringa Brewing Company: Could there be a better name for an Amish Country-based brewery? At Rumspringa Brewing Company, you can enjoy handcrafted beers created using locally grown products from the heart of Lancaster County.
Bube's Brewery Dining and Entertainment: There's no brewery quite like Bube's Brewery Dining and Entertainment, which rests on the foundation of Pennsylvania brewing history. You can enjoy sipping your beverage in the Catacombs, an old aging cellar located 43 feet below street level.
Spring House Brewing Company: Located in downtown Lancaster City, Spring House Brewing Company is a cutting-edge modern brewery with plenty of flair. Make sure you try the Astounding She-Monster, a memorable mango hazy IPA.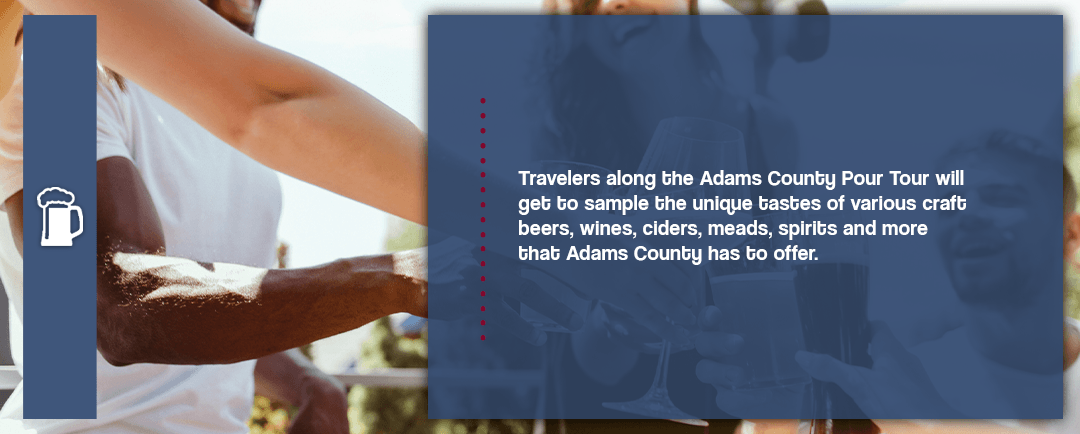 7. Adams County Pour Tour
This self-guided tour will take guests on a brewery adventure through the Adams County countryside and into Gettysburg's downtown tasting rooms. By using fresh ingredients from local orchards and farmland produce, the craft beverages from Adams County deliver a delightful blend of flavorful fruit, hops, honey and grains.
Travelers along the Adams County Pour Tour will get to sample the unique tastes of various craft beers, wines, ciders, meads, spirits and more that Adams County has to offer. The new Adams County Pour Tour interactive digital trail map allows craft brew fans to easily plan out their journey and receive step-by-step directions to the next participating location from their mobile device.
As you pamper your palate with the pinnacle of Adams County's craft creations, remember to bring your passport, which you can request online, to collect a stamp from each tour stop. Once you've reached a specific number of stamps, you can redeem your passport for some free Adams County Pour Tour swag.
Here are your passport prize possibilities.
Excursionist: Earning five unique stamps labels you a beverage explorer and an avid taste-seeker. Your reward is a set of Adams County Pour Tour coasters.
Explorer: After reaching 12 trail destinations, you will become an intrepid libation seeker and receive an Adams County Pour Tour tote bag.
Expeditionist: With 20 unique stamps, you qualify as a brew fan with a genuine thirst for adventure. For being so close to completing the trail, you will get a set of Adams County Pour Tour pint glasses.
The Grand Pour: Once you've finally collected all 31 passport stamps from all the tour stops, you'll be eligible to win an overnight Gettysburg getaway trip. Now, you can request a fresh passport and begin your adventure again.
Although there are plenty of great passport prizes to earn, experiencing the breweries is a prize in and of itself. Specifically, these locations are sure to be a score.
Battlefield Brew Works: Check out two great local beverage brands at once with a visit to Battlefield Brew Works, which is in the same building as the Spirits of Gettysburg Distillery. Located in a historic Civil War-era building, this brewery serves up craft beer with a side of atmosphere.
Thirsty Farmer Brew Works: At Thirsty Farmer Brew Works, locally sourced ingredients are a top priority — they even grow their hops right behind the brewery! Stop by the Thirsty Farmer for a small-batch craft beer or hard cider filled with fresh ingredients.
Tattered Flag Tap Room: Get in the patriotic spirit by visiting this veteran-owned brewery. Known for its award-winning beer, spirits and handcrafted cocktails, the Tattered Flag Tap Room is a must for any craft beverage connoisseur in the Gettysburg area.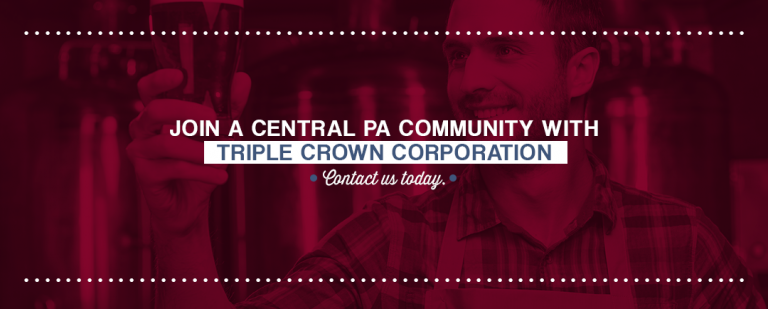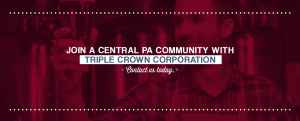 Join a Central PA Community With Triple Crown Corporation
It will take more than one single day trip to visit all the brew trails in Central Pennsylvania. Become a Central Pennsylvania resident with a beautiful, modern rental property from Triple Crown Corporation.
At Triple Crown Corporation, we offer multiple rental properties situated throughout the Central Pennsylvania brew trail regions, so you'll never be bored on the weekends. With rental communities in Camp Hill, Harrisburg, Mechanicsburg, Middletown and New Cumberland, you'll find the perfect location for your new home.
If you're ready to find your dream rental property and celebrate with a handcrafted brew, contact Triple Crown Corporation today.