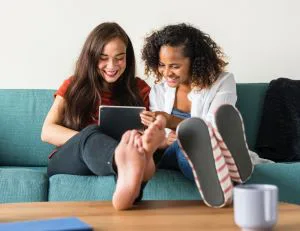 If you're planning on moving out on your own, you have an exciting change coming up! Whether you're graduating from college soon or recently saved up enough money to move out of your parents' house, living on your own is a big change. Choosing to live with a roommate can help make the transition much easier and bring some other great benefits, too. Here are four of them.
1. Split Monthly Expenses
One of the biggest perks of living with a roommate is dividing your monthly expenses. Living on your own is expensive, with a number of costs coming just from your living needs. Even though you can't split all your expenses, you can cut them down by choosing to live with a roommate.
Depending on where you live, the cost of living may incur a good chunk of your monthly paycheck. Rent usually consumes most of anyone's paycheck. Then, on top of rent, you also have to cover your utilities, groceries, internet and cable.
With a roommate, you can share all of these expenses. With the savings, you can live in a nicer place than you could afford on your own or set that money aside for other things.
2. Furnish and Decorate Together
When you move into a new apartment, you'll have to put down a deposit and buy what you need to make your apartment a comfortable, happy place to live. From furnishing your apartment to buying all your day-to-day necessities — like plates, bedding, cookware, etc. — to decorating, these costs can add up, too.
With a roommate, you can split some of these costs. It may be tempting to split the price of one particular item, like a new TV, but this can get awkward when you're parting ways down the road. Talk with your roommate to decide who buys what. Plus, going shopping for furniture and other housewares can be a great way to bond or get to know each other better.
3. Enjoy Each Other's Company
If you're living in a new place that's away from friends and family, being on your own can get pretty lonely. When you have a roommate, you have a friend right in your own home. Whether you need to vent about work, want to check out a new restaurant in town or do simple things like cooking a great meal with someone else, you always have your roommate!
Your roommate might even bring their cat or dog to the apartment. If you like animals, there's nothing much better than lounging in your home with a purring cat or a sweet dog to keep you company. The best part of having a roommate with a pet is that you can enjoy having a pet without having to pay for its expenses.
4. Share the Chores
When you live on your own, you have to do all the cleaning yourself. With a roommate, you can share the chores. Having less work allows you to keep your place cleaner, too! Taking turns doing dishes, vacuuming, dusting, taking out the trash and doing other tasks. If you do these chores together and turn on some music, it can even make the work a little bit more fun.
When you and your roommate are looking for a new place to live in Harrisburg or the surrounding area, check out the rental communities expertly managed by Triple Crown Corporation and schedule a property visit soon!