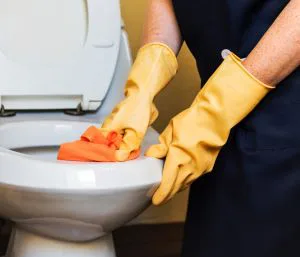 No one likes a dirty bathroom, but sometimes we let it slide when it's our own mess. When you're living with a roommate, though, it's important to keep your shared spaces clean. Whether you pick a "clean up after yourself" style or decide to share chores, it's essential to communicate with your roommate about this shared space in your home.
Different people also have very different views on cleanliness. Some of us hate any small mess, while others aren't bothered as much by it. Talking with your roommate about your expectations for keeping the bathroom clean is an important place to start.
Sharing a bathroom with roommates can be hard sometimes, but these three tips on keeping it clean can make it much easier.
1. Keep Cleaning Products Stocked
Make a list of the cleaning products you need in your bathroom. These items include an all-purpose cleaner for different fixtures in the bathroom, a mirror cleaner, toilet bowl cleaner, a toilet brush, sponges and a tub cleaner. You may also choose to keep some air fresheners in the bathroom.
Keep all of these items in the bathroom, whether it's inside a linen closet or in the cabinet underneath the sink. Having all the cleaning products you need for the bathroom together and in the actual room makes it much easier to clean when the time comes.
2. Organize the Space
Besides the dirt and grime that comes naturally over time from using the bathroom, it's important to keep clutter under control. With two or more people sharing one bathroom, it's easy for your bathroom to become too cluttered. Too much clutter makes using the bathroom a lot more difficult and can be awkward for guests.
Makeup organizers are a great addition to a shared bathroom. With their sectioned spots, you can use them for much more than just makeup. Hair products, lotion and more can stay within reach without covering the entire surface of your vanity.
You can add storage items to any part of your bathroom — not just the vanity. Put an over-the-door set of hooks, storage baskets and containers in the closet or even add some extra shelving or furniture if you have room. By making the most out of your space, you can make sure everything has a place.
3. Make a Cleaning Schedule If Necessary
Cleaning the bathroom with roommates can be awkward. If you feel like your roommate isn't doing their fair share of the chores or if they aren't making an effort to keep their part of the bathroom tidy, you may need to make a cleaning schedule.
Bathroom chores can be unpleasant, but sharing them can make it a little bit better. Decide how often you want each task done, then divide them up and take turns doing them. That way, you aren't the only one cleaning the toilet or taking out the trash when it starts to overflow.
Some other chores to share to keep your bathroom clean include:
Washing the bathtub
Wiping down the mirror
Clearing and cleaning the counter
Scrubbing the sink and faucets
When you can rely on each other to do your part to keep the bathroom clean, you and your roommate will have a more pleasant shared space.
If you're looking for rental communities in Harrisburg, PA, and beyond, check out our great listings! Schedule a visit to find your new home.