When you own your home, you can adapt it however you want. Whether that means painting, hanging up decorations or even remodeling, your changes are entirely up to you. But when you rent, you sometimes have more restrictions on how you can personalize your home. Some communities do not allow residents to paint or make holes in the walls, leaving you wondering — how do you decorate a wall without damaging it?
Don't resign yourself to blank walls or haphazard repairs from decorating mistakes. Even with these restrictions, there are many ways for you to decorate your rental home. In this guide, we'll discuss how to decorate an apartment without ruining the walls or painting to infuse your personality into any living space.
Apartment-Friendly Ways to Cover Your Walls
Wall treatments transform a drab, standard apartment color scheme into something magical. Try these methods for decorating an apartment to give your walls a more personal, stylish look:
Faux Wallpaper
How can you decorate a rental with wallpaper? Instead of applying real, permanent wallpaper, paste wallpaper onto large pieces of thin plywood or room dividers. Hang the finished product or lean it against the wall. Or you can frame a large section of wallpaper using molding. Show off the frame as a single focal point or arrange different-sized frames for an interesting display.
Fabric and Curtains
If you're looking for temporary decorating tips, reach for fabric or curtains to adorn the walls. Give a small bedroom window the illusion of size by hanging ceiling-to-floor curtains on either side. Hanging curtains that are taller and wider than the window suggests a much larger window hiding behind the drapery.
Don't just hang fabrics around windows. Find a pattern you like and use curtain rods or hooks to hang the fabric on a wall to create a textured focal point you could put:
Behind the bed.
On a blank wall to create a feature wall.
Behind a desk to define the area.
On the wall behind a couch for a cozy feel.
Using fabric and curtains on your walls is one of the simplest solutions to decorating a rental house without paint. Fabric comes in as many colors as paint does, but you'll also find textures and patterns that help you customize the look more. As a bonus, hanging fabric on the walls can help reduce the echo in emptier rooms.
Removable Wall Stickers

Removable wall decals come in all styles and sizes, from colorful kids' room decals to elaborate, stylish pieces. If you want to add a little style to a temporary apartment without much effort, decals are a great solution. Just peel them off the walls when you leave.
Mirrors
A large mirror reflects light and adds the illusion of space to a small apartment. A single mirror with an interesting frame doubles as an art piece, while a loose grouping of small, differently-sized mirrors breaks up a wall's monotony. No matter how many mirrors you choose, you can hang them:
Above a couch to make a living space feel larger.
At the end of a short hallway to make it feel longer.
Above a short dresser for a functional and decorative piece.
All these larger pieces can add a dramatic difference to your apartment, but you also need to know how to hang things without damaging walls.
How Do You Decorate a Wall Without Damaging It?
All of these temporary decorating tips won't be much help unless you know how to hang decorations without damaging walls. Nails, screws and other hardware are usually out of the question for a rental home, so what's the key to damage-free decorating?
Your options include products made with renters in mind that don't damage walls or getting inventive with how you display décor. Use these temporary apartment decorating ideas to make moving out or changing your décor simple:
Use Adhesive Strips and Hooks
When decorating without nails, there are alternatives you can use to hang décor items. Removable adhesive strips and hooks are one popular choice for hanging objects of different weights. Command is probably the brand you've heard of, but there are several others like it. The various products let you pick the perfect one for the object you are hanging. These can be used to hang full-length mirrors, picture frames and other wall décor objects.
Make sure you choose the right products for whatever you're hanging. You'll find photo and poster strips for lighter décor that don't require hooks and heavy-duty hooks in various colors and styles to hold heavier items.
Use Damage-Free Tape
If you're hanging something very light, damage-free tape is a great option. Painters tape is made specifically so it doesn't damage paint when you remove it. There are other types of decorative tapes that were made with the same purpose in mind. These tapes are a fun and easy way to hang photos if you don't want to use a frame, but you can get creative with other lightweight items, too.
Don't leave these tapes up for too long, though. They're better suited for temporary apartment decorating ideas because some varieties over time could affect the paint on the wall or take some away when you eventually tear it off. Test how sticky the tape is on a surface other than the wall to ensure it won't damage anything.
Hang Other Surfaces to Decorate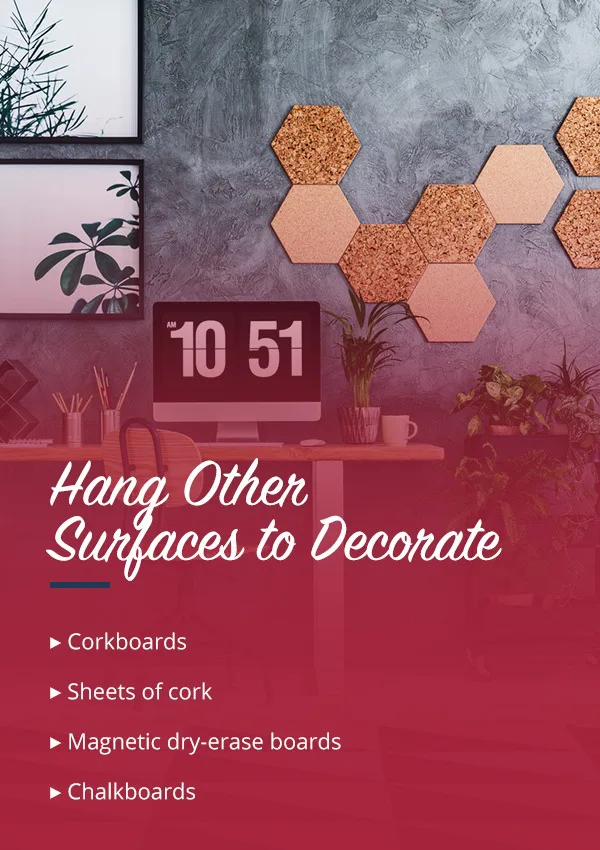 You may not be able to stick nails or pins into the wall, but you can on other surfaces. Even if you don't want to use nails, you can hold up photos, ticket stubs and other mementos with magnets, pushpins and more on:
Corkboards: Corkboards serve plenty of functions, from hanging important papers to displaying art, photos and more. Popular places for a corkboard include above a desk, in the kitchen or in communal areas, but you can place one wherever you need some damage-free decorating.
Sheets of cork: If you can't find a corkboard in the right size, sheets of cork are the next best option. The sheets typically come in squares, but you can cut them into unique shapes that suit your style. You can even paint them in fun geometric patterns and use them to hang items for a double dose of color and decoration.
Magnetic dry-erase boards: You can either draw on these versatile boards with dry-erase markers or hang pictures using magnets. They're also a great way to display magnet collections if you don't have other mementos to hang. Get a calendar version for a décor item that also brings function to a space.
Chalkboards: Show off your art skills with a chalkboard or get organized. Many people hang a chalkboard in their kitchen to plan meals, but you can put it in other areas to leave notes for your roommates or yourself.
Use hooks and adhesive strips to hang these items you can decorate to your liking. These surfaces are more changeable than others, since you can swap out photos or draw something new on them.
Lean It
An empty area in front of a wall is the perfect place to lean decorative items, especially large or heavy ones. Tall mirrors, framed artwork and canvases all add a unique decorative touch when you lean them against a wall. Add a couple decorative pieces in varying sizes to add an eclectic touch.
If you have smaller decorative items you want to display vertically, get a leaning wall shelf. You won't have to screw or nail anything into the wall, but you'll still get a functional display.
Make Use of Existing Hardware
Some apartments may already have hooks, curtain rods, shelves and other hardware installed you can use to your advantage. Get creative with what you already have in your apartment, and you'll have plenty of ideas for how to hang things without damaging walls.
How Can I Decorate My Apartment Without Painting?
If you want a pop of color or a dramatic change to a room, you need to know how to decorate an apartment without opening a can of paint. There are plenty of ways to transform a room without changing the color on the walls, so try out these tips for a revamped look:
Go Green

Become one with nature by decorating without paint and instead choosing your favorite indoor plants. If you don't have a green thumb, choose low-maintenance greenery, such as spider or bamboo plants. If you want more than the color green, consider flowering varieties such as African violets or orchids.
For those who don't have a green thumb but still want colorful ways to decorate an apartment, find fake greenery. There are plenty of realistic faux flowers and potted plants out there that will last forever — and all without maintenance. You can then incorporate faux flowers or greenery into more permanent displays because they last forever. Get crafty and:
Weave them through a small trellis to lean against the wall.
Create a permanent floral arrangement in a stunning vase.
Make a flower wall by hanging or taping stems vertically in rows.
Use a large embroidery hoop to wrap and hang flowers around.
Stick faux blossoms around a mirror to add texture and a personal touch to existing décor.
Bring the outside in for anything from dramatic displays to subtle arrangements. The more florals and greenery you use, the more dramatic the difference will be.
Furnish With Fun Décor
One advantage of decorating without paint is that you'll have a blank canvas. With white walls, you don't have to worry about matching your furniture to existing paint colors. Embrace this newfound freedom and choose pieces that pop in bright hues and bold patterns. Incorporate pieces like:
Furniture: Mix and match colors to give your room some life. Play with colors and patterns or choose versatile neutrals to spruce up with other décor items.
Accents: If you already have furniture in neutral colors, jazz them up with pops of color. Fun throw pillows, blankets and ottomans all add purposeful pieces and pops of color to a room.
Rugs: While we've focused on how to decorate rental walls, don't neglect the floors. A rug makes a space feel cozier and can add function to certain areas.
These and other items of furniture and accents will make a dramatic and personalized change to any living space.
Make Your Own Wall Art
Get hands-on with some DIY damage-free décor ideas. You can easily fill up a room by taking on art projects like:
Canvases: For an easy, paint-less DIY project, consider using scrapbook paper and Mod Podge to create custom wall canvasses. Hang canvasses using Command strips and hooks, depending on the weight of the art. When you're ready to change the color scheme of your room, you can easily swap in new scrapbook paper.
Photo collages: Bring your friends, family, travel destinations and more to your living space. If you want hands-on ways to decorate your apartment, put photos together on a canvas, poster paper or scrapbook paper. You can frame paper collages then put them up with Command products. For straightforward wall art, hang prints of single photos in frames or have them printed as canvas prints.
Garland or banners: Span a larger wall with a DIY garland or banner. You can string photos, pom-poms, triangles of paper and other décor items to add color and texture to a wall.
Use our tips on how to hang things without damaging walls to display these and other projects. Make a craft night with your family, roommates or friends, so everyone can create something together and bring damage-free décor ideas to life.
Lighten the Mood

Sometimes the perfect thing to make a room feel homier is some extra lighting. You can use colorful lights to add a unique touch to a room or use standard lights to brighten a space or give it a warm glow. Try using:
String lights
LED rope lighting
Floor lamps
Table lamps
Remote-controlled colorful lights are great for decorators who can't make up their minds, since they can change the color with a push of a button. Put a set of LED lights behind your TV for a futuristic flair that adds color to the walls without any paint. You can also hang them behind curtains or along the top of the walls to light up more of the room.
Get Helpful Apartment Living Tips
At Triple Crown Corporation, we understand apartment living better than anyone. With rental communities throughout South Central Pennsylvania, we know what makes rental living comfortable. From how to decorate an apartment to solving roommate conflict or touring a rental home, we've got plenty of advice to offer.
Be sure to check out our blog for more helpful apartment living tips that cover everything from moving to enjoying the area you now live in. You'll have a space that transforms into your perfect home in no time.