Did you know approximately 40 million Americans move each year? That's a lot of cardboard boxes and packing peanuts!
For most people, the very mention of the word "moving" is enough to prompt feelings of dread — the packing, the cleaning and, oh, the unpacking. Whether you're moving to a new home across town or across the state, there are a lot of things to do when you're moving. Even the simplest move is full of little details. What if some simple moving tips would streamline the process and make moving a lot more bearable? What if there were easy ways to pack for moving that didn't leave you pulling out your hair?
When it comes to moving out tips and tricks, the key is to get organized. Sure, there's a lot to do, but if you pause and make a plan, you'll find things run much more smoothly.
Ready to move? Let's get started.
Clean out Everything
When you're moving, it's tempting to throw everything into boxes and tell yourself you'll sort through it when you arrive at your new home. But, you'll likely find yourself with the same overwhelming mess in your new home and opt to pack more of that unused stuff into another closet. It's a vicious cycle.
Besides being a pain, moving stuff you don't use could end up costing you money. How? Consider this: If you pack five boxes full of stuff you don't need, that's five boxes worth of space you'll take up in the moving truck. When you take the time to get rid of unwanted items, you can keep your moving costs down. That's fewer boxes to buy, less tape to purchase and, if you're expecting to get reimbursed by an employer who's tracking the weight of your household items, those unwanted items can count against you later. Even if your job isn't covering your moving expenses, fewer boxes mean you can save money by renting a smaller moving truck.
So how do you prevent hauling around unwanted stuff?
Clean out closets, drawers, boxes and bookshelves. Donate what you don't want, have a yard sale or share them with a friend. After all, one person's trash is often another's treasure.
If you have a lot that needs to go, it's easier to spread this job out over a few weeks, rather than trying to tackle it in a day. Break it down by having the goal of cleaning out one closet or shelf each day, but if your move is happening quickly, you may not have that kind of time. If you end up pressed for time, clean out as you pack and make sure to clearly label the items you don't want to take with you, so they don't accidentally end up on the moving truck.
Before Move-In Day
Leasing agents are there to help before, during and after a move. They often provide move-in packets to their soon-to-be new tenants, with a to-do list to complete before move-in day. You will need to:
File a change of address with your post office. You can pick up a change of address form in person or do it online — there is a $1 charge to file with USPS online.
Make plans after you've signed your lease to change the address on your driver's license with the DMV.
Contact electric, cable and Internet services providers for your apartment complex to set up new service at least a week before you move in.
Call for moving estimates as soon as you have a move-in date. Make the pickup time after your appointment to sign your lease and pick up your keys.
Take care of banking. You'll need to get cashier's checks for your rent and deposit.
Call your insurance agent to set up an apartment renter's insurance policy.
Moving requires a lot of physical effort, and you will be worn out by the end of the day — but it doesn't have to be stressful, too. Much of the stress and discomfort comes from change and the fear of uncertainty. The more details you take care of before you move, the fewer worries and distractions there will be to make you feel unsettled.
Plan the Move
Besides getting rid of unwanted items, one of the first things to do when you decide to move is arrange the details. Early on in the process, you'll need to ask — and answer — these questions.
1. When Will the Move Take Place?
Sometimes, you have to move on or before a specific date because of the terms of your lease. Other times, you may have more flexibility. Whatever your situation, it's essential to land on a date as early as possible so you can hire a moving company or coordinate help. If you do have some flexibility, this can be helpful because moving companies may be able to offer you better rates if you move during a less busy time, such as a weekday.
Summer
It probably won't shock you to learn that summer is the hottest time to move on every level! More homes and apartments are sold and leased throughout the summer months, and for a good reason: The weather usually cooperates.
If you want a huge selection, summer is the right time to search for an apartment. However, be cautious — the demand will be very high. When you see a place you love, be ready to put in an offer.
Winter
It's cold, it's snowy and it's also a good time to look for an apartment if you want to save on the cost of rent. Because so few people move during the wintertime, landlords and property management companies often offer specials or are willing to negotiate. This gives you an opportunity to do a little wheeling and dealing.
Be aware that your apartment selection will be limited during the winter. It's best to shop around frequently and not allow any possibilities to escape your attention.
Fall and Spring
Both fall and spring are wonderful times of the year to move if you want to have the best selection in summer and cost-effectiveness in winter.
In the fall, some property owners may be open to reducing their fees because they realize that winter is coming. Though they might lose a little bit of money, they won't be left with an empty property when the first flakes of December fall to the ground.
Similarly, in the spring, apartments start popping up. You'll be surprised at how many may become available in a few days' time. Obviously, the owners are less likely to negotiate with summer coming up, but you'll still have the chance to pick the right one for your needs with so many on the market.
2. Do I Want to Use a Moving Company, or Will This Be a DIY Move?
There are many advantages to hiring a moving company to handle the logistics of packing a truck and moving your stuff for you. Using a professional moving company is a phenomenal way to reduce the headache associated with moving. Depending on the company you hire, they can help with packing, as well as transporting your household goods and unloading them at your new home. When you use reputable professional movers, you are hiring people who are trained to protect your furniture and valuable belongings. They know how to pack them into a truck in a way that won't damage them during the trip from one location to another.
But, if you're on a tight budget, a moving company might not be an option. In that case, you'll likely opt for a do-it-yourself move. A DIY move does take a little more planning, but, if you do it right, you can save a lot of money. It also allows you to move your belongings without worrying about someone else breaking or damaging them when they're out of sight.
Do Some "Spring" Cleaning Beforehand
A great way to save some money during your move is to get rid of unnecessary items in your home. Do you have a drawer full of old clothes that you just don't wear anymore? Is there an entire row of books on your bookshelf that you'll probably never read again? Donate or sell those unnecessary possessions! When you have less stuff to move, you'll save money and hassle. There are lots of mobile apps you can use to sell things locally — or you could hold a yard sale. You'll not only save money when it comes to your moving costs, but you could get a little bit back. When you get there, you'll have a less to unpack and a less cluttered space, as well.
Get Creative with Packing Materials
It's best to begin packing non-essential items first and keep going from there. You could hire professionals to do your packing, but why spend that money when you could do it yourself?
Thinking outside the box is a great way to save money during your move. Never pay for empty boxes! Let your friends, family, and coworkers know you're moving and see if they'll give you some for free. Asking local businesses like grocery stores and post offices can also bring you luck in scoring free boxes.
When it comes to saving on packing materials, buying packing peanuts and bubble wrap can also add up fast. Try using things you already have at home. Wrap breakables in towels, bed linens, clothing or blankets. You could also use coffee filters to wrap these items. Unlike newspapers, they won't transfer ink to your items.
Find Cheap (or Free!) Movers
You can't move alone. Having other people — whether they're friends or professional movers — makes moving so much easier. If you have friends or family in the area, they may prove to be the cheapest way to move locally. Make sure you're not taking advantage, though — offer them a meal when the move is finished to show your appreciation.
If you'd rather hire professional movers, be sure to use a flat-rate mover. Some movers may try throwing in hidden fees and give you a bill higher than your quote. With a flat-rate mover, you'll have a better idea of what you'll pay.
You could also go the middle route between friends and professionals. Choose from multiple mobile apps that can let you search for local people willing to help with various tasks, like moving. They set their own rates, which may turn out to be cheaper than hiring a mover. If you really only need help with a few large, bulky, heavy pieces of furniture, they may be a good compromise for saving money.
3. Will I Need to Rent a Truck?
If you've opted for a DIY move, reserve a moving truck in advance, so you have a way to get all your stuff from your old home to the new one. There are several companies out there to choose from, so do your homework and find one with affordable rates and the right size truck for your needs.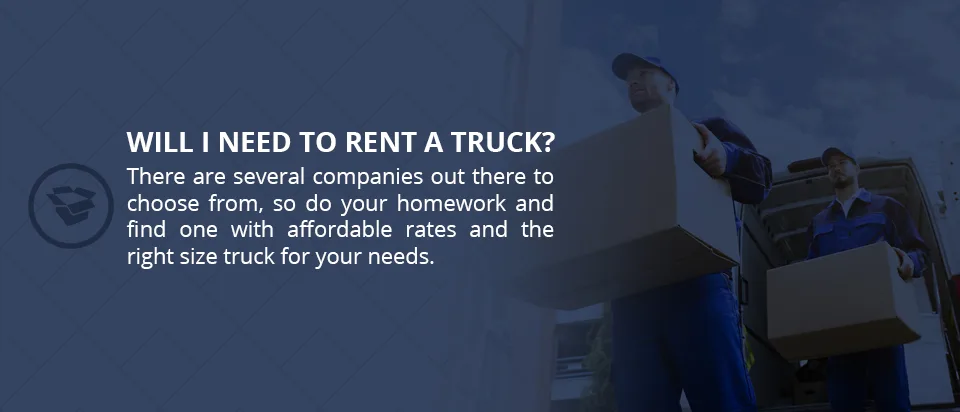 Just remember, rental trucks don't come with extra help, so you'll probably want to recruit the help of two or three willing friends or family members for the big day!
4. What Packing Supplies Do I Need?
Efficient packing starts with an ample supply of cardboard boxes and packing tape. But finding those items — without breaking the bank — can sometimes be a challenge. Sure, you can buy them at any local moving or packing store. But if you want to move cheaply, ask around at local businesses to see who gives away boxes after shipments come in. You can also ask friends who've moved recently.
Don't forget about all the household items you won't be able to pack in boxes — make sure you have plenty of moving blankets and padding on hand to protect your furniture and other belongings when they go into the moving truck.
How to Move out Efficiently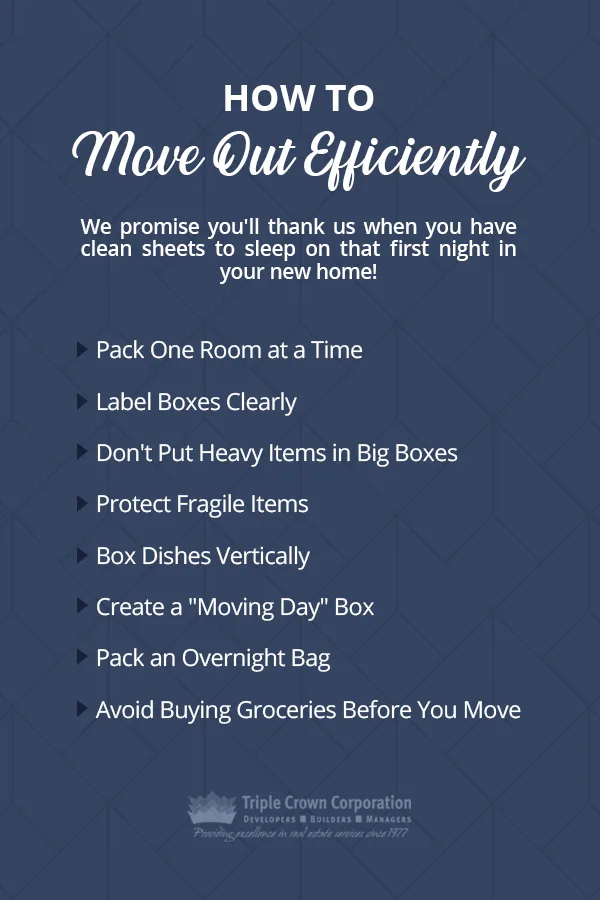 Now that you have a plan and you've gotten rid of all the things you don't need anymore, it's time to start packing. It's tempting to throw things into boxes and tell yourself you'll sort everything out at your new home. But if you don't put more thought into how you pack, you'll have yet another mess on your hands once you arrive at your new home. And no one wants to spend the first few hours in their new house looking frantically for the toilet paper or a phone charger.
Rather than risk a frustrating first day in your new home, spend a few extra minutes implementing these easy ways to pack for moving. We promise you'll thank us when you have clean sheets to sleep on that first night in your new home!
1. Pack One Room at a Time
Pick a room — your living room, for example — and pack everything in that room at the same time. It might be tempting to go around the house looking for items to squeeze into those cardboard boxes, but refuse to give in to that temptation. Only pack items that should end up in the living room at your new home.
2. Label Boxes Clearly
Once you've filled a box, make detailed notes about its contents on the outside of the box, especially if there are breakables inside. But don't stop there. Besides labeling the box's contents, mark it with the room it's going to in your new home. That way, when you start looking for that box of old DVDs, it's in your family room and not hiding under a pile of towels in the guest bathroom.
If you want to take the super-organized approach to this, you can create a number system. Assign a number to each room in your new home, then clearly label each box with the number that corresponds with the room it goes in. This system is an excellent way to ensure furniture pieces end up in the right places on moving day, and it saves you from having to constantly give directions to well-meaning family and friends when they are helping unload the moving truck.
3. Don't Put Heavy Items in Big Boxes
It's tempting to cram big boxes as full as possible to reduce how much stuff you'll be hauling around on moving day, but this is a bad idea. Big boxes can quickly become heavy boxes, which are difficult to move and likely to injure the unwitting person who tries to lift them. When it comes to heavy items such as dishes and books, opt for smaller boxes. Yes, there will be more of them, but it's worth the extra effort when you can save a friend or unsuspecting mover from a back injury.
4. Protect Fragile Items
When you're packing breakables, such as dishes, family photos, glassware and other valuables, make sure you wrap them with bubble wrap or some other kind of padding. If you don't have bubble wrap, you can use your dish towels or small hand towels as additional padding — which also means you won't have to pack those items separately later! For items that may not get packed into boxes, such as lamps, mirrors and wall art, make sure to wrap them with blankets or towels and secure that padding into place with tape or rope.
5. Box Dishes Vertically
Most people store dishes in stacks in their cabinets, but this is not the way to pack them in boxes. To add extra protection to your dishes, wrap them individually and then pack them vertically into boxes. Once the box is full, add extra packing paper or bubble wrap into extra spaces and crevices so the dishes can't slip and break in transit.
6. Create a "Moving Day" Box
Inevitably, there are items you'll need access to as soon as you get to your new home. A set of clean sheets, a phone charger, soap and shampoo so you can enjoy a hot shower — whatever you think you'll need, make sure to put it into a "Moving Day" box. That way, you don't have to go searching for these items after you arrive. If you do put this box onto the moving truck, make sure it's the last thing on the truck and label it clearly. But, if you can, it's better to squeeze this box into your vehicle so you can access it quickly.
7. Pack an Overnight Bag
Even if you're only moving across town, odds are you won't have everything unpacked the first day. Pack a bag with a change of clothes, toiletries, a phone charger and whatever else you'll need to rough it for a night or two while you get settled in.
8. Avoid Buying Groceries Before You Move
In the week leading up to your move, it's a good idea to cut back on your food purchases. Eating what's left in the pantry or opting for a few takeout dinners means fewer items to move later. If you're moving in the summertime, this advice is especially crucial, since food could spoil in the heat during the move.
Simple Moving Tips
If you've followed these packing tips, moving out efficiently should be easy. But, even if you haven't, don't worry! It's never too late to get organized.
When it comes to the actual moving day, organization is the key to survival. It will cut down on your stress, reduce the risk of injury and make unpacking in your new home easier. If you've opted to hire a moving company, this is where they'll take over. All you need to do is clean up your old home, then head to the new house to meet the movers. But, if you've opted for a DIY move, here are some moving out tips and tricks to follow to keep things running smoothly.
1. Pack Furniture Into the Truck First
Load bulky items like dressers, sectionals and couches first, because they'll require the most room. Once these items are on the truck, you can squeeze nightstands, lamps and smaller unboxed items around them. Finish off with the boxes.
2. Pack Boxes From the Same Rooms Together
It's tempting to start grabbing boxes and loading them onto the truck at random. Stop and get organized! Group your boxes according to the room they'll be in at your new home. For example, load all the boxes labeled "Living Room" together before you start on "Master Bedroom" boxes.
3. Have Extra Packing Supplies on Hand
It never fails: You'll think you've packed everything, but suddenly you'll find a drawer or closet you overlooked. Make sure you have some spare boxes and bags on hand to pack any last-minute discoveries.
4. Stock up on Water and Takeout
Just because your fridge is empty, there's no excuse for being a lousy host. Your friends and family have come to help you move your stuff, so it's only fair to offer them food and beverages while they're there. No, you don't have to cater a five-course meal, but make sure to have plenty of water on hand throughout the day and the number of your favorite pizza or takeout joint on speed dial for lunch.
5. Don't Forget to Clean
Once you've loaded the final box onto the moving truck, it's tempting to jump in the car and head to your new digs. After all, you've been planning this move for weeks. You're understandably eager to start this new chapter. Before you head out, take time to make sure you're leaving your old home in good condition. Even if it's a rental and your landlord plans to hire a cleaning service, you should still clean up any trash or spills you notice. Sweep the floors and flush the toilets to make sure there aren't any unpleasant surprises for the person hired to clean.
Apartment Moving Hacks
To help you successfully get all your belongings safely into your next hacienda, try these apartment moving hacks:
Use elevators whenever possible. Sure, you want to get lots of exercise on moving day, but that doesn't mean you should kill yourself on the stairs.
Use freshly laundered dish towels and linens instead of rough, dirty newspapers to support fragile items like glasses and plates. That way you won't have to clean everything.
Make a map of your apartment on paper, including the measurements. Then, measure your furniture to be sure it fits. If it doesn't, you'll know before you get into the apartment — and you won't move furniture you'll just have to get rid of anyway.
Use packing as a chance to throw away, give away or sell items you no longer want. You may even want to hold an indoor "yard sale" to get rid of major items if you're totally redoing your apartment.
Consider hiring professional movers if possible. That way, if anything is damaged during the move, you'll be protected. On the other hand, it's fine to get friends to help out — if you can find ones with strong backs and great attitudes!
Learn how to take apart your furniture, like kitchen tables. Many people don't realize that even solid wood furniture can sometimes be taken apart to make storage and transport easier.
Wait to clean your old apartment until after you leave. It's so much easier than cleaning it before moving day.
Color-code all your boxes. Then, be sure everyone knows which color represents which room. (e.g. red is the dining room, yellow is the bedroom)
Use smaller boxes to pack your books. They weigh more than you think! If you only have larger boxes, pack the bottoms with books and the upper two-thirds or three-quarters with lighter objects.
Keep your clothes on their hangers. Zip-tie the hanger tops, cover them in a garment bag or plastic bag and move them to your new closet as-is.
Winter Moving Tips
Many people choose to relocate in winter due to the cheaper prices and easy-to-rent equipment. Unfortunately, however, winter moving comes with a few major inconveniences due to the low temperatures and unpredictable weather. We recommend a few tips to winter movers to help ensure that you have a happy, safe move.
There's nothing worse than carrying fragile items, slipping in snow and breaking them! Make sure that you shovel or put salt down on any slippery driveways, sidewalks, or walkways in advance to avoid an expensive fall. This can ensure the safety of your prized possessions and of yourself!
Keep Your Flooring Covered
Snow loves to stick to clothing and boots and it always seems to make its way into your home during those bitter winter months. Make sure to lay some old sheets or towels down on the floor during your move in order to avoid unwanted snow tracks in your home. This will save you from the hassle of washing your new floors later!
Turn On The Heat!
Always ensure that your heat and electricity are set up before you move to a home in the winter to avoid a miserable experience. If you're living in a location that experiences harsh winters, the last thing you want to do is live in a home with no heat! It never hurts to check and double check to make sure that you'll have functioning heat and electricity before any move – especially during those below freezing temperatures.
Always Have a Back-Up Plan
Winter is a time where weather is extremely unpredictable and equally dangerous. Even if you really want to move into your home on a particular day, always have a back-up plan set in stone, just in case. There's nothing worse than expecting to move in on one day and getting a foot of snow! Make sure you plan ahead enough so that winter weather can't ruin your plans.
Triple Crown Corporation Rental Properties
Looking for a new place to live? Triple Crown rental properties offer comfort and convenience at affordable prices. Located in Mechanicsburg, Camp Hill, New Cumberland and Harrisburg, our communities feature studio, one, two- and three-bedroom pet-friendly townhomes and apartments with a variety of amenities. If you're ready to move, we invite you to make your new home with us. Browse our properties or contact us today for more information.