Whether you're coming from a dorm or your parents' house, it's exciting to start the search for your first apartment. However, if you don't know how to start your search, the task can seem daunting.
You might be asking yourself — how do I rent my first apartment? What do I need to rent an apartment? What should I look for when renting an apartment?
Where do I even start?
First, know you're not alone. Everyone goes through the same doubt and worry you're experiencing. It's a big decision, so you want to be as prepared as possible when figuring out what steps to take before renting an apartment.
Before you sign a lease, you'll need to know how much you can afford, what type of apartment you're looking for and what questions to ask yourself and the landlord.
To aide your search, we've compiled a list of apartment hunting tips for first-time renters.
1.Figure Out What You Can Afford
What do you pay for when renting an apartment? In most cases, it's not just the first month's rent you need to consider.
First, you'll likely have to pay for the application fee and credit check. Once approved, you'll generally need a security deposit, first and last month's rent and if you have a fluffy roommate tack on a pet fee, as well. If the place comes unfurnished, you'll need to any buy furniture you don't already have.
When determining your monthly budget, consider the cost of utilities, gas, electric, water, heating, cable, parking, sewer, trash, groceries, renter's insurance and the application fee. Use an online rent calculator to determine a rough estimate of your projected affordability based on your current income.
Afraid you won't find something you can afford?
Consider finding a roommate or two to split up the cost. Find a friend in the area, or check out websites or apps that match users with other people searching for roommates.
2. Decide Which Location Is Best for You
If being close to work matters to you because you like to sleep in or work late, start your search in nearby apartment communities. If you don't mind commuting, you'll find lower monthly rents in suburban areas and still have a reasonable commute.
If you prefer an urban area, look into city transportation services and costs to see if using them would help you save money. Calculate the monthly costs to use those services and compare them to the expense of owning and maintaining a car — be sure to include gas, maintenance costs and parking fees in your numbers. Comparing the two will reveal which option is the better choice for you.
Choose neighborhoods you know are safe. If you are unfamiliar with an area, ask around. You can ask for guidance from your local police — they'll be familiar with crime rates or any recurring problems in the neighborhoods you're considering.
3. Consider the Time of Year
Depending on where you want to live, the time of year you decide to start your lease could impact the cost of the rent. For example, if you're looking to live in a town near a beach, you could see an increase in the rent around May — the beginning of beach season.
Sometimes you can't help when you need to move out. If your college semester ends in May and you can't delay signing for four months, you'll just have to look for the best price available between the different communities. The demand for these places surges seasonally, so you might be stuck with a higher rent.
If you can't push your move-in date, start your search early and sign your lease ahead of time. If the landlord has a tenant moving out in April or May, you might avoid the increased rate if you sign in February. This part requires a bit of luck because you won't know exactly when the leases renew. But if you can't push back your move-in date, this is your best chance to secure a discounted rent.
4. Determine Which Amenities You Want
Everyone looks for something different in their first apartment — it's why there are so many choices.
What should you look for when renting an apartment? The answer depends on what features and amenities you consider the most important to you and your lifestyle.
Here are some questions to ask yourself before you start apartment hunting:
Do I need one, two or three bedrooms?
Do I need to live close to work?
Do I need access to public transportation?
Do I need a parking spot?
Do I want an in-unit washer and dryer?
Do I want a community gym or pool?
Do I want a bigger kitchen and a smaller living room, or vice versa?
Do I want external storage space?
Do I want carpet or hardwood floors?
Do I want a walk-in closet?
Do I want one or two bathrooms?
Write down a list of things you consider essential, so you can narrow your search online. During the walk-through, ask those questions to confirm what you found on the website.
5. Decide If You Need Somewhere Pet-Friendly
If you decide in a year that you want to adopt a cat, and your landlord has a no-pet policy, you could face eviction when your landlord finds out. By bringing an unregistered pet into the home, you break the terms of your lease, and they can terminate your contract immediately.
If you have nowhere to go, you're risking the safety of the pet. Also, when adopting, reputable rescues ask where you live. If you rent, they'll need express permission from the landlord.
If you want a pet in the future, even if the apartment is pet-friendly, ask if there are any breed or weight restrictions. Some places don't allow pets over a certain weight, and some don't allow breeds like pit bulls or rottweilers. Know the limits on the number of pets and what sort of monthly costs and deposits you'll need to pay after adoption. Costs can add up quickly when you need to pay a deposit of a month's rent, a monthly fee and a carpet cleaning service when you move out. Having a pet also decreases your chance of getting back your security deposit.
Make sure you ask if animals other than cats and dogs are allowed if you have your eye on something less common, like a rabbit or reptile.

6. Request a Showing
You'll need to actually see the location before you start renting. You may fall in love with the pictures online, but you should never sign a lease without seeing the place in person. You have no idea how old those pictures are or if they're only of the model unit. You could unknowingly sign a lease for a place that has damage or lacks the amenities in the photos. As soon as you sign the contract, it's too late.
Once you find an apartment within your budget and location, request a showing. Know what amenities you're looking for and ask questions. Take the time to inspect the place for any tell-tale signs of damage.
If you see spots on the ceiling or walls, there was probably a leak. If you see little holes in the floor, there were probably bugs. Make sure the appliances work. Make sure the hot water runs. If anything malfunctions during the initial walk-through, tell the property manager and take detailed photos and dated documentation, so they don't charge you for the damages at the end of your lease.
If the apartment checks all your boxes, submit an application immediately.
7. Make Sure You Get the Apartment You Want
Landlords give apartments to the first qualified applicant, so be ready with all of your documents when you visit the apartment. If the application is online, apply as soon as you get home. The longer you wait, the less likely you can secure that apartment.
To make sure your application gets approved, walk in with your best foot forward. The viewing gives you a chance to show you have the makings of a responsible tenant. Landlords or property managers want to rent to people who pay rent on time, respect the apartment and communicate effectively when the landlord or maintenance team reaches out. Act like you're walking into a job interview, so you present yourself in the best light — especially if your numbers on paper are a little below the expected qualifications.
Always ask your references' permission before you list them on the application. Make sure they are aware that the landlord might call or email soon. They'll need a heads up, so they can answer unknown numbers and be mentally prepared to answer all the property manager's questions. You don't want them thrown off guard before they talk about what kind of tenant you will be.
8. Have Your Documents Ready
There are several documents you need to prove you'll make a responsible tenant. While the rules change slightly from landlord to landlord, here are some basic guidelines for what they look for:
Income:

Most landlords look for tenants that make

40 times the monthly rent

. This can be tricky if you don't have the proper

pay stubs

or your job doesn't pay that amount. If you just got a job, ask if you can use your

offer letter or contract

as a replacement. If you are self-employed, use last year's

tax returns

. If you don't have any of those, provide the previous two month's bank statements.

Credit Score:

If you haven't developed a healthy line of credit, you'll likely need a co-signer or guarantor.

Vehicle registration and proof of auto insurance:

You may need this information to register for a parking spot.

References:

Landlords generally look for two reliable references other than your family members to attest to your responsibility. If you aren't the most qualified candidate on paper, these references will play a more significant role in determining your eligibility.

Personal identification:

Have a valid ID and social security number. Ask if they require any other forms of identification.
9. Find a Co-signer or Guarantor
Property managers want to see on paper that you would make a great tenant. However, if you're a first-time renter, you may not have that proof yet.
If the monthly rent costs more than a third of your income, you don't have a good credit score or you don't have a rental history, you won't have the proper documentation they need to know you're a responsible renter.
For these situations, they might expect a guarantor or co-signer to sign the contract with you. They could be a guardian or anyone with the qualities you lack on paper. They assume legal responsibility to pay your rent or outstanding bills in the event you can't.
10. Read All the Fine Print
If approved, meet with the property manager to pay all the necessary upfront fees and sign all documentation. Expectations vary from apartment to apartment, so read the fine print before signing anything.
Fees also vary from apartment to apartment, so make sure you read the contract for the answers to these questions:
Have you checked if the rent includes utilities?
What fees do you have to pay upfront?
Do you need to pay a monthly parking fee?
How much is the pet fee?
Be sure to read your lease thoroughly before signing, so you know how to hold up your end of the contract. You need to know what rights you both have as landlord and renter.
Do not sign anything before knowing the exact amount you'll owe. Leases typically last somewhere from six months to a year, so if you sign a contract you cannot fulfill, the consequences will be costly.
Never sign a lease you can't afford. If something in the contract makes you uncomfortable, don't be afraid to walk away. You should not make this big decision lightly. Your apartment becomes your space for however long you stay, so make sure you can come back from a long day at work to someplace you're happy to call home.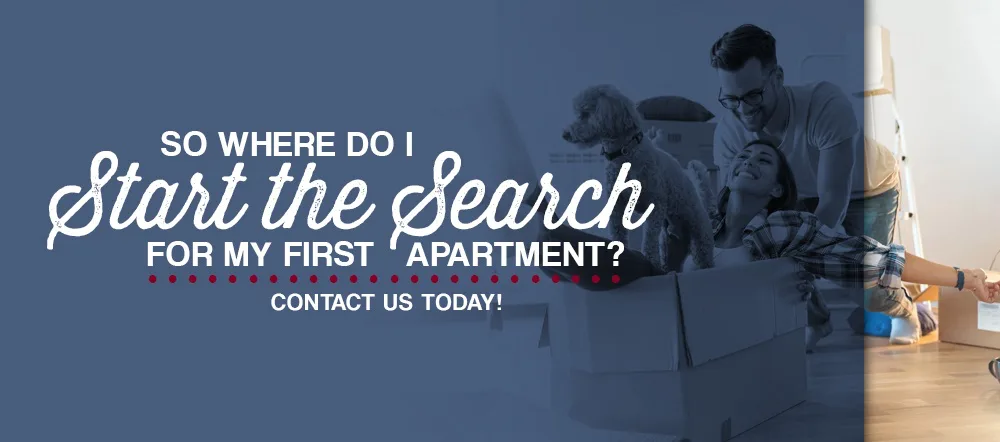 So Where Do I Start the Search for My First Apartment?
If you follow these steps, you will have gone a long way to taking the stress and guesswork out of finding and renting the right apartment. But, it's still a big decision. Our knowledgeable leasing agents at Triple Crown Corporation are available to answer your questions about renting in general, and about the apartments and amenities within our different communities.
Contact us today to let us know how we can help.