With majestic mountains, gushing waterfalls and countless trails winding through a variety of terrains, Central Pennsylvania was made for hikers. Whether you enjoy a steep climb, an even-leveled loop, observing wildlife or taking a dip in fresh water, there's a path for you. The only question left is which adventure will you choose? To save you time and get you on the trails faster, this article will cover 12 of the top places to hike in Central Pennsylvania.
12 Places to Hike in Central Pennsylvania
If you're looking for a fun outdoor adventure near the Central Pennsylvania area, check out this list of scenic hikes for those of all skill levels:

1. Wildwood Park
Formerly known as Wildwood Lake Sanctuary, Wildwood Park is situated within the rolling hills of Central Pennsylvania — conveniently close to the Harrisburg and Hershey area. Wildwood Park is a hidden jewel tucked away from the hustle and bustle of the city, and it offers a range of activities for nature and wildlife lovers alike. Specifically, the park offers seven different trails ranging from easy and level terrain to difficult and steep.
Depending on your preferences and skill level, you can take a peaceful stroll around the lake or a more challenging climb through the gorges and ridges of the Tall Timbers Trail. The large Wildwood Way Trail intersects with many of the other trails, so hopping from trail to trail is a breeze. With each trail, hikers get to see a different variety of flora and fauna.
As a fun and free place to get some fresh air, Wildwood Park is worth the trip for anyone in search of the perfect hiking site. After you're finished exploring the trails, make sure you check out the Benjamine Olewine III Nature Center, which offers interesting educational activities for young and old nature enthusiasts. Wildwood Park is also the ideal destination if you want to bring a bike, picnic lunch or four-legged friend to enjoy the great outdoors with.
2. Mason-Dixon Trail System
If hiking next to a waterfall sounds like your dream weekend activity, the Mason-Dixon Trail System should be at the top of your list. The Mason-Dixon Trail runs alongside the Susquehanna River to provide hikers with beautiful views of the water. It connects the Appalachian Trail with the Brandywine Trail. Along its 199-mile route, the trail also passes through Pinchot State Park.
As its name would suggest, the Mason-Dixon Trail begins at Whiskey Springs on the Appalachian Trail in Cumberland County, Pennsylvania, and leads hikers south to Havre de Grace in Maryland. The trail continues across the river, winding through a portion of Delaware before eventually leading hikers back into Pennsylvania on the banks of the Brandywine River in Chadds Ford.
If you hike the Mason-Dixon, make sure you hit the main attractions of the trail — Mill Creek Falls and the Lock 12 Historic Area. When the water is low enough, Lock 12 allows adventurous hikers to do some rock hopping and walk through the ruins of an old mill from the 1830s. Once you're done exploring the mill, continue along the trail to discover breathtaking sights.
After about 1 mile, you will intersect with Mill Creek and see smaller waterfalls you can splash around in. Farther along, you'll see bigger and more stunning waterfalls you'll have to snap pictures of to share with your friends. The path with blue trail markings will lead you right alongside the waterfalls for about 1/2 mile before leaving the creek area. This is a good point to turn around unless you feel ready for a more challenging climb.
Overall, this hike is overflowing with natural beauty and perfect for family bonding or a memorable date activity.
3. Trout Run
As a relatively short and level trail, Trout Run is a great path for kids, new hikers or adults looking for a more casual stroll. This trail is located in Lancaster County and takes hikers on an easy, well-marked trail full of natural beauty. Because the full loop involves steeper inclines and far less scenic sights, your best bet is to turn around after about 1 mile, making this an easy out-and-back route.
Trout Run is ideal for anyone with a short attention span because it doesn't take long to start spotting some exciting features like rapids and waterfalls. With large rocks to climb on and plenty of mini waterfalls and birds to spot, Trout Run is entertaining enough to keep the attention of even the youngest hikers. And at just 20 miles, this small-scale trail doesn't require you to dedicate an entire day to the hike.

4. Ned Smith Center
Ned Smith Center Lands and Trails is situated on the outskirts of historic Millersburg and spans more the 500 acres of gorgeous forest and sprawling meadowlands. Stretching from the bubbling Wiconisco Creek to the peak of Berry's Mountain, the Ned Smith Center includes a mature hardwood forest teeming with wildlife, such as deer, foxes, bears, wild turkeys, hundreds of songbird species and more.
The Ned Smith Center offers hikers about 10 miles of trails in total, with a range of trail lengths from .3 miles to 1 1/2 miles. The center's trails guide hikers through the beauties of the creek and surrounding forest landscape. While many of the trails were designed for hiking, some are also great for biking, horseback riding and even cross country skiing when there's enough snow.
After getting your fill of nature on the trails, make sure you check out the center's art gallery. Along with picturesque landscape pieces by its namesake in the Ned Smith Gallery, the Ned Smith Center also features galleries with works by other renowned local and nationally recognized artists. The Olewine Gallery and the Romberger Gallery rotate their exhibits to keep bringing guests the very best nature-inspired art.

5. Boyd Big Tree Preserve Conservation Area
Covering 1,025 acres of scenery across Blue Mountain, Boyd Big Tree Preserve Conservation Area offers some of the best hiking trails in Harrisburg. The 12-mile trail system within Boyd Big Tree Preserve presents visitors a range of easy to difficult hikes so you can be sure to find the right fit for your skill level. Each of the trails also connects to one or more of the other trails so you can easily navigate from one of the clearly marked trails to another if necessary.
The eight different Boyd Big Tree Preserve trails provide a variety of loop hikes with incredible vista views over the beautiful valley. Some of the trails also take you through plots of large second-growth trees as well as a chestnut plantation. Depending on which loop you choose, you may also pass by ponds, wildlife or an American beech grove.
As a conservation area, the Boyd Big Tree Preserve is designated for providing opportunities for outdoor recreation and environmental educational activities, both of which it certainly delivers. Boyd Big Tree Preserve even offers guided walks, hands-on activities and evening programs you can learn more about by contacting the Little Buffalo State Park Complex office.
6. Shank Park Nature Trail
As Hershey's largest park of the township's eight-park system, Shank Park spans 90 acres and features a 1.63-mile loop nature trail that ultimately connects with the Jonathan Eshenour Trail. Shank Park is conveniently located near the Penn State Hershey Medical Center and is a great place to grab some fresh air without leaving the main downtown hub.
The Shank Park Nature Trail is relatively flat and very well maintained, making it the perfect spot to meet up with a friend to chat during a casual stroll. The Friends of Parks and Recreation also offer instructional nature walks along the trail during the warmer months from mid-May through late September.
Along with a scenic nature trail, Shank Park provides visitors a variety of sports fields, including soccer, baseball and softball fields, as well as a playground, pavilions and grills for those interested in barbecuing. Head over to the Shank Park Nature Trail if you don't have time to drive far for a hike or you plan on meeting up with a larger group of people.
7. Hawk Mountain Sanctuary
For the slightly more experienced hiker, Hawk Mountain Sanctuary offers more challenging trails, astonishing views and even some environmental education opportunities. Any animal lover will enjoy learning about the migration and flight patterns of birds native to the area while keeping an eye out for sightings along the trails. Younger hikers will especially love scrambling over the rocks to catch a glimpse of all kinds of birds.
Lookout Trail, in particular, is a great path that takes you by three unique lookouts — South Lookout, Bald Lookout and North Lookout. South Lookout overlooks the River of Rocks in the valley below and gives you the chance to talk with an observer-interpreter depending on the time of the year. Bald Lookout is exciting because it gives hikers the chance at a rare bald eagle sighting.
While South Lookout and Bald Lookout are worth seeing, North Lookout is the real showstopper with hawks, ospreys and bald eagles consistently circling the area. For an ideal afternoon, pack a lunch and hike up to North Lookout to take in the beauty of the birds as you refuel for the hike back down. Don't forget to bring a pair of binoculars and a good camera to capture some action shots.
Although you could easily spend the entire day exploring Lookout Trail and the Visitor Center, Hawk Mountain Sanctuary offers many other trails and activities. Hikers looking for more of a challenge can take on the Skyline Trail or the River of Rocks Loop Trail to get even more awe-inspiring landscape views. The Native Habitat Garden is also a must-see, as it boasts more than 250 species of native plants and flowers.
Keep in mind there is a small fee to visit the Hawk Mountain Sanctuary and its extensive hiking trails. The money helps fund conservation efforts, and the views are more than worth it.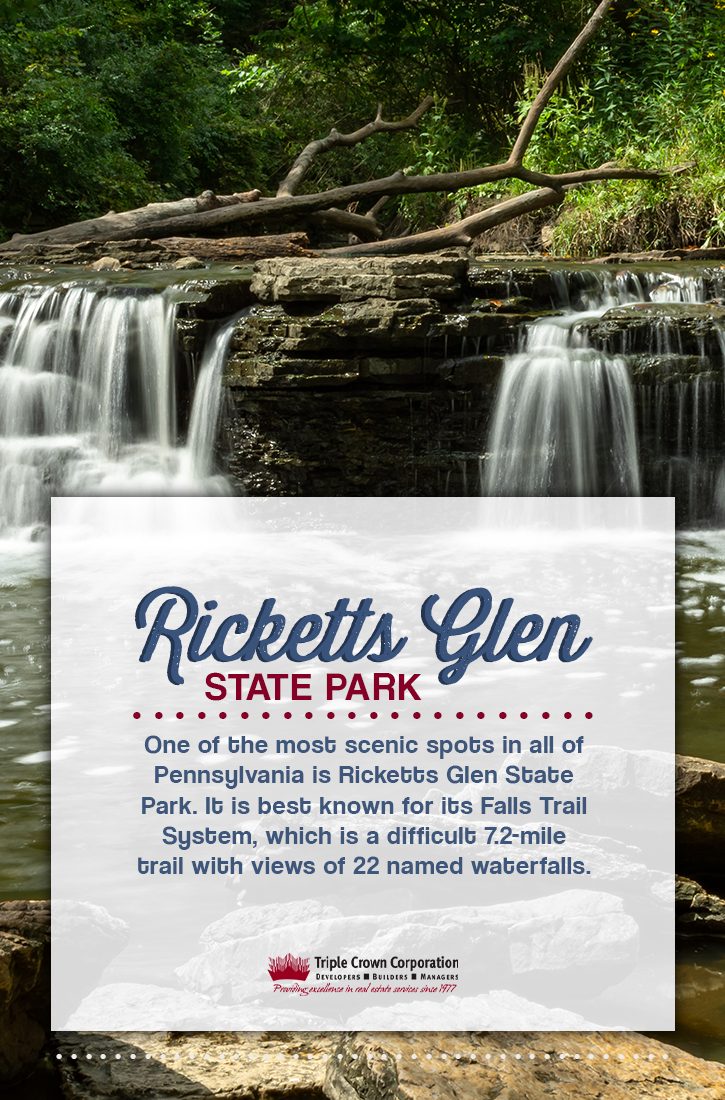 8. Ricketts Glen State Park
One of the most scenic spots in all of Pennsylvania is Ricketts Glen State Park. It is best known for its Falls Trail System, which is a difficult 7.2-mile trail with views of 22 named waterfalls. From the mammoth Ganoga Falls that tower at 94 feet tall to smaller 11-foot falls, each of the waterfalls along the Falls Trail System is unique and breathtakingly beautiful. The trail also takes hikers through the Glens Natural Area, a National Natural Landmark, as it winds through rock-strewn clefts and wild waterfalls.
In addition to the Falls Trail System, Ricketts Glen State Park offers adventure-hungry hikers multiple other trails throughout its 13,193 acres of natural wonders. Specifically, the shorter Beach Trail runs along the park's swimming area so hikers can take a refreshing dip on hot summer days. The park also includes the Grand View Trail, which leads hikers to the highest point of Red Rock Mountain.
With 26 miles of trails to choose from, no hiker will get bored at Ricketts Glen State Park.
9. Colonel Denning State Park
Situated in North-Central Cumberland County, Colonel Denning State Park features a lovely 273 acres of woodland surrounding a 3 1/2-acre lake. The park acts as a gateway for the even larger Tuscarora State Forest, which encompasses the park. These public scenic lands are found in Doubling Gap, which earned its name for the "S" turn at which the Blue Mountain doubles back on itself.
To navigate Colonel Denning State Park, hikers have their choice of trails, including a preferred path to the top of Blue Mountain and a slightly tougher route. Although the Flat Rock Trail at Colonel Denning State Park may be a challenge for any hiker regardless of experience level, it is more than worth it. Bring a packed lunch or a book with you so you can sit and enjoy the views for a few hours before beginning the descent.
10. Standing Stone Trail
Formerly known as the Link Trail, the Standing Stone Trail spans 84 miles of ridges and valleys throughout Central Pennsylvania from Cowans Gap State Park all the way to the Detweiler Run Natural Area in Rothrock State Forest. It was named the state's Trail of the Year in 2016 and offers high-quality hiking and tremendous benefits to the region.
The Thousand Steps are the centerpiece of the Standing Stone Trail and can be found along the Jacks Narrows portion of the trail near Mount Union. The Thousand Steps, which actually total closer to 1,100 steps, were constructed in the 1930s by quarry workers. While quarrying the ganister stone used for making silica bricks, the workers cut away a huge slice of Jacks Mountain to create the steps.
At Standing Stone Trail, hikers can enjoy the popular Thousand Steps and explore the abandoned rail lines, quarries and even a small stone house. For history buffs, the Standing Stone Trail allows you to feel as if you've hiked back in time. In addition, the Thousand Steps lead to a gorgeous view overlooking Jacks Narrows, which makes the climb doubly worth the effort.
11. Quehanna Trail
For hikers with boundless energy, the Quehanna Trail is a roughly 75-mile loop that circles through the Moshannon and Elk State Forests. The Quehanna Trail takes hikers on the adventure of a lifetime, winding through some of the most wild and beautiful countryside Pennsylvania has to offer. Although the Quehanna Trail is expansive, it is a moderately easy hike with few challenging sections.
The main orange-marked loop of the trail begins and ends at Parker Dam State Park, which can be found near Driftwood, Pennsylvania. However, there are additional blue-marked side trails that tack on about 30 extra miles of fun for the most avid hikers to enjoy. These shorter blue-marked trails can also be used as smaller circuits for any hikers short on time.

12. Peter's Mountain
Peter's Mountain is located along the Appalachian Trail and rewards determined hikers with views of the Susquehanna River unlike any other trail in Central Pennsylvania. Through a series of switchbacks, this trail gives you breathtaking scenes of the surrounding area from multiple vantage points. While the views from Peter's Mountain live up to the hype, they do require some work — so strap on your hiking boots and get ready to climb.
The Peter's Mountain loop has an elevation gain of about 1,200 feet, but don't let this number intimidate you. Less experienced hikers will most likely feel challenged throughout the 7-mile hike without feeling too overwhelmed or out of their league. The trail evens out and becomes quite manageable after the initial ascent, which gives you a chance to catch your breath before beginning the final climb to the summit.
Once you reach the peak of the mountain, you are greeted by a phenomenal view of the Susquehanna. Without any traffic in the background, this isolated spot creates a peaceful feeling that can only be found in nature. Take your time soaking in this serene scene before starting back down the mountain.
For those interested in exploring other sections of the Appalachian Trail, there are opportunities to hop on and off the famed trail throughout Central Pennsylvania. You can map out your own Appalachian Trail adventure or follow one of these trusted access points:
Susquehanna River to PA-225: Starting with a scenic riverside stroll, this 6.3-mile portion of the trail leads hikers through picturesque outcroppings to a gorgeous forested ridge line in the State Game Lands of Central Pennsylvania.
PA-325 to PA-443: On this nearly 16-mile section of the Appalachian Trail, you'll hike up Stony Mountain from Clarks Creek before continuing on over Sharp Mountain and trekking to Yellow Springs Village, which is a ghost town. Then, you'll press onward to Rausch Gap Shelter and into Schuylkill County to complete your route.
PA-225 to PA-325: In this 9.7-mile stretch of the trail, you will get to experience two scenic outposts — the Table Rock with the Ralph Kinter View and the Shikellimy Overlook.
Explore Rental Communities in Central Pennsylvania From Triple Crown Corporation
With all the amazing hiking trails to discover in Central Pennsylvania, you'll need to spend more than just a weekend in the area to visit them all. If you're looking for a more permanent place to stay in Central Pennsylvania, let Triple Crown Corporation help you find the perfect rental community to come home to after a long day of hiking.
Triple Crown Corporation offers top-quality, modern rental communities in Camp Hill, Harrisburg, Mechanicsburg, Middletown and New Cumberland so you never have to be too far from the trails. And with a variety of fun day trips to go on around Central Pennsylvania, you'll still have a long list of adventures to tackle when the weather gets colder. To find the right Central Pennsylvania community for you, check out the wide range of rental communities and locations available from Triple Crown Corporation or contact us today.