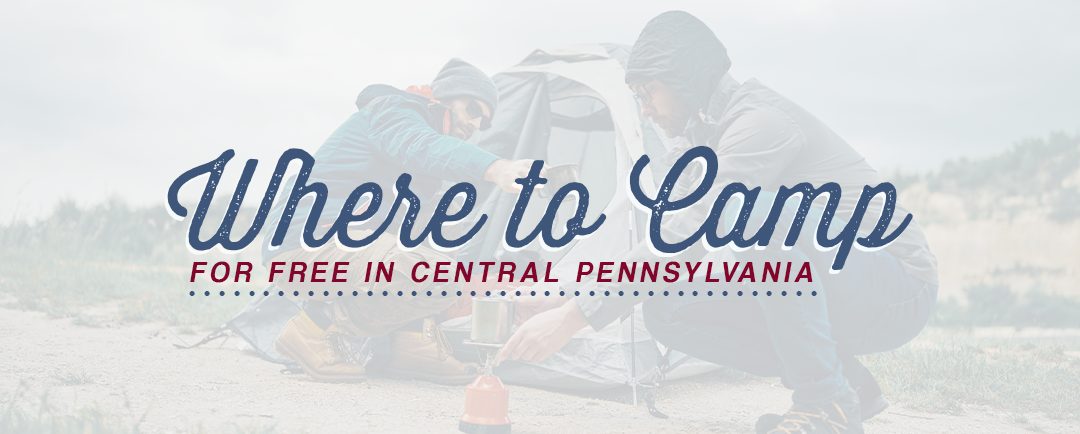 What's the perfect activity for having fun while complying with the Centers for Disease Control and Prevention (CDC) social distancing guidelines? Camping, of course! As an outdoor activity, camping is a great way to get away from crowded spaces and enjoy nature with your family.
Regardless of social distancing, camping is always a fun weekend activity full of fresh air, connecting with nature and kicking back with some friends and s'mores. And as a bonus, camping can be free if you know the right places to go. This guide to free camping in Central Pennsylvania will give you the top 10 spots to camp without paying an expensive campsite reservation fee.
10 Places to Camp for Free in Central Pennsylvania
For those looking for an isolated, inexpensive alternative to the noise and crowds of developed campgrounds, Pennsylvania offers hundreds of free campsites throughout the state. Because Central Pennsylvania has the Appalachian Mountains running right through the middle of it, the area is a prime destination for good hiking, gorgeous scenery and free camping.
Most of the sites that offer free camping in Central Pennsylvania are located on state forest lands and do not provide any amenities, though some may have a fire ring or a picnic table for guests. These types of primitive sites are typically intended for tent camping. If you want to bring a small trailer or camper van, be sure to contact the campsite's district office to find out whether they are allowed or can be accommodated.
Although these campsites are free to visit, they do require registration, so remember to call ahead and reserve your spot. Most of the sites also require a camping permit for multiple-night stays. These permits are free and can be easily obtained by calling the district office.
Finally, read through both the CDC guidelines for visiting parks and recreational facilities and this brochure of camping guidelines and ethics to make sure you practice good camping etiquette. Knowing the right way to camp will help you preserve the beautiful forests of Central Pennsylvania, remain respectful of other fellow campers and stay safe in the wilderness.
Now you're ready to try all 10 of the following free campsites to discover the best place to camp in Central Pennsylvania.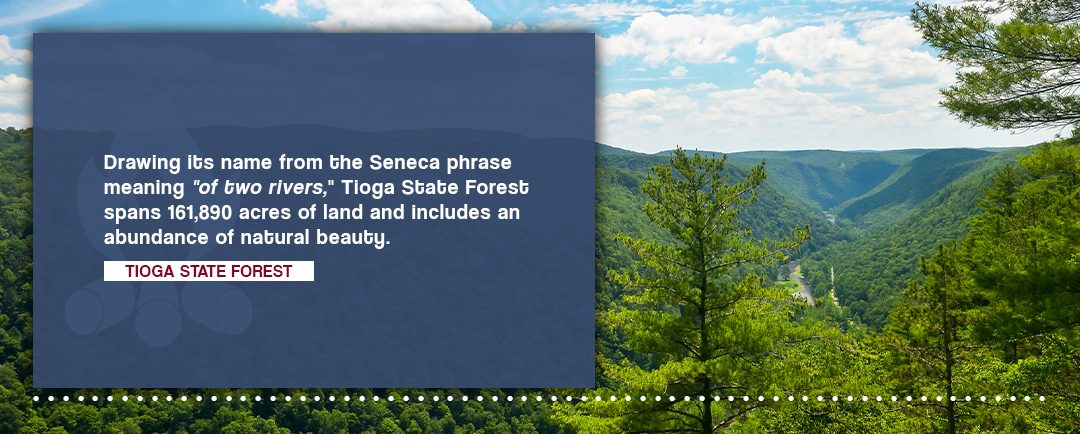 1. Tioga State Forest
Drawing its name from the Seneca phrase meaning "of two rivers," Tioga State Forest spans 161,890 acres of land and includes an abundance of natural beauty. Tioga State Forest is home to the Pine Creek Gorge, also known as the "Grand Canyon of Pennsylvania." With plenty of hiking trails, mountain bike trails and awe-inspiring scenes of clear rushing water, Tioga State Forest is the perfect place to pitch your tent.
There are several camping sites available in Tioga State Forest near the hiking paths along the Pine Creek Gorge and Asaph area. These spots give you easy access to the trails and any other activity you might be interested in, such as paddling or rock climbing. If staying at a site for more than one night, whether motor vehicle camping or not, a permit is required for camping at Tioga State Forest.
Although primitive backpack campers are not necessarily required to have a camping permit, they are encouraged to get one for personal safety reasons and to help the state officials better gauge overall forest usage. Campers can acquire a permit for free by calling the district office at 570-724-2868.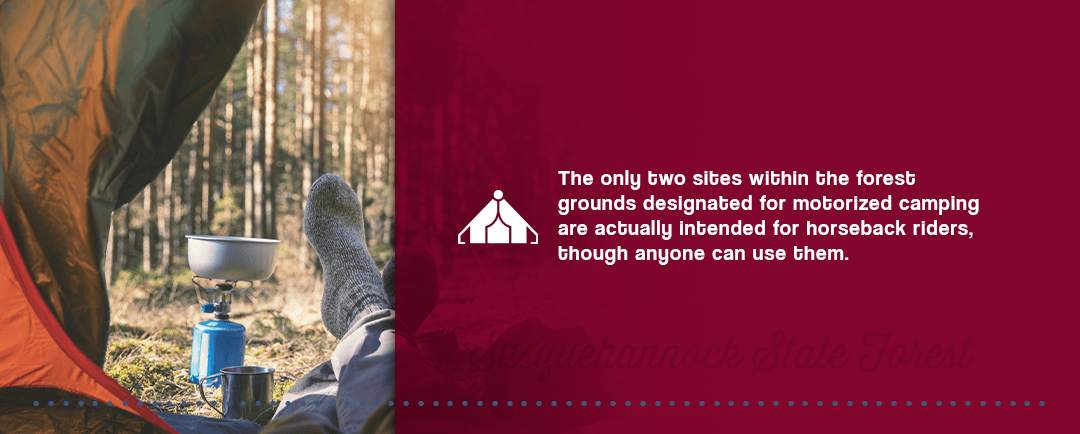 2. Susquehannock State Forest
A sprawling natural area of 265,000 acres, Susquehannock State Forest is one of the eight state forests located within the Pennsylvania Wilds region. The Susquehannock State Forest, in particular, is known for producing some of the best black cherry trees in the world as well as breath-taking hiking views.
The Susquehannock State Forest is also well known for being a great spot for horseback riding. The only two sites within the forest grounds designated for motorized camping are actually intended for horseback riders, though anyone can use them. These sites can be found at the 12 Mile and Dyer equine camping areas.
Those planning on camping at either of the Susquehannock State Forest sites must obtain a camping permit. Camping permits come at no cost and may be requested at 814-274-3600.
Although a camping permit is necessary for motorized camping, primitive backpack campers do not need a permit as long as they do not stay more than one night at any campsite. Primitive backpack camping is acceptable throughout the entirety of Susquehannock State Forest. However, anyone interested in camping with a group of 10 or more must receive a Letter of Authorization from the District Forester.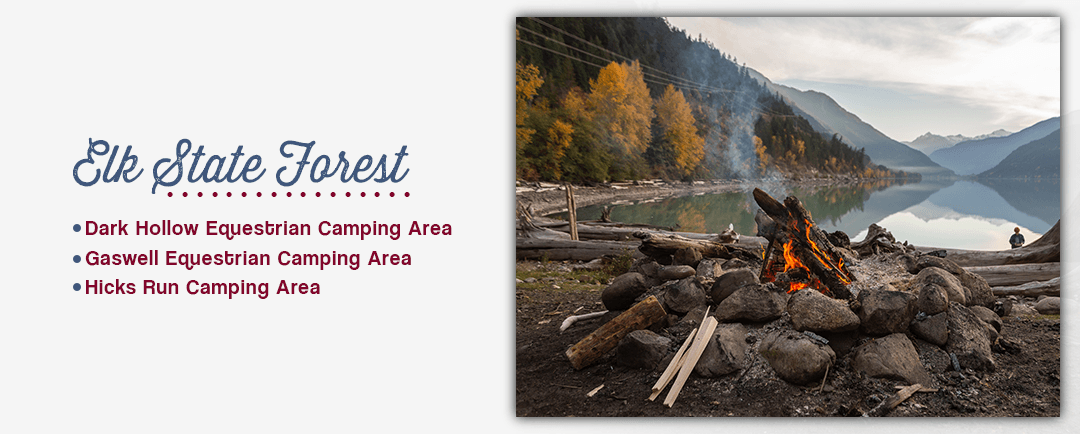 3. Elk State Forest
As its name suggests, Elk State Forest is popular for the great number of elk that roam the grounds. This northern hardwood and mixed oak forest stretches nearly 217,000 acres and contains expansive meadows and clearings filled with wild elk. Along with several campsites, Elk State Forest offers visitors many scenic trails to explore.
Most of the campgrounds in Elk State Forest are near the trails and close to the elk viewing areas. If you want to see as many wild elk herds as possible, the stunning Quehanna Wild Area is a must-see, and Sizerville State Park is a quaint park worth making the trip to see. For those interested in driving, Ridge Road is a scenic drive that passes by numerous scenic vistas.
The Elk State Forest campsites are within the forest and include motorized camping sites, group camping areas, equestrian camping and primitive camping areas. These are the three main campsites in Elk State Forest:
Dark Hollow Equestrian Camping Area: Dark Hollow is an equestrian camping area located along Bell Draft Road, which is a little over five miles from Benezette. The site offers 10 non-electric motorized sites and operates on a first-come permitting system.
Gaswell Equestrian Camping Area: Another equestrian camping area, Gaswell is also located along Bell Draft Road. Slightly smaller than Dark Hollow, Gaswell offers five non-electric motorized sites and also operates on a first-come permit basis.
Hicks Run Camping Area: Hicks Run is an RV and tent camping site with 11 non-electric motorized spots and four non-electric tent spaces that operate according to a first-come permitting system. Located along West Branch Hicks Run, the site is only a couple of miles from Route 555.
To find out more about campsite availability in Elk State Forest and how to request a permit, call the district office at 814-486-3353.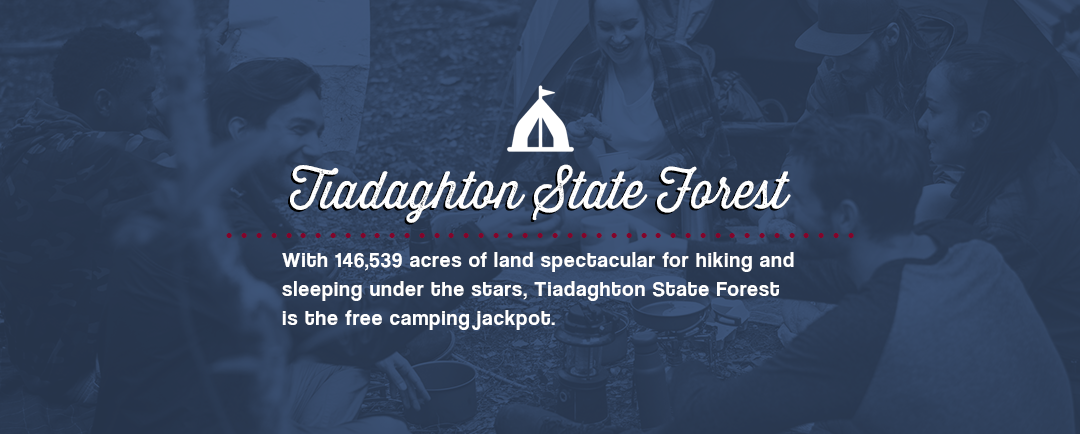 4. Tiadaghton State Forest
With 146,539 acres of land spectacular for hiking and sleeping under the stars, Tiadaghton State Forest is the free camping jackpot. Featuring some of the best scenery in the state, Tiadaghton State Forest's extensive hiking trail system guides visitors through a wonderland of natural beauty.
The Pine Creek Trail, Golden Eagle Trail, Black Forest Trails and Mid State Trail are all in close proximity to Tiadaghton State Forest's camping areas. In addition to hiking trails, there are plenty of mountain bike trails as well as opportunities for paddling. Be sure you know about all the fun things you can do in a day in Tiadaghton State Forest.
Primitive backpack camping is acceptable throughout the entire Tiadaghaton State Forest except for some designated natural areas. If they are not planning on staying more than one night at a campsite, primitive backpack campers do not need to obtain a permit.
For those who do need a permit or simply want more information about camping in Tiadaghton State Forest, call 570-753-5409 to reach the district office. Those camping in a group of 10 or more people must obtain a Letter of Authorization from the District Forester.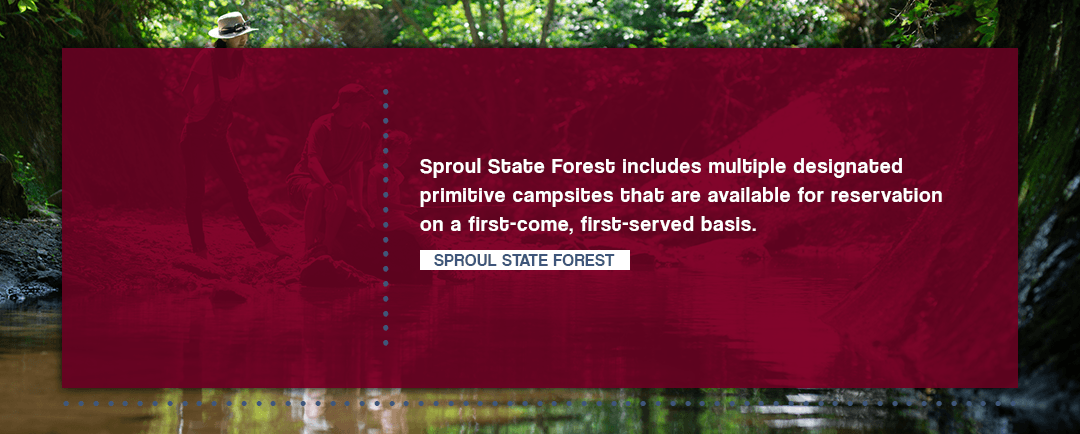 5. Sproul State Forest
As the largest in the state forest system, Sproul State Forest covers 305,450 acres of woodland named in memory of William C. Sproul, who served as the governor of Pennsylvania from 1919 to 1923. Governor Sproul was renowned for his dedication to expanding the public education system across the state. Sproul State Forest features rugged and steep hillsides intersected by the western branch of the Susquehanna River along with its tributaries.
Visitors can enjoy the natural beauty of Sproul State Forest by hiking the many trails running through the area. Specifically, the Chuck Keiper and Donut Hole trails are favorites among hikers. Other can't-miss spots within Sproul State Forest include Paddy Falls, Clendenin Branch and Hyner View, a gorgeous vista overlooking the river.
Sproul State Forest includes multiple designated primitive campsites that are available for reservation on a first-come, first-served basis. Anyone planning on using a campsite needs to obtain a no-cost permit by contacting 570-923-6011. However, primitive backpack camping is accepted throughout the whole Sproul State Forest, and primitive backpack campers don't need a permit as long as they stay no more than one night per any campsite.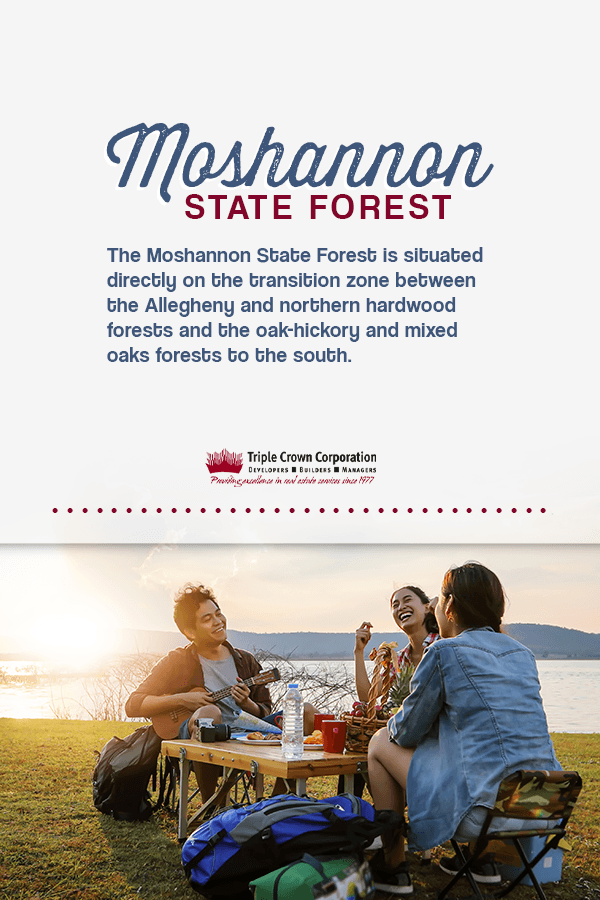 6. Moshannon State Forest
The Moshannon State Forest gets its name from the Native American word "moss-hanne," or "moose stream," which describes the waterway that runs through the forested area. In total, the Moshannon State Forest spans 190,031 acres along the Allegheny Plateau.
The Moshannon State Forest is situated directly on the transition zone between the Allegheny and northern hardwood forests and the oak-hickory and mixed oaks forests to the south. This intersection makes for a beautiful and unique blend of forestry for visitors to enjoy.
As an isolated forest, the woodlands of Moshannon State Forest offer visitors many serene scenes, including ponds, large rocks and elk viewing areas. There are also multiple peaceful trails, such as the Black Moshannon State Park, Quehanna Wild Area and Allegheny Front trails.
Primitive backpack camping is allowed anywhere within Moshannon State Forest, and no permit is required as long as the camper does not stay more than one night at any campsite. However, primitive backpack campers should still register at any trailhead near a State Park office.
Any of the numerous designated primitive camping sites within Moshannon State Forest can be reserved according to the first-come, first-served standard. For those planning on staying at a campsite longer than one night, a free permit may be acquired by calling the district office at 814-765-0821.
7. Bald Eagle State Forest
Named after the famous Native American chief, Bald Eagle, Bald Eagle State Forest covers 193,424 acres of high, sharp ridges and tracts of old-growth forest with miles of refreshing mountain streams. Due to its location within the ridge and valley section of Pennsylvania, Bald Eagle State Forest has breath-taking sights you can't find anywhere else in the state.
From the Allegheny Mountains in the northwest to the limestone-rich Susquehanna Valley in the southeast, the Bald Eagle forest district spotlights a series of striking sandstone ridges. Some of Bald Eagle State Forest's peaks reach heights of up to 2,300 feet above sea level.
Each year, visitors flock to Bald Eagle State Forest for its numerous trails and natural areas. From the Mid State Trail to the old-growth forests, vistas and countless other multiple areas, Bald Eagle State Forest has something to offer every nature enthusiast. The Poe Paddy area is a particularly popular spot among visitors because of its scenic canyons and rugged ridges.
And with 45 designated motorized camping sites, there is no shortage of space for overnight guests. These motorized campsites each come with off-road parking, a fire ring and a picnic table. Despite the many campsites available, it is still recommended that campers call ahead to reserve a spot and request a permit for no charge.
Motorized campsites may be reserved up to 90 days in advance. Primitive backpack campers do not need to obtain a camping permit if they are not staying more than one night in any single location. To find out more about campsite availability at Bald Eagle State Forest or to ask for a camping permit, contact the district office at 570-922-3344.
8. Rothrock State Forest
Stretching out over 96,975 acres of rugged ridges, Rothrock State Forest is a natural wonder named in honor of Dr. Joseph Trimble Rothrock, the commonwealth's first-ever forestry commissioner. A native of Mifflin County, Dr. Rothrock is known as the "Father of Forestry" in Pennsylvania.
Visitors to Rothrock State Forest can experience great hiking and mountain biking trails. Those in search of awe-inspiring vistas can check out the Mid State Trail or the Standing Stone Trail. Other well-known Rothrock State Forest sights include Little Juniata Water Gap, Rocky Ridge and the Alan Seeger natural area. If you're looking for an especially serene space, Penn Roosevelt State Park remains more of a hidden gem.
Primitive backpacking campers are allowed to camp overnight anywhere within Rothrock State forest aside from these areas:
Within 25 feet of a trail
Within 100 feet of a stream or any other sort of open water
Within 200 feet of a forest road
In any officially designated Natural Area
For motorized vehicles, Rothrock State Forest offers eight designated camping sites with a fire ring, off-road parking and a picnic table. To use one of these campsites, you must have a camping permit, which you can obtain for free by calling 814-643-2340.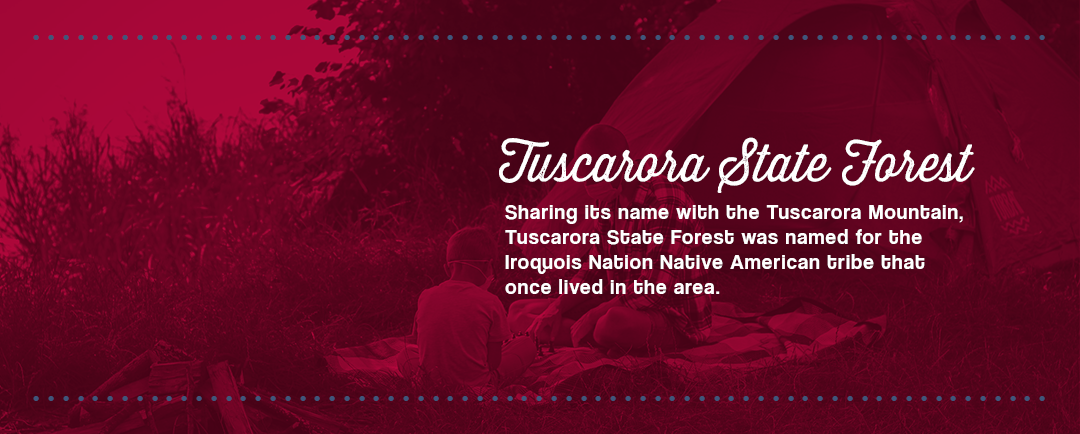 9. Tuscarora State Forest
Sharing its name with the Tuscarora Mountain, Tuscarora State Forest was named for the Iroquois Nation Native American tribe that once lived in the area. The 96,025 acres of Tuscarora State Forest cover the narrow valleys and steep ridges of the state's ridge and valley region. Because this region is so fertile and well-watered, it is the ideal location for hemlock and oak forests to thrive.
Tuscarora State Forest is wonderful for nature fans to visit because it offers a diverse mixture of tree types. Along with many strong oak and hemlock trees, these species are native to the region:
Sugar maple
Beech
Black birch
Tuliptree
Basswood
White pine
Hickories
The region is also home to an abundance of wildlife populations. Researchers from West Virginia University monitor the migration of golden eagles through the ridges of Tuscarora State Forest. Visitors to the area may also be interested in the other scenic views Tuscarora State Forest has to offer, such as an old-growth forest and the remains of a train tunnel.
Except for within designated Natural Areas, primitive backpack campers are welcome to camp throughout the entirety of Tuscarora State Forest without a permit. However, if a primitive backpack camper plans on staying multiple nights at any primitive campsite, they will need to obtain a free camping permit. Other overnight campsites are also available within Tuscarora State Forest and require a free permit.
For more information about the availability of Tuscarora State Forest campsites and how to request a camping permit, you can contact the district office at 717-536-3191.
10. Loyalsock State Forest
Although slightly to the east of Central Pennsylvania, Loyalsock State Forest deserves a spot on this list. Some of the best free campsites in the state can be found in Loyalsock State Forest. Deriving its name from Loyalsock Creek and spanning 114,552 acres of the northern tier's "Endless Mountains," the Loyalsock State Forest contains gorgeous views of peaks, ponds, gorges, waterfalls and rock formations.
The extensive system of trails within Loyalsock State Forest makes it the ideal destination for hikers. Visitors can hop on a trail to see scenic vistas, hemlock groves and waterfall areas. The gorgeous Worlds End State Park is also close enough to check out.
Most of the Loyalsock State Forest campsites themselves are tucked within scenic areas and conveniently close to the trails. Known for its four camping areas — Sand Spring, Onion Hole, Bridle Trail and Masten — Loyalsock State Forest is perfect for camping with a larger group. Before setting up camp, all backpack campers, roadside campers and horse campers staying at a campsite for more than one night must obtain a free camping permit from the Hillsgrove Maintenance Station or the Resource Management Center.
To find out more about requesting a permit and campsite availability, call the district office at 570-946-4049.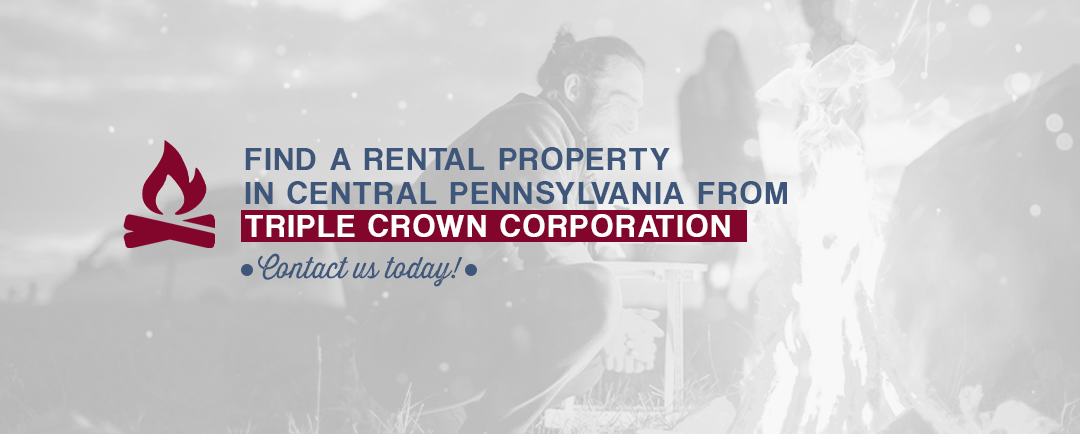 Find a Rental Property in Central Pennsylvania From Triple Crown Corporation
With so many great spots for free camping, you'll have to spend an extended amount of time in Central Pennsylvania just to get to them all. If you're looking for a home base in the Central Pennsylvania area, let Triple Crown Corporation provide you the perfect rental property to call home.
With rental communities in Camp Hill, Harrisburg, Mechanicsburg, Middletown and New Cumberland, Triple Crown Corporation properties are conveniently located close to multiple free Central Pennsylvania campsites as well as numerous other fun activity options. You can check out our wide variety of rental properties and locations to find the right Central Pennsylvania neighborhood for you.
The Triple Crown Corporation team works tirelessly to keep all of the properties within our communities up to date through regular upgrades so you can be confident you're moving into a cutting-edge, modern home. To find out more about top-quality rental properties in the Central Pennsylvania area, contact Triple Crown Corporation today.