Brunch is like the secret meal hidden somewhere between breakfast and lunch. It's a combination of the sweet, the savory and the celebratory. Brunch provides an opportunity to eat your favorite lunch and dinner foods before the clock strikes noon. Or you can enjoy gourmet breakfast fare in the afternoon after sleeping in on a lazy Saturday or Sunday. And, of course, brunch is an opportunity to enjoy some of your favorite alcoholic beverages like bloody marys and mimosas while the sun is still high in the sky.
Whether you're new to the area or are on a quest to find the best brunch in Harrisburg, you've come to the right place. Central Pennsylvania is rich with restaurants, cafés, pubs and eateries that are sure to satisfy your brunch cravings. When wondering where to brunch in Harrisburg, any place on this list will be a solid choice.

1. Café 1500, Midtown Harrisburg
A scratch kitchen and craft cocktails come together with an industrial-chic vibe at Café 1500. The well-lit dining area offers a spacious bar and a sophisticated yet relaxed aesthetic. When you're in the mood for a top-of-the-line bloody mary, you need to try The 1500 Famous Bloody Special. This mouthwatering beverage changes weekly, and Café 1500's skilled bartenders always craft something delicious.
On their menu, you'll find starters like Avocado Toast, Baked Brie with truffle oil and even a classic Caesar Salad. You'll also discover brunch entrees including the Smoked Pork Belly Huevos Rancheros, Fried Chicken and Pancakes, and Blackened Shrimp and Grits. And if you're into eggs Benedict, Café 1500 is the place for you. They have a whole section on their menu dedicated to this brunch favorite with options that include pork belly, smoked salmon and even crab cakes covered in rich hollandaise sauce.
2. Cornerstone Coffeehouse, Camp Hill
Elevate your morning or afternoon with a fresh-brewed coffee from Cornerstone Coffeehouse in Camp Hill. With options like the Honey Vanilla Latte, the Cornerstone Cappuccino and the Caramel Lovers' Frappe, coffee and espresso lovers are sure to rejoice when taking their first sip. While you're there, be sure to enjoy a complete brunch experience by ordering one of their breakfast or lunch items, too.
Cornerstone Coffeehouse's menu includes favorites like the "Incredible" Chicken Salad made with celery, red grapes and toasted pecans, all covered in a delicious dill dressing. They also make homemade macaroni and cheese if you're in the mood for comfort food. Cornerstone Coffeehouse offers a wide selection of homemade wraps and breakfast burritos, too. In the mood for something packed with nutrients? Try one of their salads or the Acai Berry Bowl to put the finishing touches on your midday energy boost.

3. Home 231, Center City Harrisburg
On North Street in Center City Harrisburg, only a block from the Pennsylvania State Capitol building, you'll find a great Sunday brunch spot in Home 231. A farm-to-table favorite, Home 231 offers upscale brunch favorites while keeping the menu simple and clean. And with plenty of seating options, you're sure to enjoy your stay in their comfortable dining room or their beautiful street-side and courtyard tables on a sunny day.
On their Sunday brunch menu, you'll find items like Chicken and Waffles, Peach Pie Pancakes, Eggs Benedict, and Smoked Salmon and Eggs. You should also try their Quiche of the Day, which the chef prepares fresh every week for your Sunday brunch needs. Also be sure to order their House Donuts for the table, covered in decadent chocolate and caramel creme anglaise. If you're in the mood for lunch, their Tomato Bisque, Turkey Ciabatta and Classic Burger are all solid choices.
4. El Sol Mexican Restaurant, Downtown Harrisburg
Visit El Sol Mexican Restaurant the next time you're in the mood for bold Mexican flavors for brunch. El Sol is family-owned and operated, serving up authentic Mexican dishes as well as some new spins on classic favorites. On the top of their menu, you can find the Fajita Omelet, which consists of scrambled eggs, chorizo and plenty of fresh mix-ins and zesty toppings. Other savory options include classic Huevos Rancheros, Chorizo Eggs Benedict and Huevos al Mole, made with their own homemade, rich mole sauce.
On the sweeter side, you can try the Mexican Toast, which is El Sol's spin on the French classic. The dish consists of Mexican sweet bread dipped in egg, cinnamon, sugar and cocoa, then cooked to perfection. Then they top it with homemade hibiscus syrup and whipped cream and plate it with fresh fruit on the side. Make sure you quench your thirst with one of their famous margaritas during your visit!

5. The Millworks, Midtown Harrisburg
The Millworks in Midtown Harrisburg is all about sustainability. From the reclaimed lumber used in the architecture of their building to the connections they make with local farmers, the Millworks offers an artistic experience with a wholesome, satisfying seasonal brunch menu. You'll get fresh food, beers brewed in-house and an experience unlike any other when you visit the Millworks for your next brunch outing.
Start your meal with a Savory Potato Doughnut, Pull Apart Monkey Bread or Fried Green Tomatoes. Choosing your entree could be a tough choice with options like the Country Fried Chicken and Sausage Gravy Biscuit or the Scallops and Grits. Their House Cheeseburger is mouthwatering, containing grass-fed prime beef, smoked onion jam and roasted garlic aioli. They top it with smoked cheddar, half-sour pickles, lettuce and a house-made bean slaw. Pair that with a freshly brewed beer, and you're in for a real treat.
6. Café Fresco, Center City Harrisburg
Discover brunch with a spin at Café Fresco with brunchtime hours during the week. Operating as an approachable cafe by day and a gourmet metropolitan restaurant by night, the ambiance is upscale while being comfortable. It's perfect for a fancier weekday morning or afternoon outing. Café Fresco's menu offers a unique fusion of world cultures and flavors including American, Asian and Cajun. Enjoy a high-class dining experience worthy of New York City when you visit Café Fresco in Center City Harrisburg.
Café Fresco's menu contains items to fuel your week, like the Cajun Chicken Caesar Wrap, featuring Cajun grilled chicken and the restaurant's house-made dressing. On the breakfast side of things, go for a savory Southwestern Wrap, filled with chorizo and pepper jack cheese. You can even try any wrap as an omelet for a classic breakfast experience on your brunch outing.
7. Sophia's at Walden, Mechanicsburg
Only a short ride from Harrisburg, you'll find Sophia's at Walden in Mechanicsburg, Pennsylvania, and their Sunday brunch is well worth the trip. Eggs Benedict lovers will enjoy trying their Shrimp Benedict, which includes grilled shrimp and pesto hollandaise sauce on ciabatta. Or you can try the Southwest Eggs Benedict with savory chorizo sausage and red pepper hollandaise sauce. If you're in the mood for a brunch omelet, you'll find some of them on the menu, too, including the 3 Meat Omelet with bacon, ham and sausage.
Sophia's at Walden also offers Cinnamon Roll Pancakes — a classic crowd-pleaser. The Peach Cobbler French Toast is also tantalizing. You could even try their heartier dishes, including the Monte Cristo Sandwich, the Brunch Burger or the Brunch BELT, which adds a fried egg to the classic BLT.
For a fresh start to your day, try the Avocado Toast on thick multigrain bread with homegrown tomatoes, arugula, cucumbers and scallions, drizzled with olive oil. Whatever you try, you're in for a fresh treat when you take a trip to Sophia's at Walden in nearby Mechanicsburg.
8. note. bistro and wine bar, Midtown Harrisburg
When you visit note. bistro and wine bar, you'll step into a 1910 Victorian home with a warm atmosphere and an inviting charm. On their menu, you'll find European-inspired fare made from scratch with fresh ingredients. Start your brunch with their Gazpacho. Try pairing it with their Brioche Grilled Cheese filled with gruyere, aged cheddar and other fresh and flavorful ingredients for some serious comfort food.
Other mouthwatering items on their menu include the Smoked Pork Belly Eggs Benedict over house-made biscuits. They also offer an eggs Benedict and omelet of the day that you should be sure to ask about. Burger lovers will enjoy the 7oz Brisket Burger topped with roasted onion, lettuce, pickles and a tarragon and tomato aioli, served with a side of pomme frites. Quench your thirst with the Susquehanna Sunset made with vodka, fresh-squeezed orange juice, cranberry and sparkling water.

9. The Hershey Pantry, Hershey
If you're in the mood for a brief road trip, take a ride to The Hershey Pantry, located in the nearby city of Hershey, Pennsylvania. People flock to The Hershey Pantry from near and far to get a taste of their famous Cinnamon Rolls with their scrumptious cream cheese frosting. But this is only one item on their breakfast and brunch menu, and the rest are sure to please any palate, from savory breakfast lovers to those with more of a sweet tooth.
Enjoy classics like the Three Buttermilk Pancakes or the Sourdough Bread French Toast. You can also try the Pantry Sampler for a bit of everything, including two eggs, two pancakes, home fries and your choice of meat on the side. Also consider trying The Hershey Pantry's Breakfast Bowl, which has black beans, onion, rice, red peppers, tomato, goat cheese, cilantro and arugula, all topped with two sunny-side-up eggs.
As you may have noticed from this list, eggs Benedict is a popular brunch option. The Hershey Pantry continues this trend by including a "Benedict Lovers" section on their menu to excite even the most well-traveled eggs Benedict fan. Besides the traditional style, you can try Nick's Pork, which includes slow-roasted pulled pork and cornbread instead of Canadian ham and an English muffin. Or try Jim's Catch, which includes smoked salmon cakes and a lemon caper hollandaise sauce. You'll have to visit several times to try them all!
10. Greystone Public House, Linglestown
Greystone Public House is helping to set a new trend for the food industry known as the "Living Wage" initiative. To help their culinary staff experience more equality in their earnings compared to other career paths, Greystone Public House has made the bold and daring decision to raise their prices and institute a 2% tax on all food purchases that go directly into the pockets of the individuals who prepared your food. The food is more than worth the few extra dollars you'll spend for your quality brunch.
For an appetizer, try their fresh soup, which changes daily. Greystone Public House also offers several dips to enjoy, including the Cast Iron Baked Crab Dip, Mexican Street Corn Queso and flavorful hummus. For seafood snacks, try the Oyster on the Half Shell or the Shrimp Salsa with mango pico de gallo. Please everyone's sweet tooth at the table with the shareable Cinnamon Bun Monkey Bread.
Save room for one of Greystone's signature entrees, like the Buttermilk Pancakes or French Toast made with brioche and maple whipped cream. Eat your fill with "The Kitchen Sink," a dish that includes three scrambled eggs, country ham, local cheddar, home fries and a biscuit with pork sausage gravy. Ask about the quiche of the day, or try their original Chicken and Waffles served with bacon and onion gravy for a savory treat. Quench your thirst with a signature cocktail like the Espresso Martini, Breakfast Margarita or the Peach Bellini.

11. The Mill in Hershey, Hershey
If you like to enjoy a little history with your weekend brunch, then The Mill in Hershey is the restaurant for you. The owners of The Mill have put a lot of effort into restoring and maintaining their building, the historic Curry Feed Mill dating back to the early 1900s. These efforts have resulted in a rustic ambiance that fits perfectly with the farm-fresh ingredients used to create every tantalizing dish. Their menu changes with the seasons, but in the past, they've offered options like the ones below.
The Mill has a reputation for offering fantastic seafood dishes, and you'll find plenty of these available on their brunch menu offered every Saturday and Sunday. Seafood starters like the Fresh Shucked Oysters or the Crispy Calamari with banana peppers, shallots and sweet pepper vinaigrette have stood out on past menus. Seafood entrees have included the Eastern Omelet with super lump crab meat. You should also look out for the Shrimp and Grits or the Broiled Crab Cake to experience fresh seafood expertly prepared.
You can also look for dishes made with food from the land like the Kale and Radicchio Caesar, Charred Brussels Sprouts or the Baked Brie served with wild mushrooms, cranberry jam, apples, herb granola and a crostini. Their Steak and Eggs dish has featured a flavorful sirloin and truffle fries to make it even more decadent. Discover classic items like the Biscuits and Gravy or more experimental dishes like the Red Velvet French Toast and the Brisket Hash served with a poached egg.

12. Ad Lib Craft Kitchen & Bar, Downtown Harrisburg
Located in the Hilton Harrisburg, Ad Lib Craft Kitchen & Bar is a reinvented American tavern. Their mission is to capture the excitement and diversity of hotel life in their menus to help people meet new people, share stories and celebrate spontaneity. They offer comforting and unpretentious decor so everyone can feel at home during their visit. They strive to match that feeling with the food and drink offered on their menus.
Ad Lib Craft Kitchen & Bar's Sunday brunch menu includes items for any mood. Their starters range from classics like the Grilled Chicken Caesar to gourmet options like the 11 Oaks Wagyu Tartare and the House-Smoked Salmon Board. For your entree, try the Cuban Omelet, which houses pit ham, shaved pork, onion, pickles and Swiss cheese. Or try the Huevos Rancheros Tacos filled with pork belly, grilled corn pico and refried edamame.
If you like bloody marys, then Ad Lib Craft Kitchen & Bar has the options you crave. You can build your own bloody mary with condiments, seasonings and garnishes, including the following:
Hot peppers
Pickles
Olives
Celery
Citrus fruits
Bacon
Hot sauce
Worcestershire sauce
It's a bloody mary lover's dream, and it's waiting for you the next time you visit Ad Lib Craft Kitchen & Bar. Consider pairing your bloody mary with items from the raw bar like Oysters on the 1/2 Shell, Colossal Grilled Shrimp and Colossal Lump Crab Cocktail to take your brunch to the next level.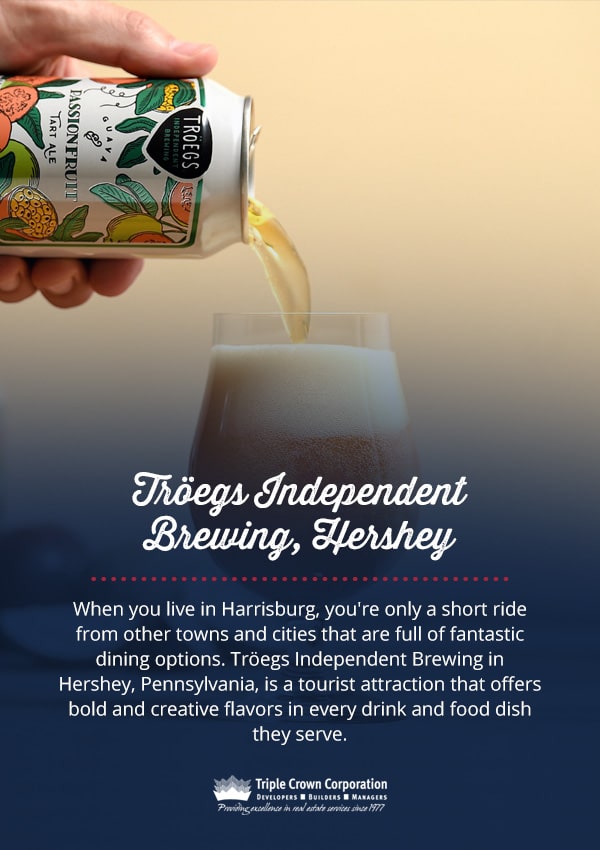 13. Tröegs Independent Brewing, Hershey
When you live in Harrisburg, you're only a short ride from other towns and cities that are full of fantastic dining options. Tröegs Independent Brewing in Hershey, Pennsylvania, is a tourist attraction that offers bold and creative flavors in every drink and food dish they serve. You may know them for their beers, but now you should take a ride over and experience Tröegs' delicious food options to pair with one of their masterful brews.
The chef at Tröegs prepares a different meal for brunch every Sunday, so be sure to follow them on social media to find out what's in store. In the past, the brunch menu has included items like the Troegenator-Braised Short Ribs and their Mad Elf French Toast, both of which incorporate some of their most popular beer varieties. Whatever they prepare, you can be sure the brunch at Tröegs will be a flavorful experience.
Besides their Sunday brunch specials, you can enjoy the standard offerings from their Snack Bar menu. Starters include their classic Hop Fries and Rosemary Popcorn, perfect for munching as you sip your favorite beer. The Oktoberfest Pretzel is a local favorite that comes with cheese sauce and mustard cream for dipping.
For something more filling, try one of their sandwiches like the Pulled Pork or the Smoked Brisket Sandwich, which they top with their rich Troeganator barbeque sauce. Large plates include dishes like their Whole Smoked Trout or the classic Caesar Salad. Finish your experience with one of their homemade desserts like the Matcha Rice Crispie Treat, Miso Peanut Butter Brownie or their Honey Panna Cotta.
Find Your New Home in Harrisburg, Pennsylvania, With Triple Crown Corporation
When you need a new place to call home in Harrisburg, Pennsylvania, Triple Crown Corporation is the company you can trust to find a community that meets your needs. Our mission is to provide excellent real estate services to our clients at the best value possible. Experience our high-quality services by partnering with us and learn more about our rental communities to see if we have a place you can call your own.
Contact us online today for more information about how we can help you make Harrisburg, Pennsylvania, your new home.