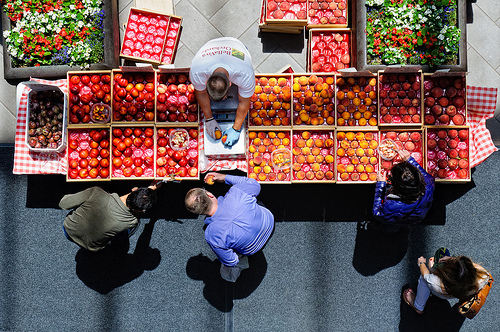 For many chefs — professional and aspiring — the move toward local, sustainable agriculture is a welcome one. Restaurant menus are now following the time-honored trend of home cooks everywhere by seeking out the freshest in-season local products for taste as well as price. The Harrisburg region, luckily, is rich with opportunities to source and select local, sustainable products for your home or business. Check out our top 4 farmers markets near Hershey and Harrisburg, PA.
Farmers on the Square
Located on the corner of High and Hanover in Carlisle, Pennsylvania, the Farmers on the Square outdoor market takes place every Wednesday from 3 p.m. to 7 p.m. beginning May 1. Every week features a different cooking demonstration — perfect for when you need to figure out what to do with that lovely zucchini you found. Bring the kids: it's not uncommon to find face painting, crafts and kid-friendly cooking lessons at this volunteer-focused community event.
More Than Chocolate
Even out-of-towners know Hershey for its famous chocolate, but did you know there is a seasonal market here, too? Beginning at the end of June and continuing through mid-September, the Farmers Market in Hershey features local vendors selling the freshest produce from 2:30 p.m. to 6:30 p.m. every Thursday. Don't forget to follow your trip to the Market by stopping at the Cocoa Beanery in Hummelstown, where musical guests hold court at the Summer Concert Series.
Bringing You Fresh, Local Produce Since 1860
No list of Harrisburg farmers' markets would be complete without the Broad Street Market, in continuous operation since 1860. The Broad Street Market is located at Verbeke and North Third and hosts about 40 vendors; from the standard selection of locally-grown produce to organic meats, fresher-than-fresh baked goods and even fully prepared meals, if you can't find something to like at the Broad Street Market then you're probably not hungry. Located indoors and open from Wednesday through Saturday year-round, start shopping at 7 a.m.; despite the downtown Harrisburg location, parking is free and readily available.
The Pennsylvania Farmers Open Air Market
Local produce? Check. Organic meat? Check. Fresh eggs, ice cream, cheese? Check, check. And don't forget to check out the flowers, maple syrup, wreaths, bird feeders, pinecones and homemade sauces!
The Pennsylvania Farmers Open Air Market, located in the Pennsylvania Farm Show building, runs on Tuesdays and Fridays from 9:00 a.m. to 6:00 p.m. The Open Air Market also operates year-round and is certified by the Farmers' Market Nutrition Program. Find Christmas greens just as easily as you can find summer beans here — because this market has it all. Parking is free.