Are you planning to rent an apartment, and do you have a pet? Your pet is an important part of your life. Whether you currently own a pet and are concerned about finding pet-friendly apartments for rent, or are considering getting a pet, you have options! You'll want to know some helpful tips to make the process as easy as possible. Remember that it's up to you to make sure your living environment and situation is good for everyone, from your landlord or property management company to your four-legged friend.
Pets Are Family, Too!
That's right. You may not have children or other immediate family members involved in your move, but you have or want to add a pet of some sort to the mix. There's great news here — moving into an apartment doesn't have to mean living without a pet!
Rental communities want you to feel at home, and in many cases, this includes welcoming your pet. If you're looking for cat- or dog-friendly apartments, you're not alone. The majority of renters own pets —70%, according to a 2014 survey.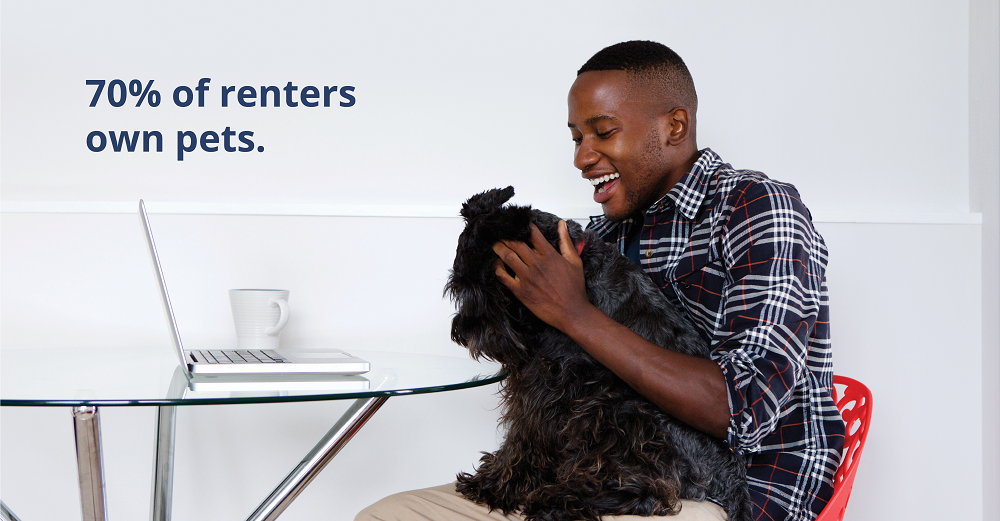 How Do You Find Apartments in PA That Allow Pets?
All our rental communities are pet friendly. Explore our locations and contact Triple Crown Corporation to learn more about our pet-friendly apartments in Harrisburg and the surrounding central PA area.
To start your search, begin the same way you would when searching for any apartment: Talk to friends in the area. Additionally, local humane societies and websites might make your search a little easier.
Remember, certain pets — think exotic animals, reptiles, snakes — and some breeds, like pit bulls and other "bully breeds," may be more difficult to find homes that will accommodate them as your pet.
Many apartments have specific dog breeds that they do not allow renters to keep on the premises. These rules are rooted in the notion that certain breeds have reputations for violence, even if those reputations may be unfounded and not the case for all breeds. If you are looking for apartments that allow pit bulls or other breeds that have a negative reputation, search out some tools from non-profits and organizations that work with these breeds explicitly — they can help you find communities that are breed-friendly.
Certain apartments may also have restrictions on the size of pets and the number of pets you can keep in your home during your lease. Remember, honesty is the best policy. Share true details about your pet's size and behavior. Discuss your willingness to practice responsibility and to help them fit into the community. In some cases, accommodations may be possible.
Finding an apartment or rental that allows pets may add to your search, but it is doable to find a place that meets your needs.
Tips for Renting an Apartment With a Pet
Take a look at the following tips to ensure the rental process is as hassle-free as possible when you have a pet:
Be Upfront About Having a Pet
Think you can hide the fact that you have three cats or a big German Shepherd? You won't be able to for long, and it could get you evicted. Ask about pets right away.
Choose a Place That Is the Right Size for Your Pet
A potential rental property may accept pets, but it might be too small for your dog. Why limit your big pooch to a tiny apartment? Think of your animals when you look at the available space.
Know What Kind of Pet You Can Have, as Well as How Many
Some landlords specify that they will only take cats or small creatures. Others are broader in their acceptance. Many have a limit as to how many of each kind of pet they want on their properties. Be sure it's spelled out in your lease.
Landlords usually require an extra deposit if you have a pet, or they may increase your monthly rent because you own a dog, cat, etc. Why? They're simply protecting their assets. Pets can be damaging to an apartment, and the extra fee can be used for clean-up when you leave.
Get Your Dog Obedience Training
You're more likely to snag an apartment if you can prove that your dog has been through obedience training. Have the paperwork ready so you can show you're a responsible pet owner.
The more ways you can show you're willing to work with your landlord or property management company, the better your outcome will be as a renter with a pet.
Pet Policy for Renters
Most people love animals and appreciate the neighborhood feeling that comes with having them around. If a good policy is in place, pets can make a community more attractive to prospective renters and maintain harmony among its residents, proving people and pets can live happily together.
A good pet policy for renters focuses on responsible pet ownership, with rules designed to protect residents and property. Here is a sampling of requirements you may encounter:
Number of Pets: Policies may limit renters to two pets — either dog or cat — and can be in any combination, so it's important to list every pet you will bring with you. If you don't have a pet when you move in, you will need to get approval from your landlord and sign an updated lease if you decide to get one. Pets may also need to have their pictures taken.
Pet Deposit: Landlords usually collect a non-refundable deposit for each pet to cover any damage to the apartment, as well as an additional fee — typically between $20 to $40 — per pet added to the monthly rent.
Dog Breed: Some breeds are known to be more aggressive than others, and often don't function well within a community setting. Dog breeds often included on the list of "banned" breeds include Rottweilers, Doberman Pincers, Pit Bull, Bull Terriers, Alaskan Malamutes, Chow-Chows, Mastiffs and Dog-Wolf mixes.
Pet Documentation: You might need to provide a document from your veterinarian that shows proof of your dog's breed and confirms their vaccinations are up to date. Most pet policies will require proof your pet is registered with the town or county. They may require your dog to wear a tag, as well.
Responsible Pet Care: Owners must understand and act on their pet's needs for exercise, food and socializing. Anxiety-driven behaviors like whining, barking and chewing on bedding or toys develop when dogs are alone for too long and don't get enough attention and exercise.
A good pet policy for apartments is one that provides a safe community for everyone. Management should ensure pet owners:
Have complied with the above steps before moving in
Have access to designated areas for walking pets — if possible, a "Bark Park" where dogs can play with other dogs to promote the comfort of children and adults who may be less comfortable around dogs
Always leash their dogs outside the apartment, unless they're inside a fenced dog park
Understand their responsibility to bag and dispose of pet waste to keep walkways, playgrounds and parks clean and healthy
Benefits of Renting in PA with a Pet
Nothing is quite like having a furry companion to greet you when you come home from a long day at work. Roughly 68 percent of American households count a pet as one of their family members, and not just because they're cute and fluffy — they actually provide quite a few health benefits.
Let's take a look at a few of the health benefits of owning a pet, such as their effect on your emotions and family life.

Emotional Benefits of Owning a Pet
Having a pet isn't just good for your mood — it can be beneficial for your health, too. For example, a pet can help:
Home and Family Benefits
What sort of benefits can you expect to see in your home by adding a pet to the mix? A few potential outcomes include:
Feeling Less Lonely: People who live in homes with pets are less lonely. Just having a pet — whether you choose a dog, a cat, a snake or a hamster — in the house can boost your mood and improve your outlook.
Getting Sick Less: Kids get sick — it's part of being a kid — but having a pet in a home with a child can help them develop a stronger immune system than those raised in a home without a pet. This is just one of the many benefits of having a pet for a child.
More Responsible Children: Pets also teach children confidence and responsibility — even if you as the parent end up taking care of them half the time.
More Sociable Kids: Pets can also help children learn how to socialize and increase verbal skills. This can be especially important for children with special needs who might be having trouble learning how to speak or interact with other children their age.
Improved Security: Home security is one of the primary reasons for owning a pet — especially a big dog. A survey of inmates that had been convicted of breaking and entering found that big or loud dogs would often prevent them from breaking into a home. Even if your dog is the sweetest, friendliest ball of fluff in the world, a potential burglar doesn't know that — and it might be the one thing keeping your house safe.
Contact Triple Crown Corporation for More Assistance
Contact Triple Crown Corporation today and explore our pet-friendly rental properties available in many convenient locations.