Looking for fun things to do in Central PA? Want to see a slice of the area's past and present? Then visit for the Pennsylvania Farm Show! If you've never heard of this event or you're thinking about going, check out this guide to the Farm Show to help you plan your visit.
You don't have to know anything about farming to enjoy what the Pennsylvania Farm Show has to offer. From adorable animals to delicious food and amazing creations, there's something everyone is sure to enjoy. Here's everything you need to know about the PA Farm Show.
What Is the Farm Show in Harrisburg?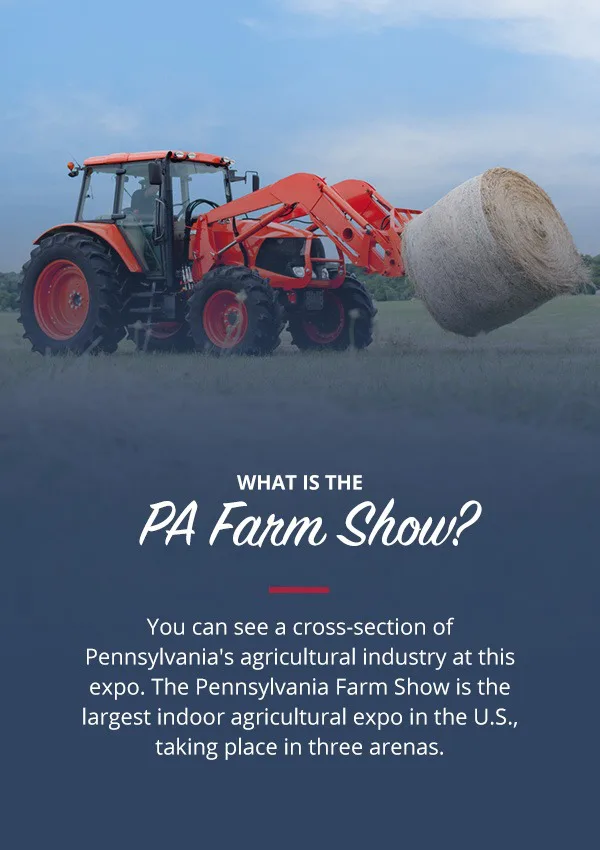 Before we dive into our guide to the Pennsylvania Farm Show, you may want to know a bit about the event, especially if it'll be your first time going. You can see a cross-section of Pennsylvania's agricultural industry at this expo. The Pennsylvania Farm Show is the largest indoor agricultural expo in the U.S., taking place in three arenas. The Farm Show Complex and Expo Center also features 24 indoor acres throughout 11 buildings to explore. The event didn't always take place in the large complex, but farm shows have a rich past throughout the state's history.
Farming has been one of PA's top industries since colonial times. Agricultural shows have been happening in Pennsylvania since the mid-1600s when William Penn, the state's founder, organized an event where farmers could come together and share their knowledge. Since then, there have been farm shows throughout Pennsylvania until residents decided to host the event in Harrisburg. Back then, the agricultural shows were scattered throughout buildings downtown.
The first Farm Show took place in 1917, but at that time, it was called the Pennsylvania Corn, Fruit, Vegetable, Dairy Products and Wool Show. Over time, the event got larger, and the name got shorter. Participants needed more space to gather and host their exhibits, so in the late 1920s, the process of building the complex that stands today began. The state created the State Farm Products and Show Products Commission to establish funds for the complex, which was completed for the Farm Show in 1931.
Throughout the decades, the event grew more and so did the Farm Show complex. Expansions and new buildings made the complex what it is today, and now the Pennsylvania Farm Show draws in around 585,000 visitors a year.
A visit to the Pennsylvania Farm Show today gives you a closer look at how food gets from the farm to your table. Learn about the history of farming in PA and how the agricultural industry operates now, then enjoy more fun and delicious food. Of course, to go and enjoy everything, you need to know — what are the dates for the PA Farm Show?
When Is the PA Farm Show?
If you're ready to experience this impressive gathering, you need to know — when is the Farm Show, and of course what time is the Farm Show? The PA farm show is an annual event that takes place in early January. The event spans eight days, typically starting and ending on a Saturday. In 2020, the dates and opening times are:
Saturday, January 4, 2020: Open from 8 a.m. to 9 p.m.
Sunday, January 5, 2020: Open from 8 a.m. to 9 p.m.
Monday through Friday, January 6 to 10, 2020: Open from 8 a.m. to 9 p.m.
Saturday, January 11, 2020: Open from 8 a.m. to 5 p.m.
With different events happening every day, you may want to come more than once through the Farm Show's duration to experience everything you can. You'll especially want to go often when you find out how much it costs to get into the Farm Show.
How Much Does It Cost to Get Into the PA Farm Show?

Once you know the PA Farm Show's cost of admission, you'll definitely want to check it out. Admission to the Farm Show is free, making it a popular event in Central PA for farmers and non-farmers alike. While you do have to pay a parking fee, it's still worth a visit to the annual PA Farm Show for all the fun and excitement you can see with free entry.
Some events at the PA Farm Show do require tickets, like the First Frontier Circuit Finals Rodeo. This event is always on the last three days of the show, and tickets range from $15 to $35 depending on what level you sit in and what day you see the show. Children 12 and under can get a $5 ticket for the Thursday show, but Friday and Saturday shows are normal price. You'll also have to pay for or get tickets for these PA Farm Show attractions:
Rides on the Merry-Go-Round in the Main Hall
Entrance to the Butterfly House in the Expo Hall
The kids' tractor ride in the Expo Hall
Whether you choose to add on paid attractions or simply walk around the event to see all there is to see, you're sure to have an excellent time.
Must-See PA Farm Show Events
You can see everything from fun and whimsical exhibits to educational demonstrations at the Pennsylvania Farm Show. One of the most popular attractions is the annual butter sculpture.
Pennsylvania is one of the highest-ranking states in national butter production, and what better way to celebrate the dairy industry than with a 1,000-pound butter sculpture? Past sculptures have portrayed Ben Franklin, Penn State football players, Milton Hershey, President Dwight Eisenhower and more. Sculptors work in a seven-sided refrigerated case, crafting their creation, which is always a must-see. And don't worry about any butter going to waste. Land O' Lakes in Cumberland County donates butter not fit for human consumption. After the show, it goes to a dairy farm in Juniata county, where it is recycled into methane gas for engines and electricity.
After you witness the impressive sculpture, take a look around because the expo has much more to see that will excite any visitor. Whether or not you visit with kids, you'll find something exciting, like these other must-see PA Farm Show events:
Competitive exhibitions: Take a look at over 10,000 competitive exhibits featuring everything from art to alcoholic beverages and food. Admire the products of everyone's hard work and maybe get inspired to take on your own artistic or other endeavors.
Celebrity competitions: The show often features celebrity competitions aimed at raising scholarships for young people. In recent years, local media personalities, Miss Pennsylvania and others participated in the Celebrity Feed Scurry. The contest had competitors loading feed onto a sled in a race against each other. Be sure to check out the excitement that goes towards a good cause.
Demonstrations: From maple production and honey extraction to horseshoe pitching, there are demonstrations throughout the event to give you a glimpse into farm life. There are multiple agricultural education demonstrations every day of the show to teach you about everything from farm equipment safety to what you can do with a mason jar. Check out the Pennsylvania Farm Show's schedule of events to see what's happening, when and where.

Farm equipment on display: See equipment of the past and present all on display. Kids especially will love climbing onto the large tractors throughout the Giant Exhibition Hall. It's the perfect opportunity to take a photo and remember all the fun.
Artisans Alley: Take a look at impressive, hand-crafted goods as wheat weavers, lace makers, spinners, potters, chair caners, woodcarvers and more show off their talents. It's a great way to see how things are made with hard work and dedication.
Culinary Connection: Learn how to prepare a variety of meals by watching top chefs in the state demonstrate popular recipes. Every day of the Farm Show's Culinary Connection features a different theme, so be sure to check it out on multiple days to learn even more recipes.
Livestock auctions: The Junior Livestock Sale gives visitors the opportunity to bid on quality livestock and take meat home that was raised in PA. You can even bid in the auction, but make sure you have the freezer space and a butcher who knows you intend on purchasing an animal at the Farm Show's auction.
With so much to see and do, we can't forget about one of the biggest draws at the show. Every visitor loves the opportunity to see farm animals up close, from horses, cows and pigs to rabbits and even alpacas. Past and present animal attractions include:
The Calving Corner: In 2018, the Farm Show introduced the Calving Corner, where visitors can witness a calf being birthed in real time. This event may not be for everyone, but it's certainly an essential aspect of agriculture.
Animal competitions: Throughout the expo, you have the opportunity to see an array of animals entered in annual PA Farm Show competitions.The youth level of the competition newly features categories for poultry, dairy cattle, goats, alpacas and breeding sheep.
Water Fowl Habitat: Adorable creatures await in the poultry area. Little ones will love seeing the fowl flap around, or you could check out the Egg Competition and learn the difference between a good and a bad egg.
Pet some animals, take photos and have a fun time. Be sure to check out a map of the expo so you know where everything is that you want to see and do.
Must-Eat Foods at the PA Farm Show
Use all the walking you do through the exhibition halls as an excuse to try all of the treats that the Farm Show has to offer. Many meals and snacks at the PA Farm Show are finger food or easy to walk around with, which is convenient, considering it may be challenging to get a table or seat.

The food at the Farm Show is in line with what you'd probably expect from an event that celebrates agriculture. From fruits and vegetables to meat, dairy and other goods, there is something for everyone to enjoy. Remember that the lines will be long during meal times and on busy days, so plan when you'll enjoy the delicious offerings at the show to spend less time in line.
With the help of around 2,000 volunteers, plenty of non-profit vendors come out to support Pennsylvania agriculture and the Farm Show. Support them by enjoying a wide assortment of amazing food and drink options.
The Farm Show Food Court opens on Friday, January 3, 2020, at noon, the day before the expo begins. During the dates of the show, the Food Court is open from 8 a.m. to close. You can find something to eat in either the Main Hall or the Expo Hall, with vendors at the Expo Hall offering a wider variety of options. Take a look at some of those vendors and delicious options below to plan what you want to eat at the event.
PA Dairyman's Association

One of the most popular vendors at the Farm Show is the PA Dairyman's Association. They offer up some favorites like:
Milkshakes: The milkshakes are available in chocolate, vanilla or combination flavors. Because they're such a delicious and popular treat at the show, the line can get long, but it's worth the wait for adults and kids alike who need to satisfy their sweet tooth.
Deep-Fried Mozzarella: Mozzarella sticks get a twist with this option at the Farm Show. The PA Dairyman's Association brings another fan favorite with their deep-fried mozzarella cubes. You get four in an order, and they're great on their own or paired with marinara sauce.
Of course, the association offers just about all things dairy, so stop by if you're in the mood for:
White or chocolate milk
Toasted cheese sandwiches
Ice cream sundaes
Ice cream cones
PA Cooperative Potato Growers, Inc.
Who doesn't love potatoes? PA Cooperative Potato Growers, Inc. offers some favorites in the form of:
French fries
Baked potatoes
Baked sweet potatoes
You can also try a potato donut for a unique spin on a classic or pick up some fresh potatoes to prepare however you like at home.
PA Beekeepers Association
Pay the PA Beekeepers Association a visit for some sweet treats. Try the delicious honey ice cream or honey waffles. You can also get a bottle of honey or other beehive products to take home with you or give as a sweet gift to someone you know.
PA Maple Syrup Producers Council

Still looking for something to satisfy your sweet tooth? The PA Maple Syrup Producers Council has the products you'll want to enjoy at the show or at home:
Cotton candy
Candy cream
Frozen yogurt
Maple-aid
The PA Maple Syrup Producers Council also has activity books that young visitors will enjoy as well as a cookbook older visitors may want to get their hands on.
Gluten-Free, Vegetarian and Vegan Options
If you or someone in your family has dietary restrictions, you might still be able to find something delicious at the Farm Show. The American Mushroom Institute, MFPA, offers the Blended Mushroom Burger, a plant-based alternative available in gluten-free, vegetarian and vegan options.
Other Favorites
You'll find plenty more to enjoy at the Pennsylvania Farm Show. Some other favorites include:
Fried pickles
Pizza
Soups
Pies
Apple donuts
Other baked goods
Other Tips for the Annual PA Farm Show
While our guide to the PA Farm Show has shown you what to do, see and eat, a few extra tips will help you plan your visit. Here is everything else you need to know about the Pennsylvania Farm Show and some helpful tips:
If you have allergies to hay, straw or animals, plan your visit around any concerns you have.
Wash your hands after petting the animals and before you eat.
Be careful around the animals, especially with small children.
Visit one of the information booths throughout the show for a wrist band for young ones that you can write your phone number on in case you get separated.
The Cameron Street Lobby offers a changing and feeding station for those visiting with very young children.
You can check your coat at the Cameron Street Lobby if you don't wish to wear or carry it.
You may have a few more questions before going to the event, so check out some more PA Farm Show tips below so you're ready for your visit.
Is the Farm Show Accessible?

If you or someone in your group has concerns about the event's accessibility, don't worry. The Farm Show is accessible to those using wheelchairs and those with other needs. Here are some PA Farm Show tips for visitors needing an accessible experience:
Every PA Farm Show parking lot has handicapped-accessible parking.
The complex features ramps, wide halls, elevators and restroom stalls that meet ADA guidelines.
There are free manual wheelchairs available in the Cameron Street Lobby at the security desk, but the Farm Show recommends you bring your own wheelchair if possible because they offer theirs on a first-come, first-served basis.
With owners' permission, visually impaired visitors can pet many of the animals.
You can find low-stimulation shelters throughout the complex as a quiet place for those with sensory challenges or anyone who needs a break.
Are Dogs Allowed at the PA Farm Show?
The PA Farm Show only allows service dogs on the premises. Those with service dogs should be aware that dogs are not allowed in the poultry area, so plan your visit accordingly.
Where to Park at the Farm Show

At all Farm Show-operated parking lots, you'll pay $15 to park, but with free admission to the show, it could be the only fee you pay. Note these other parking tips for the event so your day goes smoothly:
All off-site parking lots managed by the Farm Show offer free shuttle services to and from the complex.
A free PA Farm Show shuttle is available for round trips between downtown Harrisburg and the complex from 11 a.m. to 2 p.m. on weekdays.
Be ready for heavy vehicle and pedestrian traffic in the parking lots.
Be sure to write down or take a picture of where you parked.
The show updates PennDot traffic signs on major roads to the complex with what parking lots are open.
If you're driving someone else to the show, there are visitor drop off areas at:
Cameron Street Lobby
Maclay Street Lobby
Northwest Corner at the Expo Hall
Dress Appropriately for the Farm Show
Because the event takes place in early January, you'll want to bundle up and stay warm! While the event is indoors, you will be riding the shuttle or waiting for it to get between the parking lot and the complex center. Wear comfortable walking shoes, too, because there is a lot to see and do!
Best Times to Go
The best time to arrive at the Pennsylvania Farm Show is between 9 a.m. and noon. The busiest days are the weekends, and during the week, 3:30 p.m. to 5:30 p.m. are the busiest times. Try to visit during non-peak times to get the most out of your experience.
Call Central PA Home With Triple Crown Corporation

Along with the annual Pennsylvania Farm Show, Central PA hosts plenty of fun events year-round. Why not call this area home? At Triple Crown Corporation, we have amazing rental properties throughout the area, including in Harrisburg, so you can find exactly what suits your needs. Harrisburg is an unbeatable location, and we have conveniently located rental communities throughout the city.
Check out our rental communities in Harrisburg and other Central PA locations to find your perfect home today. Contact us with any questions or to schedule a tour. We're happy to help you get the most out of Central PA by making it your home!