If you're a potential apartment renter, you probably have some concerns about space. We understand. In the past 10 years, the average U.S. apartment size has decreased by 8 percent, with a median footage of 934 square feet. For some, a compact living space is just right — but how can you make sure your apartment is the perfect size not only for you, but for all your belongings?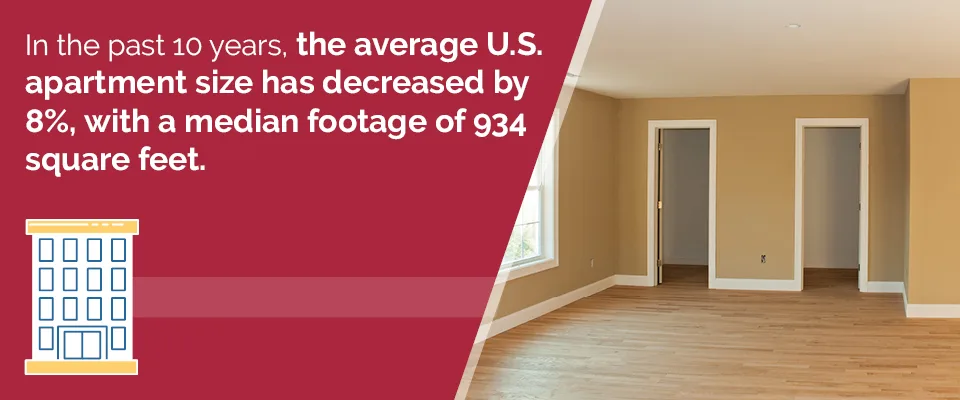 Unlike houses, apartments don't come with guarantees of built-in storage spaces like basements and attics. Instead, you must make the best of closets, floors, nooks and crannies to fit the rising accumulation of your personal belongings. But you can quickly hit some roadblocks when your stuff becomes too much for your space.
You don't want to outgrow your apartment just because you've bought a few too many necessities! Don't worry — there are ways to pack essential items into your living space without sacrificing your room to breathe, and they use walls, closets and DIY projects like you'd never expect.
Try these creative apartment storage hacks to save on floor space and simplify your life.
Apartment Bedroom Storage
Apartment floor plans don't always allow for the biggest bedrooms, but that doesn't mean you have to sacrifice your favorite looks and furniture in favor of floor space. Implement these ideas to clear foot-room and make your sleeping space both trendy and efficient:
1. Keep a Shelf Above the Door
If it's allowed in your rental contract, use an often-overlooked space to optimize your storage. The area above your bedroom door is the perfect spot to install a shelf. Use it to keep trinkets, towels, boots, books or even a digital clock. If it stores something you need, it's within easy reach, and it also makes a space-efficient venue for displaying decorative items.
2. Roll Your Extra Linens
If you lack the closet space to store additional sheets, towels and comforters, keep them in bed with you! Roll up or fold your extra blankets and tuck them under your mattress at the foot of your bed. When you let your duvet fall back over the edge, it will hide the sheets from sight until you pull them out again.
3. Store Beneath the Bed
To create some extra drawer space for photo albums, clothing, shoes or personal items, use the space beneath your bed for storage. You can buy a bed frame with built-in drawers, slide boxes or trays underneath or lift your bed with risers to make room for multi-drawer organizers. This creative option saves floor space and helps you keep your dresser drawers for essentials.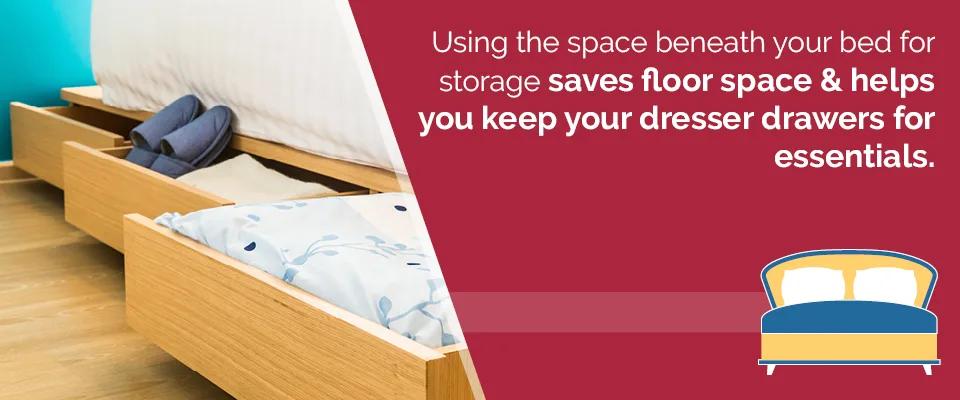 Book Storage
If you're a student or book lover, you know how much those piles of paperbacks and hardcovers can eat away floor space, closing you off from the corners of your room. Avoid tripping over your unkempt novels by shelving them in unique ways that work well for DVDs, video games and magazines, as well. Try these ideas:
1. Buy a Shelf Headboard
Who said your bed's just for sleeping? Plenty of furniture stores sell bed frames with headboards craftily segmented into shelves. You can use this space to store bedtime reading, periodicals, laptops, tablets or phones. Everything you need is right above your head.
2. Install Perimeter Shelves
If bookcases take up too much room and you think furniture will get in the way of shelf installment, reach higher! The foot of wall below your ceiling is rarely used for any décor, so it's the perfect place to put shelving. For maximum storage space and a trendy look, install your shelves around the entire perimeter of the room. If you don't have enough books to fill the space, use it for other decorative items like houseplants, photo frames or teddy bears.
3. Fold Down Your Desk
If you've found the proper storage space for all your books and need an extra spot to study, try installing a fold-down desk for a quick, easy workspace. Your desk will be flat, compact and easy to press back into the wall, taking up no extra apartment room.
Clothing Storage
If there's anything in your home essentials collection that can become uncontrollable, it's your clothing. Your bedroom's only so big, your dresser's already overflowing and your apartment closet might not exactly be a walk-in. But don't despair — you won't have to ship the extras to consignment. With these storage tips, you can keep your shirts, shoes and jeans organized in a space-efficient way:
1. Hang Your Hats
If you're harboring a hefty collection of headwear, it can take up extra drawer space or pile up on your dresser. Instead, put your walls to use. Buy a corkboard and adorn it with enough plastic tacks to suspend all your headgear. If you're comfortable working directly on the wall, try installing nails or pegs in a creative shape — like an arch or diamond — to hang your hats in style. And if you're not scared to get crafty, you can even create your own wall knobs for baseball caps.
2. Hook Them
When you run out of hangers or room in your closet, piles of clothing in other parts of your bedroom can build up pretty quickly. You don't want your desk to double as a sweater rack or your chair backs to end up covered in draped dresses. To avoid the infiltration of clothing beyond the closet, get creative with your hanger options. A simple utility chain or S-hook is an optimal way to keep all your clothes in one place. Hook the chains on your rack and use them to hold six hangers each! Now you're making use of your whole closet.
3. Walking on the Walls
If your shoes are too numerous for the floor of your closet, or they just seem to end up in a disorganized pile, try using your wall features. If your room has crown molding, you can organize your footwear in easy-to-reach pairs by hooking the heels over the edge of the molding, with the soles flat against the wall. This tip won't work for flat slide-ons or sandals, but shoes with a little heel will stay on their own.
Kitchen Storage
Apartment kitchens can be cozy, but they don't always provide the space you need to store your pots, pans, plates and silverware, not to mention your coffeemaker and other countertop items. To give yourself ample elbow room when you whip up your favorite meals, try these tips on storing supplies.
1. Stack Your Snacks and Drinks
With limited storage space on your counters and in cabinets, your fridge might be jam-packed, too. For a quick way to maximize refrigerator room, think three-dimensional. Don't just fill your shelf surfaces — build upward. Tupperware, cartons and packages are easy to stack. You can categorize your stacks by snack type to fill your fridge with more food. Also, try storing bottles and alcoholic beverages stacked sideways instead of upright. Attach a binder clip to the shelf wires to prevent the glass from rolling.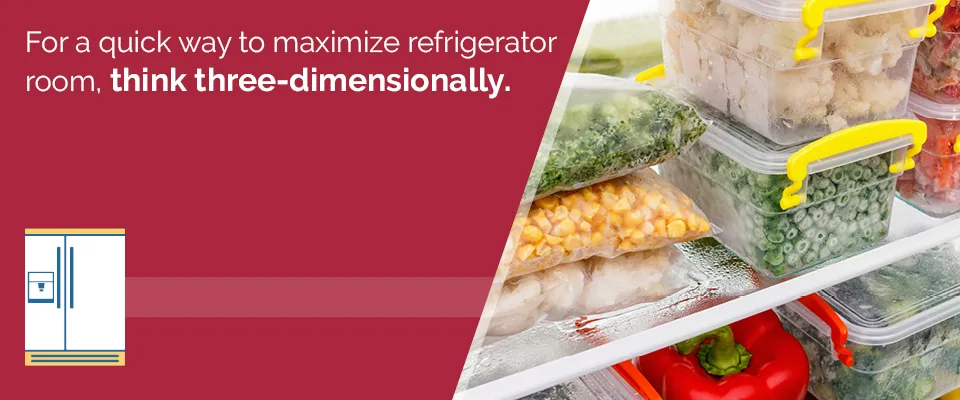 2. Use Your Cookware and Utensils as Wall Art
If you can't fit your cooking materials in your limited cabinets, try doubling them as décor. Using easy-to-install hooks or nails, you can hang pots, pans, cooking spoons and spatulas on the wall above your stove or kitchen counter.
Position these items somewhere that makes them simple to grab when you prepare meals, and try staggering the hooks at different heights for an artsy flair. This hack saves your cupboards for dishes, cups and containers, while making cooking more convenient.
3. Spice up Your Storage
If you love to flavor your dishes with garlic, ginger, turmeric or oregano, you probably have a special section of your kitchen counter set aside just for spices. But this habit can take up valuable room you need for cutting boards, drying racks and kitchen appliances. Save your coffeemaker from being crammed in the corner by using a revolving spice rack or by attaching a spice rack to the wall. You'll open up space and still keep all your spices in one place.
Bathroom Storage
In the limited expanse of an apartment, your bathroom might be less than spacious, but that doesn't mean you can't create a stylish spa retreat by clearing counter space and keeping it clean. Use these hacks to store your bath essentials for a better experience: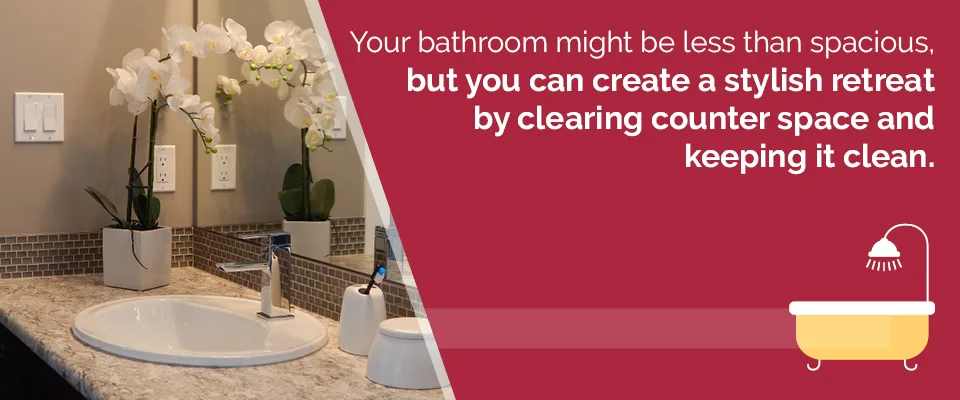 1. Store Supplies in a Shoe Holder
If you find yourself cramming your cabinets with all your essential bathroom supplies, try improvising with a plastic, hanging shoe holder case. You can clip or suction cup the holder to the inside of your cabinet doors to keep appearances tidy — or attach it to the wall for easy access if you don't mind everything out in the open.
Use shoe holders for toothpaste tubes, face towels, makeup, feminine supplies, first-aid items, medicine, extra bottles of shampoo, loofahs and more. And with everything in its own neat, clear compartment, you won't have to rummage around to pull out what you need.
2. Hang in the Shower
When you're scrambling for space while scrubbing your hair, trying not to slip on soap and supplies, a shower can be anything but relaxing. Save bath space and keep it safe by using a hanging metal fruit basket to store shower items. You can hook the multi-tiered baskets on your shower rod or over the neck of your showerhead for easy access to shampoo, soap, razors, washcloths and exfoliators.
If you don't like the bulkiness of this option, attach clips to your shower rod and clamp them to your products to keep essentials hanging nearby.
3. Slam-Dunk Your Dirty Clothes
If you don't have a laundry room in your unit, you might choose to keep a basket in the bathroom, so it doesn't clutter your sleeping space. If you're tired of hitting your hamper whenever you open the door, however, try using a collapsible basket or a linen bag and hanging it from a hook on the back of your door. You can throw in dirty laundry and towels and easily remove the bag when it's time for a wash.
Odds and Ends
You may have your big items stored, but you still should organize the loose ends! Try these crafty ideas for storing the little things carefully and conveniently:
1. Use Clips and Clamps for Cords
If you're like most of us, your charging cords, computer cords, headphones and phone wires can become a quickly tangled mess — or worse, you constantly misplace them. There's an easy way to organize all your cords in one place for quick access. Try attaching binder clips to the edge of your desk, dresser or nightstand, then string your cords through the clip handles and let them hang. You'll avoid knotted cords and know where to go when you need them.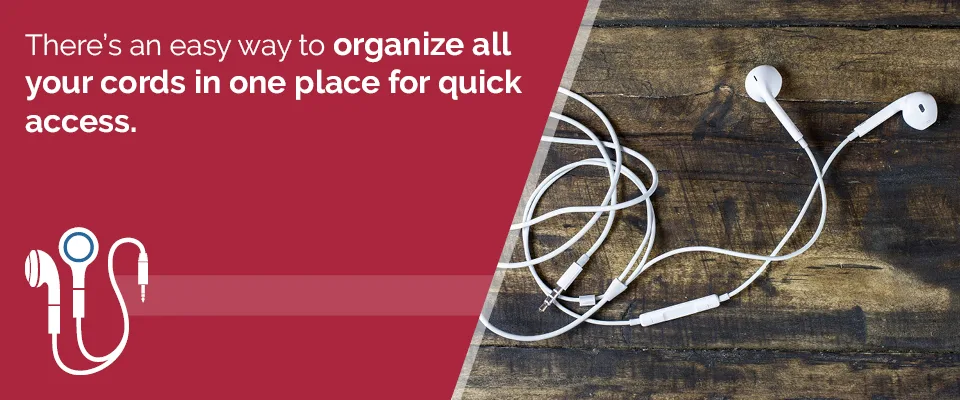 2. Cut Your Own File Cabinet
With all the leftover cardboard from your moving boxes, you can create a simple storage system for your mail, magazines, papers and files. Using a ruler and a box cutter, transform cardboard boxes into stackable desk trays to place on your tables, counters or workspace. With this DIY compact organizer, you'll easily eliminate the buildup of scattered paper piles around your apartment.
3. Hang What Dangles
If it's hard to find anywhere extra to store your jewelry, keychains, bags and scarves, try the wall. It's easy to organize all your odds and ends by attaching hooks to the walls in your bedroom, living room or entryway and using them to craft a vertical accessory rack. Hang your earrings, necklaces, purses and keys where you'll easily spot them and they won't pile up. If you don't like the idea of your accessories out in the open, hide them behind a hinged mirror for a bonus double-use.
Choose Quality Apartment Living
Now you know how to maximize your living space with apartment storage tips, turn your search toward finding the perfect apartment for you. Providing outstanding real estate since 1977, Triple Crown Corporation is a Harrisburg-based property management company dedicated to offering outstanding communities to home renters.
With rental apartment properties in Camp Hill, Silver Spring Township, Cumberland, West Shore, Lower Paxton Township and Susquehanna Township, we provide homes with excellent amenities in the location that's right for you. Our apartments include free basic cable, appliances, community fitness centers and pet allowances, along with beautiful interior features and finishes. We constantly work to keep our communities refreshed and up-to-date.
If you're ready to personalize your own space and use creative storage hacks to optimize life in a new apartment, check out our rental communities today.