It's certainly been a cold winter outside, but that doesn't mean that your home has to feel cold as well. Let your living room become a cozy place of warmth where you go to escape the bitter, freezing temperatures outside. Follow some of our best tips on how to make your living room a cozy getaway this winter.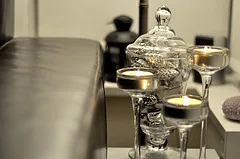 Light Some Candles
Nothing says "warm and cozy" quite like candles! Candles are a great source of both warmth and home décor. Arrange pillar candles on a tray for a nice centerpiece on your coffee table, or simply buy a variety of candles and spread them throughout the room. You'll be able to achieve a warm look and an even warmer feel.
Have hardwood Floors? Add a Rug
If you live in a home with hardwood floors, you know how it feels to walk around on a freezing cold surface every morning. We recommend adding a rug – not only will your feet not be as cold when you walk on it, it will add some much needed color to your room to brighten up those chilly days.
Add Pillows and Blankets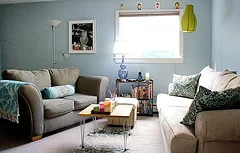 There's nothing better than sitting by the fireplace cozied up with a soft pillow and a fuzzy blanket. Make sure to add pillows and blankets galore to your room – but remember, don't make it too cluttered! Having access to a lot of snuggly items in your living room can make even the coldest day feel a little bit warmer. Get creative and vary up the textures of your pillows – fuzzy, faux-fur, sweater pillows – the possibilities are endless!
Lighting Matters
If you have harsh lighting, your room can look cold and unwelcoming. Switch to a softer lighting look with warm colored lamp shades to avoid the single, harsh light in the center of your room. Add various lamps throughout the area to really spread your light around and make it feel warmer.
Use some of these tips to make your home a cozier place this winter and get you through those snowy days and bitter nights!