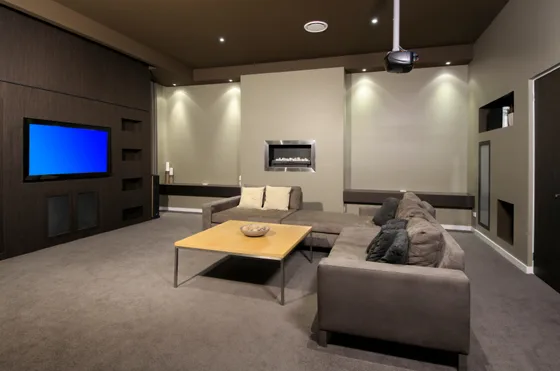 So, you're tired of game day interruptions and smudgy fingers all over the TV. You can't watch your favorite fishing show because there's a weekend-long Housewives marathon.
When you're ready for a little peace and quiet, and everything is your way, all the time, you need a man cave.
The Paradise Down Below
The basement is the perfect place for your new private space. First, the kids are probably afraid of it. Your wife hates it because it's too dark. The only one who goes down there is the cat, but that's ok because he keeps the rodent population under control. No kids plus no wife plus no mice equals manly heaven! What could be better?
Unlike other home renovations projects, the man cave is less about beautiful fixtures than it is appropriate finishes. And by finishes, we mean toys. And by toys, we mean comfortable leather recliners, a fridge, a big TV, an Internet connection, a pool table and surround sound. After all, once you have all this stuff installed down there — plus maybe a pool table or exercise equipment — who is going to even notice the cinderblock walls?
But Seriously…
If you are thinking, I want a man cave but I am not a caveman, then get serious about making your private space exactly what you want. And although finishing a basement doesn't have to involve high end finishes such, as custom-made built-in cabinetry, a home theater or a temperature-controlled wine cellar, adding certain features will significantly increase your enjoyment of said cave.
First up: plumbing. If you're tired of not getting any private time with your favorite porcelain chair, now is the perfect time to build your own bathroom. Don't forget wall space for reading material storage.
Next, why settle for just a fridge when you could have your own wet bar? Don't forget to add stools and a beer tap (or a lockable beer fridge for teenage-proof security).
Third? Electrical. Don't even think about making a cave without surround sound, soundproofed walls and a giant television. And every light should have a dimmer switch.
Fourth is furnishings. Choose leather upholstery for its masculine good looks and easy-clean care. Flooring is a tough call; if you're spill-prone, go with a hard surface. But if your toes want cushy comfort, carpet is best.
Finally, with any leftover room, add a combination pool-ping pong table. And maybe some exercise equipment, if you're the energetic sort. Either way, get ready for peace, quiet and best of all, privacy!