Who doesn't love gathering with friends for food, drinks and conversation in a delightfully festive atmosphere? And what better time to bring all these things together than the holiday season? After all, it's "the most wonderful time of the year!" The holiday season provides the perfect occasion to break out of our dull routines and enjoy good times and good company at holiday parties.
If you're the one hosting the party, however, you may be afraid you'll be too stressed to enjoy the experience. These holiday party hosting tips will help you plan the perfect holiday party — no stress necessary.
Creating a Vision for Your Party
Hosting a stress-free holiday party starts with the initial planning. Decide on a date and time for your party, and determine what sort of party you'd like to host. Consider some different holiday party ideas, and decide which one fits your vision. Here are a few examples you could consider:
A formal soirée with a four-course sit-down dinner
A semi-formal cocktail party with a buffet
A casual party with snacks, ugly sweaters and Christmas karaoke
You may choose to blend elements from more than one of these party profiles. Whatever you decide, it helps to have a vision of what you want your party to look like. Once you have the vision, start to create a list of everything you'll need to do to make this party happen. This guide will help you determine what steps to include on your planning checklist.
Sending Invitations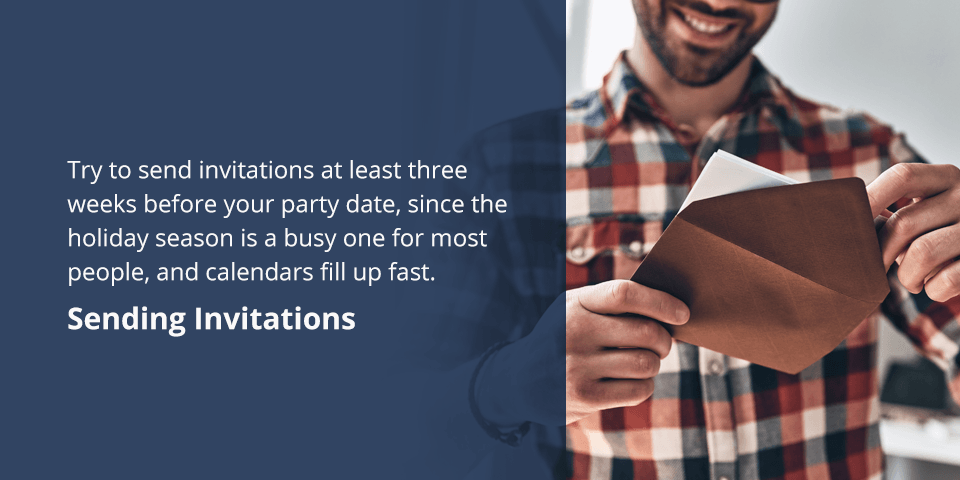 Once you've made these determinations, it's time to invite the guests! Try to send invitations at least three weeks before your party date, since the holiday season is a busy one for most people, and calendars fill up fast. Make sure that, from the invitation, guests not only know the basic information of when and where the party will be, but also what sort of party to expect. The style of the invitation and the information you provide should clue them into whether it's a formal affair or a casual one.
If your party will include a sit-down dinner with a seating chart, request an RSVP. If you're going for a more laid-back party with a buffet instead of a sit-down meal, you could let invitees know they're welcome to bring a guest, and you may not need to require an RSVP, though having a general idea of how many guests to expect is immensely helpful. You may also choose to make your party an open house. Open houses are especially ideal if your place is small and your guest list is large.
Don't forget about logistical concerns like where guests should park, which is especially relevant if you live in an apartment community. If it's not obvious, let guests know ahead of time where to park their vehicles.
Planning the Menu
The next step is planning the menu for your party. Of course, the menu will depend on the sort of party you've decided to throw. We'll focus on two main options here: a sit-down dinner and buffet-style hors d'oeuvres.
Sit-Down Dinner
If you decide to host a sit-down dinner, you'll want to plan for all of these elements:
One or two appetizers
The main course
Two or more side dishes
A type of bread
A dessert
For example, you could have an appetizer of shrimp cocktail, raw vegetables with hummus or miniature crab cakes out for people to snack on as they come in. Then, you could serve a spiralized ham, mashed potatoes, green beans amandine, yeast rolls and a spice cake for dessert.
There are a few options for serving sit-down dinners:
In plated courses
In family-style courses
Family-style on the table
As a buffet
The easiest options are a buffet and serving everything family-style, all at once. Family-style serving means you put out a serving dish for everyone to share, rather than individual portions. A dinner in courses may sound impressive, but it makes more work for the host. Keep in mind a sit-down dinner of any kind tends to feel formal compared to snacks and hors d'oeuvres, so if you want a more casual affair, focus on this next option.
Buffet-Style Hors D'oeuvres
Sitting around a table can feel quite formal. If you want a more casual feel, have a buffet of hors d'oeuvres set up, and let guests mingle and sit wherever they want. This format also works better for larger groups. Finally, hors d'oeuvres tend to be easier than a meal, since you can often make them ahead. No matter what kind of food you make, the more you can do ahead, the better. It saves you from being stressed on the day of the party.
Here are a few things to keep in mind when planning your hors d'oeuvres menu:
Have about four to six different types of hors d'oeuvres to choose from
Have some hot and some cold hors d'oeuvres
Have both meat and vegetarian options available
To have plenty, follow the standard caterer's prediction of 12 pieces per guest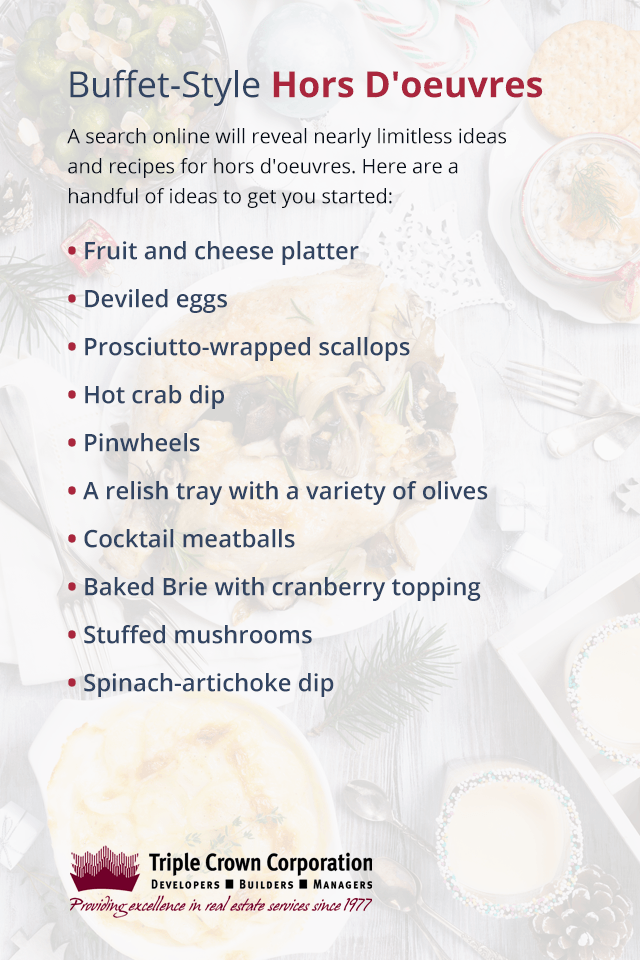 A search online will reveal nearly limitless ideas and recipes for hors d'oeuvres. Use the guidelines above to choose a few different recipes that will bring some variety to your buffet. Here are a handful of ideas to get you started:
Fruit and cheese platter
Deviled eggs
Prosciutto-wrapped scallops
Hot crab dip
Pinwheels
A relish tray with a variety of olives
Cocktail meatballs
Baked Brie with cranberry topping
Stuffed mushrooms
Spinach-artichoke dip
In addition to whatever hors d'oeuvres you prepare, it's a good idea to have some packaged snacks on hand you can easily put out if food starts to run low. Especially if you're not quite sure how many guests to expect, preparing this way will set your mind at ease. Some examples of easy backup snacks to have at the ready are a container of hummus, crackers, packaged cookies and nuts.
Planning the Drinks
Drinks are an essential aspect of your party, too. Especially if you're hosting a cocktail party, you'll want to set up a bar for your guests. But how much alcohol should you buy? A standard rule of thumb is to expect guests to have two drinks during the first hour of the party and one drink for every hour following. You may want to get a bit more than the amount you come up with based on that rule, just in case you have unexpected guests.
Unless bartending is your favorite activity, you probably don't want to spend your party serving drinks, so set up the bar for guests to serve themselves. There are a couple of different approaches you can take here: You can keep it simple with a streamlined bar, or you can go more elaborate and allow guests to mix their own drinks.
Go Simple
If you want to keep it simple, the perfect option is to create a streamlined bar experience. Offer beer, wine and one signature cocktail. For the cocktail, mix up a large batch of it before the party and fill a beverage dispenser with it. Be sure to label it, so guests know what they're drinking.
You can find lots of inspiration online for holiday cocktails or just make your go-to favorite and give it a fun holiday-themed name, like Jingle Juice or Gettin' Blitzen. If you want guests to garnish their cocktails a certain way, provide the garnish there on the table.
Go Elaborate
If you want to place a greater emphasis on drinks at your party and plan to include more variety, set up a cocktail bar where guests can mix drinks, in addition to getting beer and wine. Provide cards with instructions for making a few different drinks, and make sure you have all the ingredients right there. These recipes could be for classic cocktails or more creative combinations.
Of course, guests don't have to stick to the recipe cards, so you want to make sure they have what they need to mix up their personal favorites, including garnishes. Set out small dishes of popular garnishes, including maraschino cherries, olives, lemon slices and mint leaves.
Non-Alcoholic Drinks
Whatever plan you go with for your bar, you also want to provide some non-alcoholic drinks to refresh your guests. At the least, have ice water, hot coffee and some soda out for guests to help themselves to. Remember, bottled drinks last nearly forever, so you can get more than you think you need and keep whatever's left for you and other guests to enjoy throughout the season.
Decorating Your Home
For a holiday party, of course, you want your home to feel festive. One way to achieve this is through decorating. However, don't feel like you have to cover every surface inside and outside your house in decorations to have a festive atmosphere. Instead, consider focusing on a few elegant centerpieces and swags inside and simple, traditional decorations outside, like a large, lit wreath on your door.
If you're having a cocktail party, remember your home will be full of people who will need surfaces to set their food and drinks on. So, while you may feel like your home looks too sparse before the party, that won't be the case during the party. Your guests will be grateful for those bare surface spaces. If you have clutter or papers covering up some surfaces, put them away in a drawer or bin to worry about later.
If you're having a sit-down dinner, keep centerpieces small, so guests can see over them when seated and so there's plenty of room for dishes on the table. One simple and elegant centerpiece you can put together is a glass jar full of water with holly berries and leaves suspended in the water, topped with a floating tea light candle. You can also fill vases with silver and gold holiday ornaments for an easy, yet elegant, centerpiece.
Setting the Atmosphere

The decor isn't the only thing that will contribute to the atmosphere at your party. Here are a few things to keep in mind to create a welcoming atmosphere before and as guests arrive:
Temperature: Adjust the temperature to make your home cooler than you usually like it. That will prevent it from becoming too warm or stuffy when people start to crowd in. Depending on the temperature outside, you may even want to crack a window. Adjust the thermostat as necessary after guests arrive.
Music: Holiday music is a must, but it shouldn't be so loud that it gets in the way of conversation. Play instrumental Christmas music on a low volume to create an effortlessly festive atmosphere.
Lights: For an evening party, consider dimming the lights and lighting some candles for a warm and relaxing ambiance. If your lights aren't on a dimmer, turn some off. Just make sure the food and drinks area is well-lit.
Fragrance: One of the best things about the holidays is the wonderful smells. To fill your home with delicious fragrance, put some spiced cider on the stove with cinnamon sticks and keep it on low. In addition to smelling amazing, hot spiced cider is a delightful traditional drink to serve.
Greeting: Do your best to welcome guests as they arrive. You can only do this if you're not busy running around making last-minute preparations, so aim to be all done getting ready at least 15 minutes before the start time.
Entertaining Guests
There are loads of holiday-themed games and activities you can try at your party. Think about the guests you've invited and what sorts of activities they would enjoy. You also don't have to have any organized activities, but you should still plan for at least one to pull out in case conversations and fun aren't happening on their own as well as you'd like. Here are a few ideas for activities:
Ask guests to share a favorite holiday memory or tradition
Do a gift exchange
Lead a Christmas movie trivia game
Play finish the lyrics for Christmas songs
Set up a photo booth with props
Remember, if you've invited guests who may not know a lot of the other guests at your party, starting with a group game or activity may help break the ice without making anyone feel like they're in the spotlight.
Ending the Party


When it's time for the party to draw to a close, subtly hint to remaining guests that it's time for them to head home by turning off the music, blowing out candles and turning on lights. If guests are still lingering, begin cleaning up, which is a universal sign that party time is over. Be sure to let guests know how much you appreciated them being there as they leave.
Once your guests have left, take out trash and recycling, and check furniture and carpets for any stains you need to deal with right away. Then, head to bed. There's nothing wrong with leaving the bulk of the clean-up for the morning.
Final Holiday Party Hosting Tips
Here are a few final tips to help you host a stress-free holiday party.
Stock up on gifts: Some guests may bring you a gift for hosting, like a bottle of wine. There's no need to reciprocate in these cases, but if someone has a holiday gift for you, you want to make sure you have one for them, too. So, have some extra gifts on hand just in case, tastefully wrapped and ready with a blank label you can quickly fill in.
Keep food warm: To keep food warm before serving it, set your oven on 200 degrees. This temperature essentially turns your oven into a warming drawer. When it's time to serve, food won't be cold or burned. It will be just right!
Designate a place for coats: It's great if you can offer to take each guest's coat, but if multiple people are arriving at once, they'll appreciate knowing where to place their coat right away without having to ask. The best option is a closet near the door. Have plenty of hangers inside, and leave it open while people are arriving.
Triple Crown Corporation Rental Communities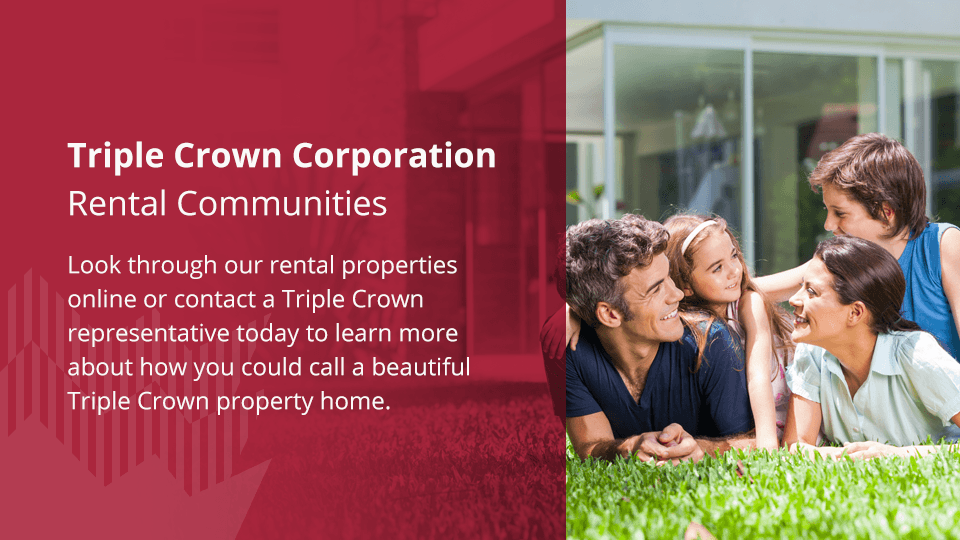 Now you know how to throw a holiday party, but of course, you need a home where you can entertain. If you're on the search for a home in Pennsylvania, be sure to check out Triple Crown Corporations's rental properties in New Cumberland, Camp Hill, Mechanicsburg and Harrisburg. Our luxury townhouses and apartments have all the amenities you need to enjoy your home and to entertain like a pro. Look through our rental properties online or contact a Triple Crown representative today to learn more about how you could call a beautiful Triple Crown property home.