If you've been looking for an apartment and have narrowed your search down to a few potential options, you may be ready to schedule your in-person tour. Before you make your visit, though, you may have some questions and considerations about how exactly the process works.
If you're wondering how to schedule an appointment to view an apartment, what you should look for while you're taking your tour or even what you should wear, we have the answers for you. This comprehensive guide contains all the tips and strategies you need for touring an apartment.
How Do You Schedule an Apartment Viewing?
Once you've made a shortlist of potential places to live, you'll want to schedule an apartment viewing for each. No matter how many pictures you've seen of the apartment, nothing quite compares to seeing it in-person. Though the community may be happy to welcome drop-in visitors, making an appointment ahead of time means you'll be more likely to see the places you're interested in.
Making an appointment will also make a good impression on the manager of the apartment. You'll come across as organized and on top of your search. Scheduling an appointment also gives the apartment manager the chance to plan for your visit and set aside the time needed to give you a proper tour. They'll also have time to answer your questions.
Before you make the call, know what to ask during your conversation. You can research the apartment online and read reviews. You can also check what features are included to make sure the apartment has what you want. Do you want a two-bedroom apartment or will you be satisfied with one bedroom? Do you need a walk-in closet, office space or a big kitchen? Go through the photos and note the amenities available in the apartment and in the nearby community.
While you're doing your research, jot down any questions that pop into your head. When you call to schedule your appointment, make sure you're in a quiet spot where you won't have to deal with interruptions. Ask about the potential move-in timeframe, the rental price and availability. If the apartment you're interested in is not available, ask when it might be available or if there are comparable options. Ask your written questions and get confirmation about the application process and costs for the security deposit and other fees.
Know your own availability before calling to schedule a visit. Select the days and times that are most convenient for your schedule and have a few options listed. After agreeing on a time, confirm the time and day of your appointment.
What Should You Look For When Touring an Apartment?

During your walkthrough, there are a few aspects of the apartment you'll want to look for.
1. Plumbing
Check in the bathroom to make sure the faucets don't drip and that aren't any damp spots. Check for any missing tiles and turn on the shower to make sure you have hot water and good pressure.
2. Safety
Do the smoke detectors work? Are there fire extinguishers? Are there carbon monoxide detectors? You'll want to check all the hallways and other areas where these alarms are commonly found. You'll also want to learn what the emergency plan is in case of fire, and where you should go if the alarms go off.
3. Electrical
To test the electrical outlets in the apartment, bring a phone charger and plug it into all the outlets. You should also turn all the light switches on and off. You may also want to check to see where the cable, phone and internet jacks are.
4. Appliances
Test all the appliances in the kitchen so you'll know they are working properly. Test the burners on the stove, along with the oven. Open the fridge and freezer doors to make sure there aren't any odors. You'll also want to make sure the washer, dryer and dishwasher work.
What Should You Bring For an Apartment Tour?
When touring an apartment, you should bring brochures or any other marketing materials you've received. These will give you information on the apartment that you can refer to during your visit. You'll also want to bring a folder that you can use to collect and carry any printed materials you're given, your list of questions, something to take notes with and a camera so you can take pictures of the apartment.
Don't forget you may also want to bring along paperwork, such as pay stubs and references, in case you love the apartment. If you don't, you may lose the apartment to the next person who comes along.
What Should You Wear to an Apartment Viewing?

An apartment viewing isn't as formal as a serious job interview. There's no need for a suit as business casual dress is usually appropriate. You want to make a good impression, look your best and feel confident, and your attire can contribute to the success of your visit.
Avoid clothes with rips, wrinkles and holes, or anything that doesn't fit you well. You want to look presentable, clean and professional. You'll most likely be doing a bit of walking, so you'll want to wear clothes and shoes that you're also comfortable in. Appropriate outfits generally include khakis or dark pants with a blouse or button-up. If the apartment is more upscale, however, you may want to wear an outfit that's a little dressier.
Whatever you decide, don't worry about buying an outfit just for an apartment viewing. You most likely have an outfit in your closet that already works.
How Do You Tour an Apartment?
There are three actions to follow when touring an apartment: listening, looking and asking. Knowing what you should look for and what information you should gather can be the difference between finding an apartment that's a great fit for you or settling for one that doesn't feel like home.
1. Looking
While touring the apartment, make notes about the condition of the following:
Doors and windows: Make sure the doors and windows provide the necessary insulation and security. Test the locks on every door and check that the windows work. Wait until you know a place is secure to live in before signing a lease. You may also want to consider whether doors and walls are thick enough to block out noises from outside the apartment.
Space for storage: If you have a lot of belongings, you'll want an apartment that has ample storage space. Check closets and any other storage areas to make sure they're large enough.
Maintenance: Take notes about the condition of the apartment's floors, walls, appliances, toilet and shower. An apartment's condition is a good indicator of the quality of the home, along with the quality of its property manager. You may want to request that anything broken is fixed before you sign a lease.
Water pressure: Check the faucets in the sinks and shower to make sure the apartment has good water pressure.
Condition of the exterior: Make note of the exterior conditions of the apartment as well. Check the walkways, the landscaping and the condition of the building.
Review the lease: Request a copy via email and then read through the lease carefully, noting the fees, community policies and rules so you know whether this apartment will be a good fit for you.
2. Listening
Rather than jumping into a barrage of questions, listen to the leasing agent and take notes. The agent may answer many of the questions you have and even bring up a few issues you hadn't considered.
3. Asking
After making notes during your tour and listening to all that your leasing agent said about the apartment, you'll want to address any questions you have that haven't been answered yet.
While you're jotting them down, you may be thinking mainly of your immediate needs. However, there are a few additional questions you may want to include on your list.
What Questions Should You Ask When Touring An Apartment?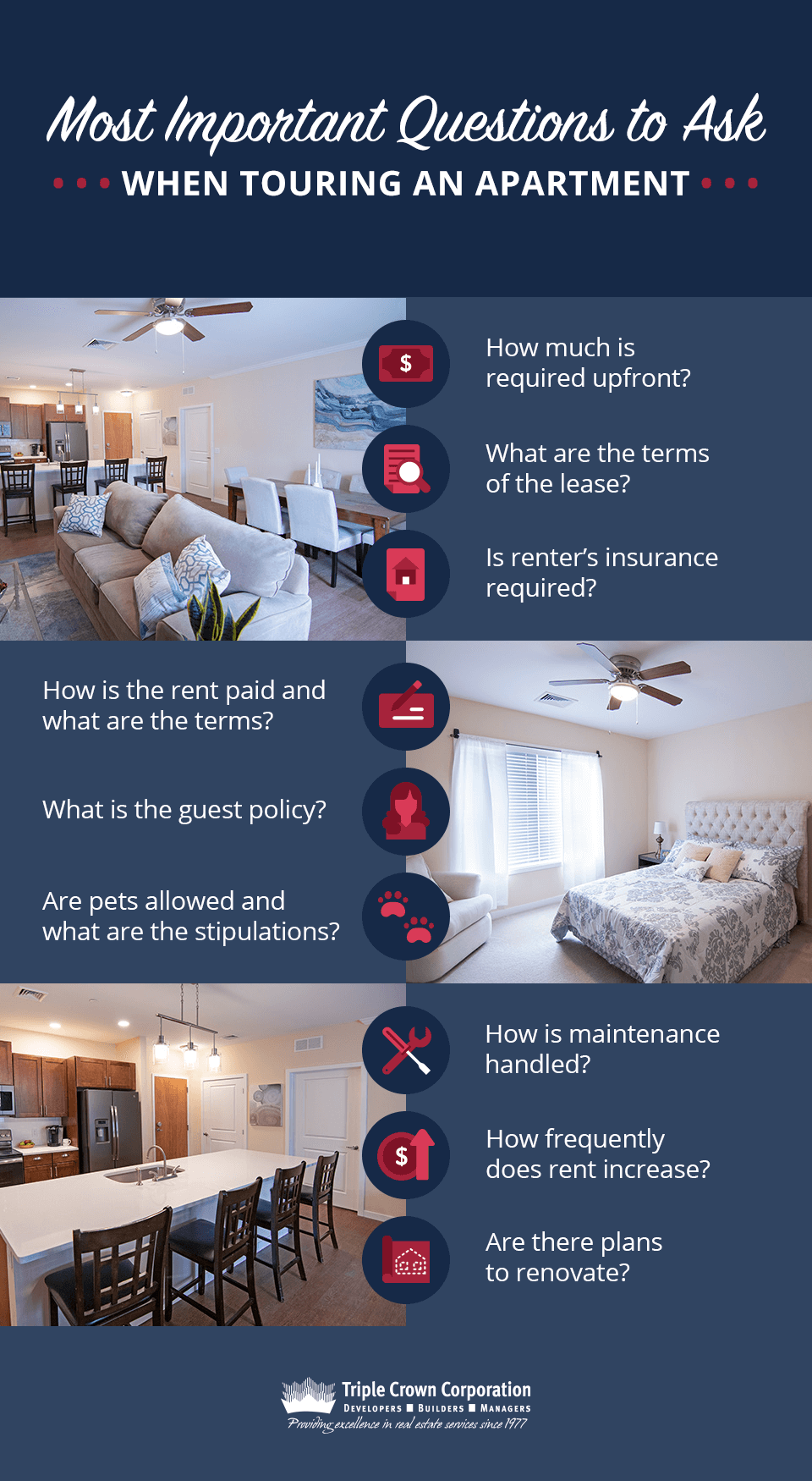 Finding the right apartment for you is a big decision. Just like any major purchase or big life decision, you'll want to take your time and gather as much information as you can before jumping into anything. But coming up with the right questions on the spot can be difficult when you're already feeling overwhelmed with absorbing everything about the apartment you're touring.
To help you with this part of the process, we've come up with nine questions for you to add to your list.
1. What Will It Cost to Move In?
Since different apartment companies handle move-ins in drastically different ways, ask what moving in will cost. Are the first and last months' rent required upfront? Will you need to pay a security deposit? What is the amount for the security deposit? If moving in will be too expensive for you, you may have to rethink whether a particular apartment is the right one for you.
2. What Are the Terms of the Lease?
In the ideal scenario, you'll know the terms of the lease before you visit. But if you don't, be sure to find out what these terms are before you sign. When can you move in? How long is the lease? Does the last day of the lease work for you? What happens when the lease is up? Are there fees for extending your lease? Is there an option for a lease buyout?
3. Is Renters Insurance Required?
While you're apartment hunting, you'll also want to keep renters insurance in mind. Renters insurance protects you in the case of a flood, fire or theft and covers injuries that occur in your apartment. This insurance tends to be very affordable, but you'll still want to know ahead of time if it's a requirement so you don't have to scramble to purchase a renters insurance policy at the last minute.
4. How Is Rent Paid?
Besides the cost of rent, you'll also want to know how exactly you're supposed to give the rent money to your landlord. You'll want to make sure this a convenient option that works for both of you.
5. What Is the Guest Policy?
This policy will likely be included in your lease, but you may have to ask about specifics. Perhaps you're allowed to have a guest stay for only a certain number of weeks. If you're thinking about renting out a room for Airbnb, this policy may also place restrictions on that. Be sure to ask about guests before you attempt anything that could cause issues.
6. Are Pets Allowed?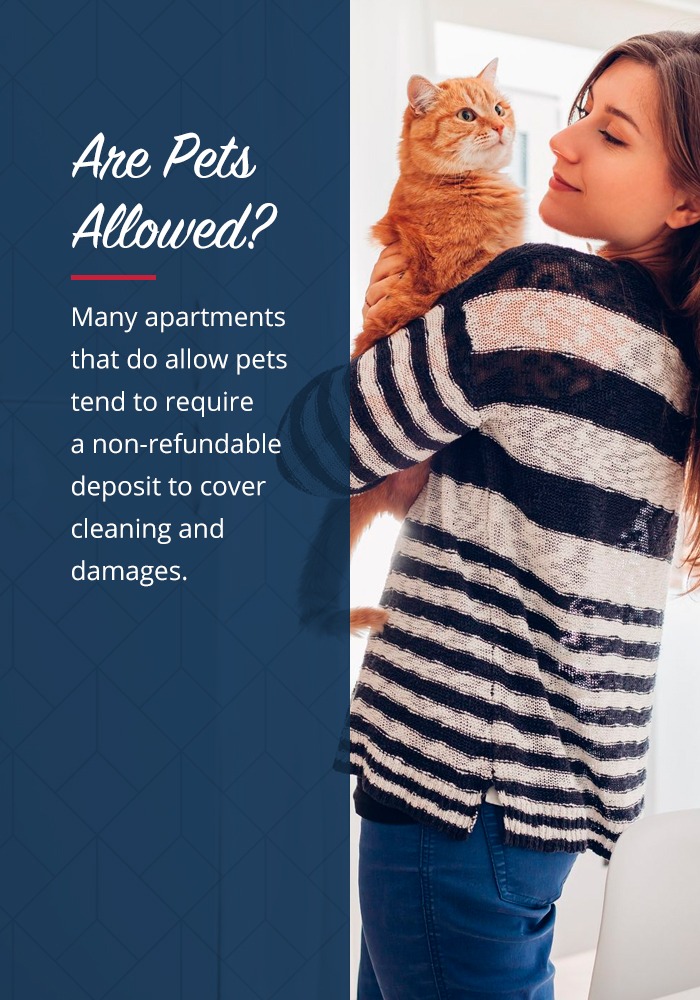 If you have pets or want them, you'll want to ask whether pets can live in the apartment. If they aren't allowed, you'll have to make the decision about whether you're willing to live in an apartment without them or if you'd rather find an apartment that is pet-friendly.
Many apartments that do allow pets tend to require a non-refundable deposit to cover cleaning and damages. Some landlords add on a monthly pet rent. Your lease might also contain restrictions about the type of pet you can have. Maybe cats are allowed but dogs aren't or only certain dog breeds are permissible. If pets are important to you, you'll certainly want to address this concern ahead of time.
7. How Is Maintenance Handled?
Before moving in, you'll want to know how exactly you're supposed to request maintenance for repairs. Do renters make maintenance requests online or by calling? How long will you typically have to wait for a response about a maintenance request? Is 24-hour emergency maintenance provided? What defines emergency maintenance? You'll also want to ask about non-emergency repairs, as some tenants will be responsible for those repairs themselves.
8. How Frequently Does Rent Increase?
It's common for rents to go up when you renew a lease. Some leases describe the typical increase while others don't. It's a good idea to ask before you sign the lease so that you don't get a surprise in 12 months. If you're planning on staying in an apartment long-term and the rent tends to increase a lot every year, then you may want to reconsider that apartment.
9. Are There Plans to Renovate?

If renovations are planned for the near future, you may deal with a lot of construction noise and your rent may increase to accommodate the renovation costs. On the other hand, you also may get the chance to move into the updated apartment once the renovation is finished.
Additional Questions to Ask When Touring an Apartment
Here are a few additional questions you'll want to address during your apartment tour:
Is the security deposit refundable?
When will rent be due?
When is rent considered late?
Are there penalties if you pay rent late?
Does rent include utilities?
If utilities aren't included in rent, what is the average utility bill?
Is there available parking at the apartment?
What are the regulations for street parking?
What is the policy for subletting?
Are there fees for subletting?
What are the security features?
Is the neighborhood safe?
Ask these important questions when touring an apartment to make sure you know everything you need to know before you sign a lease or move in.
Are you ready to search for your new home in Pennsylvania? Triple Crown Corporation is happy to offer a wide variety of communities for you to choose from. Search rental communities near you today and contact us to learn more about our rental properties.