When you're new in town, one of the best ways to start to feel comfortable in your unfamiliar surroundings is to track down local businesses you'll visit a lot. For instance, you'll need to locate the nearest grocery stores right away. You also might need to find your local Target or Walmart, some nearby gas stations and the post office. What are some of the other crucial businesses you'll want to discover as soon as you move to a new area? Of course, you'll want to search for "best coffee shops near me" on your smartphone.
Here in Harrisburg, we have no shortage of great coffee spots that'll help you feel at home right away. Whether you're looking for coffee and Wi-Fi in the city itself or across the river in the Harrisburg suburbs of Camp Hill and Mechanicsburg, there are plenty of spots to try — and today, we want to introduce you to the very best of them. As you're orienting yourself in this new city, why not make this a checklist and hit them all? Once you do, don't forget to stop back here and tell us which one was your favorite.
Here are our top 11 Harrisburg coffee shops we think you should visit.
1. Little Amps Coffee Roasters
The first name in Harrisburg coffee destinations can only be Little Amps Coffee Roasters. After opening their first shop in 2010, Little Amps has since experienced an explosion in popularity, and they've expanded their business to include three separate locations. Visit them in Olde Uptown on Green Street, in the downtown area on State Street or stop by their kiosk in Strawberry Square. In all three locations, you can enjoy the same delicious tastes.

Little Amps prides itself on achieving a full, rich flavor in its coffee by only making small batches at a time. In this way, they avoid the heavy "roastiness" that often defines many chain coffee shops. On top of that, Little Amps offers a pleasant and intimate hipster environment with a cozy interior. The free Wi-Fi also makes this a great spot to sit and read a book or get some work done on your laptop. And if the weather is warm when you visit, the State Street location also offers outdoor seating with a view of both the Pennsylvania Capitol and the Susquehanna River.
A Little Amps favorite you won't want to miss? Try the Cold Jar, which is espresso shaken with ice, poured over brown sugar and topped with milk.
2. Tomato Pie Café
Less of a dedicated coffee shop and more of a full-service restaurant, the Tomato Pie Café nonetheless offers one of the most quintessential Harrisburg cups of coffee around. Located outside the hustle and bustle of the busy Harrisburg neighborhoods out on Tecport Drive, this urban eatery offers a full menu in addition to an espresso bar.
The menu has an impressively extensive breakfast and beverage selection, including treats like the sweet potato breakfast bowl and a full page of coffee and tea options, as well as sandwiches, salads and burgers for lunch and dinner. Combine all this with the artistic and modern décor, and you've got a destination you won't want to miss. Best of all? If you fall in love with this spot, you can enjoy it when out of town as well. They have another location in Lititz for your convenience.
3. Brew Crumberland's Best
With two locations — one just on the West Shore and another out in Mechanicsburg — you'll never be far from Brew Crumberland's Best. And whether you're looking to come in and sit down in the welcoming space or run through the drive-through for a quick coffee, BCB is a perfect choice.
In addition to serving up delicious coffee, this charming spot also offers breakfast, lunch and baked goods from the store's owner, who is a professional pastry chef. What if you're not a big coffee drinker, but still love to hang out in the calm ambient environment of a coffee shop? You'll find a refreshing variety of options to choose from, including hot chocolate, tea, smoothies and fruit juices. So, connect to the free Wi-Fi, pull up a chair and spend a perfect afternoon relaxing in this calm and peaceful setting.
4. Elementary Coffee Co.
If you're looking to grab a quick drink from Elementary Coffee Co., you'll need to plan your trip carefully. This coffee shop operates out of the Broad Street Market, meaning they're only open on the weekends. Don't let this deter you, however, as this coffee is well worth waiting and planning for. And as a bonus, once you've gotten your cup of coffee, you can take this as the perfect opportunity to explore the rest of the Broad Street Market. Who knows what other treasures you might discover while you're there?
At Elementary, you'll find it's all about the basics of coffee. Here, you won't find any fancy syrups or over-the-top flavors. Instead, you'll get the very best in natural spices and sweeteners, all designed to complement the simplicity of the hand-brewed coffee. For connoisseurs of the very best in fine, classic coffee, Elementary Coffee Co. is a must-visit destination.
A particular favorite we recommend? Make sure to try the cold brew both ways — the Sweet One and the Spiced One.
5. Yellow Bird Café
Located just around the corner from Elementary Coffee Co. and the Broad Street Market, Yellow Bird Café is one of the most charming spots in town. Yellow Bird, which serves breakfast, lunch and delicious coffee, is sure to capture your attention from the moment you walk through the door. With its bright and cheerful atmosphere and walls lined with local artwork, this café will add a little extra sunshine to your day.
Yellow Bird isn't open for dinner, which allows them to focus solely on breakfast and lunch. Visit them early in the day and choose from menu items like breakfast sandwiches, soups, salads, wraps and paninis. And of course, it wouldn't have made this list if it didn't also proudly serve delicious French press coffee, sourced locally from a roaster just across the river in Camp Hill. Just make sure to bring a small group with you when you visit — part of Yellow Bird's charm is its coziness, but it can sometimes mean limited seating availability.
6. Cornerstone Coffeehouse
Cornerstone Coffeehouse has the proud distinction of being one of the oldest and longest-lasting specialty coffee shops in the Harrisburg area, dating back to 1994. That isn't their only distinction, however. They're also well-known for having one of the most extensive coffee menus around, offering tons of different blends from different artisan roasters with fair-trade and organic options. Additionally, they include lunch and breakfast items like sandwiches, salads and avocado toast.
To get to Cornerstone, you'll need to cross the river and head into Camp Hill, where you'll find this coffee shop on Market Street. Once you're there, you'll quickly realize there's always something going on and something interesting to see and do. From cooking classes to live music, there are plenty of events worth attending. Or, if you're only looking to spend a few hours working quietly by yourself, there's plenty of seating and free Wi-Fi to facilitate that as well.
7. Midtown Scholar Bookstore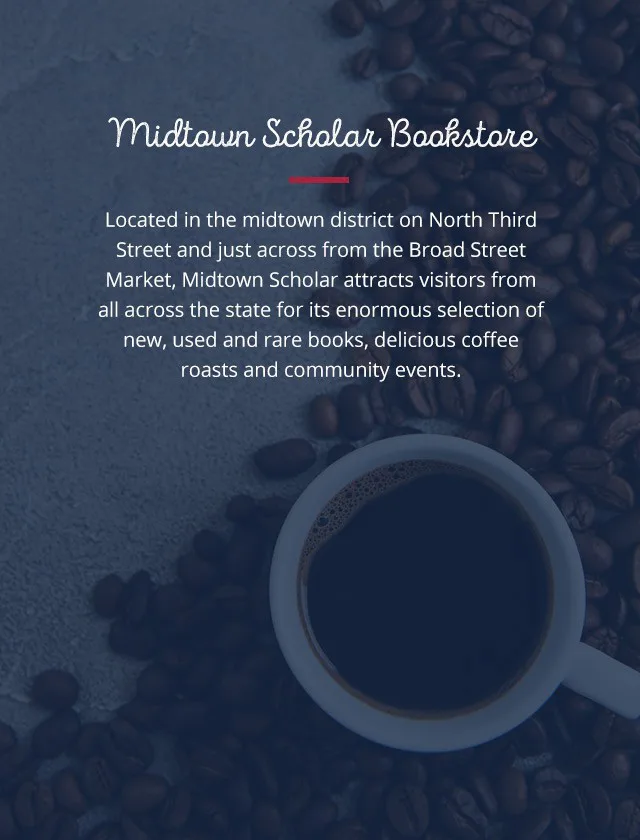 Even outside the world of coffee shops, Midtown Scholar is an absolute must-see destination in Harrisburg. Located in the midtown district on North Third Street and just across from the Broad Street Market, Midtown Scholar attracts visitors from all across the state for its enormous selection of new, used and rare books, delicious coffee roasts and community events.
The combination bookstore and café is in a refurbished 1920s-era cinema, making for an instantly iconic and unique design with characteristic winding staircases, hidden nooks and surprise hallways branching out of nowhere. You could easily spend hours browsing the many floors of books, but don't forget to save time to visit the café as well. Their coffee and espresso drinks are all organic, direct-trade and single-origin, and come from award-winning roasters to produce flavors you'll instantly love. So grab a coffee, find a book and relax in this one-of-a-kind atmosphere for the perfect day in Harrisburg.
8. Capital Joe
Capital Joe may be a relative newcomer to the coffee scene in Harrisburg, having only opened their doors in 2016, but they've made a big splash in those few years. Their original location is in Harrisburg's capital district, but they've also opened a secondary location on West Main Street in the heart of Mechanicsburg. No matter which side of the river you find yourself on, there will always be a Capital Joe's within easy distance.
As a dedicated coffee shop, coffee and tea are the primary offerings here, but you'll also find a few tasty baked goods to choose from. There's also plenty of seating, friendly service, free Wi-Fi and a relaxed environment that's fantastic for taking a break from your hectic day. And whether you choose the Mechanicsburg or Harrisburg location, you'll find yourself in a friendly, walkable neighborhood that's conveniently close to plenty of other restaurants and businesses.
9. The Cracked Pot Coffee Shop
If you like coffee and are passionate about supporting a good cause with your purchases, you'll want to make sure to stop by The Cracked Pot Coffee Shop. This small, cozy shop is on Gettysburg Pike, just off Route 15 in Mechanicsburg, and has a mission of being a positive influence in the community. This dedication starts with their employees — primarily youth who are about to or have already aged out of the foster care system — but it doesn't end there. They also serve only locally and responsibly sourced coffee, straight from the heart of Lancaster.
When you visit The Cracked Pot, you can relax or get some work done in one of the many different seating areas — including outdoor seating when the weather permits — enjoy a delicious coffee, tea or smoothie and even sample a selection of pastries, breakfast and lunch foods. There's plenty of parking and seating as well, so don't be afraid to bring your friends. They're only open until 2 p.m., however, so make sure to plan your trip for early in the day.

10. St. Thomas Roasters
It'll take a little bit of a drive to get to St. Thomas Roasters, especially if you're coming from the West Shore, but we think it's well worth the trip. This landmark, located out in Linglestown on the east side of Harrisburg, has been up and running for almost 20 years now and carving out a reputation for itself as one of the best spots around to grab a delicious cup of coffee.
At St. Thomas, they roast their coffee every day, so you can feel confident you're getting the freshest of the fresh. They also offer over 20 different blends from around the world, as well as a wide selection of teas for non-coffee drinkers. Pack this all into a unique and homey atmosphere with plenty of seating and some great live music by local bands, and you've got a recipe for the perfect afternoon.
11. Anna Rose Bakery & Café
The headliner at Anna Rose Bakery & Café is their mouthwatering menu of baked treats. They serve up a tantalizing array of cupcakes, muffins, cookies, brownies and sweetbreads, all of which look just as good as they taste. But their coffee menu is also delicious and worth taking note of. Here, you can enjoy a variety of different coffee blends, both hot and cold, and you can do it all while surrounded by mouthwatering desserts — a real win-win situation.
Anna Rose's convenient location on Walnut Street in downtown Harrisburg is accessible whether you're coming from the city proper or the suburbs, and is within easy walking distance of plenty of other businesses and restaurants in both the downtown and midtown neighborhoods — including the Capitol.
Browse Rental Properties in the Harrisburg Area Today
Are you getting ready to move to the Harrisburg area? Aside from locating all the best coffee shops near you, your priority will be nailing down a place to live. If this is the stage you're currently in with your moving plans, we've got the solution for you. Why not check out Triple Crown Corporation's rental communities in and around the Harrisburg area?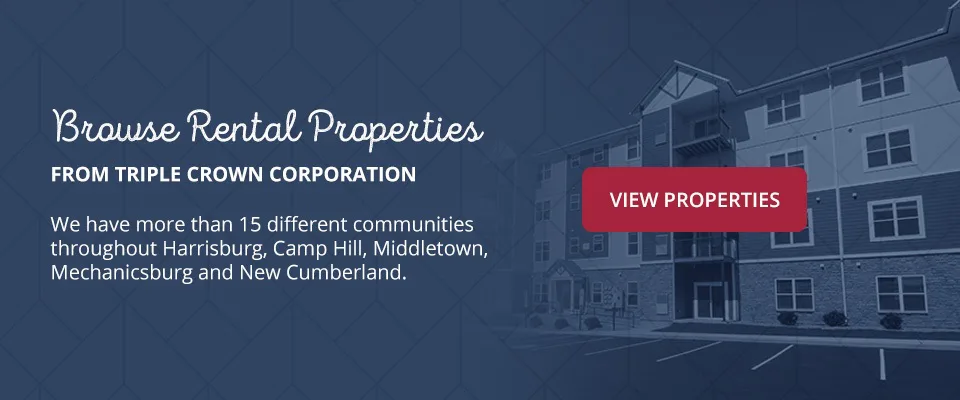 We have more than 15 different communities throughout Harrisburg, Camp Hill, New Cumberland, Mechanicsburg and Middletown, so no matter which neighborhood you're looking to live in, we have the perfect home to offer you. Our rental homes come with some of the most desirable amenities around, with many of our communities providing such extras as free pool and fitness center memberships, wood-burning fireplaces, complimentary cable TV, finished basements and private entrances. Best of all? Many of our homes allow pets as well, so you can bring your whole family with you.
Ready to get started finding your perfect home in the Harrisburg area? There's no better time than today. Get started by browsing our rental communities and learning more about what makes them ideal places to live.