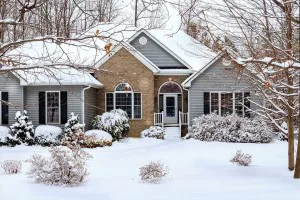 As a renter, you get to skip out on most of your home's major maintenance. Depending on your lease and the community you live in, much of the jobs that require a big lift are taken care of for you. But that doesn't mean you should completely ignore winter maintenance. Preparing your home for the cold, snowy weather — and performing routine tasks throughout the winter months — can make sure things keep running smoothly all season long.
All About That Thermostat
We know, heating bills are expensive. You might be tempted to save a few dollars by turning the thermostat down — way down — when you're out of the house or when you go to bed at night. But you shouldn't let your home or apartment drop below 55 degrees. Any lower, and you'll run the risk of frozen pipes — and a big, expensive mess.
Don't Forget Your Laundry
One often-forgotten winter maintenance project is taking care of your washer and dryer. Replace washer hoses that show signs of wear and tear to avoid a flooding situation. And as you're washing all of those sweaters, flannel sheets and fluffy blankets, be sure you're cleaning out your dryer vent in between loads to reduce the risk of fire.
Stay on Top of the Snow
For many renters, winter maintenance mostly means snow removal. Make sure to use salt to prevent slick spots for those who will be using your walkways. And while you're outside, take stock of your home's roof and rain gutters to make sure they're not being weighed down by snow and ice. While it might not be your responsibility to perform the winter maintenance, your landlord will most definitely appreciate a heads up that these areas need attention!
Happy renting this winter season!