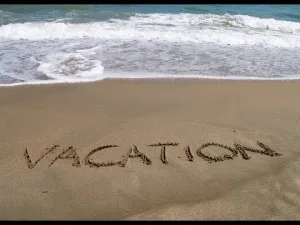 Hooray! The countdown to your vacation is in the single digits, and you are ready to finally unplug and relax for a few days. But as you finish packing your bags, there are a few things you should do before you say bon voyage to your home.
Stop Deliveries
When putting a hold on your mail and newspaper subscription, don't forget to pause other deliveries that are scheduled to come when you're out of town. Contact any meal delivery services or subscription boxes to pause them until you get back.
Clean Up
To avoid coming back to a stinky situation, make sure you take care of any last-minute chores around the house. Clean out the litter box and the fridge and take out the trash. You should also wipe down the countertops, run the dishwasher and wash your dirty laundry and bedding.
Leave Directions
If you're having a pet sitter or house sitter stay while you're away, make sure you leave them clear instructions. Let them know what plants needs watered when or when Fido should be fed. If you don't want your pet sitter digging through your cupboards, set out food, treats and any other essentials they might need.
Set Your Thermostat
Cut utility bills while you're out of town by setting your heat down a few degrees or air conditioning up a few degrees. You can also unplug your coffee maker, toaster and any other unnecessary appliances. One thing you shouldn't unplug is all of your lamps. Leaving a few on will make it look like someone is still home while you're away.
Follow these tips and you won't have to worry about your home while you're off enjoying your vacation!