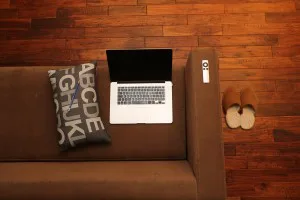 If your apartment is short on square footage but you want it to be big on personality, you're going to have to get creative. Decorating small apartments can be challenging, but it can be done in a way that makes the most of your space and style. Follow these four tips for tackling this unique design challenge.
Get Vertical
Those who specialize in decorating small apartments can't stress it enough: Going vertical is key. Instead of taking up valuable floor space with your bike, mount it on hooks. Or add shelving in the kitchen to hold plates, bowls and cups and free up the cabinet space for other essentials.
Mirror, Mirror on the Wall
It doesn't hurt to have a mirror in the entryway so you can sneak a quick peek of yourself before heading out the door. But mirrors can also serve another purpose when decorating small apartments. Hang a large mirror — or a collage of smaller mirrors — on the wall opposite your window, and your space will instantly feel bright and bigger!
Fake It Till You Make It
Even if your apartment doesn't have floor-to-ceiling windows, you can pretend. Hanging curtains slightly above the window frame or buying a curtain rod that expands slightly beyond the width of your windows will make your space feel larger.
Do Double Duty
Another key for decorating small apartments is choosing furniture pieces that do double duty. Look for ottomans with hidden storage or a coffee table with a drawer to house anything from extra bedding to your charging cords.
Remember: Good things come in small packages, and your apartment is no exception! You can make the most of your tiny space with the right décor.