As summer winds down and the days start to get cooler and crisper, you may be wanting to get out and see the beautiful array of colors that dot the Harrisburg landscape. Though Harrisburg has all the benefits of a bustling, happening city, it also offers beautiful natural landscapes. Harrisburg's numerous parks and preserves make it home to some of the best places to sightsee.
From winding hikes through towering trees to beautiful architecture set against the backdrop of autumn hues, there are more than enough places you can visit to see the changing colors in Harrisburg.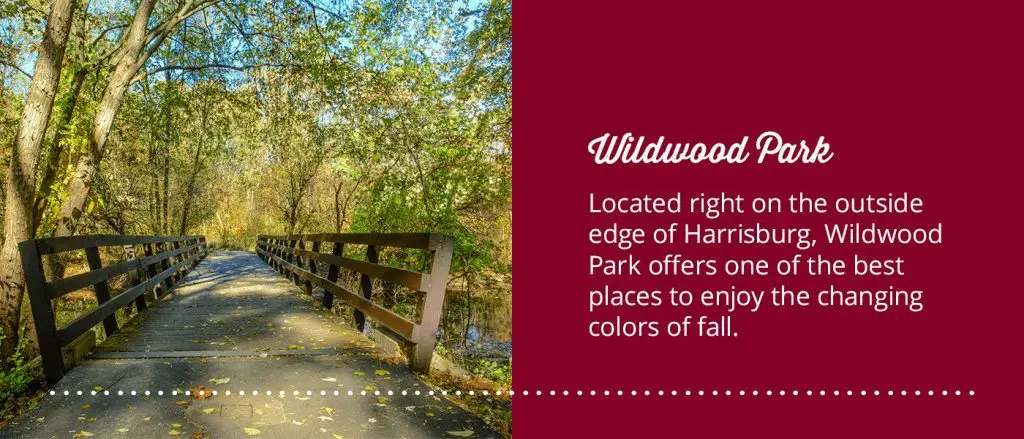 1. Wildwood Park
Located right on the outside edge of Harrisburg, Wildwood Park offers one of the best places to enjoy the changing colors of fall. It offers 6 miles of trails over a 229-acre property and is a great place for exercise, picnicking or just taking a nice stroll through the trails. Some trails follow the bank of a shallow lake, adding an extra layer of stillness and calm to your hike. As you walk through the winding trails of Wildwood, you'll get the full autumn experience and marvel at the various colors that surround you.
You can also visit the Olewine Nature Center, complete with a wildlife observation deck, bird guides and binoculars for your viewing pleasure. Benjamin Olewine III had the center constructed in 1999 to share the beauty of nature with the surrounding area.
Wildwood also offers weekly free events. Join a nature journaling event and spend some time in the outdoors, strengthening your bond with nature, or give back to the community and sign up for a volunteer workday. Wildwood also offers bike rides, bird walks and tree identification tours aimed at admiring and identifying the beautiful, changing nature of the trees in the park.
Wildwood Park was preserved because of the City Beautiful Movement, a project born in the early 1990s whose mission was to protect Harrisburg's natural geography and resources. The movement has given residents several parks on this list and has even inspired other cities to follow the same mission. The City Beautiful Movement is one of the reasons Harrisburg contains some of the best places to see fall foliage in Pennsylvania.
2. Boyd Big Tree Preserve
Located just outside Harrisburg, Boyd Big Tree Preserve is the perfect place to witness some beautiful autumn sights. It has 12 miles of trails that sprawl across the Blue Mountain, and they vary from easy hiking to difficult. Because the preserve is a conservation area, it has little development and no roads cutting across its landscape. This makes it a perfect spot to find some quiet, wind down after a long day and enjoy the still, tranquil space around you.
The preserve is a haven of quiet beauty away from the traffic and noise of the city. It covers 1,025 acres, so you will have more than enough space to explore and enjoy your hike with privacy. Along with sightseeing, the preserve is also home to many wildlife species, including white-tailed deer, wild turkeys and songbirds. Fall is also the perfect time to try to witness the annual hawk migration. Their migration runs from September to December, and if you're lucky, you can see them flying high in the skies above the Blue Mountain.
The upper spring trail offers some of the best views of the preserve. Huge oaks, hickories and beeches cover this path, so if you're looking to savor the changing colors of fall, this trail is perfect. For a chance to spot some water creatures, follow the pond loop trail, which will lead you to a watering hole that animals in the park frequent.
3. Fort Hunter Mansion and Park
Fort Hunter Mansion and Park has a long, fabled history that dates back to the French and Indian War. It was built during that time as a fort in an idyllic location — right in the crux of the Susquehanna River with a view of the Blue Mountains beyond. It served as an alarm station and a place to restock on supplies.
After the war, the fort was abandoned and moved through several hands of ownership before the Reily family of Harrisburg bought it. Today, the site is owned by the County of Dauphin and the Board of Trustees of Fort Hunter, and it has been transformed into a place of historical significance and a beautiful landscape.
Fort Hunter Mansion and Park offers another great location for witnessing Harrisburg's array of fall foliage. It's located on 40 acres of land, hugging up right next to the Susquehanna River. With a view of the rolling Blue Mountains on the other side, you'll have an awesome view as you stroll along the water's edge.
There's room for pickup games, group activities and nature-watching, making it an ideal spot to spend a cool, clear autumn afternoon. The park is also a popular spot for weddings and engagements, as its backdrop lends itself to a romantic atmosphere. It could also be a great place for a first date.
Take a guided tour of the park and mansion or explore on your own, enjoying the scenery and marveling at the views.
4. Harrisburg City Island
Aside from providing various sports teams, recreational activities and experiences, Harrisburg City Island also remains a prime location for seeing the city's changing natural landscape. You will have a great view of the city and can see the spanning colors of the trees framing the city skyline.
While you're there, check out the Washington National's AA affiliate, the Harrisburg Senators, whose FNB Stadium is situated right on the island. You could see a Penn Football game, play some miniature golf or enjoy the numerous free parks and attractions that cover the island. You can also relive some of the island's history and take a ride on a steam train or a horse-drawn carriage.
The island is full of fun activities and remains one of the best places to see fall colors in Harrisburg.
5. Susquehanna River
One of the best ways to see Harrisburg's fall foliage is to take a trip right through the center of it. The Susquehanna River is 444 miles long, one of the longest rivers in the Eastern United States.
You can take a cruise down the river, ride your bike, rent a kayak and paddle your way or take a fishing pole and sit down on a bank and watch it all happen.
The Pride of the Susquehanna offers cruises down the river in its signature paddleboat, a replica of a 19th-century riverboat that will make you feel as though you're traveling back in time. Watch the trees roll past as you cruise along, enjoying a nice dinner, live music or even a guided, educational tour about the history of the Susquehanna.
You can even catch a sunrise or sunset on the banks of the Susquehanna, watching the colors of the sky merge with the colors of the trees.
No matter what you choose to do, the river is a great place to enjoy the nature around you.
6. Italian Lake
Italian Lake features an open space with stunning views. In spring, it boasts the budding Japanese maples, and in autumn, it's home to an assortment of fall colors. The classic Japanese bridge straddles the water, and an elegant statue creates a unique, tranquil atmosphere. Italian Lake has a short hike — around 0.7 miles — that loops around the park. It's a great place for a lunch break stroll or a walk with a pet. Italian Lake serves as a great alternative for people seeking an outdoor getaway without the effort required for a longer or more challenging hike.
Like most things in Harrisburg, Italian Lake has an interesting, winding history that only adds to its richness and beauty. It was part of the City Beautiful Movement mentioned earlier, and it started as a mere side project to the nearby high school. Since then, it has become a fresh, iconic spot in the heart of Harrisburg.
Bring a book and spend a cool fall day reading in the park, or take a camera, find a friend and have some fun taking pictures on the iconic Japanese bridge or in front of the timeless statue.
7. Little Buffalo State Park
Just west of Harrisburg lies Little Buffalo State Park. It's home to the still, vast Holman lake, filled with largemouth bass, catfish, panfish, trout and muskellunge. Holman lake is a year-round destination for fishermen in the area.
You can also observe the lake and try to spot the red-spotted newt, a small amphibian that resembles a lizard. The juvenile newt is called a red eft and is known for its fiery, bright-red appearance. Newts can often be found lurking on the top of the water. Be careful, though — the newts have a mild toxin on their bodies that can be irritating to your skin.
The lake is filled with other wildlife, including egrets, green herons, beavers, mallards, geese and blue-winged teal. Enjoy a day at the lake watching animals go about their business, or even try to capture some on camera.
If you're looking to make it an event, the Old Fashioned Apple Festival is held on the third weekend of October. This festival is sure to get you into the fall spirit. Watch how apple butter is made — the old-fashioned way — and sample some apple cider. Pair this with the natural autumn colors around you, and it makes for an unforgettable Harrisburg experience.
You could also plan a picnic at the park. The picnic tables look out over the lake and are surrounded by oaks and maples, providing a picturesque autumn view. Bring a jacket and blanket and watch a gorgeous sunset with a friend or significant other.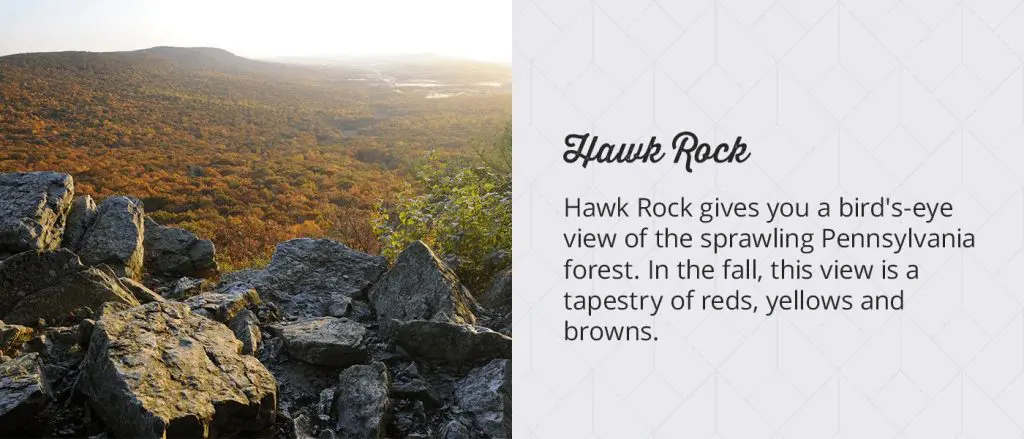 8. Hawk Rock
If you can make the moderate 2.1-mile hike up to the peak of Hawk Rock, then you won't be disappointed by the view that awaits you at the top. Hawk Rock gives you a bird's-eye view of the sprawling Pennsylvania forest. In the fall, this view is a tapestry of reds, yellows and browns. You'll also be able to catch the blue tinge of the Susquehanna cutting through the wilderness.
The trail is also pet-friendly, so feel free to bring your dog and take this hike with them by your side.
9. Clark's Valley
Clark's Valley lies north of Harrisburg and is another fantastic way to experience the area's fall foliage. A winding trail leads you up to a mountainous view of the surrounding valley, where you can sit, relax and take in the sights. Though the trail can be steep, it's worth it for the view at the top.
10. Fallingwater
If you're open to traveling a bit or taking a day trip, you can go and witness an amazing architectural achievement tucked into the Pennsylvanian wilderness. Famed architect Frank Lloyd Wright designed a home that embraced the nature around it.
Following the philosophy of organic architecture, Wright wanted to honor the beauty of nature and merge it with his designs. His goal was to build a kind of harmony between the home and the landscape where it was built.
By 1937, this dream was realized, and the construction of Fallingwater was complete. Terraces, stone floors and large glass windows create an almost mesmerizing experience that is only topped by the waterfall running through its center, literally falling out of the house and giving the home its name. In 1964, Fallingwater was opened to the public and has been seeing thousands of visitors ever since.
Fallingwater is truly a sight in autumn, as the leaves around it change and create a sea of reds, yellows and greens that add to the spectacle.
11. Detweiler Park
Though still near Harrisburg, Detweiler Park is located in Dauphin County. The original owners generously dedicated the land to become an area of conservation, and today it remains just that, attracting people with its vast amounts of deciduous forest and wildlife.
Visit the park and be on the lookout for deer, hawks and bluebirds traveling through this wonderful landscape. Because it covers 400 acres, Detweiler Park is great for multiple visits. With its vast meadows and forests and abundant wildlife, there's a lot at Detweiler Park to see and enjoy.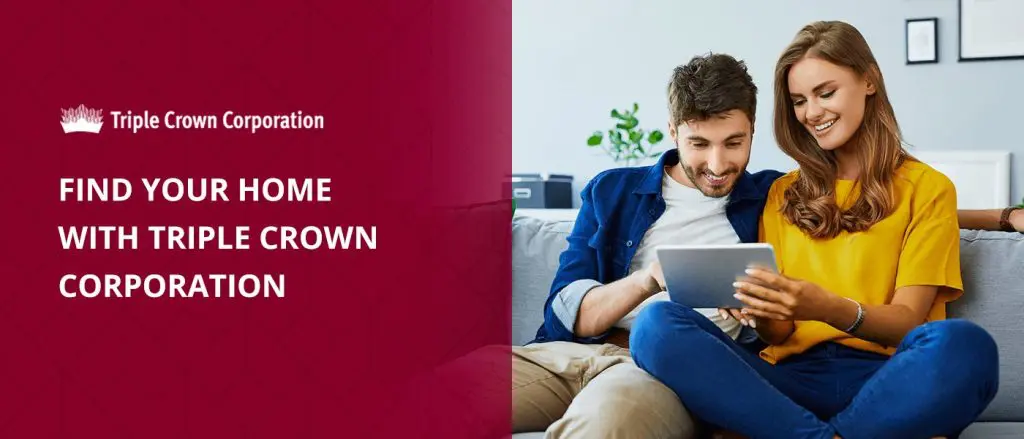 Find Your Home With Triple Crown Corporation
Harrisburg is home to some amazing parks and preserves and countless more experiences and opportunities. Its hiking trails make it the perfect place to spend an autumn afternoon, admiring the changing colors and the evolving array of fall foliage. You might be trying to find a way to see it all. Looking for a way to make Harrisburg home?
Triple Crown Corporation offers various rental properties that can make you a permanent resident of the area. With over 43 years of excellence in real estate services, we are no stranger to helping our customers find what they need. We can offer you quality rental homes that will give you a way to access all that Harrisburg has to offer. Our expert team is ready to help. Reach out to us today!