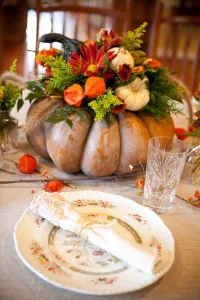 The holiday season is a time for family and with so many people around, your house needs to match the mood. Food may be the focus for Thanksgiving but here are a few ideas to make your table a talking point!
Pumpkin Patch
Fall and Halloween may be over but pumpkins are still great décor as we head into winter. You could hollow one out and fill it with flowers as a homemade vase for an inventive seasonal centerpiece or why not fill a few small pumpkins with dips and surround them with vegetables to bring some fun to your party food!
By Candlelight
Candles not only look great but smell fantastic too! Buy an unscented candle and tie cinnamon sticks around it to give off a delightful winter scent whilst your guests are waiting for the Thanksgiving meal to arrive at the table. Placing candles in glass vases on top of corn kernels is also an affordable but beautiful homemade decoration.
Burlap and Ribbon
A burlap runner is a great addition to your table, adding to the rustic feel as well as providing a great color contrast to the bright pumpkins and leaves lining the plates and bowls of delicious food.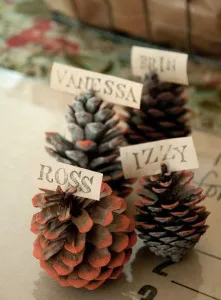 Backyard Treats
Why pay for decorations when you could find free ones right outside your door? Spend some time in your backyard looking for acorns to tie with twine around napkins or pinecones to use as place holders. You could even dip leaves in gold paint and write your guests names on them once they are dry as take-home gifts. Bringing the outside in is the perfect way to create a rustic look that your guests will love.
Balancing the simple and extravagant features is key to creating a table that your guests will be talking about until next year!
Photo Credit (Pumpkin): Pinterest
Photo Credit: (Pinecones): Money Saving Queen