Looking for an Apartment in Harrisburg, PA?
Whether you're about to move out on your own for the first time, relocating to the Harrisburg, PA area or just wondering if renting is right for you — as a first-time renter, you're going to have questions.
Maybe you've started looking online for apartments and talking to friends and family to figure out what's best for your situation. That's a great first step!
The rental search process should be an exciting time. But it can also be overwhelming. You've likely received lots of advice, and you might feel even more confused than when you started.
Looking for your first apartment as a Harrisburg newbie or moving out for the first time as a Harrisburg native should be a fun experience. One way to make that happen is to equip yourself with facts and research.
Reviewing all the info about various rental properties and apartments in the Harrisburg area means you have accurate, helpful information — and can move forward confidently when you see a rental apartment you like.
Have You Heard of Triple Crown Corporation? Our Rental Properties Are a Perfect Fit for You!
Our mission is to provide you excellence in real estate services through high-quality, best-value options — on time, every time.
We work to reduce the stress associated with renting and moving. If you have questions, we're available to answer them and help you rent an apartment or townhome that suits your needs. It's all about providing you with the value you're looking for.
What's right for someone else might not be what you're looking for in a first-time rental community. Because of this, we go above and beyond to identify your needs and to work to meet them at every step of the process.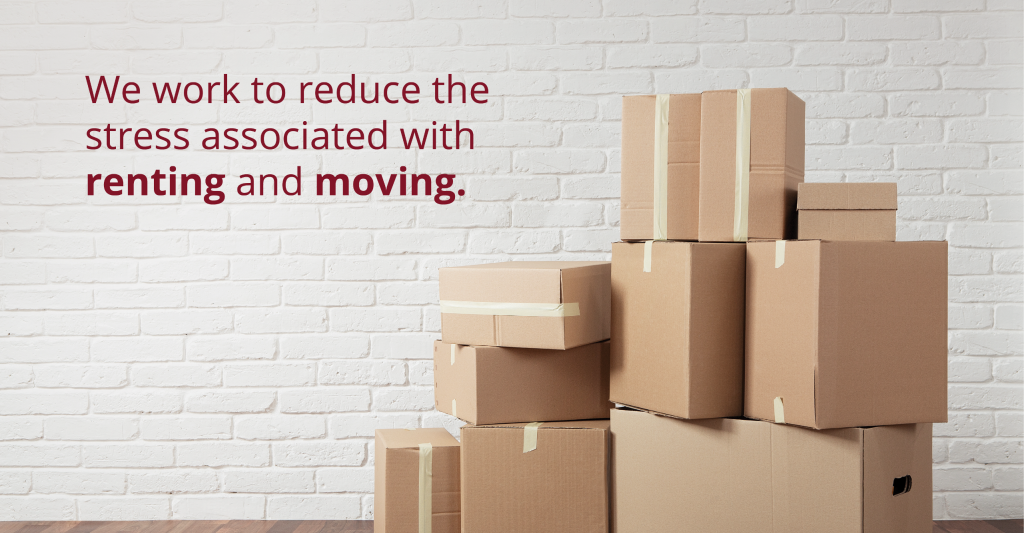 Triple Crown Corporation Specializes in Harrisburg Apartments
Harrisburg, Pennsylvania is an amazing location to find your first apartment. It offers convenience — with many major highways crossing through the area — along with all the attractiveness of the more rural areas, including affordability.
If you're searching for apartments for rent in Harrisburg, PA, you've come to the right place. Triple Crown Corporation offers a variety of apartments and townhomes in the area. Best of all, each community is well-maintained, modern and close to all the conveniences Harrisburg has to offer.
Many of our rental communities provide more than your standard rental. Check out these features:
Fitness centers
Pool memberships
Wood-burning fireplaces
Free basic cable TV
Private entrances
Pet-friendly living options
Appliances
Finished basements
As a first-time renter, this might all sound great! But before you decide, you're going to need more information. You want to be sure you're making the right rental decision from the start.
Make the Right Rental Apartment Choice
Because of this, we don't want to only tell you about what we have to offer. We want to empower you to make the best decision possible. That's what this apartment guide is all about.
Let's review the rental search process and answer the questions you have along the way. To help in your search for apartments in Harrisburg, PA, this guide provides information about:
How to rent an apartment for the first time.
How to determine the security of your potential apartment rental.
How to figure out what size apartment is best for you.
Whether finding an apartment with utilities included is your best option.
How to find a pet-friendly apartment.
The benefits of renting instead of buying.
How to prepare to move into your first apartment.
We'll also cover all the aspects that make Harrisburg a wonderful place to live.
Let's Get Started!
No matter where you are, or what you're looking for, this guide should serve as a useful resource.
Jump in and take a look inside. Read each section to find the answers to questions you already have, and to some that you may not have thought of yet.
After you're done, or when you feel ready to move forward in finding your first apartment, contact us today. We look forward to working with you to help you find your dream home and settle in quickly, without common renting complications.
My First Apartment – From Initial Search to Move-In Day
You're on your way to something exciting — renting an apartment for the first time is worth celebrating!
You're also in good company. According to the National Multifamily Housing Council, 37% of Americans rent their homes. The percentages vary according to age, but renters are spread throughout all demographics:
21% of renters are under 30 years old.
45% are 30-44 years old.
30% are 45-64 years old.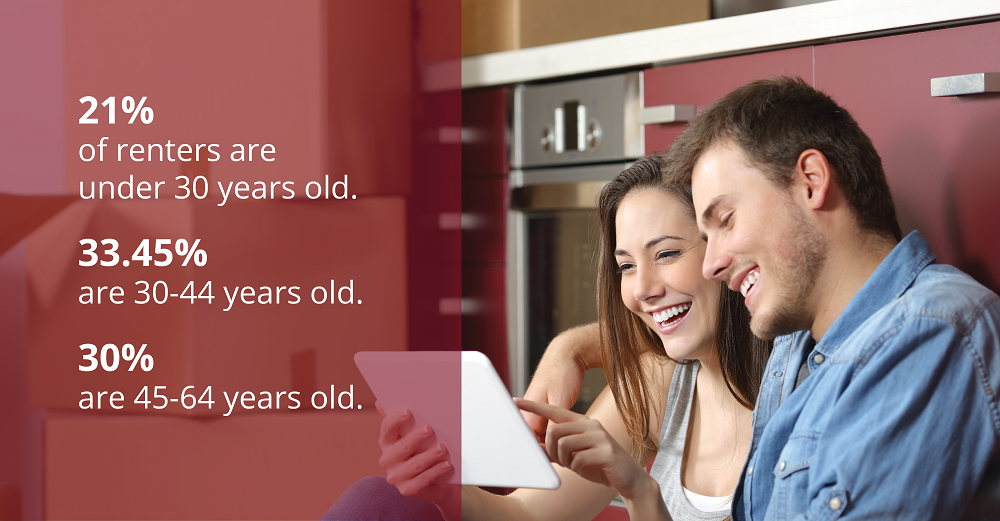 Regardless of which age group you fall into, it's important to take your time to be sure you find the apartment that's right for your specific needs right now and in the future. If you're just starting the process, you might feel overwhelmed at the prospect of how to rent an apartment. That's okay — it's normal. To take some of the stress away, start by looking online for a community management group that suits your needs and serves your area.
Research Potential Communities
Take your time to do research on the various rental communities that are available, to read reviews and to understand what's included in each community. Compare this with your personal needs, considering what you can compromise on and what's set in stone.
As the list gets narrower, contact the community manager to set up a visit. Be ready to ask questions and think about if you can see yourself living there. It might feel a little different and not quite like "home," so try to picture whether it could feel like home in the future.
If you think you've landed in the right place, you're still not quite done — but you're getting close! Ask the community manager for references. These are individuals who live in the community and would be willing to talk to you more about the area, as well as provide insight that can be hard to find from the community management team. Be sure to follow up on these references, either by phone or email. Ask questions about:
The care of the apartment itself.
How maintenance issues are solved.
If the reference would move back to this location again given the information they know now.
The neighborhood in general.
After considering other topics you'll learn more about shortly, if everything seems to check out and you decide to proceed, ask the community manager about the next steps, and follow through promptly. There may be a waiting list, so you don't want to miss out if this is the community for you.
Considerations for First-Time Renters
Before going full-steam ahead once you've narrowed down your options, it's important to keep some things in mind, especially as a first-time renter:
1. Budget
First, you can move forward more confidently if you're sure the apartment or home you're renting is within your budget. To figure out what you can afford, start by making an actual budget. Consider your average monthly expenses and start putting them on paper. Multiple budget calculators are available to help in this area.
A few considerations include:
The 50/30/20 rule.In general, 50% of your budget should be dedicated to fixed costs like rent,utilities, and transportation. About 30% should go to day-to-day expenses like dining and entertainment, and 20% should go toward savings or paying down debt until you can save.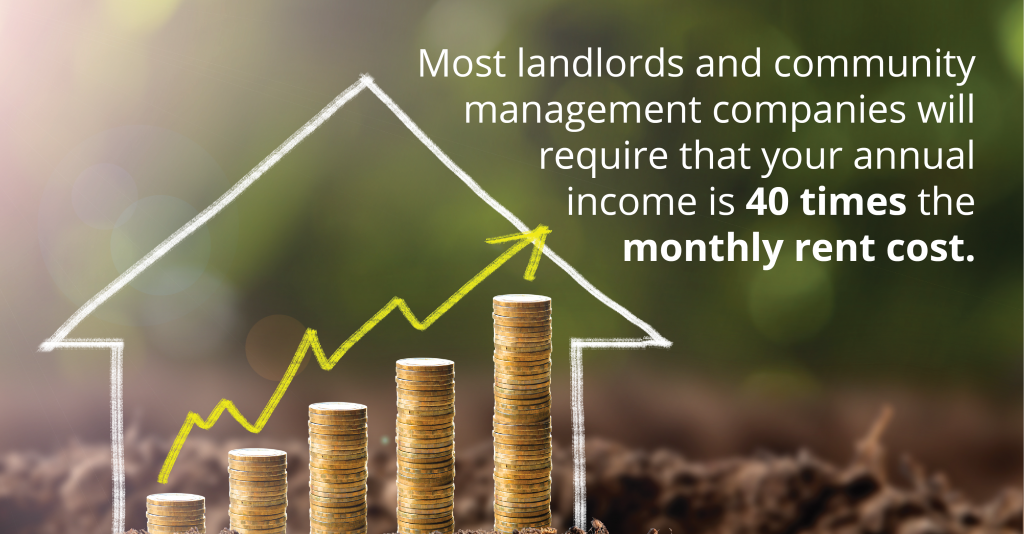 The income is 40 times your rent rule.That seems like a high number right? Don't worry — you're not spending it up front. You should know, however, that most landlords and community management companies will require that your annual income is 40 times the monthly rent cost.
2. Features of the Home
After you've narrowed down your budget, think about what matters most to you in a home. Understanding what you want and how that's different from what you need is critical. It doesn't mean you should settle for something that's less than your dream, but, it might help to prioritize.
For example, a second bathroom might be a non-negotiable, but a great view may be something you could compromise on. Wants and needs vary from one individual to another.
3. Timeline
What's your timeline? This matters for a variety of reasons. First, it will help you select a move-in date. Your desired community may require you to move in earlier or later than you were hoping to, or you might need to wait an extra few months to get the apartment you're interested in.
Understanding how flexible you can afford to be with your timeline will be beneficial.
4. Future Plans
Consider your plan and goals. Are you looking for an apartment to live in for the next five years, or are you just looking for a place to stay for a year or two? Are you planning on staying in the area? Is your desired community close enough to where you'll be working or going to school?
Your plans will help determine whether the community you're considering is a good fit for you.
Rental Traps to Avoid
Even if everything feels great, you should be aware of common "rental traps" that ensnare many first-time renters. Instead of focusing only on the positive, maintaining a realistic focus will help make your experience a productive one:
1. Not Taking a Visit
If you're not local to the area you'll be renting in, it might feel like you've done enough by checking out the website, looking at photos and talking to references. This is not true.
By not visiting your desired rental, you deny yourself the opportunity to measure how you feel about a given space. You may also miss signs that something isn't quite right. Your instincts matter. If you don't visit in person, you won't be able to use them.
2. Not Being 100% Honest on the Application
When you're under pressure or concerned about whether you'll qualify for a rental, you may be tempted to skip important details or to outright lie during the application process. This opens you up for trouble down the road when the lies become apparent, and it could lead to actual harm — such as lawsuits or eviction from your apartment. Honesty is always the best policy.
3. Ignoring the Need for Rental Insurance
To understand why rental insurance is so important, you need to know how it works.
To start, rental insurance is affordable. On average, renters pay $176 a year for a $30,000 policy. Compared with other common costs, it's not an amount worth skipping. In fact, many communities require renters to carry appropriate insurance.
Renter's insurance comes in two varieties. A cash-value policy is designed to pay out the actual value of any damages or stolen items. If a television was stolen but was 10 years old, the value may not be enough to replace it, for example.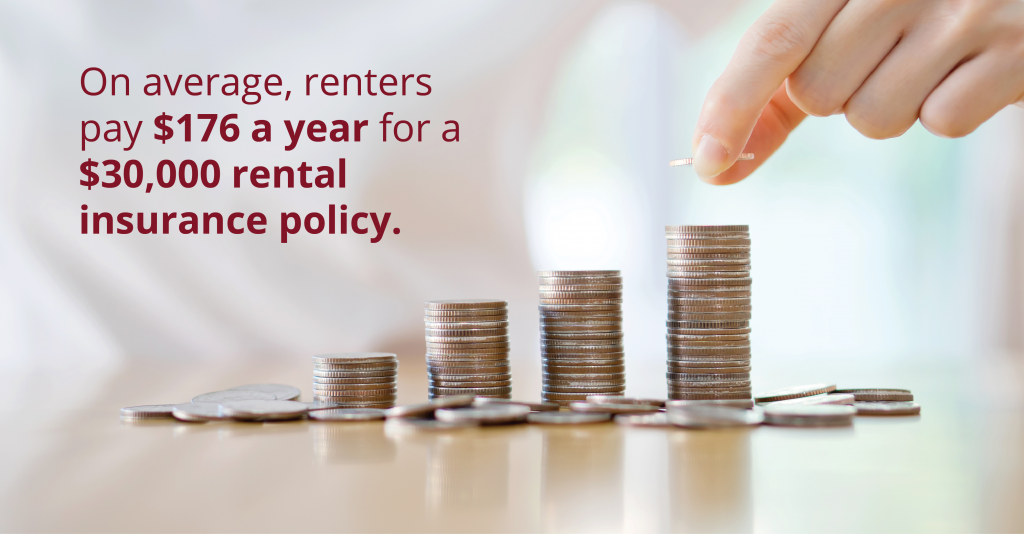 On the other hand, a replacement-value policy pays the insurance holder the actual amount needed to replace stolen or damaged items. This kind of policy generally costs 10% more to obtain.
4. Not Protecting Yourself
When you move into your new apartment, protect yourself by taking pictures before bringing in your belongings. If a pre-existing issue is in place, taking pictures will provide important documentation that could prove you did not cause the damage.
Additionally, asking for any changes or modifications to the lease in writing provides an extra layer of protection, should any issues arise.
5. Picking a Location Based on Friends and Family
Just because your best friend loves her new apartment doesn't mean it's right for you. Taking into account whether you'll be near loved ones and friends is a great start, but your needs may be different than theirs. Put yourself first during this process.
6. Focusing Only on Costs
If you're looking at the base rental price, you might miss other features that set certain communities apart from others. If additional utilities are included in the more expensive home, it might not actually be more expensive.
Likewise, some of the more "expensive" communities may include gyms, pools, cable television and other incentives that could balance out in the long run. The bigger picture matters!
Moving Day
Once you've completed your homework, returned the proper paperwork and followed through on all to-do items, moving day will arrive quickly, even if it seems like you have a lot of time to wait.
To prepare for your upcoming move, focus on organization. Consider boxing your belongings by room and thinking about where they will go. This will make the process smoother. Use newspapers or bubble wrap to protect fragile items that could be broken or scratched if improperly packed or handled.
As you prepare, review your new lease. It's important to understand what is permitted and what is not permitted. Some communities may allow you to paint the inside of your home and hang décor, while others may not. The same goes for bringing pets, candles and other belongings.
While moving seems like a straightforward process, it often doesn't go that way. When your big day arrives, be patient. Remember that the process takes time. Think about which items you absolutely need to survive, and which can wait for later. The more realistic you are, the more satisfied you'll be with the process.
Most importantly, enjoy it! Take the time to focus on your new freedom and the adventure that's ahead. You're taking a big step that should be celebrated.