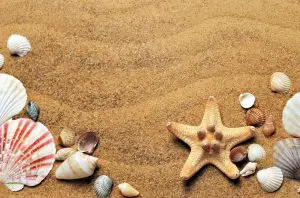 The beach doesn't have to be a whole vacation away. With these beach decorating ideas, you can bring the stunning colors and calm atmosphere of the beach right to your own home:
Go White and Blue – and Pick Fabrics Carefully
Think lots of white, which will reflect light and create that summery beach glow. Paint furniture white or drape it with white linens and other soft fabrics. Consider white canvas as a cover for chairs and tables. Natural, white fabrics and lots of white and blue colors will mimic the textures and colors of the beach.
Diffuse Light
Hang gauzy white curtains to soften the light and mimic the gentle glow of sunlight reflecting on water.
Pick up Some Beachy and Natural Collectibles
Display collections of rocks, seashells and driftwood to add a beachy element to your living areas.
Strip Down Your Décor
The beach is never complicated or fussy. Move out all collectibles except your beach ones, roll up rugs and put away other décor. A minimalist look with lots of white and natural items – such as wicker – give you the relaxed look of a beach house.
Open up Your Windows
Letting in lots of fresh air helps you breathe a little easier and also helps your curtains stir and move, as they would in a house by the sea. If you have air conditioning and don't want to let in light, opt for a few larger plants – such as palm trees – to improve air quality and to offer some freshness.
Whether you're interested in beach houses or other homes, if you need real estate services, there's one place to call: Triple Crown. Contact us today to discuss your real estate needs.