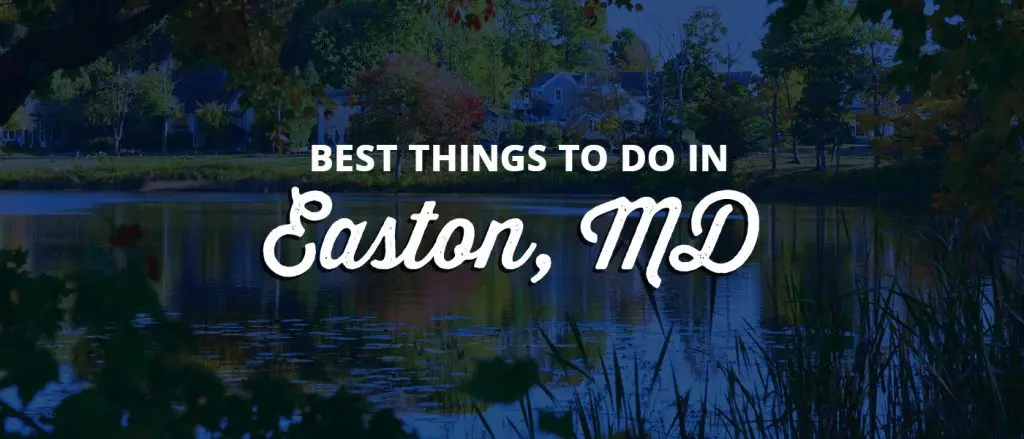 Easton, Maryland, is a beautiful town full of art, culture, wildlife, outdoor recreation and fine dining opportunities. Stroll through town on a historical tour to see Victorian and Colonial architecture while learning about the town's history, or stroll through an arboretum to experience the peace and beauty of nature.
Easton also offers fun and exciting activities such as kayaking, bicycling and ice skating. Explore all that Easton has to offer and experience how wonderful it is to live in this gorgeous small town.
Top Things to Do in Easton, Maryland
If you are wondering what to do in Easton, Maryland, you will be delighted to find there are many fun activities to choose from. Whether you want to have fun with friends and family or enjoy the town on your own, there are plenty of fun ways to explore, relax, dine, shop and learn. To experience the best of Easton, Maryland, you can take part in any of the following activities:
1. See a Live Theatre Production
See an exciting live performance at the Avalon Theatre. The Avalon Theatre hosts a wide variety of cultural events, including plays, concerts, outdoor concert events, multicultural festivals and comedy writers. Individuals of all ages can appreciate the live productions and events that the theatre has to offer. Purchase a ticket for a play or concert, or plan to attend the Plein Air Festival and browse artwork while meeting talented artists.
2. Enjoy Beautiful Art
Easton, Maryland, has many opportunities to marvel at gorgeous artwork. The Academy Art Museum features a permanent art collection and temporary regional and national exhibitions, so there is always something new to see. From abstract art to photography collections, you can enjoy the artwork of various fine artists. The museum also offers lecture series, concerts, educational programs and performing arts classes for all age groups.
Visit the Trippe Gallery to see artwork by different featured artists throughout the year. At the Trippe Gallery, you can browse beautiful paintings, photography and sculptures, and you can purchase some beautiful artwork to display in your home.
The Troika Gallery offers various exhibits and events to enjoy. You can explore or purchase gorgeous artwork for your home, from themed art collections to featured artists. Enjoy serene artwork celebrating waterways, purchase a commissioned portrait or browse fine porcelain pieces. The Troika Gallery features oil and pastel paintings, watercolor landscape and wildlife paintings, handpainted fine porcelain pieces and more.
3. Learn About Easton's History
Easton, Maryland, is full of fascinating history and opportunities to learn about the past. Stroll down Easton's streets and learn about various historical sites on Historic Easton Walking Tours. Explore downtown Easton while a knowledgeable tour guide takes you to various historical sites throughout the town. They will stop at specific locations and explain each building's significance to the town's history.
If you're looking for an exciting or spooky time in Easton, consider embarking on a ghost tour. Walk around Easton, and enjoy stories about unexplained events and hauntings. When you book an Easton Ghost Walk, an experienced tour guide will take you to various historical sites throughout town and share stories about the spirits believed to haunt the buildings.
On an Easton Ghost Walk, you will be able to enjoy both mystery and history as your tour guide explains the history of each stop and some spooky stories to go with it. Ghost walks include the following sites:
The old jail
Talbot County Court House
Avalon Theatre
Tidewater Inn
The old Easton Hospital
Foxley Hall
Odd Fellows Hall
The old Eastern Shore Orphanage
Cemetery
The Talbot historical society also offers interesting tours, exhibits and events to learn about the town's history. Visit the Talbot Historical Society campus to see the Hill Research Center, the James Neall House, the Mary Jenkins House and the Gardens. Explore permanent and temporary exhibits to learn about Easton's interesting past.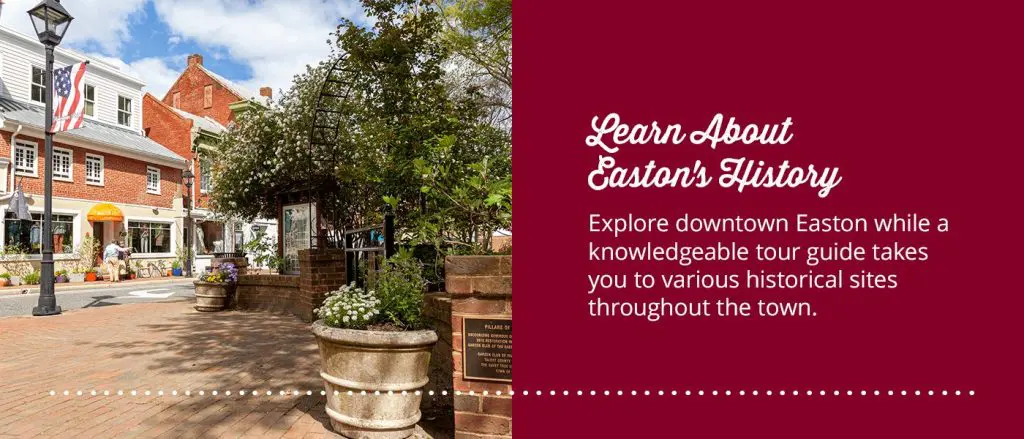 4. Discover Easton's Culture and Rural History
Learn even more about Easton's history at the Tuckahoe Steam and Gas Association. The volunteer organization restores and displays agricultural equipment and vintage industrial machinery. The 70-acre facility hosts various events throughout the year where visitors can learn about farming skills and the town's agricultural history.
5. Treat Yourself to Some Farm-Fresh Produce and Amish Goods
Indulge in delicious food at the Easton Amish Market. At the farmers market, you can shop for delicious Amish baked goods and other foods as well as crafts, home decor, Amish handmade furniture, accessories and toys. Browse stands from small local businesses and Amish vendors, and try foods including meats, cheese, salads, soup, pastries, soft pretzels, candy and meals.
6. Enjoy a Delicious Dinner
Easton features a wide variety of excellent dining establishments. The Scossa Italian Restaurant offers delicious classic Northern Italian cuisine. Enjoy traditional Italian dishes made with fresh ingredients. The restaurant also offers a delightful ambiance with sophisticated decor and a lively bar and lounge.
You can also enjoy a fine dining experience at Bas Rouge in Easton. Bas Rouge offers world-class wine and traditional European and Viennese dishes made with local ingredients. Enjoy a more casual dining experience at Doc's Downtown Grille, where you can find classic burgers, sandwiches, delicious appetizers and entrees.
You can also find savory burgers, BBQ and wings at Rude Food Co. Try some unique wing sauces or visit during the Rude Burger social hour to enjoy drink and food specials.
7. Play a Round of Golf
Practice your golfing skills at Easton's Hog Neck Golf Course. Hog Neck Golf Course offers a driving range, a putting green, a chipping green complex and 27 holes. Choose from the 9-hole Executive course or the Championship Talbot County course featuring 18 holes. Golfers of all skill levels can enjoy honing their skills or challenging some friends to a game.
8. Spend a Day on the Water
Easton, Maryland, also offers fun outdoor activities on the water. If you own a boat, keep it safe at the Easton Point Marina, and take it out on the water for an adventurous or relaxing day anytime you want to.
If you don't own a boat, you can rent a kayak or paddleboard from Easton Cycle and Sport. Paddle through Easton's rivers and waterways for a fun adventure. You can enjoy the peace of nature in a kayak or stand up on a paddleboard and enjoy a unique paddling experience.
9. Collect Antiques
Easton is also home to antique shops. Whether you collect antiques or want to find some stylish vintage furniture for your home, you can visit the following shops:
The Cairn
Trumpeter Swan Antiques
Easton Antique and Art Gallery
10. Go for a Walk
If you are looking for free things to do in Easton, Maryland, consider exploring this beautiful town by foot. Whether you want to get some exercise, soak up the sunshine or enjoy a peaceful stroll, Easton offers plenty of places to walk.
The abandoned Maryland and Delaware railroad was transformed into the Rails-to-Trails path, which is 2 1/2 miles long and connects various small towns. You can walk, jog or bike on the trail and enjoy learning about railroad history at the museum converted from the original depot at the trail's midpoint.
11. Explore an Arboretum
If you want to take an even more peaceful and relaxing stroll in Easton, visit the Adkins Arboretum. Walk through diverse habitats and enjoy cultivated gardens featuring over 600 plant species of trees, shrubs, ferns, grasses and wildflowers.
The arboretum features five miles of paths, so there is plenty of space to explore and enjoy nature's beauty. Take an audio or guided tour to learn about the wildlife and plants within the arboretum, or enjoy a self-guided walk. You can also attend special events and programs hosted by the arboretum, which include the following:
Soup 'N' Walk programs
Rooted Wisdom: Nature's Role in the Underground Railroad
Art exhibitions
Seasonal community events
Bird watching
The Adkins Arboretum's Soup' N' Walk programs allow visitors the opportunity to enjoy a nutritious lunch, learn about nutrition and enjoy fun educational walks based on different themes. During a Nature and Underground Railroad Walk, visitors can learn how local land use and habitats played a part in history.
Visitors can also attend various community events throughout the year, including a beer garden, unique art displays, Fairyfest, Mother's Day Tea and a music festival. No matter when you visit the arboretum, you are sure to have a fantastic time.
12. Experience Wildlife and the Outdoors
Visit the Blackwater National Wildlife Refuge to experience wetlands, forest land, marshland and diverse plant and animal life. Enjoy five miles of hiking trails, explore on the water or take a fun car ride to spot wildlife. The refuge includes 17 miles of water you can paddle on and a 3.6-mile wildlife drive.
Whether you enjoy hiking, bird watching or photographing wildlife, the Blackwater National Refuge is an excellent location to experience the outdoors in Easton. The refuge also offers the following activities:
Hunting
Fishing
Trapping
Educational programs
Motorized boating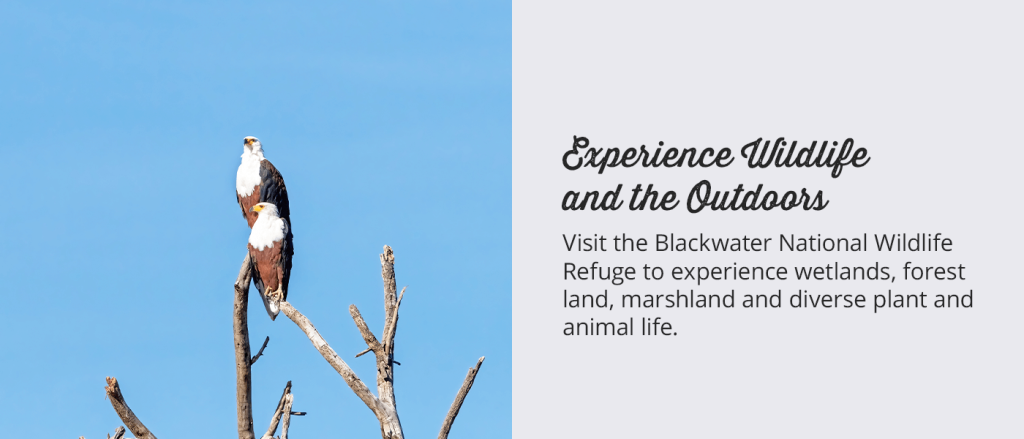 13. Bicycle Around Town
If you enjoy bicycling, you can cycle through Easton and neighboring towns via main roads and quiet back roads. Explore the town and take breaks to stop at local restaurants and shops to experience the charm of Easton and nearby locations such as St. Michaels, Oxford and Tilghman Island. You can even ride your bike to the Oxford-Bellevue Ferry and enjoy a ride across the Tred Avon River.
If you don't own a bicycle, you can rent one in town at Easton Cycle and Sport. You can rent a bike for half a day, a full day, three days or one week. Bicycling is a great way to explore Easton, exercise and enjoy a nice day.
14. Work on Your Health and Fitness
If you want to improve your health and well-being, consider joining or visiting Hearthstone Health and Fitness in Easton. The Hearthstone Health and Fitness gym offers exercise equipment, personal trainers and fitness classes to help you work toward your fitness goals and feel your best. They also offer the following services:
Massage
Steam room
Indoor HD putting green
A beverage bar serving smoothies, protein shakes and coffee
15. Enjoy a Game of Bowling
Visit the Easton Bowl bowling alley to enjoy a fun bowling session with friends or family. At Easton Bowl, you can join a bowling league or play just for fun. Enjoy food and drinks from a menu including delicious sandwiches, snacks, fountain drinks, beer, wine and hard ciders.
16. Experience the Waterfowl Festival
Enjoy a unique experience at Easton's Waterfowl Festival, which is held for three days every November. At the Waterfowl Festival, you can walk along Easton's streets and enjoy nature, wildlife, food, art, fun and heritage. When you attend the festival, you can enjoy the following vendors and events:
Street musicians
Duck and goose calling contests
Eastern Shore cuisine
Artwork
Wood-carved birds
Diving Dogs competition
17. Attend the Chesapeake Bay Balloon Festival
The Chesapeake Bay Balloon Festival is held just a short drive from Easton at the Triple Creek Winery. Witness beautiful hot air balloons, and take a tethered ride or flight if you're feeling adventurous.
At night, you can witness the hot air balloons light the dark sky, and each festival day features a DJ and live bands. Shop for handmade crafts and boutique products from over 75 vendors, and enjoy some delicious food from various food trucks and vendors.
18. Learn How to Ice Skate
Visit the Talbot County Ice Skating Rink to glide across the ice and develop your skills. Whether you're an experienced ice skater or have never tried it before, you can develop skills or simply enjoy a public skating session for fun. The Talbot County Ice Skating Rink offers various classes for all ages and experience levels. You can even join an ice hockey league if you enjoy sports.
Make Easton Your Home With Triple Crown Corporation
Easton, Maryland, is a gorgeous place to live with a wide variety of things to do. In Easton, you can enjoy the outdoors, experience history, attend exciting events and eat delicious food. Explore the town by foot on a relaxing walk, bicycle to nearby restaurants and shops or paddle your way down the river.
No matter how you choose to spend your time in Easton, you are sure to have a great time. Make this charming small town your home with Triple Crown Corporation. Our Brant Court Apartments in Easton offer convenient amenities, spacious floor plans and a modern design so you can live in comfort and style. The Brant Court community features a fire pit recreation area, a swimming pool with a sundeck and a community clubhouse.
Choose a one or two-bedroom apartment featuring walk-in closets, a washer and dryer, matte slate finish appliances, recycled glass countertops, central air conditioning and a private balcony or patio. Brant Court Apartments are pet-friendly, so you can own a four-legged friend as long as they meet breed and size restrictions. Contact us to learn more about how we can help you make Easton, Maryland, your home.