Whether you're new to the area or seeking to broaden your horizons, look here for the best takeout and curbside restaurants in Harrisburg, Pennsylvania. Harrisburg is rich with different cuisines, from Indian to American or Italian to Southern comfort. For those days when you want to curl up in front of the television or moments where you'd like to take the party to the local park, consider this list of 11 of the best places for takeout in Harrisburg.
The Best Takeout and Curbside Restaurants in Harrisburg
When you're in the mood for it, nothing can satisfy you like a good takeout meal. Takeout makes mealtime effortless and exciting, especially when you get to try new foods. Try one of the following takeout restaurants the next time you're craving something different.

1. Gabriella Italian Ristorante
When you aren't quite sure what you want to eat, you can't go wrong with Italian food. Italian food spans many different dishes like pasta, pizza and seafood. The best Italian destination in Harrisburg is hands-down Gabriella Italian Ristorante, located right of the river closer to Colonial Park.
Gabriella Italian Ristorante is owned by Pietro and Antonella Carcioppolo, a married duo with a shared passion for delivering Italian cuisine to local and visiting patrons. They opened their restaurant in 1997 after arriving in the United States in 1979 from Italy, bringing authentic Italian flavors with them.
After over a decade of service, Gabriella Italian Ristorante experienced an electrical fire, damaging the interior and exterior of the building. The Carcioppolos reimagined their restaurant and created an upscale atmosphere to go along with their sophisticated cuisine, which is where they serve loyal patrons today.
On their menu, you can find dishes like broiled crab cakes, eggplant parmigiana, calamari, pasta, flounder Francese and filet mignon. Whatever Italian flavors you're craving, you can easily find them at Gabriella Italian Ristorante.
2. The Millworks
Consumers are becoming more conscious of the foods they consume, so restaurants that source locally grown ingredients are all the rage. You can trust you're getting the freshest dishes at The Millworks, located in the Midtown area. Every aspect of The Millworks represents Central Pennsylvania's locality, including its demographic and agriculture.
When you pick up your food, take a moment to admire the historic timber and brick that adorns the building — and make a note to visit for in-person dining later so you can enjoy the warm and welcoming environment. Aside from their building's local roots, you can taste local flavors in every bite of your meal with organic ingredients sourced from local farmers.
Because they source from local farmers, The Millworks has a unique seasonal menu with in-season produce packed with many different cuisine influences. On their menu, you'll find brunch and dinner items like deviled eggs, fried green tomatoes, gravy fries, catfish hoagies, bourguignon, Thai ramen, seafood, pizza and more.
3. O'Reilly's Tap Room & Kitchen
The word "pub" is short for public houses, but they're actually different from public houses, which require a membership to patronize. Patrons at a pub can expect a warm, welcoming environment — and that's exactly what you'll find at O'Reilly's Tap Room & Kitchen.
Located to the right of the river off Interstate Highway 83, O'Reilley's Tap Room & Kitchen serves comfort food and Irish cuisine takeout. Their menu has something for everyone, including family favorites, guilty pleasures and healthier options for breakfast, lunch and dinner.
Their breakfast menu includes foods like avocado toast, omelets, pancakes, eggs and breakfast sandwiches. Equally good are their lunch and dinner menus, including meals like soft pretzels, french onion soup, grilled Reubens, fish and chips, pot roast and salmon.
When you get the chance, make sure to stop by O'Reilly's Tap Room & Kitchen for an in-house stay. Enjoy their live music, trivia nights and other eventful gatherings.
4. Gilligan's Bar & Grill
George and Leah Lois, the owners of Gilligans Bar & Grill, founded this upscale restaurant in 1993. They are customer-oriented, delivering both fine and casual dining experiences. Gilligan's Bar and Grill has many locations, two of which are in Harrisburg — one on Eisenhower Boulevard and another in Colonial Park.
On their menu, you'll find a wide range of fresh seafood, steaks, homemade pasta, garden salads and soups. As a sneak-peek into their menu, some items they offer include clams, crab and spinach dip, calamari, bone-in or boneless wings, french onion soup, crab cakes, flounder, filet mignon, lamb and chicken marsala.
When you're in the mood for a good blend of casual and fine foods in the comfort of your own home, consider Gilligan's Bar & Grill. They're sure to satisfy, no matter your current cravings.
5. Harvest Seasonal Grill & Wine Bar
When you're looking for reliably healthy takeout in the Harrisburg area, turn towards Harvest Seasonal Grill & Wine Bar. Many of their items are below 500 calories and made of the freshest ingredients. A large part of their missions lay in the belief that where food originates is equally important as what you eat. That's precisely why they work with local farmers.
Because they source locally, Harvest Seasonal Grill & Wine Bar offers seasonal menus with in-season ingredients. Examples of the types of cuisine you'll find at Harvest Seasonal Grill & Wine Bar are seafood, shrimp and noodle bowls, lemon thyme chicken, grass-fed filet mignon, eggplant parmesan and ravioli.
You can visit this sustainable restaurant in Harrisburg on the right side of the river, close to Colonial Park. Enjoy Harvest's fresh takeout at home or at the local park on a beautiful day for the perfect outdoor dining experience.

6. Lancaster Brewing Company
The Lancaster Brewing Company, as their name may suggest, specializes in quality brews. Their origins lay in Lancaster, where the Keares family — the founding family of the Lancaster Brewing Company — still operates. Brewers tap into those 300 years of local experience and their decades of personal experience as Lancaster's first commercially brewed beer.
Aside from brews, the Lancaster Brewing Company works with more than 5,300 local farms and Amish neighbors to source their fresh ingredients. By sourcing locally, the Lancaster Brewing Company can be more knowledgeable of their community and environmental impact while serving delicious foods.
The Lancaster Brewing Company is built on green infrastructure. On the south-facing side of their historic red-brick building, they built a stormwater collection zone with rain gardens, permeable pavers and a large cistern to prevent millions of gallons of stormwater runoff from contaminating waterways. Also, the Lancaster Brewing Company partners with GREENCROWN® Energy, relying on 100% renewable energy for their operations.
Their Harrisburg location — located to the right of the river at the Interstate Highway 83 and Highway 283 crossover — has a diverse dinner menu. Some of the items you'll find on their menu include blue crab and artichoke dip, mussels, wings, fried pickles, pizza, soups and salads, crispy fish sandwiches and fresh lamb meatball gyros.
7. Dodge City Steakhouse
Founded on September 4, 1980, by Doug and Debbie Krick, Dodge City Steakhouse serves American food staples at a level unlike any other.
Dodge City Steakhouse is most known for its meat. They use fresh, never frozen, USDA Angus Reserve beef loins and always hand-cut their steaks. The steakhouse is also known for its seafood, sourcing its fish fresh from the most reliable sources.
On their menu, you'll find lunch and dinner options and brunch on Sundays. Some items you can find on their menu include buffalo chicken eggrolls, Mediterranean salmon wraps, jumbo lump crab cakes, prime rib, beef tenderloin tips and pulled pork.
Get your next takeout order from Dodge City Steakhouse at their Harrisburg location, just outside of Downtown Harrisburg. With such high-quality options available to eat wherever your heart desires, you may never look at takeout the same way again.
8. Nalan Indian Cuisine
Indian cuisine is known for its use of many different spices, vegetables, grains and fruits. It's considered one of the world's most diverse cuisines, with influences from Persia, Greece, Mongolia and Europe. Much of Indian cuisine is widely vegetarian, although there are many meat-inclusive dishes you can enjoy. Regardless of the dish, you can expect a burst of unique flavors whenever you try new Indian foods.
One of Harrisburg's best Indian restaurants for takeout is Nalan Indian Cuisine. They're an authentic Indian establishment with a contemporary twist, located to the left of the river in Lemoyne. Some of their most popular menu items include garlic naan, chicken tikka masala, chicken curry, Gobi Manchurian and saag paneer.
When you're in the mood for a delicious array of spices, unique meat preparations and flavorful vegetarian options, give Nalan Indian Cuisine a try.
9. Olive Oil Grille
In today's culture, there's a high demand for healthy food that still tastes good. Brothers John and Niko conceptualized the idea for Olive Oil Grille to meet the growing need in the Harrisburg area for a healthy way of eating without compromising taste or enjoyment.
Olive Oil Grille is a casual Mediterranean restaurant located in Camp Hill. Their mission is to use the freshest, most wholesome ingredients in every dish they prepare. Each meal is antibiotic- and hormone-free, so you can feel good about what you're putting into your body. Olive Oil Grille seeks to source its ingredients from neighboring farms and ranches as a way to invest in the community while providing customers with the freshest and best-tasting food possible.
John and Niko structured their Mediterranean-inspired menu with simplicity in mind. First, you'll choose your style from options including grain bowls, salad bowls, pita bread or soup. Then, you'll choose your base, which could be anything from white or brown rice to different types of healthy greens. Next, you'll choose a dip or spread to add a unique flair to your dish. Then, you'll pick your protein, including options like grilled chicken, braised lamb or seasonal vegetables. Finally, you'll choose from diverse toppings to wrap up the experience.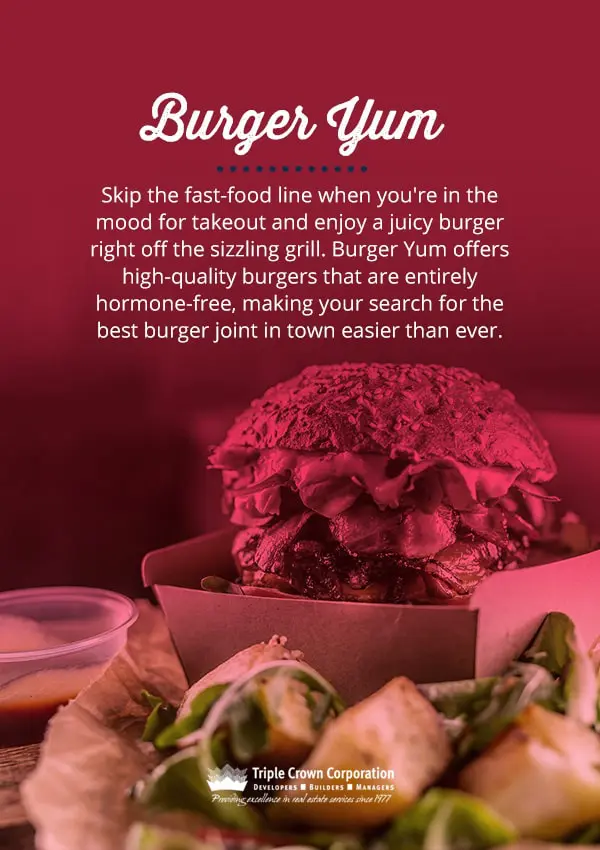 10. Burger Yum
If you're a burger lover, you know what it's like to enjoy one of those fresh-made sandwiches right off the grill. Located in downtown Harrisburg, Burger Yum is your burger connection whenever your craving comes. Burgers are an American classic, but with so many options available, it's not always easy to find ones that are worth your time and money.
Skip the fast-food line when you're in the mood for takeout and enjoy a juicy burger right off the sizzling grill. Burger Yum offers high-quality burgers that are entirely hormone-free, making your search for the best burger joint in town easier than ever. You also get to add your choice of toppings to your burger to make it exactly the way you like it every time. Of course, every burger needs a side of fries, and you'll love Burger Yum's fresh, crispy fries with yours.
Besides natural, fresh burgers, Burger Yum's menu includes chicken sandwiches, several hot dog varieties, milkshakes and ice cream. The next time you eat in, you can also check out their selection of local craft beers to find the perfect pairing for your meal.
11. Korealicious
One of the reasons people love takeout is for unique flavors they don't often prepare in their own kitchens. For a flavor explosion unlike any other, you should try Korealicious, located left of the river between Camp Hill and Lemoyne. This family-owned restaurant is only five minutes from downtown Harrisburg, making it one of the best takeout restaurants in Harrisburg when you're looking for spicy and unique flavors.
Korealicious is the product of a love story between a Korean girl from Seoul and an American Central Pennsylvanian boy. Together, their mission was to bring authentic Korean cuisine to Pennsylvania. Since the restaurant's founding, they've been voted Central Pennsylvania's best restaurant for several years, proving their success and commitment to quality.
When it comes to unique takeout options, Korean cuisine is something you have to taste to believe. The incredible combination of sweet, savory and spicy ingredients will have you going back for bite after bite — visit after visit. Korealicious's diverse menu includes items with liberal use of kimchi, which is a type of fermented cabbage. It's the official food of South Korea for a reason, as it adds flavor unlike anything else.
On their menu, you'll also find items like mandu, bibimbap, spicy stir fry, yangnyum chicken and one of their best-sellers, bulgogi. On Thursdays, they also offer Korean chicken wings tossed in fresh, homemade sauces. Whatever day of the week you choose to get takeout, you can be sure Korealicious will satisfy in a way only they can.

Experience Your New Community in Harrisburg With Triple Crown Corporation
If you're looking to move to the Harrisburg, Pennsylvania area, put your trust in Triple Crown Corporation to help you find your new home. Our mission is to provide excellent real estate services to make your move easy and even enjoyable. We pride ourselves on offering high-quality homes at the best value possible.
Browse our rental communities to learn more about the options available to you. Be sure to contact us with any questions or to take the next step in finding your new home. We look forward to serving you!