Harrisburg may be a smaller U.S. city, but it's full of character, history and charm. There is so much to do and see right here in Harrisburg, with many easy day trips to neighboring cities and attractions, too. Harrisburg is an important city, as the capital of Pennsylvania and a historical center for the whole Eastern United States. Its central location in Pennsylvania serves as a perfect transportation hub and makes it easy for area residents to explore all the immediate and surrounding areas have to offer.
The charming city of Harrisburg sits in the middle of beautiful Pennsylvania Dutch Country with much to see and do. And if the city life is what you like, popular East Coast urban destinations like Baltimore, Washington, D.C., New York City, Philadelphia and Pittsburgh are all just a few hours away, making for quick and easy day trips. Afterward, you can return to the combination of quiet peacefulness, outdoor adventure and entertainment opportunities Central Pennsylvania has to offer.
If you live in or around Harrisburg, there are plenty of opportunities for short trips this summer and other places to explore. Ready to find the fun in little "staycations" closer to home this summer? We've collected some of the best things to do in Harrisburg and nearby destinations to drive to from Harrisburg so you can fill the season with fun, excitement or relaxation.
What to Do in Harrisburg
There are plenty of fun things to do right in the city of Harrisburg. Here, you'll find many historic sites, museums, parks, entertainment spots and so much more. Explore Harrisburg and all it has to offer at these fun locations and attractions:

State Museum of Pennsylvania
For any history buff, the State Museum of Pennsylvania is one of the best things to do in the city of Harrisburg. Explore the many exhibits on natural history from the time of the dinosaurs all the way up to the modern era. Here, you'll also see exhibits on the Civil War, Native Americans, local wildlife, industry, geology, anthropology, astronomy and more. The attached planetarium means you can catch a show and learn about the stars during your museum visit, too.
Whitaker Center for Science and the Arts
Another fantastic museum in Harrisburg is the Whitaker Center for Science and the Arts. This fun and engaging museum has something for everyone, with lots of entertainment opportunities. The Whitaker Center features science exhibits, art galleries, live performances and shows. See Hollywood classic movies on a gigantic screen, experience a behind-the-scenes look at movie-making or try your hand at mixing music and DJing. There's a special kids' area, too, so everyone will enjoy this unique museum outing.
State Capitol Complex
Truly a work of gorgeous architecture and teeming with artwork of all kinds inside like murals and statues, the Pennsylvania State Capitol is a must-see destination in Harrisburg. Some of the influences for the building's design include St. Peter's Basilica in Rome, and the grand staircase is modeled after the one at the Paris Opera House.
Schedule a tour to learn more about the art, architecture and rich history of this beautiful downtown building. Or make it a quick stop on your tour of Harrisburg to appreciate the impressive architecture from the outside.
Fort Hunter Mansion and State Park
Located just beyond the northern suburbs of Harrisburg is beautiful Fort Hunter State Park. Gorgeous natural scenery and picturesque riverbanks wind through 40 acres of parkland here. Also on-site is the Fort Hunter Mansion — a stately Victorian mansion built in 1814 and one of the oldest standing buildings in Pennsylvania. Tour the home and learn about its history as both a private residence and a hub for frontiersmen and traveling settlers moving further inland from the East Coast. The home is an important part of the state's rich history.
Wildwood Park
Another gorgeous park just north of the city of Harrisburg, Wildwood Park makes for a quick and easy respite from city life. The park includes Wildwood Lake and many hiking and walking trails to explore. The beautiful natural surroundings are a popular destination for locals, especially anyone who's into birdwatching. Enjoy the lake, walking trails and peaceful woodlands of Wildwood Park, or visit the on-site Nature Center to learn more about the local plant and animal life.
Harrisburg Senators Games
Nothing says summer quite like baseball. And Harrisburg is home to the HBG Senators, a minor league team affiliated with the Washington Nationals. At FNB Field, right in Harrisburg, you can take in America's favorite pastime while noshing on some classic ballpark fare. Many local restaurants are featured at the stadium, serving up some of their fan-favorite cuisine. While you're there, check out the life-size bobblehead statues of baseball greats like Washington Nationals' Bryce Harper.
Boating on the Susquehanna
What could be a more relaxing way to see the city of Harrisburg than from a classic riverboat? Float down the gorgeous Susquehanna River on an old-fashioned riverboat — complete with paddlewheel — while you take in all the local architecture, bridges, islands and natural riverbanks. It's a fun and unique way to see the beauty of the city, even if you've lived here for years. Special events are available like dinner cruises or wine tasting cruises or tours that highlight history and more.
And if kayaking is more your speed, the Susquehanna is great for that, too. Bring your own and start paddling away, or check out the rental opportunities along the river.
City Island
Right in the middle of the Susquehanna River is City Island — 63 acres of parks and recreation in the heart of the city. Enjoy the best views of the city skyline while you explore the parks and walking trails on this unique urban island.
During the civil war, this island served as a resting point for Union officers, and recent evidence has shown signs of much earlier settlements by the Susquehannock and Iroquois tribes. Today, City Island features a golf course, minor league baseball stadium, miniature steam train, batting cages and other recreational opportunities, all in a beautiful, natural setting.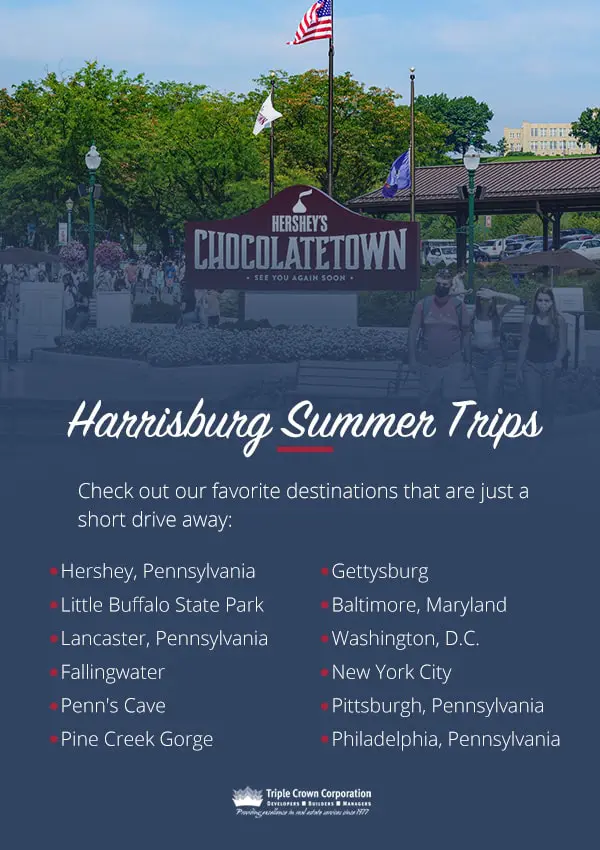 Harrisburg Summer Trips
If you're feeling like taking a day trip from Harrisburg, there are lots of fun and interesting options for short travel. And whether you prefer the big city culture and entertainment or enjoy the serene countryside, there is something for you near Harrisburg. Check out our favorite destinations that are just a short drive away:
Hershey, Pennsylvania
The town named for and dedicated to famed chocolate brand, Hershey's, is only a few miles away from Harrisburg. This sweet little village is home to Hershey's Chocolate World, where you can get a behind-the-scenes look at how chocolate is made, as well as the history of the Hershey company. Families love the rides and candy-themed attractions at Hersheypark, and everyone loves the opportunity to stock up on all their favorite chocolate treats! It's a chocolate lover's dream come true.
Little Buffalo State Park
For family fun and aquatic adventures, head over to Little Buffalo State Park. This beautiful park features hiking trails, boating opportunities, picnicking, camping, cabins available for rent, wildlife watching and other outdoor activities. Families with kids love the huge pool area with water slides and other water features to play in. There's even an exercise trail with stations for completing various exercises while you hike the natural surroundings. Get fit or just have fun at this unique and beautiful state park near Harrisburg.
Lancaster, Pennsylvania
Another top destination in Pennsylvania Dutch Country is Lancaster, and it's only about an hour's drive from Harrisburg. This little town is full of history, with settlers arriving in the area in the late 17th century. The settlement even served as the state's capital before Harrisburg took over that title. Today, Lancaster is host to many museums and historical sites, including several registered heritage sites and the home of former President James Buchanan.
Fallingwater
One of the most stunning and well-known works of architecture in the world is just a short drive from Harrisburg. Frank Lloyd Wright's masterful Fallingwater is world-famous for its gorgeous design and the way it incorporates its natural surroundings. Visit this treasured site and tour the home and surrounding area, taking in the architecture and peaceful naturally forested setting. Nearby, enjoy shopping and dining, as well as plenty of beautiful hiking trails. Architecture buffs can also explore several other nearby Frank Lloyd Wright Usonian homes in the area.
Penn's Cave
Anyone interested in geology or cave exploration will love Penn's Cave. This natural wonder is only a two-hour drive from Harrisburg and is a magnificent sight for anyone to see. Part of the cave is underwater and can only be explored by boat, making this unusual cave a true adventure! You'll be amazed at the natural rock formations and gorgeous underground spaces of Penn's Cave.
Pine Creek Gorge
Often referred to as the "Grand Canyon of Pennsylvania," Pine Creek Gorge lives up to this nickname. With gorgeous, sweeping views throughout this 47-mile long canyon, the Gorge is a great place to connect with nature. Hike the many trails in the area while you enjoy the wilderness and picturesque viewpoints.
Gettysburg
During the Civil War, the Gettysburg area was incredibly important, and the famous battle that took place here was a pivotal moment in the war. Today, the Gettysburg National Military Park, as well as the town of Gettysburg, is just a short drive from Harrisburg and makes a great day trip stop.
The park is a great place to learn about the actual battlefield and how the battle was fought. Nearby, you can also visit the Gettysburg National Cemetery and stop by the Heritage Center, Museum and Visitors' Center to learn even more about this historic site.
Baltimore, Maryland
Spend a day in Baltimore, and you'll quickly find out why it's called Charm City. This port city is loaded with character and history. Baltimore was the nation's capital before Washington, D.C. and is home to the first Washington monument. The Inner Harbor area has several museums within walking distance, the National Aquarium, shopping, dining and more. Take a water taxi ride or wander the quaint neighborhoods full of iconic rowhouses and charming details.
Washington, D.C.
Our nation's capital is also not far from Harrisburg and has much to explore. Many world-class museums, including the famous Smithsonian, make Washington, D.C. their home. In addition, you can visit many historical sites like the Capitol Building, the White House and the Lincoln, Washington and Jefferson memorials. This vibrant city is a great place to learn about our nation's politics and history or just enjoy the shops, restaurants and beautiful tree-lined boulevards and historic buildings.
New York City
The bustling metropolis of New York is a world-famous destination to visit, and luckily for residents of Harrisburg, it's only a few hours away. Spend some time exploring the expansive and beautiful Central Park and visit icons like the Empire State Building, the Statue of Liberty, Ellis Island, Rockefeller Center and Times Square. New York is also home to many, many museums and cultural centers, like the Metropolitan Museum of Art and the Museum of Modern Art, and many well-known shopping areas and world-class restaurants.
Pittsburgh, Pennsylvania
Known as the City of Bridges, Pittsburgh is a picturesque city with beautiful views of bridges and architecture along the intersections of wide rivers. This city is also considered the center for arts, culture and entertainment and is just a three-hour drive from Harrisburg.
The Carnegie Museums, the Andy Warhol Museum and many other museums and art galleries can be found in Pittsburgh. The city also features the Phipps Conservatory and Botanical Gardens and is home to several professional sports teams, so you can catch a game with your favorite Pittsburgh team.
Philadelphia, Pennsylvania
The City of Brotherly Love is Pennsylvania's biggest, and perhaps best-known, city. Philadelphia is only about a two-hour drive from Harrisburg and is full of things to do and see. With lots of parks, museums and other attractions, there's something for everyone in this bustling city. Here, you can see the Liberty Bell and Independence Hall, run up the steps like Rocky, enjoy a classic Philly cheesesteak, explore the hip riverfront area and see the sights. It's a great place to take in history and culture.

Come Home With Triple Crown Corporation
Triple Crown Corporation is proud to provide excellence in rental properties, offering some of the finest rental communities in the greater Harrisburg area. You'll find a wide variety of townhomes and apartments in our rental communities with plenty of great community amenities and excellent tenant services.
Make Harrisburg your home and experience all of these amazing local opportunities and nearby day trips, then come back home to the peace of your Triple Crown Community. Contact us today to find your next Harrisburg area home.