Chocolate is the most popular type of ice cream, with 16 percent of people pledging allegiance to that classic flavor, according to Statista. Other top flavors include:
• Cookies and cream: 13 percent
• Vanilla: 12 percent
• Cookie dough: 11 percent
• Mint chocolate chip: 11 percent
• Strawberry: 9 percent
• Butter pecan: 8 percent
• Other: 7 percent
• Rocky road: 6 percent
• Coffee: 6 percent
Some people might think of ice cream as a warm weather treat. The cold, sweet flavors of ice cream certainly taste delicious when paired with sunshine and shorts, but anyone with a sweet tooth knows ice cream is a year-round indulgence.
If you are moving to Harrisburg, Pennsylvania, you can enjoy your ice cream outside in the hot summer months and indoors during the chilly winters. The hottest month of the year is July with an average high temperature of 86 degrees Fahrenheit, while the coldest month of the year is January with an average low temperature of 23 degrees Fahrenheit, according to U.S. Climate Date.
Hot or cold, find your favorite flavor at one, or more, of these 14 must-try ice cream shops in and near Harrisburg.
3B Ice Cream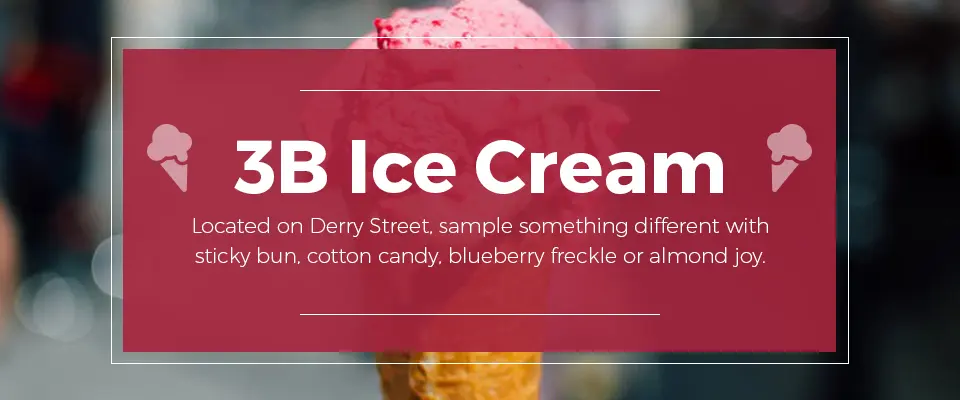 If you are looking for a delicious ice cream in Harrisburg, PA, 3B Ice Cream should be one of your first stops. This local creamery, aptly located on Derry Street, has an extensive menu. Enjoy classic flavors like vanilla, chocolate and butter pecan. Sample something different with sticky bun, cotton candy, blueberry freckle or almond joy.
3B Ice Cream serves up classic soft serve ice cream, decadent sundaes, ice cream floats, shakes and malts. Try the shop's different delicious cones, which come in waffle, sugar, pretzel and rainbow sprinkle style. If you are looking for something a little more substantive, 3B Ice Cream also serves up subs and sandwiches.
Chill Glorious Ice Cream
For anyone who likes to eat local, Chill Glorious Ice Cream will be worth a quick 20-minute drive to Hummelstown, PA. This ice cream shop makes all natural ice cream and sorbets with organic, local ingredients and fresh fruit. Each of its flavors is made onsite. Don't expect any cones when you come here. All the flavors are served up in six-ounce cups.
Try classic options like salty caramel or country road mint. Adventurous ice cream-lovers will be thrilled to find flavors like pumpkin chai, pineapple and hibiscus pamplemousse sorbet on the menu. In addition to its six-ounce cups full of flavor, Chill Glorious Ice Cream whips up milkshakes and frozen lemonade. For something truly indulgent, try the shop's very own ice cream sandwich: The Space Cake.
Chill Glorious Ice Cream does have limited hours. Check the shop's operating hours online before hopping in the car.
Fox Meadows Creamery
Fox Meadows Creamery is a 40-minute drive outside of Harrisburg, but once you have had one of the shop's "cow to cone" ice creams, you won't be able to resist coming back. The family-owned business makes all their ice cream using milk from their own cows.
The creamery menu is broken up into classics, sweets, chocolates, featured flavors and fruits. Try the Wilbur chocolate or the mint chocolate chip from the classics menu. The sweets menu offers delightful flavors like honeyed lavender and caramel macchiato.
True chocolate lovers will fall in love with the Nutella and mocha brownie ice creams. The featured flavors get more creative with options like spearmint matcha and maple syrup with glazed walnuts. The fruits section of the menu offers sweet flavors like black raspberry and key lime pie. Anyone who is dairy-free can join the fun with the creamery's sorbet options.
Fox Farm Creamery serves its delicious creations in homemade waffle cones or bowls. You can also opt for a traditional cone or bowl.
Hall's Ice Cream
Hall's Ice Cream is one of the best ice cream shops near Harrisburg, PA. This shop is in Millerstown, which is about a 30-minute drive from Harrisburg. The family-owned business has been making ice cream since 1947.
The shop's extensive flavor list covers all the classics — from chocolate and vanilla to coffee and cookie dough. You can branch out and try flavors like cinnamon, Irish crème, coconut custard and more.
The ice cream shop offers many of its flavors in a sugar-free or lite version. Come in for a quick scoop, or buy Hall's in a three-gallon container or five-quart bucket.
The Jigger Shop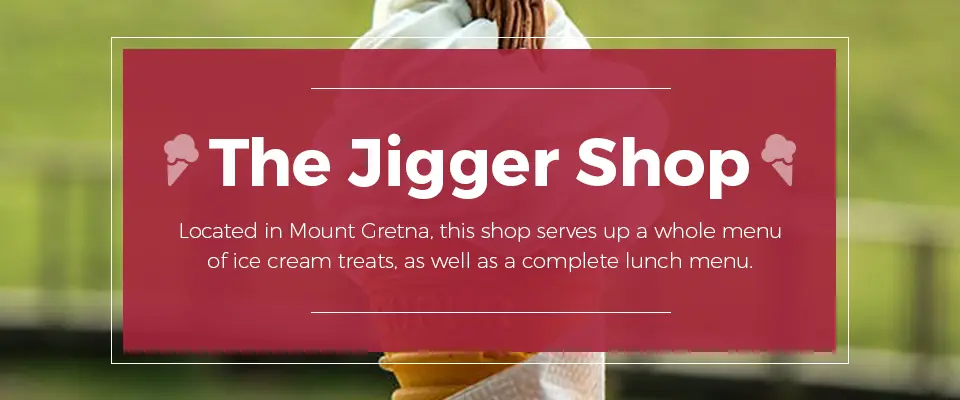 The Jigger Shop is a classic ice cream parlor located in Mount Gretna, PA, just 30 minutes outside of Harrisburg. This shop serves up a whole menu of ice cream treats, as well as a complete lunch menu.
The Jigger Shop specialty is a sundae made with two and a half scoops of vanilla ice cream, your choice of chocolate or butterscotch topping, whipped cream and nuts. Other classic ice cream options include the banana split, strawberry shortcake, baked Alaska, smores sundae and banana fudge royal. There's a wide variety of ice cream flavors, ice cream sodas and milkshakes.
If you feel like eating a meal with your ice cream, you can order salads, soups, wraps, sandwiches and more.
King Kone Creamery
King Kone Creamery's name suggests royalty in the ice cream world, and you should expect nothing less from its flavors. You may have guessed from the puny name — gorillas rule supreme at this creamery. Try the Gorilla Claw, a mind-boggling creating of caramel ice cream, brownie and caramel sauce. Try other themed dishes like the Gorilla Split or Monkey.
This shop is in Hummelstown, just a quick drive away from Harrisburg. Sit inside or grab your ice cream to go in the drive through lane.
Kristy's Whistle Stop
Take a nostalgic walk into the past with this 1950s-themed ice cream spot. Kristy's Whistle Stop is in Enola, PA. It takes just eight minutes to drive there. The shop specializes in soft serve and hand-dipped ice creams. Slurp on a cone with flavors like peanut butter cup, moose tracks, cookie dough or raspberry.
Kristy's Whistle Stop serves scrumptious milkshakes and sundaes. Choose from milkshake flavors like chocolate marshmallow, orange creamsicle, blueberry, teaberry and more. Sundae flavors range from pineapple and strawberry to peanut butter and butterscotch.
For the ultimate indulgence, try a hurricane. These frosty treats blend ice cream with delicious chocolate candies like Butterfinger, Heath Bar, Peppermint Pattie and more. Kristy's Whistle Stop also serves hot dogs, chicken fingers and other grilled fare if you are in the mood for something savory to balance out that sweetness.
Leo's Homemade Ice Cream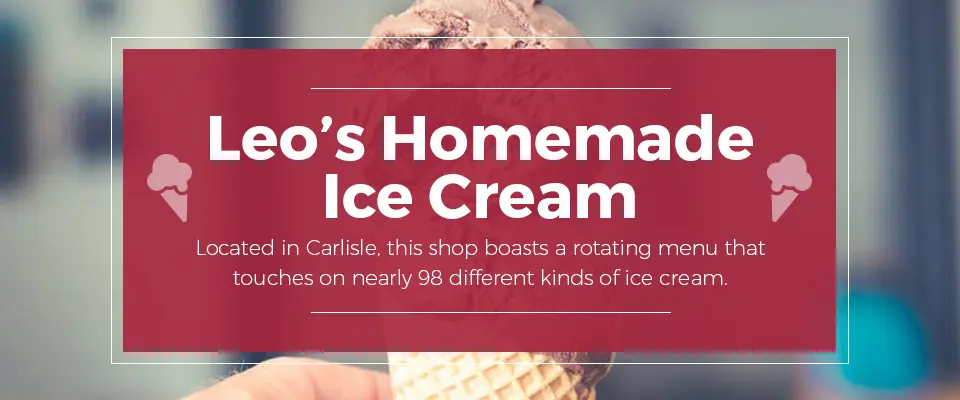 Leo's Homemade Ice Cream is a short drive away in Carlisle. This shop boasts a rotating menu that touches on nearly 98 different kinds of ice cream. Leo's will always serve vanilla, chocolate and raspberry, but the rest of the menu changes frequently.
The menu is broken up into flavors the shop will usually have, often have and sometimes have. Flavors usually on the menu include options like cherry vanilla, almond joy, mint chocolate chip and orange pineapple. Flavors Leo's will sometimes have include cinnamon Oreo, pear sorbet and pecan sticky bun. Some of their less common, but equally delicious, flavors include anise, eggnog, ginger, honey sunflower vanilla and jalapeno corn bread.
Leo's also dishes out classic options like ice pops, hot fudge sundaes, floats, banana splits and milkshakes. If you find yourself craving Leo's all the time, grab something from the to-go menu. The shop offers pints of ice cream to go and ice cream pies. The pies come in flavors like caramel pecan, coffee chocolate chip and pumpkin. Who could resist a slice or two of a pie like that?
Phillip Arthur's Old-Fashioned Ice Cream Parlor
Phillip Arthur's Old-Fashioned Ice Cream Parlor is part of Phillip Arthur's Cafe in Hershey. The café serves pizza, pies and strombolis. The restaurant also serves breakfast on the weekends. The ice cream parlor is designed to resemble a 1940s-soda fountain, complete with a granite counter with stools. Customers can order everything from chocolate sodas and root beer floats to ice cream cones and sundaes.
The ice cream parlor adds another old-fashioned touch with throwback candies like candy buttons, Sugar daddies and licorice.
Reeser's Soft Ice Cream
Reeser's Soft Ice Cream has some of the best ice cream near Harrisburg, PA. A quick, 20-minute drive will bring you to Reeser's Soft Ice Cream, a seasonal shop open on weekends from March to October, located in Lewisberry. Reeser's is a perfect warm-weather haunt with an outdoor window for ordering and outdoor seating.
Get classic frozen yogurt flavors like chocolate, vanilla, raspberry and peanut butter. You can also mix it up with Reeser's artic swirls. Swirl flavors include options like York Peppermint Patty, Heath Bar, raspberry cheesecake, coffee toffee, rocky road, butter pecan, brownie buster, mudslide and more.
Reeser's may be known for its soft-serve ice cream, but it also serves other classics like sundaes, banana splits, malts, floats and milkshakes. The summer spot also serves hot food like hot dogs, burgers and fries. Grab a pint or quart of ice cream to take home.
sweetFrog
sweetFrog is a chain of frozen yogurt shops. There is a location right in Harrisburg. This spot may not be family-owned, but it is worth your time. The frozen yogurt shop's flavors range from light and fruity to rich and chocolaty. Try the caramelized pineapple and strawberry shortcake or the hazelnut gelato and banana flambé gelato. The sweetFrog menu has something for everyone with options like nonfat, low-fat, non-dairy, no sugar added and gelato.
After you pick your flavor, you have a whole array of toppings to consider. Top your frozen yogurt with fresh fruit like blueberries, banana, mango, raspberry, coconut or kiwi. Choose from nuts like almond, peanuts or walnuts. If you have a sweet tooth, pick candy bits, cookies or hot fudge sauce.
Sweet Willows Creamery
Sweet Willows Creamery has bright, cheery exterior that welcomes its guests. The creamery has an ever-changing menu of fresh, handmade ice creams. Some of the staple flavors you can count on the shop to have are double dark chocolate, coffee, cherry chocolate chip, black raspberry, wild Maine blueberry and mint chip.
Sweet Willows Creamery also has Tahitian vanilla grape nut and midnight cappuccino crunch frozen yogurt. Dairy-free ice cream lovers can order sorbet that comes in flavors like watermelon, cherry, mango, lemon and strawberry.
Sweet Willows Creamery has its own ice cream truck — you might be able to catch these flavors out and around town. The bricks and mortar location is in York, which is about 30 minutes away from Harrisburg.
To take something to go, you can order ice cream sandwiches and ice cream cakes.
Twistin' Pig
The Twistin' Pig is a classic ice cream joint in Annville, a 30-minute drive outside of Harrisburg. The building looks like a 1950s throwback, and the ice cream menu is an extensive ode to everyone's favorite frozen treat. If you want something simple, you can enjoy the shop's traditional soft serve options: vanilla, chocolate or twist in a cone or dish.
If you are in the mood for something a little different, try one of the more than 40 different ice cream flavors they have on offer. Twistin' Pig serves up everything from amaretto to watermelon. You can even request to blend your choice of flavor with chocolate or vanilla ice cream.
The Twistin' Pig likes to let its customers get creative. Create your own sundae from a list of almost 20 different toppings and extras. Pick a bunch of different mix-ins to blend into your ice cream, and enjoy a custom Twister. The shop also has different floats and specialty sundaes. If you are looking to have a meal, the Twistin' Pig's menu features burgers, wraps, hot dogs, classic grilled food and salads.
Urban Churn
Urban Churn has some of the best ice cream in Harrisburg, PA. This shop focuses on traditional ice cream making techniques. The store's process starts with mixing the basic ingredients for every flavor. Then, large paddles churn the ice cream in the making in a large metal tub. The metal tub is then placed in an oak barrel filled with ice and then salt. A machine mixes everything together to create the delicious final product. The shop's owners pride themselves on the texture and flavor of their creations.
Urban Churns makes classic flavors like chocolate, vanilla, mint chocolate chip and salty caramel. They also churn out some delicious seasonal flavors like sassy Santa ice cream, peppermint joy and New Year's Eve ice cream. New Year's Eve ice cream is a delightful combination of vanilla ice cream, M&Ms and a little bit of chai flavoring.
When you are ready to move to Harrisburg, reach out to Triple Crown Corporation. We will help you find just the right rental to fit your needs. Once you settle into your rental home, you can find your favorite flavor at one of the best ice cream shops near Harrisburg, PA.