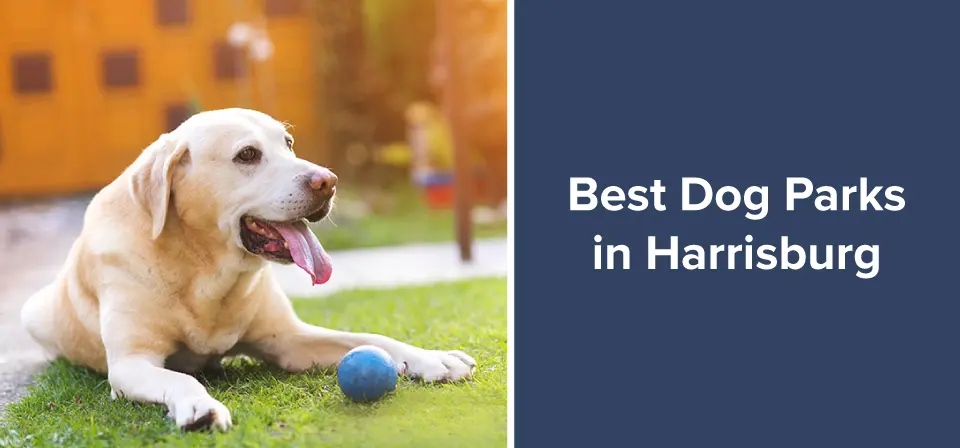 It's summertime. The flowers are blooming, the sun is shining, people are relaxing by their pools – but you and your favorite pup are still cooped up inside.
If you aren't sure where to take your four-legged friend, this can be frustrating. But if you live in one of Triple Crown's pet-friendly apartments, or anywhere else in the Harrisburg area, we've got you covered. This list of the best dog parks in Harrisburg and the surrounding area comes recommended from hundreds of dog lovers just like you.
In no particular order, here are eight dog-friendly parks near Harrisburg, PA you can check out this summer.
Lower Allen Township Community Park – Lisburn Rd, Mechanicsburg
This park is a wonderful place to take your dogs, get out into nature, and maybe meet some other dog-owners and their dogs, too.
There are separate areas for bigger and smaller dogs, which helps keep everyone's pets safe and happy. Different size dogs often have different playing styles and what might be fun for a larger dog could end up hurting a smaller dog. The convenience of having separate areas eliminates this possibility and lets you relax without having to worry about the safety of your pup.
The park also has fountains, shady trees for you and your dog to rest under when you need a break from playing, and chairs to relax in.
The dog park is also a smaller part of the larger community park that is located right along the beautiful Yellow Breeches Creek, which makes it a great place to spend an afternoon.
After your dog is done playing, you can walk over to the larger park to have a picnic, hike some of the well-kept nature trails, wade in the shallow parts of the breeches, or play some ball on the fields. This park also boasts restrooms in the community center, which is a restored barn.
Its Mechanicsburg location is also a great central destination, whether you're coming from Harrisburg or somewhere on the West Shore.
Shaffer Dog Park – Carlisle Spring Rd, Carlisle
This park is a little further out from the city, but it's well worth it if you can make the drive.
It's a members-only park, and members pay $50/year and are given a key fob that allows them access. This fee might seem rather steep at first, but goes towards caring for the park.
There are dedicated small and large dog areas, as well as plenty of shade trees, benches and water fountains. The park itself is meticulously maintained and cared for and is also generally less crowded due to the membership requirement.
Happy Tails Dog Park – Dowhower Rd, Harrisburg
This is a dog park within a larger park, and is a space set aside for dogs within Kohl Memorial Park in Lower Paxton Township. This makes it a great option if you're looking for someplace to take your dog on the east side of the Susquehanna.
One of the biggest advantages of this park is its sheer size. The dog park section is almost two acres, which gives your dog plenty of room to roam around and explore. It's also surrounded by 5ft fencing so that your dog stays safe and doesn't accidentally wander out of the park.
Canine Meadows -Mundis Race Rd, York
Canine Meadows is also a section of a park, and is located in John Rudy Park in York. It features three separate areas for large and small dogs, and plenty of space for your dog to run around and play.
It's also a great place for dog owners to meet and socialize with one another while their puppies play in the sunshine and grass. There are always plenty of dogs here, so if your dog likes to make friends, they will definitely be able to find some.
Biglerville Dog Park – Table Rock Rd, Biglerville
This might be a bit of a drive if you live in the city or on the east side of the Susquehanna, but is a great option for dog owners on the West Shore.
This dog park is still relatively new, and just opened a few years ago. It's beautifully maintained and boasts separate areas for big and small dogs. It promises to become an even more beautiful spot in the future, adding new benches, trees and other features.
Because this park is relatively new, it's unlikely to be as busy as some of the older, more well-known parks. If your pup is a little shy and would rather have more space without meeting too many other dogs, this just might be the park for you.
Beau's Dream Dog Park – Buchman Rd, Lancaster
Formerly known as Buchanan Dog Park, this park won $500,000 in a contest from Benefit and got treated to an extreme makeover in 2012. Now, it's nothing short of a dog paradise.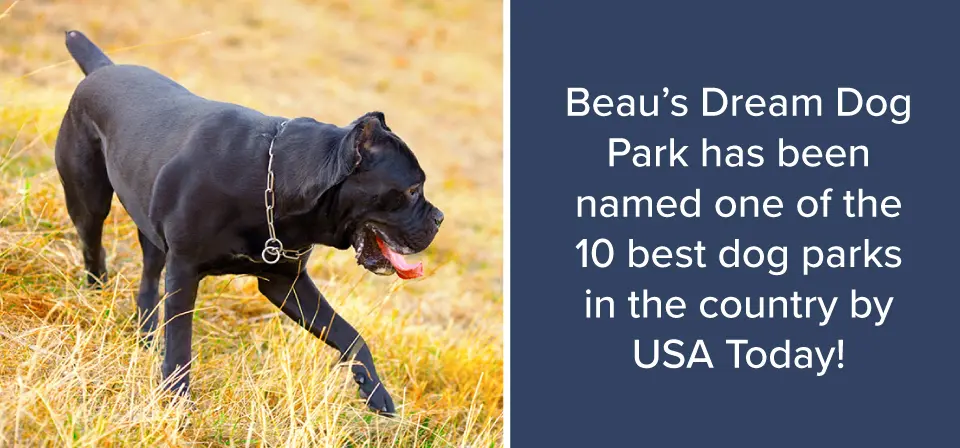 The park features a wide range of specialty features, like decorative sculptures, water sprinklers, astro-turf and obstacles for your dogs to enjoy. It's also been named one of the 10 best dog parks in the country by USA Today!
West Manheim Park – Bartholomew Rd, Hanover
This park is a great option if you're looking for a park in the area south of Harrisburg. It's a perfect spot for you and your dog to relax for the day.
The park includes separate play areas for large and small dogs, as well as over six miles of nature trails to hike and bike, picnic areas and ball parks. With so many great options, you're sure to enjoy a wonderful afternoon at this park.
The Canine Spa – Ore Bank Rd, Dillsburg
The Canine Spa isn't a traditional dog park like the others on our list. It's an indoor spa and water park for your dog.
Here, your pup can play in the water to their heart's content. And when they're done playing, there's a station for you to get your dog nice and clean again before you go home.
This is a great option if the weather is bad, or if your dog is recovering from an injury and can't run around outside very well.
With such a wide variety of options in the Harrisburg area, you and your dog are sure to find a park that you both love.
Of course, dog parks aren't always just a free-for-all. Most dog parks have rules posted and many of them are patrolled regularly to make sure that both dogs and their owners are following the rules.
Even though some parks might not have specific rules posted, all dog parks expect their visitors to meet a few basic expectations.
If you're new to the dog park experience, here are a couple of guidelines to help you and your dog both enjoy your outing together as much as possible.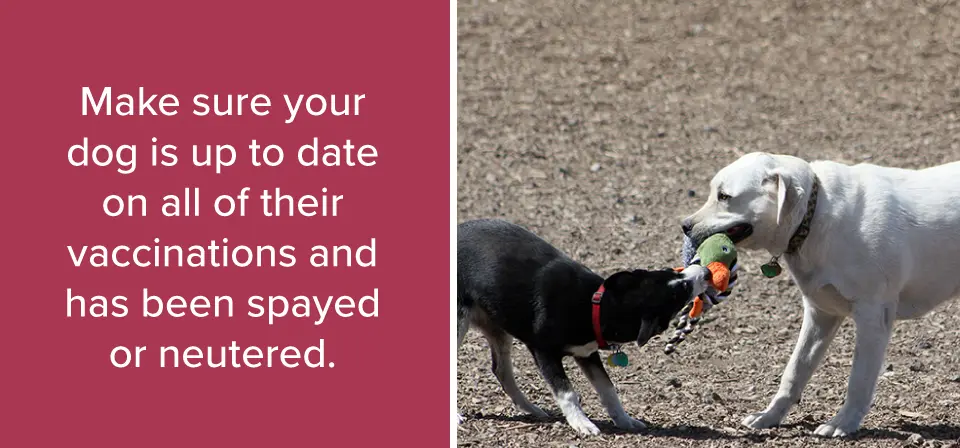 Dos
Do make sure you're aware of the official rules. This might mean checking the park's website or looking for rules posted somewhere in the park. Most parks don't allow small children, visits after dark, or alcohol. Every park's rules are different, so make sure you look them up and abide by them.
Do make sure your dog is up to date on all of their vaccinations and has been spayed or neutered. Not every park requires this, but most do, so it's better to be safe than sorry.
Do clean up after your dog. Be respectful of others who will be using the park. No one wants to be dodging dog waste. Most parks will have trashcans and plastic bags for easy disposal.
Do bring fresh water if there isn't any available at the park. If you aren't sure, bring some just in case.
Don'ts
Don't bring your dog if they won't enjoy it. Not every dog is right for a dog park. Some might get too excited and accidentally hurt other dogs, while others are too shy. Dog parks should be a great experience for everyone. If your dog might hurt another dog, or not enjoy themselves, maybe a dog park isn't the best idea.
Don't bring your dog before they're ready. Make sure they can be depended upon to come when they're called, and that they've been socialized and know how to get along with other dogs. If your dog is new to dog parks, it might be a good idea to start slowly by bringing them during the less busy hours, when they'll be less likely to run into crowds.
Don't ignore your dog. One minute they might just be sniffing another dog, the next minute it could develop into something more aggressive. It's important to keep a close eye on your pet as they're playing and help everyone stay safe and happy.
Off leash vs. Leashed Dog Parks
When it comes to choosing which dog park to visit, remember that not all dog parks are the same. Most dog parks are "off-leash" dog parks, meaning that the dogs roam freely while their owners watch from a bench. There are exceptions to this, however, and some parks require all dogs to stay on leashes. This is especially true with parks that are dog-friendly, rather than dedicated dog parks.
Both types of dog parks have their benefits and drawbacks.
The benefits of an off-leash park are numerous. Since many dogs live in either cities or suburban neighborhoods, they lack access to open spaces to run and play. And even though many owners take their dogs for daily walks, most communities have strict laws about keeping dogs leashed. This means that a lot of dogs don't get much social interaction with other dogs, or the freedom to roam around.
Off-leash dog parks provide a place where dogs can do these things, and the benefits of off-leash time are impossible to deny. Dogs that get this playtime are less likely to develop behavioral problems and attention-seeking habits.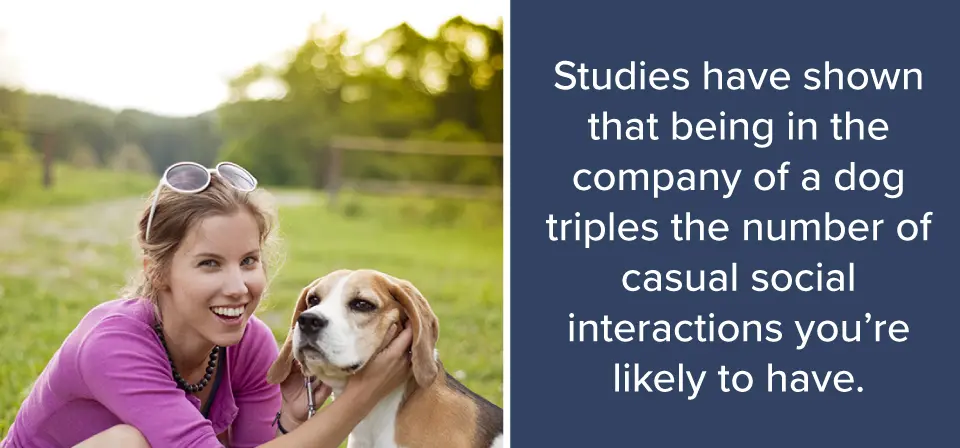 These parks are also a great place for pet owners to meet and chat with one another. While it might seem awkward to start a conversation with a complete stranger, your dogs give you something in common, and an easy place to start a conversation. In fact, studies have shown that being in the company of a dog triples the number of casual social interactions you're likely to have.
Of course, not everyone is in favor of off-leash dog parks. There are a few valid concerns about them as well. Some people worry that pet owners will simply substitute a trip to the dog park for their dog's daily walk. And while play time at the park is valuable, it isn't a substitute for a daily walk.
There are other concerns that being off-leash can be dangerous for their dog, and that owners might be tempted to be less attentive than they should be. They might not notice if their dog becomes aggressive with other dogs, ingests something they shouldn't, or attempts to run away.
Others worry that this off-leash environment invites trouble, as some owners are apt to break the rules and bring dogs who haven't been properly vaccinated. Owners worry about the health risks this poses for their dogs as they interact with unvaccinated dogs.
If your dog is small and might be easily overwhelmed by trying to play with bigger dogs, maybe it's best to keep them on a leash. On the other side of the spectrum, if your dog is larger, tends to be more excitable and could easily hurt other dogs without meaning to, they may also be best on a leash.
At the end of the day, there is no one type of dog park that's best for everyone. For some pets and their owners, an off-leash park is a great idea. For those that are concerned about the potential issues we mentioned above, it could be best to stick to a leashed park. It depends on your dog and what they need.
If your dog is well behaved, knows how to interact with other dogs and is in good health, the two of you will be able to enjoy a fun afternoon at the dog park. Check out the parks on this list, or maybe even venture past central PA to find other spots not listed here. Either way, your dog is sure to appreciate the time at the park, and you probably will, too.