An apartment lease includes the details of a rental agreement. It defines the agreed upon responsibilities of the landlord and tenant, and when signed, it protects the rights of each in court in case of default or failure to fulfill the rental agreement.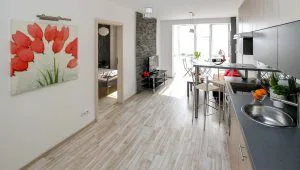 Types of Apartment Leases
There are typically two types of leases, and their duration can vary based on the property and the tenant. Though a one-year period is standard, a landlord and tenant decide together how long a lease will be for an apartment:
Long-term leases are the most common and can last one or two years. Landlords like them because they guarantee a steady income for the duration, and tenants like them because they know their rent won't change for the length of the lease.
Periodic leases can be month-to-month, three-months or six-months. They bring in higher monthly rent for a landlord and allow a renter to move out within a short time.
What Leases Define
After the lease period is determined, the agreement will state the rent, required deposits and any other fees, as well as the agreement between the landlord and tenant to meet defined responsibilities:
Tenants: You and any roommates who will be responsible for paying rent.
Rent: The amount and due date you and your roommates agree to pay for your monthly rent and any services included. Also, your landlord may require payment in advance for the last month's rent.
Deposits: This is the amount you will pay your landlord in the event they have to fix any damage you caused while living there. Pet deposits are additional and usually non-refundable.
Length of Lease: This describes how many months you are under contract to pay rent.
Early Termination or "out" Clause: This section will explain what you will pay to get out of your lease. If that isn't an option, ask your landlord if they are willing to let you sublease your apartment. If you can, be sure to add that to the lease agreement.
Giving Notice: Your lease agreement should include the amount of time your landlord expects you to give before moving out. It takes time to advertise, clean, repaint and interview prospective tenants to fill a vacancy.
Community Guidelines: This will cover community rules for living and sharing amenities as well as policies concerning pets, parking, visitors and services.
Maintenance: This covers what your landlord is responsible for, such as lawn mowing, snow plowing, shoveling and appliance repairs, as well as what you can and can't do to the interior of your apartment.
Leases: They're Good for Everyone
A lease that defines the terms of an agreement between a landlord and a tenant is one that grants equal protection under the law. It's a good idea to keep a record of your payments for rent, repairs or any other fees associated with your apartment. It is unlikely that you should need to go to court during your time as a renter, but if you do, a record will help you make your case and show that you have met the responsibilities described in your lease agreement.
Our leasing agents can answer any questions you may have about leases. Please give us a call and let us know how we can help!