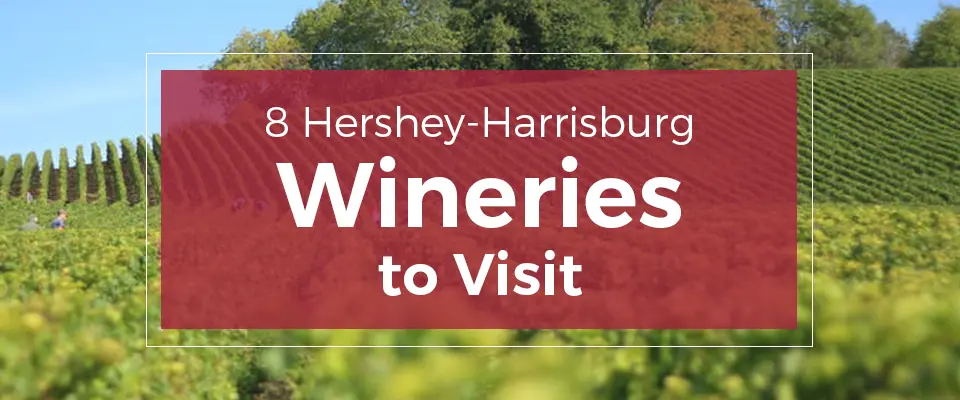 The rolling hills of central Pennsylvania are home to their very own Hershey-Harrisburg wine country — It makes a lot of sense because this place has been home to the Hershey Bar since 1900. Even if the wine and chocolate pairing isn't your thing, these wineries near Harrisburg and Hershey, PA have a lot to offer.
West Hanover Winery
This is one of the first wineries in Harrisburg, PA. It's the oldest operational winery in Dauphin County — and it's aged well. Located just 12 miles east of downtown Harrisburg, and less than 10 miles from downtown Hershey, this winery is conveniently located near many of the area attractions, making it easy to add to your list of places to visit. Nestled among the trees, this vineyard is a place many choose for their weddings and other special events. West Hanover Winery also hosts concerts and festivals throughout the year that are open to the public. If big events aren't your thing, stop by any day of the week for a wine tasting. The friendly staff will welcome you as if you're an old friend, as they share some of their 45 years of experience with you and pour you a sampling of wines that match your preferences. They might even push you out of your comfort zone to try some new flavors, but only if you want to!
If you like what you taste, the good news is you can get a discount on the bottles you choose to take home with you — 5% off three bottles, 10% off six bottles and 15% off 12 bottles. As a local, these discounts and the convenient location mean you can stock up on your favorite wines while you're out running errands.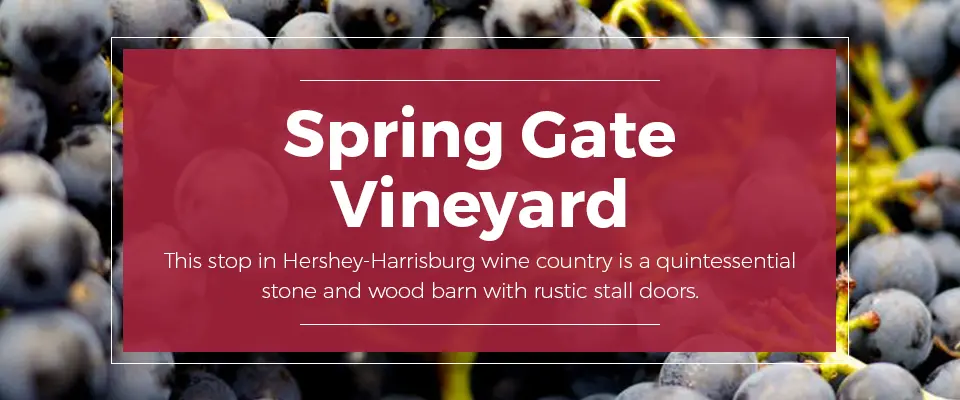 Spring Gate Vineyard
Home to the largest beer garden in central Pennsylvania, this stop in Hershey-Harrisburg wine country is a quintessential stone and wood barn with rustic stall doors. The barn and grounds are located on sixty acres that were originally an 18th Century European settlement. The winery itself, however, isn't quite ten years old — beginning with a "test acre" of grapes in 2010. They do occasionally offer public tours of the vineyard to give visitors a behind the scenes look at some of the areas of the property that are not open to the public.
Whether you stop when the weather is beautiful and enjoy their acres of outdoor patios and green yard, or during the winter to escape the cold in the near 3000 square feet of space, you won't be disappointed. Every week, their tasting menu changes, but it always includes 8-10 selections that are chosen by the manager. In addition to the traditional wine tastings, they also have a variety of big events, like BBQ Feast and music festivals. As if that wasn't enough, they also have a happy hour special for almost every night of the week. If you'd like to have a bite to eat to accompany your glass of wine, Spring Gate Vineyard has a menu of light fare you can order.
If you live nearby, you can take advantage of their Tuesday Club — just sign up for $15, and you'll immediately receive a free bottle of wine. Once you're a member, you have the opportunity to enjoy 20% every Tuesday when you pay with a credit card.
Cassel Vineyards of Hershey
When you visit this place, you're sure to meet part of the fifth generation of the Cassel family — the family that has owned and farmed this land since the early 1900s. The family established Cassel Vineyards in 2008. When you visit this winery, located in Hershey, PA, you have the opportunity to enjoy a glass of wine in a clearing among the vines. Part of what makes this vineyard so unique is the horses you'll see grazing on the hillside — the farm property is also home to Cassel Brookside Stables. In addition to horses, you might spot a few free roaming peacocks as you enjoy your glass of wine.
Every Friday and Saturday night, this winery turns into a live music venue, free of charge, called "Music in the Vines" — and it's sure to feature music you like. Every week is something different; they have everything from cover bands to blues. On Sundays, you can try your hand at open mic night. In addition to these weekly events, they have a few larger events throughout the summer, including Kentucky Derby Day — don't forget your hat!
Open Thursday – Sunday, you're welcome to BYOF (bring your own food) for a picnic or, take advantage of the food truck that's almost always parked nearby. Located less than five miles from downtown Hershey, PA, this winery is conveniently located near several other area attractions.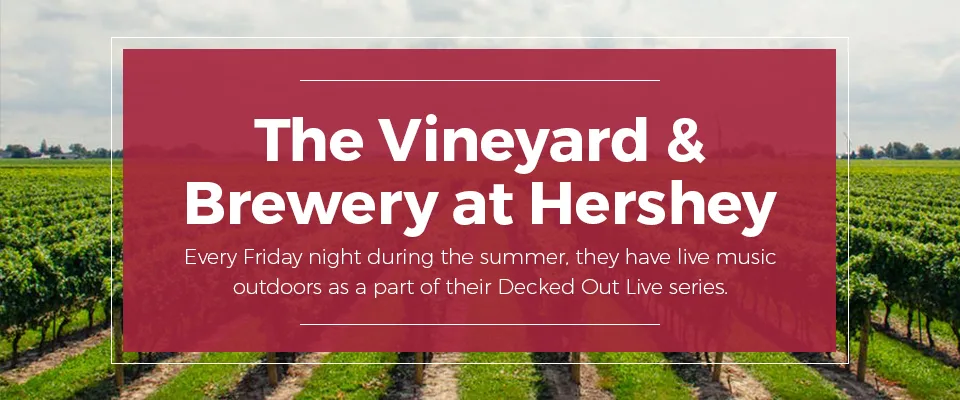 The Vineyard and Brewery at Hershey
This stop on the Hershey-Harrisburg wine trail started with four friends and a bet. As friends were enjoying an evening at happy hour, one of them claimed he could make wines that would be among the best in the region. That statement turned into a challenge — and The Vineyard at Hershey was born. Now you can taste Paul's wine and see if you think it lives up to his claim.
Located south of Hershey and Harrisburg, about six miles east of Harrisburg airport, this vineyard is on 40 acres of farmland complete with historical farmhouse and all. While they make great wine, this isn't the place to go to just stop in for a bottle or two and be on your way. This place is all about the experience — their wine is just a compliment. Stop in any day of the week and taste wine in a room within the renovated 1860s farmhouse, then get a glass of your favorite and roam the patio and vineyard. You can also kick your day up a notch and splurge for the VIP wine tasting. This tasting includes a behind-the-scenes look at how the wine is made.
Every Friday night during the summer, they have live music outdoors as a part of their Decked Out Live series — it's so popular, people buy season passes. They've also been known to host Yoga Wine Down — a yoga class followed by wine tasting. In addition to tastings and other weekly events, they have a variety of other events throughout the year.
When you visit, you're welcome to bring food — or take advantage of the food truck that's always available on Saturdays and Sundays. Did we mention they recently expanded and have a brewery for the craft beer lovers, too?
Cullari Vineyards and Winery
Located right on East Chocolate Avenue, this winery is the first and only vineyard and winery located right in Hershey, PA — and yes, that means there is a chocolate wine.
Salvatore, owner and winemaker, was born in Italy and first began started making wine with his father at the age of 12. Since that time, much of the equipment and techniques have changed — and he has continued to embrace more modern equipment and technologies in his winemaking process while not losing the parts of his process that make it unique.
Despite doubling their vineyard size in 2007, this is still a small winery — and they like to keep it that way. Producing small quantities of each of their varieties of wine gives them the opportunity to be creative with their flavors. Sure, you'll find the traditional dry and sweet wines, but you'll also find some unique varieties that you may never have heard of before coming to Cullari.
Because of its location close to downtown Hershey, PA, visiting this particular winery is a little different, which makes it unique compared to many of the other wineries in the area. Their tastings are an opportunity for you to try their version of the classics, as well as some other, less famous flavors. They don't limit the wines you can taste, so you'll have the opportunity to choose from their over 30 varieties. Fun fact — this is one of the few vineyards in the entire state of Pennsylvania to grow Zinfandel grapes — it's their single largest variety — so if you enjoy a glass of Zin, this place should definitely be on your list.
Stop by any Wednesday – Sunday to get a taste of the wines in stock. If you try something you love, buy it. Since Cullari produces only a few of each of their wines, chances are when you go back; your favorite might not be there.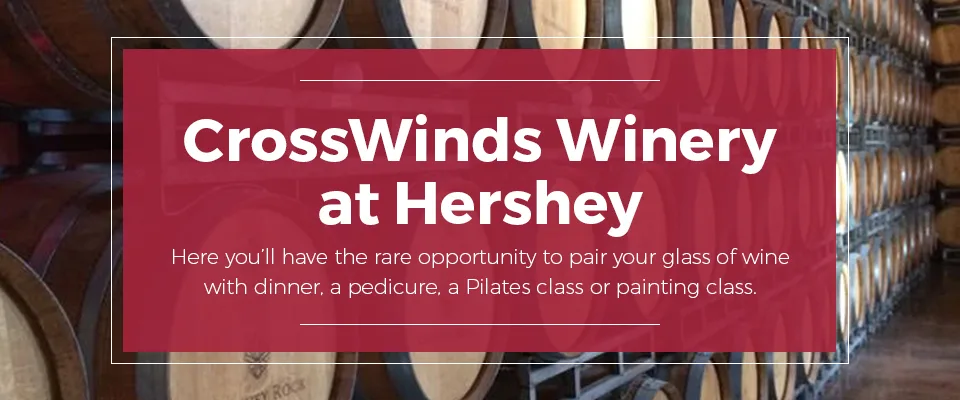 CrossWinds Winery at Hershey
At CrossWinds Winery at Hershey, you have the rare opportunity to pair your glass of wine with dinner, a pedicure, a Pilates class or painting class. The owners team up with a nationally recognized chef, local Mary Kay consultant, Pilates instructor and a local artist to bring the community each of these unique wine pairings. While you won't get a view of the grapes while you're there, having a glass of wine on the porch that overlooks a horse farm provides beautiful scenery.
They have everything a winery needs on site — from the tasting room to a gift shop that includes a variety of gifts for wine lovers. Stop in to taste a few of their wines, and pick up a gift for the wine lovers in your life. Their convenient location less than five miles from downtown Hershey, make it the perfect addition to a day full of visiting the area attractions.
You may not get a chance to see their vineyard — it's located quite a bit further north — but the story of their vineyard is worth sharing. The owners are both pilots and among their field of vines is an airport — that's right, they built an airport in their vineyard. Don't be surprised if you notice an aviation theme in the décor of this winery.
Larsen Meadworks
This place is technically a meadery. For those who don't know, a meadery is a winery that focuses on honey wines. The proper name for honey wine is mead — the smallest and fastest growing segment of the American alcohol industry. Only 2% of all wineries are meaderies — and we have one right here in Hershey-Harrisburg wine country.
This winery, located on the West Shore in Mechanicsburg, PA, has a cute storefront and tasting room you can unwind in. Enjoy a glass, flight or bottle with friends in their tasting room — they even have artisan cheese plates available to complement the wines. We recommend trying to Cello-Sol, known as "Liquid Happy" — who wouldn't want to try some of that? They describe their wine selection as "primarily dry, often sparkling wines, nuanced with a variety of hops, fruits and spices." How do they achieve such a sophisticated flavor? They combine the skills of a wine maker, a beer maker and a bartender — a unique way of going about the wine making process that results in some flavors we're sure you've never tasted before.
In addition to their tasting room, that's open Tuesday – Sunday, they occasionally host live music. They also always encourage people to visit during First Friday, a community celebration held on the first Friday of each month of the year.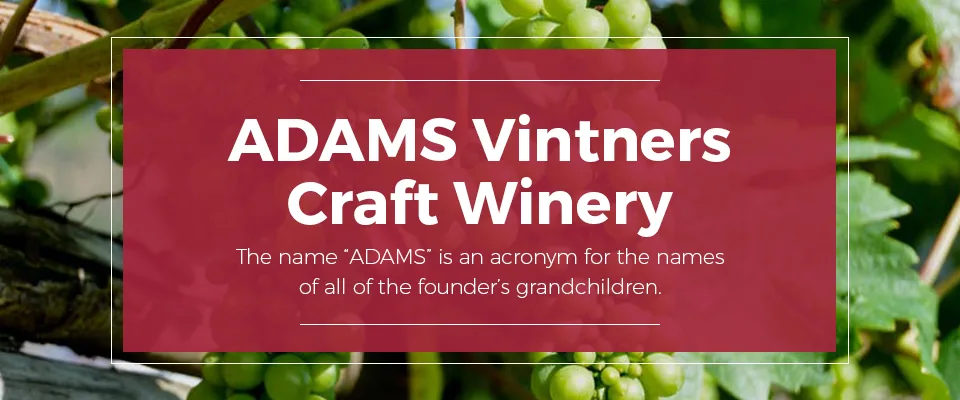 ADAMS Vintners Craft Winery
Usually when you think "craft" the word "brewery" is what first comes to mind, but when it comes to ADAMS Vintners, it is truly a "craft winery." This hip, upscale place is located in Annville, PA, just east of Hershey, PA. The name "ADAMS" is an acronym for the names of all of the founder's grandchildren.
Their wine bar is open for tastings Wednesday – Sunday. Inspired by a Greenwich Village, this room doubles as an art gallery for local and regional artists. You'll have plenty to look at as you sip on your glass of wine. The ambiance resembles that of a sophisticated café, not your typical winery — which is part of what makes this place special. The other part is, of course, the wine itself. Their wines are divided into a few categories — and customers seem to agree that they all tend to be a little more sweet than dry. Perhaps the neatest category is ADAMS Labs. The wines in this category reflect their new recipes, flavors and techniques. The most popular selections from this category are the wines that make it into production and onto the shelf. They're constantly trying something new, and this category proves it.
Regardless of what time of day you stop in, you'll also be able to choose from a variety of gourmet sandwiches and desserts from the infamous Allen Theater and MJ's Coffeehouse, located just next door. In the evenings, they also have a small plate menu available. It's a busy place with several tables, but if you're heading out with a group of four or more, they do take reservations. Larger groups can reserve a more private area and still take advantage of the table service by their staff members.
Whether or not you like your glass of wine with a bite of chocolate, we're sure that the wineries and community will be a pairing you won't forget. Living here gives you the opportunity to experience this pairing year-round. When you're ready to move, reach out to Triple Crown Corporation. We're excited to call this place home and would love to have the opportunity to help you find a home in one of our rental communities.