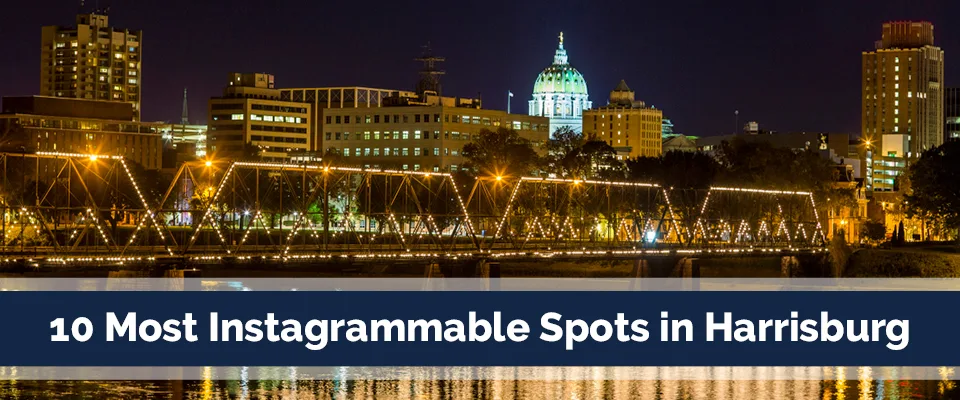 Harrisburg is an old city. It wasn't the capital until 1812, but there was trade between American Indians and English settlers in the early 1700s. Old cities more often than not feature a lot of character, a mix of interesting architecture and decades of cultural influence. Harrisburg is no exception.
As a city that embraces diversity, the arts, history and industry and which is situated parallel to the Susquehanna River with a view of the Blue Mountains, Harrisburg has no shortage of amazing places to take pictures. Many Instagrammers are lucky to call Harrisburg home.
If you are new to the area or are considering relocating to Harrisburg, we want to show you the best Instagrammable locations around. Before we get started, let's consider the elements that make a great photo, such as:
Lighting: Natural lighting illuminates subjects beautifully, and dusk is a great time to take photos. Outdoor photo spots or locations that are flooded with natural light always make a great spot for pics.
Color: Vibrant colors will make a picture jump, while soft, muted colors create a mood or a sense of mystery.
Composition: Look for elements that can give a picture depth. Also, consider interesting angles or geometric shapes that guide the eye through the picture. Overall, take a shot that makes sense and feels right to you.
Moment: Capture moments that evoke emotion, and your Instagram pics will be a hit. People and animals almost always make interesting subjects.
Ready to get out and explore with a camera in hand? The following list of spots is by far only the beginning, but let it inspire you to view Harrisburg through a photographer's lens and declare your pride for one of the most underrated cities in eastern America.
1. Capital Area Greenbelt
The Capital Area Greenbelt is a 20-mile loop that runs through Harrisburg, mainly alongside the Susquehanna River. It is the ideal route to pause for views and grammable pics of buildings, mountains and the river. From the trail, you can photograph the architectural beauty of Harrisburg's Market Street Bridge, snap a selfie next to a bronze businessman on a bench or capture the colorful flowers at Riverfront Park's Peace Garden. In July, plop down along the riverfront and gather shots of brilliant exploding fireworks.
Own a bike or a pair of sneakers? Go for a ride or a stroll on a foggy morning for a misty bridge picture, or wait until the sun is setting and casting a warm glow on the surrounding trees and pathway.
2. Pennsylvania State Capitol
This list would not be complete without mentioning the Pennsylvania State Capitol. Dedicated in 1906, this architectural masterpiece showcases an eclectic mix of European and Victorian styles. Philadelphia architect Joseph Huston designed the building with the intention to create a "palace of art."
As a visitor, you can view the mesmerizing details of the basilica-inspired ceilings or the many paintings spread throughout the building. You'll never run out of photo opportunities in this massive location. Get a close-up of a Grecian-like statue or pose in front of an archway. Capture the building's dome at dusk, and friends will wonder if you're in Pennsylvania or Rome.
3. Wildwood Park
If you love the colors and textures found in nature, you'll love capturing the trees and wildlife at Wildwood Park. You might enjoy your Wildwood photographs so much that you'll want to frame and hang them on your wall. Why save it all for Instagram?
From boardwalk trails that meander through the park to observation areas overlooking marshland, Wildwood Park offers tons of places to capture birds, butterflies and flowers. You might even catch turtles basking in the sun. This popular spot offers a long walking trail, several great photograph locations and countless beautiful sights for you to see. You never know what you might encounter at this nature-lovers retreat, located right on the edge of Harrisburg.
Wildwood is great for landscape and wildlife photography during all seasons, too. In winter, you might capture a grammable pic of a woodpecker up in the trees or a cottontail rabbit hiding in the thicket. In spring, you might find an egret fishing at the lake. Summer is the perfect time for pics of resting dragonflies or monarch butterflies. And who doesn't love a photo of changing leaves or a white-tailed deer in the fall? Wildwood park also offers wildlife photography classes to help you hone your craft.
4. Midtown Cinema
Midtown Cinema is not only a neat place to catch an art-house flick and enjoy an Italian soda but also one of several buildings in Harrisburg that features a mural. The vibrant mural on the side of the Midtown Cinema building was inspired by the growing Midtown neighborhood and the local flowering trees. Sprocket Mural Works teamed with local artists to paint the huge "Harrisburg" mural on the cinema's external brick wall.
Several buildings in the city host colorful, grammable murals. During 2017, the Harrisburg Mural Fest aimed to paint ten murals in ten days. As a result, bright, energetic murals, reflective of Harrisburg's creative spirit, can be found all over the city. Celebrate Sprocket's mission to "increase community pride and civic engagement," and spread the word about the Burg with a mural pic.
5. Artsfest
Another way to capture Harrisburg's creative energy is to attend Harrisburg's annual Artsfest. For over 50 years, Artsfest has been connecting artists with residents to celebrate the arts at Riverfront Park. Attendees can browse hundreds of vendors selling handcrafted jewelry, photography, paintings, sculptures and more. The event is free, lasts three days and attracts thousands of visitors from all over the country. Talk about the perfect spot to capture diversity, colors and art in action!
Artsfest is not just about browsing and buying art either. Visitors also get to enjoy live music, film screenings and a day at the park. Share a love for art with your neighbors, snap great pics and get inspired.
6. Harrisburg's Statue of Liberty
Who said New York City has the only Statue of Liberty in the United States? Okay, it is true that New York has the original Statue of Liberty, but Harrisburgians have their own version. It may only be 25 feet tall, but it is still worth acknowledgment. And an Instagram pic.
At first, it was a mystery. One day, in the 80s, a mysterious Statue of Liberty replica appeared on a rock in the middle of the Susquehanna River. No one knew how or why it got there or who was responsible. Nevertheless, the statue soon became a city icon.
Originally made of plywood and Venetian blinds, the statue couldn't survive the elements over the years. Residents had grown so fond of this mysterious oddity that in the late 90s, another statue was created — a replica of the replica. Now, the statue still stands atop its river rock for passers to glimpse and ponder its purpose.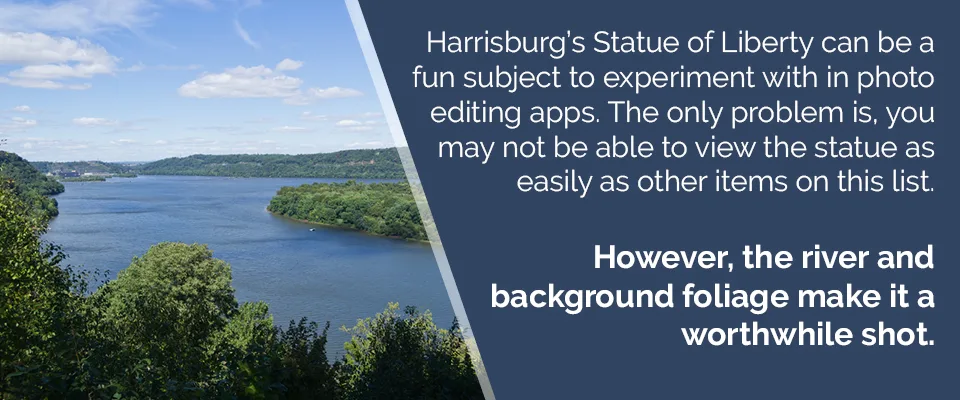 Harrisburg's Statue of Liberty can be a fun subject to experiment with in photo editing apps. The only problem is, you may not be able to view the statue as easily as other items on this list. However, the river and background foliage make it a worthwhile shot. The statute can be seen north of Harrisburg from route 322 between Maryville and Dauphin. Just be sure to take caution while looking for a place to snap a pic.
7. River City Blues Club and Dart Room
If you're looking for atmosphere, the River City Blues Club and Dart Room may be your place. From the cool blue lighting in the basement music room to the colorful pool balls and dartboards, this joint is heavy with mood and a bluesy tone.
Formerly the Sacred Heart Catholic School, River City Blues now offers everything from jazz shows to drag burlesque, drinks, food and plenty of barroom game classics. So many possibilities for grammable photos exist in this spot, whether you're looking for something a bit edgy or something that has an old-school vibe. Original blackboards included.
8. Strite's Orchard
Within a short drive from downtown, you can capture the vibrant colors of farm-fresh fruits and vegetables at Strite's Orchard in Middletown. For over 100 years, the Strite family has been farming in the Harrisburg area and now offers everything from homemade jellies and jams to pick-your-own produce.
During a trip to the farm, you can take awe-inspiring shots of the orchard on a sunny day or amazing pictures of the rainbow of baskets filled with nature's jewels. Sometimes, nothing is more appealing than a food photograph. Who doesn't enjoy looking at a photo of a crumbly slice of cherry pie? Unlike a supermarket, Strite's orchard is the perfect place to take advantage of natural lighting with a highly grammable photograph.
Another bonus to living in Central Pennsylvania is that there are plenty of farms to choose from for Instagram-worthy photographs — not to mention the sun-kissed hills and patchwork of farmland you'll likely pass on the way.
For example, just a short distance west of Harrisburg, in Carlisle, you'll find Farmers on the Square — another nearby Instagram destination. Farmers on the Square is a seasonal outdoor market in downtown Carlisle, and it's a feast for the eyes. From gorgeous, fresh-cut flower displays to on-the-spot donut-making, this spot has an abundance of photogenic subjects.
9. Rockville Bridge
If you want to represent Harrisburg's industrious history, you'll be happy to know that there is no shortage of amazing Instagrammable bridges to photograph. For example, the historic Rockville Bridge says it all.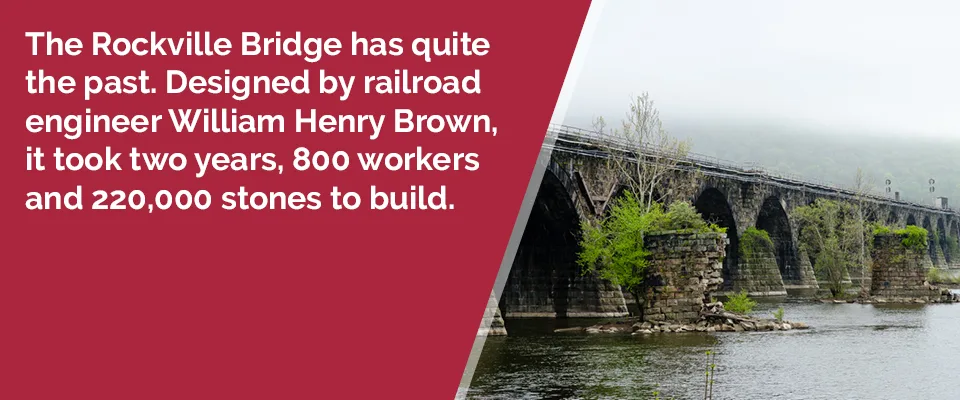 The Rockville Bridge has quite the past. Designed by railroad engineer William Henry Brown, it took two years, 800 workers and 220,000 stones to build. Many refer to this bridge as the longest stone-arch bridge in the world. However, the bridge is also composed of about 600,000 barrels of cement, so it is not completely made of stone. Nevertheless, the bridge stretches across the Susquehanna at 3,820 feet.
To view the bridge, all you need to do is park at Fort Hunter Mansion at 5300 North Front Street. From the riverfront, you can capture a shot of the bridge, complete with a mountainous backdrop. You might consider a visit in the fall to photograph the changing leaves. However, it doesn't matter what time of the year you choose to photograph the Rockville Bridge — the immense labor, skill and ambition it took to build this railroading icon is always on display.
Want a quaint covered bridge pic instead? There are about 200 historic covered bridges throughout Pennsylvania, the majority located in nearby counties. For example, you can visit the Henninger Farm covered bridge, located on Henninger Road in Elizabethville. Built around 1850 and reconstructed in 2003, the bridge is for pedestrians only. But that's okay, because you'll have plenty of time to park and take all kinds of Instagram shots without the threat of traffic.
10. The Millworks
The last but not least item on our list is the Millworks, located in Midtown. You could easily spend an entire day taking photos at the Millworks. And if that's not enough, all you have to do is take a two-minute walk to the Broad Street Market for more grammable moments.
Why did we choose the Millworks as one of the most Instagram-worthy destinations in Harrisburg? First, the Millworks exists in what was formerly the Stokes Millworks building. Made of lumber and brick and occupying 24,000 square feet, the atmosphere is warm, woodsy and perfect for glowing pics. The clean, modern furnishings add interesting visual contrast to a photo composition, so you won't want to miss this opportunity for a picture you won't want to stop looking at.
It doesn't stop there though. They also have a roof deck. Need we say more? Imagine the Instagram potential — scrumptious dishes aglow in natural light, a backdrop of sun and sky and the shapes and colors of buildings down below. When the sun begins to set, you can capture the golden strands of lights draped over the deck, making this a magical spot for all kinds of photos.
Lastly, this location is not just a restaurant with a rooftop deck. It's a brewery. It houses 32 regional artists' studios and an art gallery. The Millworks is a lot of things under and on top of one roof. The potential for great grammable pics is endless.
Contact Triple Crown Corporation for an Instagrammable Neighborhood
Are you itching to get out and take some Instagram pics in Harrisburg? From streetside cafes to quirky roadside museums, you're never far from a great pic in Central Pennsylvania. It's one of the best landscape photography locations, and you'll find plenty to do along the way as well.
Need a place to stay? Contact Triple Crown Corporation for your next apartment in the Harrisburg area. Most of our rental communities are surrounded by beautiful grounds, close to parks and nature trails and a short drive from all the excitement Harrisburg has to offer. Once you've seen everything the great city of Harrisburg and its surrounding area have to offer, you're likely to want your own place. Visit one of our rental communities today or contact us to help you find a rental home in the Harrisburg area.