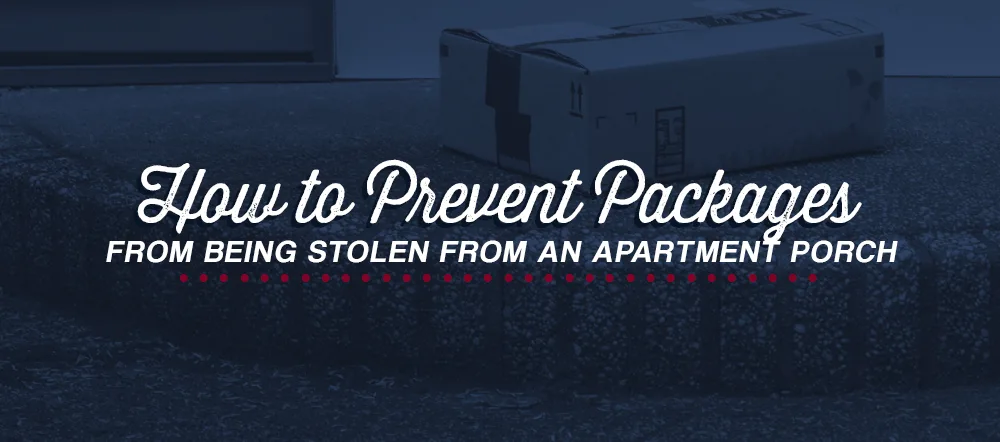 In the age of the internet, people are ordering more and more things online. The ease and convenience of this trend are undeniable, but a problem that many Americans face is parcel theft when packages are left on the front porch. While houses allow for some concealment — like hiding the parcel or leaving it at a back door — packages being stolen in apartment buildings is a trickier problem to solve.
As many as one-third of Americans have reported packages being stolen from their porches. So, how can you prevent your package from being stolen, especially if you live in an apartment?
What to Do If Someone Is Stealing Your Packages
Most apartment buildings have a lobby with locked doors, ensuring only residents with keys can enter. While this is a great security measure, sometimes it can lead to problems, such as missed deliveries because the mail carrier couldn't enter the building or a package stolen from an apartment lobby.
If the package does make it all the way to your apartment door and no one is there to accept it, it can be left in the hallway, making it easy for someone in your building to snatch it. Here are four solutions to stop mail from being stolen in apartment buildings:
1. Use an Alternate Address
Often, people are unable to accept their packages because they are delivered during business hours. Therefore, a potential package theft solution is to have the package sent to your work address. Office buildings are active during business hours, which means someone will always be there to accept the package — and even if you aren't there to accept it straight away, it's much safer in your office, surrounded by people you know.
The downside to this solution is having to carry your package home with you — this is less of an issue if you have a car, but if you rely on public transport, you'll need to figure out the logistics of carrying your parcel back home.
If someone keeps stealing your packages in your apartment building and using your office address is not an option, see if you can ship your package to a store. Many online retailers also have brick-and-mortar stores where you can send online purchases for free. Some retailers also have designated pickup locations where they can send your package until you're able to pick it up.
While the ease and peace of mind are great, shipping to a store means you have to go out of your way to pick it up, and the business hours of the pickup location may not align with your availability.
2. Request a Signature on Delivery
If you're concerned that someone in your apartment building is stealing your packages, request that the package only be released with your signature — this prevents the carrier from leaving the parcel unattended and also prevents anyone else from accepting it without your permission. Without a valid signature, the package will be returned to the post office, and you will be left with a pickup slip, with which you can go get your parcel when it's convenient for you.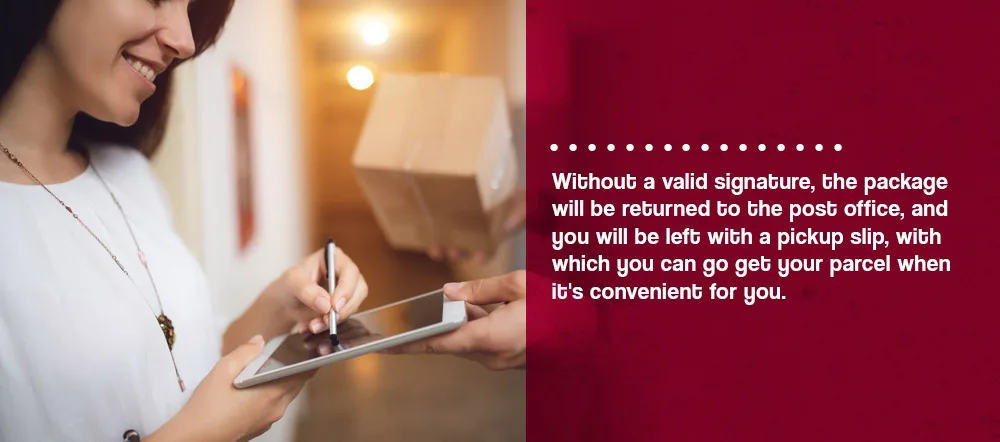 The great thing about this solution is the peace of mind you'll have, knowing your package is safe — this makes it a great option for expensive electronics. A potential downside can be finding the time to go pick up the parcel and, depending on how large it is, lug it back home. Picking the package up at the post office usually also requires you to show valid identification with proof of address. Plus, you'll only be able to pick up the item when the post office is open, which — depending on your schedule — can make it hard to find a time to pick it up.
3. Get a P.O. Box
You won't have to worry about whether someone is stealing your packages if you get a post office box. Additionally, many delivery services are aware of the problems caused by parcel thieves and have created their own lockers for you to rent. This ensures that your packages will always be in a safe space with professionals rather than left out in the open.
Depending on where the p.o. box or locker is located, you'll have access to it for more than just business hours, making it easier to make a quick stop to pick up packages. You can also sign up for shipping alerts, so you know when the item is delivered and ready to be picked up. This saves you from making multiple trips to check if your package has arrived.
One potential downside to renting a p.o. box or locker is that they usually cost a monthly or annual fee. However, the peace of mind and security of knowing your mail will always be safe may be worth the cost.
4. Ask for Help
One of the benefits of living in an apartment is that you likely have many neighbors whom you can ask for help. If you know you won't be able to accept a package for delivery, make a note to the delivery company asking them to deliver it to a neighbor. Make sure your neighbor will be available for delivery and is willing to hold your package until you pick it up. If you live with roommates, you can see if they will be able to accept the parcel for you.
If you live alone and don't have anyone you can trust in your building, consider having your parcel sent to a friend or relative's address instead. Similarly, you can also inquire about rescheduling the delivery for a time you know you will be around to accept the package.
Join a Community With Triple Crown Corporation
If you're looking for a new home with a strong sense of community and neighbors you can rely on, look no further than Triple Crown Corporation. With rental housing communities across the West Shore, Triple Crown Corporation can help you find your new home in a warm and welcoming community.
Browse through the communities and get in touch with us by calling 1-877-TCC-HOME or by filling out the online contact form.