Moving into a new apartment is exciting. You have carefully chosen the location, floor plan and community amenities that are important to you. Like most apartments out there, yours probably came with a refrigerator and stove, making an appliance purchase unnecessary. Strictly speaking, you have everything you need for storing food, cooking and cleaning up.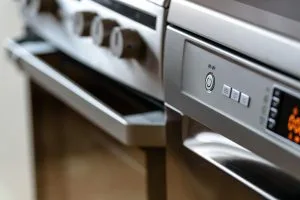 That said, there are apartment-sized kitchen appliances that can save you time, money and energy by lowering your electric bill — and they won't hog your countertop or cupboard storage, either. Here are three examples.
1. The Instant Pot
The Instant Pot replaces a pressure cooker, slow cooker, rice cooker, steamer, yogurt maker and food warmer. You can also sauté meat and vegetables right in the pot, so you don't have to dirty a pan.
Because it uses pressurized steam, it cooks food 70 percent faster than an oven and seals in 90 to 95 percent of the flavor and vitamins in meats and vegetables.
You can make pulled-pork sandwiches from scratch in less than an hour. And pot roast, rice, chili, yogurt, soups and stews-even cheesecake and crème brule. It also has a setting for sterilizing things like baby bottles and jars for canning. The pot is oven- and dishwasher-safe, making it a breeze to clean.
Models come with a three- or six-quart pot, and the programmable features and cooking programs you want. There is even a Bluetooth model you can control with your mobile phone. The Duo 9-in-1, 6-qt Instant Pot is the most popular model in the company's line-up — it starts at $119.95.
If you rarely have time to prepare meals at home and fall back on take-out and fast food, the Instant Pot could be a game-changer.
2. Electric Air Fryers
Electric air fryers use a heat coil and fan to superheat the air inside, creating a convection current that cooks the food. Less than a tablespoon of oil combined with the moisture in food makes a fine mist that mimics the effects of deep frying during the cooking process. Food comes out crispy on the outside and tender on the inside — without extra fat and cholesterol.
You can make delicious French fries or sweet potato fries in an air fryer, and they're great for roasting vegetables, too. Most air fryers hold between 1.5 and 2.5 pounds of food, which is enough to feed an average household. If you want to cook a whole chicken or a large roast, however, choose one that can cook up to 5 pounds at once.
Electric air fryers can cost as little as $86. Prices increase with capacity and higher temperature settings.
3. 3-in-1 Breakfast Station
This nifty little appliance takes the place of a coffee maker, griddle and toaster oven! It has retro styling is available in red, turquoise and bisque, and runs about $59.
The coffee maker has a reusable filter and a carafe that holds up to four cups of coffee. The griddle can cook eggs and breakfast meat for a small family, and has a lid to contain splatters and keep food warm. The toaster oven holds up to four slices of bread. The unit comes with a 30-minute timer that will automatically turn the appliance off after 30 minutes.
The toaster oven is large enough to cook other food, too, including frozen pizzas (up to 7"), pot pies and pre-made cookie dough, to name a few. It's also a great alternative to the microwave for reheating leftovers.
Questions? Call Triple Crown Corporation
These appliances help home cooks save time in food preparation, money on take-out costs and space on kitchen countertops. Your electric service should be compatible with any of these small appliances, but if you have any concerns or questions, call your Triple Crown community's maintenance team — we'll be happy to help.