Planning a weekend getaway in the Northeast? If so, plenty of flashy, big-name cities might first grab your attention. New York, Boston, Philadelphia, Baltimore and Buffalo are just a few of the names that might immediately come to mind. But there's one city that we think might make the perfect candidate for a weekend full of fun, excitement and new experiences.
Harrisburg may be the capital of Pennsylvania, but it's far from the biggest or most prominent city in the state. Don't let that discourage you. Instead, it just means that rather than dealing with endless lines, packed buildings and crowded streets, you can have your pick of activities. There are always enough people around to make events and businesses feel full and lively, but not so many that it begins to be hard to have fun. Harrisburg exists in this perfect in-between state of being just big enough to have some fabulous spots to visit and just small enough that you don't feel you have to share these hidden gems with the whole world.
Whether you've just moved to the area and are wondering what to do on a weekend in Harrisburg, or you're visiting someone for the weekend, there's plenty to do. So clear your schedule, grab a few friends, and do some exploring.
Where to Go in Harrisburg on the Weekend
To help you make the most out of your weekend, we've put together a list of some of our favorite Harrisburg weekend activities. Work your way through this list and hit them all, or pick the ones that interest you most. Either way, you'll be sure to have a weekend you won't soon forget.
Friday Evening: 3rd in the Burg
If you've been to Harrisburg before, then you may already know this is one of our favorite monthly traditions. If not, then you're about to experience something wonderful. 3rd in the Burg is an event that takes place once every month in Harrisburg, on the third Friday of that month.
This event is a celebration of the growing arts and culture scene in Harrisburg, and a way for local artists and business owners to allow residents and visitors to enjoy this culture together. On the appointed evening every month, dozens of participating businesses and venues throughout downtown and Midtown Harrisburg throw open their doors and host special one-time events. These events vary and can include live comedy, lectures, art exhibits, musical performances and so much more. Many venues serve coffee or other treats that pedestrians can enjoy as they mingle and browse.
Those wishing to attend 3rd in the Burg can wander up and down the main streets, popping into any of the open venues as the event inside appeals to them and leaving as they please. Local artisans and performers benefit from the exposure, while businesses appreciate the customers that come through their shops, and passers-by are simply treated to an explosion of culture, art and local pride.
Because this event takes place on a Friday evening, it makes the perfect start to your weekend in the city. Attend this event on your own, or share the joy with friends and family as you wander from one performance or exhibit to another and drink in the spirit of the city.
Saturday Morning: Midtown Scholar
New York City may have the Strand Bookstore, but here in Harrisburg, we have the Midtown Scholar, one of the true gems of south-central Pennsylvania. Whether you consider yourself a book-lover or not, this is a place everyone should visit at least once in their life.
Midtown Scholar is a new, used and rare bookstore featuring over four floors to explore, including hidden nooks, endless passageways lined with books and of course, a café that's home to some of Harrisburg's finest coffees and treats. They specialize in scholarly books on topics ranging from art history and French politics to astronomy and design and everything in between, but they also have a growing collection of new releases and frequently invite current authors and speakers in to discuss their new works.
Midtown Scholar is also immediately notable for its unique building design, with staircases where you might least expect and floors that continue down underground long after you think you've reached the bottom. This is because the building was originally a movie theater in the 1920s before it became Harrisburg's first split-level department store in the 1950s. Now, it houses a vast collection of over 200,000 books and serves as a gathering place for community events such as speakers and local club meetings, as well as a favorite hangout for students and young professionals.
This quiet bookstore is the perfect place to spend a relaxing Saturday morning. Visit the café for a quick coffee, then spend an hour or so wandering the stacks and perusing all the different subjects represented within the building. Once you've grabbed a book or two, settle in at one of the convenient tables around the store and enjoy some quiet reading while you sip your coffee and watch the world go by outside.
Saturday Lunch: Broad Street Market
Just across the street from Midtown Scholar, you'll find another Harrisburg gem — the Broad Street Market. This market is worth visiting just for the treasure trove of locally-grown and organic produce, mouthwatering baked goods and tempting coffee concoctions, but it also has the proud distinction of standing as the oldest continuously operating market in the United States.
The Broad Street Market first opened its doors back in 1860. Although the building has been rebuilt and remodeled a few times, the market continues to thrive today as a hub of fresh food, city activity and cultural diversity. It would be impossible to list every vendor housed within these twin buildings, but consider this a sneak peek at some of the highlights: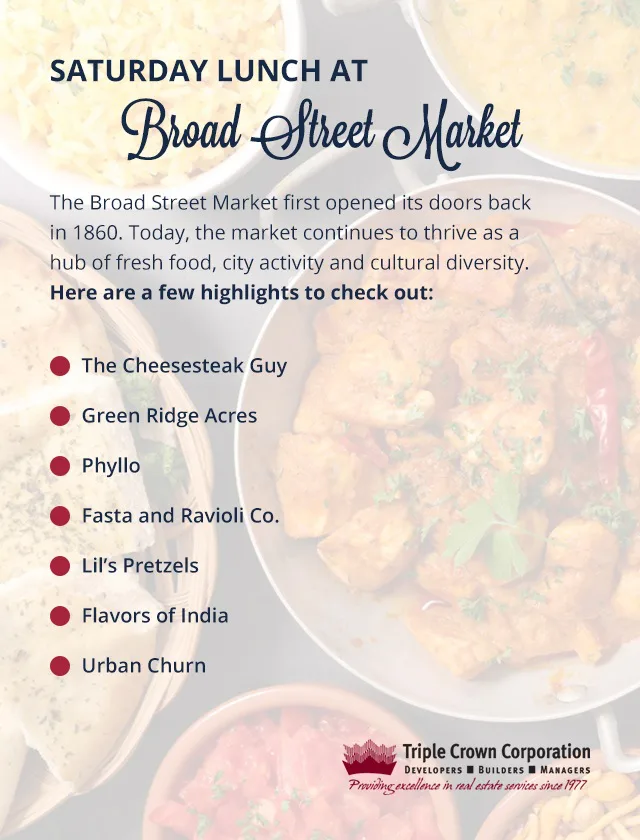 The Cheesesteak Guy: Stop by for a hearty cheesesteak, as well as burgers, French fries and other tasty sides.
Green Ridge Acres: This vendor is well-loved for their incredible supply of farm-direct organic produce, meats, dairy products and more.
Phyllo: Broad Street Market's number one destination for Greek food, this is one vendor you can't miss.
Fasta and Ravioli Co.: You haven't had pasta until you've tried Fasta and Ravioli's artisan pasta. Top it with one of their fresh-made sauces for a perfect meal.
Lil's Pretzels: You won't want to miss out on these warm, melt-in-the-mouth hand-rolled soft pretzels.
Flavors of India: Looking to dine in? Looking to take out? Flavors of India offers authentic Indian cuisine that you can enjoy either way.
Urban Churn: No trip to the Broad Street Market would be complete without a taste of this gourmet from-scratch ice cream.
Saturday Afternoon: A Trip to the Museum
Once you've finished your delicious lunch at Broad Street Market, it's time to move on to an afternoon activity. There is no shortage of things to see in Harrisburg, and any one of them would make a perfect way to spend an afternoon. You might cross the walking bridge to catch a baseball game with the Harrisburg Senators, play miniature golf on City Island, or tour the gorgeous Capitol building and gardens. Any of these would be a great choice, but we think there's no better way to learn about a new city than to visit its museums.
1. The Susquehanna Art Museum
Harrisburg has quite a few museums to offer. For the artistically inclined, we can't speak highly enough of the Susquehanna Art Museum. Just a quick walk down the street from Broad Street Market, the Susquehanna Art Museum is the only dedicated art museum in central Pennsylvania. They proudly feature work from artists at the local, regional, national and even international level, with a little bit of something for everyone.
Aside from their permanent exhibits, the museum also offers plenty of events and programming. Come and browse through the exhibits at your leisure, or plan for your trip to coincide with a special event.
2. The State Museum of Pennsylvania
If history and science are more your style than art, then we instead invite you to head over to the State Museum of Pennsylvania. Or, if your day includes enough time, you might even try to fit both stops in on the same day. The choice is yours.
The State Museum is the official museum of all things Pennsylvania. Visitors can explore the history and founding of our state, from learning about our founder William Penn to visiting a life-size reconstruction of a 19th-century village street. Equally fascinating are the Hall of Geology and Mammal Hall, as well as an exhibit showcasing ancient, long-extinct flora and fauna that once flourished in this region. Finally, don't forget to finish your visit off with a trip to the dazzling planetarium.
Saturday Evening: Dinner and Drinks on 2nd Street
Cutting through the center of Harrisburg is 2nd Street, known for being lined with tempting restaurants and instantly iconic bars. After a busy day of sight-seeing, shopping, relaxing or anything else you may have been up to, this is the best place in town to find a bite to eat and a drink or two.
1. Cork & Fork
For dinner, why not stop in at Cork & Fork? Located at the midpoint between the Downtown and Midtown neighborhoods, this restaurant also is in a great, walkable part of the city, with both the Susquehanna River and the State Capitol building just a moment's walk away. The atmosphere inside the building is classic, elegant and sophisticated.
Cork & Fork uses local ingredients to create mouth-watering delights which change to reflect the foods in season. Their portion-sizing is also unique, as their menu is crafted around trying many different dishes and getting a little bit of everything. Plates come from the kitchen with small portion sizes, with the idea being that a group of friends or family might order multiple dishes and pass them between each other. This way, everyone can taste a bite of everything, and you never have to decide between two or more tempting options on the menu.
2. McGrath's Irish Pub & Restaurant
After a tasty dinner, there are plenty of bars and restaurants scattered up and down 2nd Street that promise delicious beverages and a fun, casual atmosphere. None do this quite so well, however, as McGrath's Irish Pub and Restaurant.
In addition to their extensive drink menu, McGrath's also has a complete dinner menu in case you want to eat dinner here as well, or just grab a few snacks and appetizers to round out the evening. Enjoy one of the beers on tap or a mixed drink as you sit back in this relaxing environment and enjoy a fun, carefree evening with friends or family.
Sunday Brunch: The Millworks
After a good night's sleep, head back to Midtown for a tasty Sunday brunch at The Millworks. The Millworks is so much more than just a restaurant, although the food is also worth your attention. It's also an art gallery, a historic building, and a brewery all wrapped into one Bohemian-style package.

Enjoy a brunch menu that features options ranging from pancakes and eggs to salads, pizza and sandwiches, all prepared with fresh, local ingredients. While you eat, you can also enjoy being surrounded by artwork that showcases the talents of some of the finest local artists. The building itself is also worth seeing, as its historic bricks and timber evoke a style that feels both traditional and new at the same time.
As a bonus, The Millworks is also located just next to both Midtown Scholar and the Broad Street Market, so if you need to make any final purchases at either of these places, this is the perfect opportunity to do so before the weekend ends.
Check out Rental Properties in Harrisburg Today
With museums, sports, history and arts, Harrisburg has so much to offer, and we're only growing. Even considering this small sampling of a few of Harrisburg's finest destinations and activities, it's not hard to see why people are choosing to move to Harrisburg. Are you considering a move to the area? If so, then this starts with finding the perfect place to live.
Here at Triple Crown Corporation, we feel confident that our rental communities can be just the place you're looking for. We offer rentals across the area, including communities on the West Shore in Mechanicsburg, Camp Hill and New Cumberland as well as on the East Shore in Harrisburg itself. Our townhomes range from two- to three-bedroom homes and include such amenities as recreational facilities, eat-in kitchens and top appliances. Do you share your home with a pet or two? Our homes are also pet-friendly, and we welcome your furry friends to our neighborhoods.
To get started, browse our available rental communities today and choose the one that looks like the best fit for you. If you have any questions or want to get in touch with us about your big move, please don't hesitate to contact us.