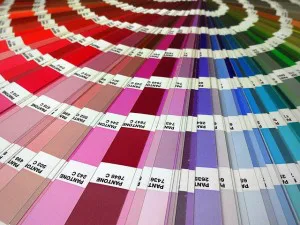 Those who could use a post-winter pick-me-up in their home will love the Spring 2016 color palette recently announced by Pantone. Vivid, bright hues including Rose Quartz, Peach Echo, Serenity, Snorkel Blue, Buttercup, Limpet Shell, Lilac Gray, Fiesta, Iced Coffee and Green Flash will be popular choices for paint, textiles and accessories this season. If you're ready to incorporate these 2016 color trends into your décor, consider our tips for decorating with color below!
Use 2016 Color Trends on Your Walls
Paint is one of the easiest ways to transform the look of your room. Consider Lilac Gray or Iced Coffee for an updated neutral hue that will complement your existing décor. Or, if you like one of the brighter 2016 color trends, think about incorporating an accent wall in your room instead of committing to changing the whole space.
Decorating with Color and Accessories
For a small-scale change that incorporates your favorite funky hues, accessories will be your best bet. Pair Serenity, Snorkel Blue and Limpet Shell throw pillows, vases and artwork with white furniture for an updated nautical look. Or change the look of your entire space by getting a patterned throw rug in bright Buttercup or Fiesta. DIY mavens can also use the 2016 color trends to update existing décor items, such as picture frames and lamp bases, with a bright pop of color.
When mixing and matching these Spring 2016 hues, make sure the paint, textiles and accessories you choose best express your unique personality so you'll enjoy your updated space for seasons to come!