There is so much to see and do in Pennsylvania. When you're visiting with your partner, you want to take advantage of all the sights. From romantic to fun day trips, Central PA has it all.
Central PA consists of several towns, all within about an hour of each other. No matter where your home base is, you'll have easy access to:
With all of these charming and historical places so close together, you're sure to find plenty of day trip ideas for couples. Even if you want to head out of the city and experience Central PA's natural beauty for the day, that's easy to do, too.
Historical Day Trips in Central PA for Couples
If you and your love are history buffs, or you're interested in learning more about history in PA, here are some ideas that will have you traveling back in time.
1. Visit Gettysburg

Travel about an hour south of Harrisburg for the ultimate experience for any couple interested in history. The town itself is a historical hub, but there's plenty to do throughout the area:
Don't let the fun stop after a tour. Take your partner around town to experience what the museums and historic homes of Gettysburg have to offer. Stop in at places like:
Find fun day trips in Central PA that are perfect for couples who love history with a visit to Gettysburg. Stop into museums or walk the town — either way, you'll find something for you and your partner to enjoy.
2. Explore Harrisburg

Surround yourself with the rich history of PA's capital. You'll find stunning architecture, events and artifacts from centuries ago at these locations:
Connect with Pennsylvania's past as you and your partner explore Harrisburg. There's no shortage of perfect day trip ideas in this Central PA city.
3. Tour York

If you want to see what's beyond the Gettysburg and Harrisburg areas, there are plenty of historical museums in York. Bring your significant other to any of these spots that are perfect for couples looking for a day trip in PA:
York County History Center's Fire Museum: About a half-hour drive south of Harrisburg gets you to the York History Center. Learn about the city's history through exhibits and archives, and tour different historical buildings at the center. One site, a firehouse from 1903, walks you through the history of firefighting that spans over two centuries.
York County History Center's Agricultural and Industrial Museum: Visit this center for a hands-on experience of the city's heritage. Tour over 20 exhibits that highlight 300 years of development in transportation, manufacturing and more.
William C. Goodridge Freedom Center: This Underground Railroad museum served a vital role in history as William C. Goodridge used it to protect freedom seekers. The entrepreneur owned many properties and businesses that he used to help slaves seeking freedom, and this one, in particular, is a National Historic Site.
The York Country History Center and other museums in the area offer a network of enriching historical sites. Whether you want to learn about the Civil War era or industrial developments that got us to where we are now, you'll find something interesting in York.
4. Travel to Lancaster

Lancaster is a quaint area with lots to explore. It combines the country life of the past with a charming city atmosphere. Get the historical side of things with a visit to:
President James Buchanan's Wheatland: This historical home tells the story of President James Buchanan. Now a museum, the home features original furnishings as well as artifacts that allow visitors to piece together the history of Buchanan's life in PA.
Hans Herr House and Museum: This house is the oldest standing structure in Lancaster County. Experience the architecture from 1719 along with colonial Mennonite culture on your visit.
Railroad Museum of Pennsylvania: An hour drive from Harrisburg takes you to the Railroad Museum of Pennsylvania. Learn about the state's history with railroads and visit for special events. You'll pass by Lancaster on your way to the museum, so stop in on your way there or back.
With a rich history comes different parts of the past to explore. Of course, it wouldn't be a trip to Lancaster without experiencing Amish Country, so be sure to take advantage.
5. Stop by Hershey

This sweet city in Central PA also offers a glimpse into the past. Among the attractions for thrill-seekers, you'll find stories of history with:
The Hershey Story Museum: You can't visit Hershey without acknowledging the life of Milton Hershey. The museum provides a hands-on experience of Hershey's life and legacy, featuring fun activities like a chocolate tasting.
The Hershey Cemetery: For a walk on the more somber side of history, visit the city's cemetery. Milton Hershey realized the need for a cemetery in the city, and it was built in the early 1900s. You can visit the understated marble monument that Hershey chose to mark his and his family's burial place on your tour of the area.
Annville Historic District: Just outside of Hershey, this district is an architectural lover's dream. It boasts several restored Victorian homes and hosts a candlelit tour in December, bringing you back to a simpler time.
Pennsylvania contains so much history that it'd be easy to stretch a day trip into several. From Civil War history to glimpses at past culture and daily life, the museums of Central PA have something for everyone.
Outdoor PA Day Trip Ideas for Couples

If you and your significant other are outdoorsy types, you can take a stroll through the parks in PA, relax by the lakes and take in the beauty of nature. Some of the can't-miss highlights of Central PA include parks like:
Plenty of other day trips for couples will show you different natural wonders throughout Central PA. For unique outdoor adventures, bring your significant other to:
There's an abundance of natural beauty in PA, so there's no shortage of day trip options if you and your significant other feel most at home in the great outdoors.
Fun Day Trips in PA for Couples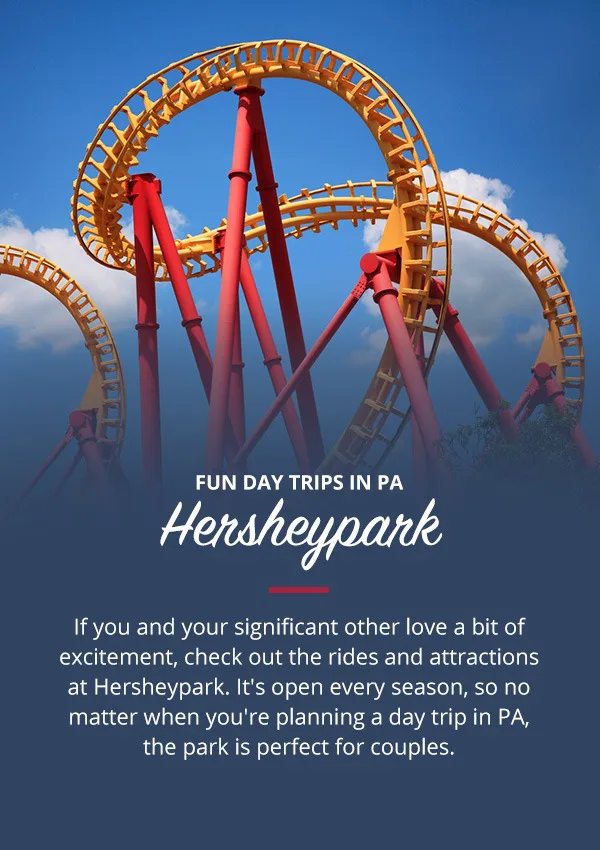 Whether you and your partner enjoy adventure, shopping or unique sights, you'll find it on a day trip in PA. Check out attractions like:
Even if you aren't interested in the exciting locations above, there are countless other day trip ideas for couples. In almost any Central PA city or town, you can:
See a live performance
Shop at local stores and boutiques
Go antiquing
Take walking tours
Soak in the scenery
Pose for a photo op at beautiful locations
Dine on delicious local creations
Relax at a spa
You'll find all the thrills and fun you're after in Central PA.
Romantic Day Trips in PA for Couples
Any PA day trip can be romantic, but sometimes you need the right place to set the tone. Find anything from quirky date ideas to romantic evening ideas all in the same area. Get ready for a date and take your significant other to:
Eckels Ice Cream Fountain: Split a milkshake with your significant other at Eckels Ice Cream Fountain. The building comes with a rich history, standing since 1879 when it originally served as a pharmacy. Today, the ice cream parlor serves sweet treats for a delicious blast to the past. It makes the perfect stop for a midday treat as you tour Harrisburg.
Susquehanna Art Museum: Walk through the exhibits of the Susquehanna Art Museum for a quiet, romantic time. The museum is Harrisburg's only dedicated art museum. Featuring world-class exhibits, it's a must-see for any couple interested in the arts. Even if you and your love aren't art historians, a date at an art museum is always romantic.
The Forum: Feel the romance in the air as the Harrisburg Symphony Orchestra plays at The Forum. If you and your partner are music fans, you'll find even more entertainment at The Forum. The venue hosts different concerts as well as plays for culture enthusiasts. A live performance is a perfect addition to any couple's romantic day trip in PA.
Art Association of Harrisburg: For even more art in the city, visit the art association's gallery. Their gallery features work by local artists of the region as well as national and international talents. Stop in for a quick look or get lost in the stunning works of art that decorate the walls.
The Green Door Dance Studio: Swing into a romantic evening at this dance studio in Carlisle, only half an hour from Harrisburg. The studio offers swing dancing lessons followed by open dancing. Sway the night away with your love with an old-fashioned, romantic dance.
The Pride of the Susquehanna Riverboat: Take a romantic cruise down the river with your partner. The riverboat offers a variety of tours and cruises, perfect for any couple. Hop aboard a fall foliage cruise to see the leaves change in autumn. Enjoy dinner on the riverboat paired with fireworks that light up the sky. Sip some wine or enjoy classic dinner cruises, and check out the other themed tours the riverboat has to offer. No matter which tour you and your significant other take, expect to see lovely views of the Harrisburg skyline.
Once you've seen the romantic sights, head out for some PA-made wine. Cheers to your love and the beautiful views at the romantic vineyards and wineries throughout Central PA. End your day trip in PA with glasses of wine at one of Pennsylvania's wineries, including:
At the end of the day, all that matters is that you and your partner spent time together. Any destination in Central PA can create a romantic day trip, whether you eat, shop, explore or relax.
Stay in Central PA With Triple Crown Corporation

Mix and match any combination of things to do above to create your perfect romantic day trip in PA. Get creative to surprise your significant other or plan together to see all the sights that interest you. No matter what intrigues you, Central PA has it. Because there's so much to enjoy, you may want to want to stay longer than a day.
If your day trip in PA has you wanting to see more, why not call Central Pennsylvania home? Contact us at Triple Crown Corporation to find the perfect rental for you and your partner. Do everything you want to do in Central PA and then some when you find a community with us.