Small apartments come with many benefits — you spend less money on utilities, need less furniture, have less space that needs cleaning and so much more. One difficulty at-home professionals have, though, is figuring out how to fit a home office in their apartment.
When looking at your living space, it may not seem like there's room left to squeeze in a desk and office chair. We've compiled seven creative ways you can set up a home office in a small space while maintaining functionality and aesthetic appeal.
1. Among Your Library
One way to set up an office in limited space is to reinvent the furniture you already have. Whether you're a book worm, student or casual reader, you likely have a book collection. Transform your bookshelf into a one-stop shop by dedicating the lower shelves for your workspace.
Use floating shelves or a pre-built desk with shelving units. Incorporate trendy document holders in the place of bookends, and hang a calendar or corkboard in between open shelves for an added office feel.
2. In Your Living Room

Don't limit your living room to your sofa, coffee table and entertainment center. This room is the place for you to perform everyday tasks, and that includes working from home or casually browsing the internet. Depending on the size of your space and furniture arrangement, you either have a space to squeeze in a desk or need to do some rearranging to make it fit. The most common place to incorporate your living room office is against the back of your couch.
This is a great method to save space, as you're generally not interfering with any walking paths. If your couch is against the wall, push it forward just enough for your desk and chair size. Tie the area together with a small shelf a little less than the height of your desk where you can place a lamp or notebook to keep your desk bright and free from clutter.
If you can't find a space to squeeze in a desk, think about splurging on a lift-top coffee table. This piece of furniture is extremely convenient for small living spaces as the top lifts up to bring your laptop closer to eye level, preventing the need to slouch or reach. Store your office supplies in the storage space under the top, and find one with extra storage compartments along the sides and bottom for more space.
3. Next to Your Bed
Beds are commonly adorned with matching bedside tables to store necessities within reach. Consider creating a small home office by replacing one of these tables with a small desk, dedicating a drawer or storage container to keep those necessities close by. Or, if you have space, consolidate these items to fit in just one bedside table.
For more desk space, choose a corner desk to wrap around your bed's side to the adjacent wall. Hang parallel corner shelves up to the ceiling. To save even more space, use these shelves as your bookshelf.
If you're willing to spend the extra money, a more niche alternative is to buy an overbed rolling desk. This is a great option if you are struggling to find the extra space, although it's not recommended to work long hours in bed.
4. On Your Dining Table
Reinvent your dining table by dedicating a side for your office space. Create a visual border to distinguish your workspace from dining space with your desktop or laptop, pencil holders and an extended desk lamp. You can either match your desk chair with the other dining chairs or choose a statement piece to transform the space further.
If you are able, create your workspace using extra counter space or a space against an open wall next to your cabinets or pantry. Some tenants use their kitchen islands, either pre-built in the kitchen or on wheels, to double as extra kitchen storage and an office.
5. In Your Hallway
Hallways, especially open corners, have just the right amount of room to squeeze in a compact desk to create a home office in your townhouse or apartment. Or, you can opt for a hanging shelf for your desktop or laptop. Keep in mind that both of these options will give you limited space for desk decorations.

To accommodate this lack of decor room, transform the blank wall behind the desk into a work of art. Visit your local thrift store and pick up any paintings or photography that speak to you. When you get home, lay out your wall decor on the floor and find an arrangement that works for you. Hang your collage on the wall, then pat yourself on the back for creating an at-home art show.
Buy a padded stool to tuck under your desk when you're not using it, keeping your hallway functional for navigation. Tie the colors of your art wall together by adding a decorative pillow on your stool to keep you comfortable when doing research or scrolling through forums — just remember not to slouch.
6. Inside Your Closet
Do you have an open second closet? Consolidate your clothing and dedicate this extra space for setting up a home office in your spare bedroom or entryway coat closet. Depending on your contract, you may or may not have the leeway to get creative when transforming this space.
First, you'll need to decide if you want to keep the closet doors on or off. If you're a remote professional, consider keeping the doors on to dedicate an isolated working space to help mentally separate work from home. Next, empty the contents of the closet, including the closet rod. You can even line your closet with a removable wallpaper print that best matches your apartment's aesthetic. This visual aid can help make the closet feel like its own room.
Once you have the temporary wallpaper installed, place your desk inside the closet. Place your computer on the desk's surface to provide a guide for your shelf placement. Coordinate these shelves with the preexisting shelf, or remove that shelf and replace it with a new one. Remember to keep any original closet materials as you'll be reinstalling them when you move.
After all this setup, put on your creative cap and get to decorating. Use the shelf space for organization, or create a tropical getaway with a display of plants. If you chose to keep the closet doors on, use the inside to hang art or other photos for a personalized touch.
7. Hidden Away
If you can't find a spot where you can put an office in your apartment, go the portable route. Options vary depending on your budget, so allocate some funds to determine the best office for your lifestyle.
A budget-friendly option is to buy a wooden crate to hold your office supplies. Dedicate one side of the bin for file folders to organize documents, project notes or inspirational quotes. Use the other side to hold your pencil holders, sticky notes, calculator, notebooks or other office necessities.
If you have more room in your budget, browse the market for portable shelving units. Choose one that's simple to move around your apartment comfortably. You can store both portable workspaces away when you're not using them, which is another great option for remote professionals looking for work-home separation.
5 Additional Tips for At-Home Professionals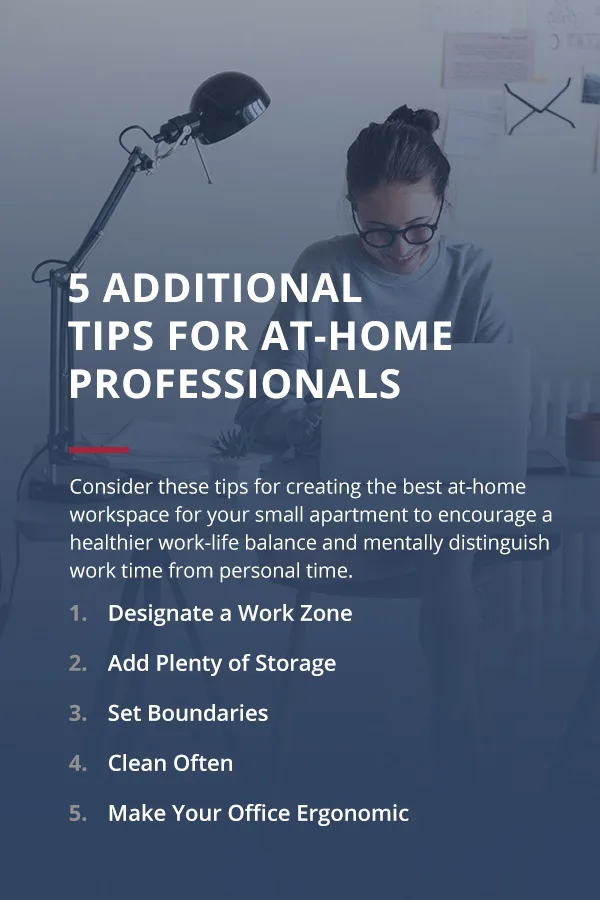 Making an office in your apartment is only half the battle for at-home professionals. Knowing what to do with this space and how to transform it to maximize productivity will take your office to the next level.
Consider these tips for creating the best at-home workspace for your small apartment to encourage a healthier work-life balance and mentally distinguish work time from personal time.
1. Designate a Work Zone
When you're working from home, you don't have the common ritual of a morning commute to prepare for the workday. Some people thrive with their short "commute" to their desks straight from their beds, but with no managers or coworkers requiring you in the office at the same time every morning, the craving for those extra hours of sleep can be hard to ignore.
Set up a workspace where you can separate work from home. If you can help it, don't work directly from your bed or couch. Although comfortable in the moment, this work habit isn't as relaxing after hours — potentially decreasing your sleep quality and tainting your next sitcom binge. If you don't have any other options aside from your bed or couch, trick your mind by buying a special cushion or dedicating one side of your bed or couch for when you clock in.
Pick a spot where you feel productive, and make it comfortable. After all, you'll be spending 40 hours a week in that spot. Think about what an in-office workspace looks like, usually well-lit with the appropriate technologies and utensils within reach. Adjust the temperature to your liking and use a fan or open a window for fresh air.
2. Add Plenty of Storage
Make the most of your tiny office by adding storage, storage and even more storage. Hang a wire grid behind your desk to keep file holders, pencil cups or anything else you need within reach. If there's no room for a grid, install a wall-mounted rack to store pencils, rulers, scissors and anything else that can fit in a hanging basket.
If you require access to a printer or scanner, consider purchasing a rolling storage unit to save desk space. Keep the printer on top and store all ink cartridges, extra paper or wires in the drawers or shelves below. Put the unit next to your desk, or keep it stored away for future use.
3. Set Boundaries
Aim to set boundaries with yourself and with others during your work shift. Know your strengths and weaknesses to prevent distractions from happening rather than dealing with them in the moment. It's easy for things like animals, roommates and social media to hinder your work routine. If you focus on avoiding these distractions as they arise, the process itself becomes a distraction.
Manage your expectations and take preventative measures like:
Ditching your cellphone during work hours.
Communicating with your roommates, friends and family members when you'll be available.
Telling others how to reach you in case of emergencies.
Taking care of your animal's needs during breaks.
Consider buying or making a "Do Not Disturb" sign to post on your workspace during active work hours so people know to avoid the area during that time. To block out background noise, use white noise in your headphones.
4. Clean Often
Reevaluate the belongings on your desk to improve its cleanliness. Do they really need to be there, or are they just distractions? For example, if you're an artist and an at-home professional, it's probably wise not to keep your art supplies next to your monitor, or else you'll be spending the workday thinking about art instead of your assignments.
As you declutter, consider what will keep you motivated. Is it an award or plaque you won, or a piece of artwork by your favorite artist? A lot of professionals choose to stay motivated by posting quotes around their workspace. Decluttering also includes your computer system and emails. Create a user on your web browser specifically for work. Only attach accounts directly related to your position to limit distraction and a hodgepodge of notifications.
Dedicate a few minutes after your work shift to remove water bottles or dishes, put away pens, pencils and highlighters, refresh old motivational quotes or anything else to set you up for success for the following workday.
5. Make Your Office Ergonomic
Ergonomics entail the science-based arranging of your workspace to improve efficiency and productivity. Fine-tune the ergonomics of your home office by:
Taking breaks: Stay active throughout your workday. Change your position every 25 to 30 minutes. Every few hours, take a brief stroll around your community and chat with your friendly neighbors.
Adjusting your monitor: Keep the center of your monitor at eye level to prevent looking down, which can cause stress in your neck, shoulders and back.
Giving your eyes a rest: Looking at your monitor all day every day leads to eye strain. Try to make it a habit to look away from your screen every 20 seconds, and make sure your office is well lit with no screen glare.
Improving your posture: Use a supportive chair and sit all the way back to avoid slouching towards your screen.
Keeping close to your keyboard: If your keyboard is too far away, your muscles will start to feel uncomfortable. Sit with your elbows closer to your core, adjusting your keyboard to where it feels most comfortable.
Making these small adjustments when setting up a home office in your apartment can improve your work abilities and make you an at-home pro.
Join a Triple Crown Corporation Community
The dedicated staff at Triple Crown Corporation strive to provide excellence in our real estate offerings. If you're looking for a home to call your own, join one of our communities in Central Pennsylvania for a sense of belonging. Our apartments and townhomes include social amenities and inviting neighbors to accommodate your lifestyle.
For more information on how to find or upgrade to a rental apartment that matches your work needs, fill out a contact form today.