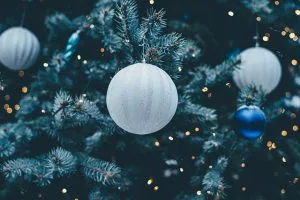 If you live in a small space like an apartment, you usually have less floor space and storage available. With less space, you have to get a little bit creative. With the holidays coming up, you may want to decorate but are having trouble finding places to put them up. When you have a small space, you know that every bit counts.
A Christmas tree is the centerpiece of many homes during the winter and holiday season. But for many, having a six-foot pine tree in your home isn't possible. Living in a small space doesn't mean that you have to hide your Christmas spirit or forego having a tree completely, however!
Below, you'll find some ideas for Christmas trees that are perfect for small spaces.
Small Christmas Trees
When you imagine a Christmas tree, you probably think of one that is at least as tall as you are and beautifully decorated. Unfortunately, unless you live in a larger home with tall ceilings, this type of tree won't work. If you want a more classic tree, you can still have one that will fit in a small space.
There are lots of miniature trees out there, whether you want a real tree or an artificial one. Going out to a Christmas tree farm, you'll find everything from 12-foot trees to ones that are around two or three feet tall. Taking a small tree home lets you enjoy the smell of real pine without taking up too much space. Clear off an end table in your living room and voila! Just make sure it gets enough water.
You also have the option of choosing an artificial tree. These decorations come in all sizes, giving you an easy way to find one that's just perfect. During Christmas, decorate it, display it on a table in a corner, and then enjoy it for the rest of the season. When the holidays are over, artificial trees can be taken apart and stored easily, too.
Wall Christmas Trees
If you love getting crafty or are really pressed for space, give a wall tree a try! These trees are perfect for those living in apartments or college students who want a holiday decoration in their dorm room.
A wall tree can be as big or as small as you want. You can craft just one, or you can make an entire forest! You can also choose from tons of different materials, using anything from wrapping paper to string.
Once you've made the tree, you can decorate it with all kinds of different things. use real ornaments or create them out of paper. Use sequins, rhinestones or any other type of craft supplies to create your tree.
The best thing about a wall tree is that it doesn't take up any floor space itself. If you want to put gifts underneath you can – but it won't add a lot of clutter.
If you're looking for a new apartment in the Central PA area, check out our rental properties here.