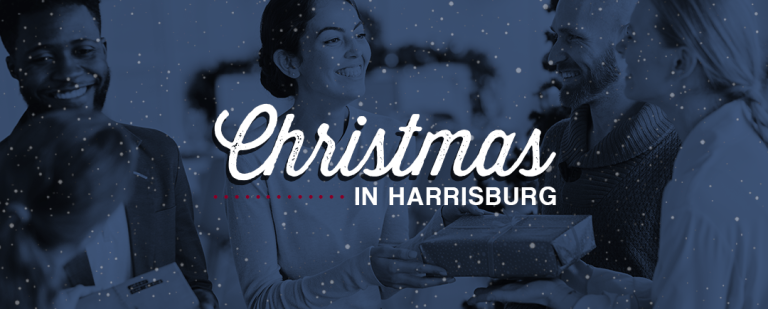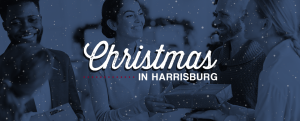 When it comes to winter wonderlands, it's hard to beat Central Pennsylvania. Throughout the colder months, Harrisburg, Hershey and the surrounding region are full of fun, festive activities and glad tidings. With a variety of light displays, concerts and more, there are certainly enough Christmas events in Harrisburg to make your holidays holly and jolly this year.
If you plan on being in Harrisburg or the Central Pennsylvania area this holiday season, make sure you check off everything on this list of holiday happenings. Whether you love looking at lights, munching on Christmas cookies, holiday shopping or taking in festive music, there's something for everyone in Harrisburg during Christmastime.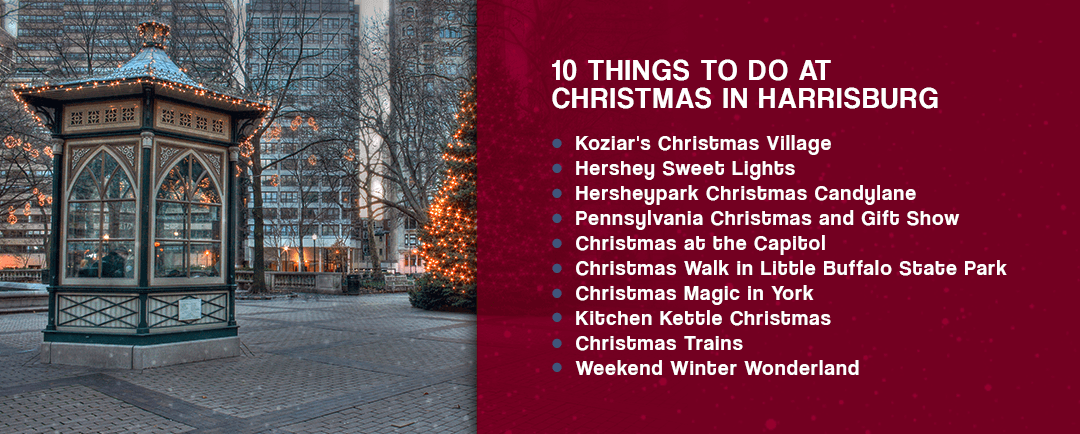 10 Things to Do at Christmas in Harrisburg
Check out these top 10 things to do this Christmas season in Central Pennsylvania:
1. Koziar's Christmas Village
There's a reason Koziar's Christmas Village is one of the most popular things to do in Pennsylvania during Christmastime — it's one of the best places to see Christmas lights in the entire state.
Located in Bernville, Koziar's Christmas Village spotlights lakeside buildings and trees decked out with more than a million Christmas lights along with festive music, model railroads and so much more. Visitors can stroll through this winter wonderland, enjoying various holiday scenes and dazzling light displays.
Koziar's Christmas Village began in 1948 when William M. Koziar decided to decorate his farm to spread the Christmas spirit. His humble light show quickly caught the public's eye and Koziar's farm soon became a famous holiday attraction.
Nowadays, the farm is known as Koziar's Christmas Village and continues to draw large crowds around Christmastime. Although there may be a line to get in, Koziar's Christmas Village is worth the wait.
2. Hershey Sweet Lights
Can't get enough Christmas lights or candy? Hershey Sweet Lights is the perfect Christmas activity for you! Each year, Hershey — the Sweetest Place on Earth — turns into a Christmas lights paradise complete with nearly 600 animated light displays across 2 miles of fields and wooded trails.
Created using more than 2 million LED lights, Hershey Sweet Lights will illuminate your holiday season with Christmas cheer. You can enjoy the Hershey Sweet Lights attraction from the comfort of your car as you drive through the stunning light show with family and friends.
3. Hersheypark Christmas Candylane
While you're in Hershey, don't miss the Hersheypark Christmas Candylane. During the holiday season, Hersheypark transforms into a breath-taking place of Christmas magic. With more than 5 million holiday lights illuminating the park, the sights alone are worth making the trip.
Along with the festive lights, guests can enjoy special shows, decorative displays, rides and more as they wander through the park. Make sure you stop by to see Santa and his reindeer, watch the holiday lights show and sip a cup of Hershey's hot chocolate between roller coasters.
4. Pennsylvania Christmas and Gift Show
If you're on the hunt for the perfect holiday gift for that special someone, check out the annual Christmas and Gift Show in Harrisburg. Held at the Farm Show Complex, this fun and festive event features hundreds of national and local vendors selling handmade gifts.
Whether you're looking for an extra special, truly unique gift or simply need to check some more names off of your holiday shopping list, the Pennsylvania Christmas and Gift Show is the place for you.
5. Christmas at the Capitol
The Pennsylvania Capitol in Harrisburg goes all out for the holiday season. Inside the rotunda, the Capitol features a beautifully decorated tree that greets guests coming for any of the concerts held there throughout December. Visitors can stop by the rotunda to take in a free concert by various local singing groups and schools to get in the holiday spirit.
For a full overview of the Capitol building and its history, you can sign up for a tour of the Pennsylvania Capitol. Visitors can also feel free to go on a self-guided tour.
6. Christmas Walk in Little Buffalo State Park
What could be better than running into Santa in a mystical forest wonderland? At Little Buffalo State Park, visitors can walk a quarter-mile trail lined with thousands of Christmas lights and meet Santa along the way. Guests can also enjoy live music, hot cocoa, cookies and other delicious holiday treats.
A historic and beautiful natural space, Little Buffalo State Park is conveniently located just north of Harrisburg. The Christmas Walk is held in the East Area picnic section of the park.
7. Christmas Magic in York
If you can't seem to get your fill of holiday lights, check out Christmas Magic: A Festival of Lights in York, Pennsylvania. This luminescent attraction takes visitors on a scenic half-mile walking trail through the Rocky Ridge County Park, leading them by more than 600,000 Christmas lights, animated scenes, heated pavilions and more.
In addition to the holiday lights display, live music and visits with Santa are offered at Christmas Magic. Guests can also enjoy seasonal snacks, such as hot cider, popcorn and funnel cake.
8. Kitchen Kettle Christmas
The Kitchen Kettle Village offers enough festive activities during the wintertime to suit anyone's holiday tastes. For those bold enough to brave the brisk Pennsylvania winter weather, Kitchen Kettle Village puts on a Christmas scavenger hunt around the village. Don't forget to bring a list of your own to share with Santa after the hunt!
For those who prefer staying toasty indoors, the family tasting tours are a can't-miss holiday attraction that includes special samplings, storytelling with Mrs. Claus, a holiday gift bag and more. Decked out in twinkling lights and decor, Kitchen Kettle Village is a Christmastime destination no matter which type of holiday activity you choose.
9. Christmas Trains
If you or anyone in your family is interested in Christmas trains, Central Pennsylvania is the perfect place to be during the holiday season. With multiple railroad spots throughout the area, Central Pennsylvania has multiple Christmas train attractions to choose from. Closest to Harrisburg, the Middletown and Hummelstown Christmas trains are holiday favorites.
A little farther south, the Strasburg Rail Road is especially well-known for its train-centered holiday season events. When it comes to Christmas, the Strasburg Rail Road truly outdoes itself every year. Take a look at these top three Strasburg Rail Road Christmas attractions:
Santa's Paradise Express: During this train ride, Santa himself and his helpers appear to visit with families as they coast along the tracks. Once at the station, kids can listen to story readings and take a ride on the Tinsel Trolley motorcar.
Christmas Tree Train: Pick out your Christmas tree in style by riding the Christmas Tree Train to Leaman Place Grove, where you will get to select a locally grown tree to decorate your home this holiday season.
The Night Before Christmas Train: For all the excitement of Christmas Eve, climb aboard the Night Before Christmas Train where you can enjoy milk and cookies while listening to a reading of the classic "The Night Before Christmas" poem.
10. Weekend Winter Wonderland
Start the holiday season off right with a Weekend Winter Wonderland in Downtown Lancaster. To get in the holiday spirit, the City of Lancaster has mobile holiday performances, sparkling Christmas lights and more to cheer its visitors. Make sure you wave to Santa as he goes by in the Kringle Caravan!
Keep in mind that the following weekend in Downtown Lancaster will be Lancaster Shops Late, which is a night when downtown retailers are encouraged to stay open later in the evening for extended Christmastime fun. With roaming entertainment, warm beverages and holiday treats at certain locations, Lancaster Shops Late will be worth the trip even if you've finished your Christmas shopping.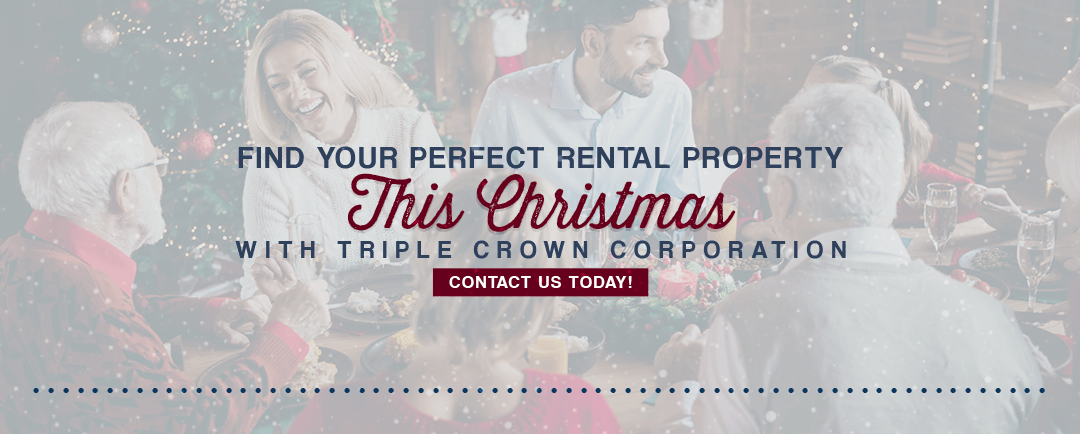 Find Your Perfect Rental Property This Christmas With Triple Crown Corporation
If you're looking for a warm and welcoming community to call home for the holidays, let Triple Crown Corporation match you with the perfect rental property for you. At Triple Crown Corporation, we have several cozy rental communities in Central Pennsylvania with high-quality modern amenities so you can feel comfortable in your new home.
To find your dream rental property and make all your Christmas wishes come true, contact Triple Crown Corporation today.