"Renting is better than buying." "Buying is better than renting." If you've shared your plans with others, you've likely heard responses that cover all areas of this spectrum.
The truth is that each situation is different. No one can tell you what's best for your individual needs, but renting an apartment can be a great option.
Before you start searching for apartments for rent, check out the six benefits of renting:
1. Flexibility
When you're just getting started on your own, your future might still be slightly unclear. You won't know if the location you're choosing is where you want to put down your roots until you've tested it out a little.
This is especially true when getting started in a new position or career. You may not be sure where that career will take you, or if you'll want to stay where you're at in the long-term.
As a renter, you'll have the ability to move if your personal or professional situation changes, instead of having to sell a home first. Flexibility shouldn't be underrated.
2. You Can Get to Know the Area
If you're new to the area, you might not know which spots are better for long-term living. You won't know what's convenient or comfortable for you until you've taken the time to live there. Renting allows you to do this without the potential for loss if you decide it's not where you'd like to stay forever.
3. Cost Effectiveness
Upkeep and repairs can make buying a home more financially difficult, even if the rent and mortgage seem comparable.
Many experts quote the average cost of home maintenance, upkeep and repairs at 1% the cost of the home each year. On a $200,000 home, that would be $2,000 a year, or $166.66 per month. This does not include any remodels and could vary from one year to another. With renting, your costs are fixed, making saving easier.
4. Property Tax Savings
Renting ensures you won't need to pay property taxes like you would if you were to buy a house. In Central Pennsylvania, property tax rates are about 1-2% the cost of the home. That cost is avoided altogether if you choose to rent.
5. Less Responsibility
Avoiding excess responsibility is not immature or blameworthy at all. In many cases, it's just smart.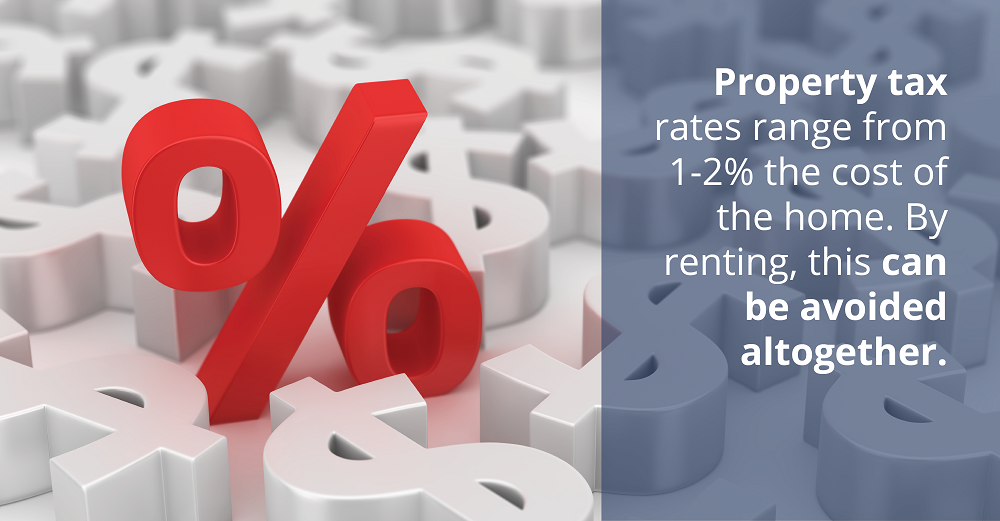 When your schedule is packed with career, school or family responsibilities, finding the time for yard work and other maintenance can be a challenge. When renting a home, these can be avoided, which frees you up to focus on doing what you enjoy.
6. No Financing Needed
While your financial situation and credit may play a role in your rental application process, you will not need to come up with a large mortgage down payment, or even have to take out a mortgage in the first place, to rent an apartment or townhome. Think of the savings!