You have a lot to think about, so it's easy to get ahead of yourself. You've begun to determine your ideal location, the safety and security measures you'd like to take and more. Before you jump into anything or go any further, consider the apartment size that's right for you. Should you look at townhouses for rent? How about 2-bedroom apartments for rent, or maybe 1-bedroom apartments?
The simple answer is that there's no simple answer. Your needs are your own, but understanding them is critical.
What's Your Budget?
Your budget may be a deciding factor in picking the apartment that's right for you. Two bedroom apartments in a less secure neighborhood may be less expensive than studio apartments in a great part of town. That doesn't mean that the two-bedroom apartment is right for you. You should value your safety and security more than the size of your apartment.
In chapter two , you read about budgeting tools and a few rules for determining the budget that's right for you. Take the time to review them once again if you're still working out what you can afford. This is not a step to overlook. Once you know what you can afford, you'll have a better idea of what size apartments you should start considering.
What's Your Living Situation?
If you are moving into an apartment on your own, your needs will vary dramatically from someone moving into an apartment with a family or even with a roommate.
Your apartment may not be your forever home, but you should plan to be comfortable in it for the immediate future. Moving is stressful, and it's a large undertaking, so it's ideal to do it as few times as possible. Selecting a rental home or apartment that will be appropriate even as your plans change could be beneficial if you can afford it.
While you're searching, take the time to understand different layouts and what's best for you:
Studio apartments: Studio apartments are sometimes referred to as efficiency apartments or bachelor apartments. They're typically smaller than other apartments, offering 300-600 square feet of living space. While they are commonly only comfortable for one person or a couple, they are often the most affordable.
1-Bedroom Apartments: Once again, one-bedroom apartments are best for an individual or couple. They likely feature one bathroom and a full-size kitchen that could be separate or included in the living space. They usually have an accompanying living space, which provides more room than a studio apartment.
2-Bedroom Apartments: Two-bedroom apartments tend to be the most popular. Each of the two bedrooms should have a closet and a private doorway from the living space. They may have one or more bathrooms. If you plan on living on your own but would like a guest room or office, or if you'll be sharing your home with a roommate, this may be the most practical option.
Townhomes: Townhomes provide more of a "home-like" atmosphere than apartments, with private outdoor entrances and two floors of living space. Occasionally, a townhome may have a basement space that is finished or unfinished and a powder room. Townhomes are often more expensive than smaller homes, but they may be better suited to families or multiple roommates planning on sharing a living space.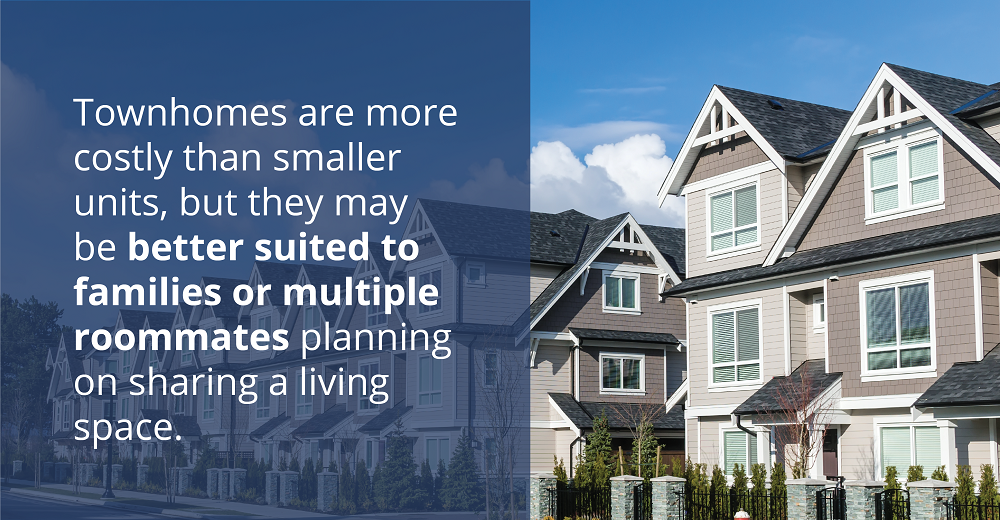 What Are Your Priorities?
When thinking about the various rental options, you must keep your priorities in mind.
Remember, the number of occupants you'll be sharing your rental home with shouldn't be your only consideration. Other questions to consider include:
How often will you entertain?
Will you host overnight guests or out-of-town family?
How much storage space will you need? Are you willing to rent a storage unit if needed?
How much time can you spend on cleaning? Extra bedrooms and bathrooms require more time.
When searching for your first rental home, consider these factors, as well as any other personal needs, before making a final decision.